DIY rice hand warmers tutorial. This super easy project is all just straight lines. You can make them in less than 5 minutes! I knew nothing about hand warmers until a few weeks ago when I stumbled upon some pictures on Pinterest which instantly drew my attention because it seemed such an easy and fun sewing project. But I had some questions and concerns – what fabrics can go in the microwave? What kind of rice is best for hand warmers, and how long do these stay hot?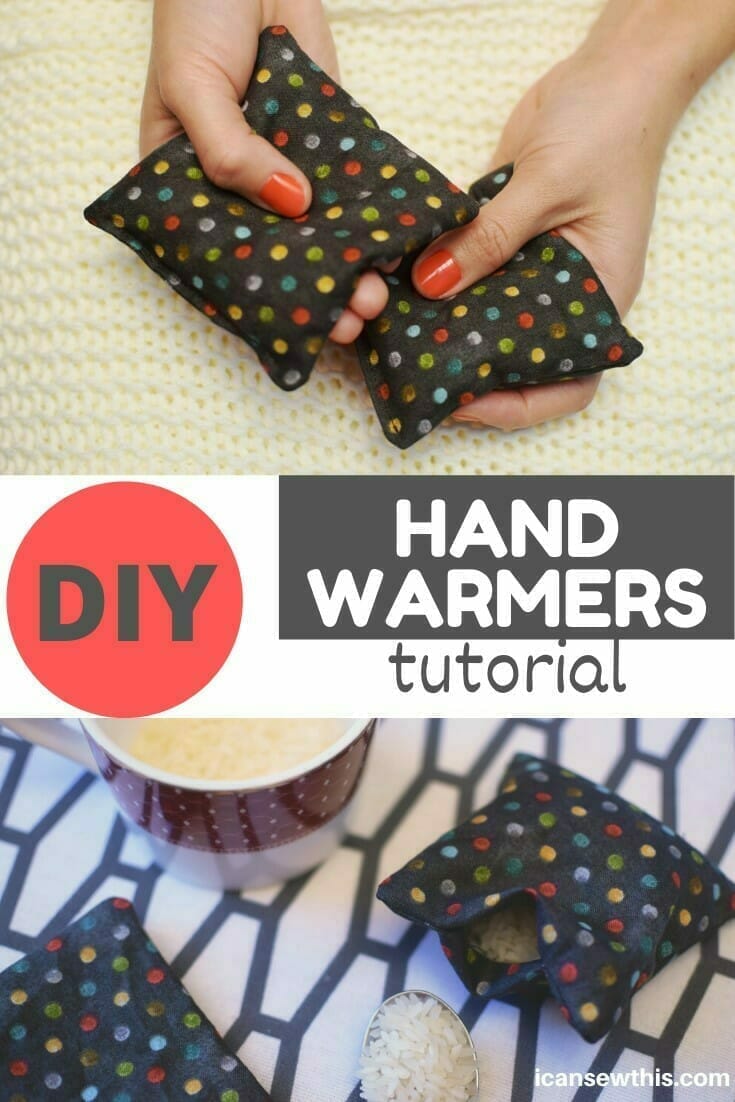 I decided to just give it a try and see for myself. The result? I declare these rice hand warmers filled simply magical!
They really do work! Made from 100% cotton fabric and thread and filled with rice/flax seeds/popcorn, they are microwaveable, they heat up and last for about 20 minutes!
My kids were so thrilled to receive their hand warmers, and they kept heating up and playing with them for days.
Related: How to make linen napkins, the easy way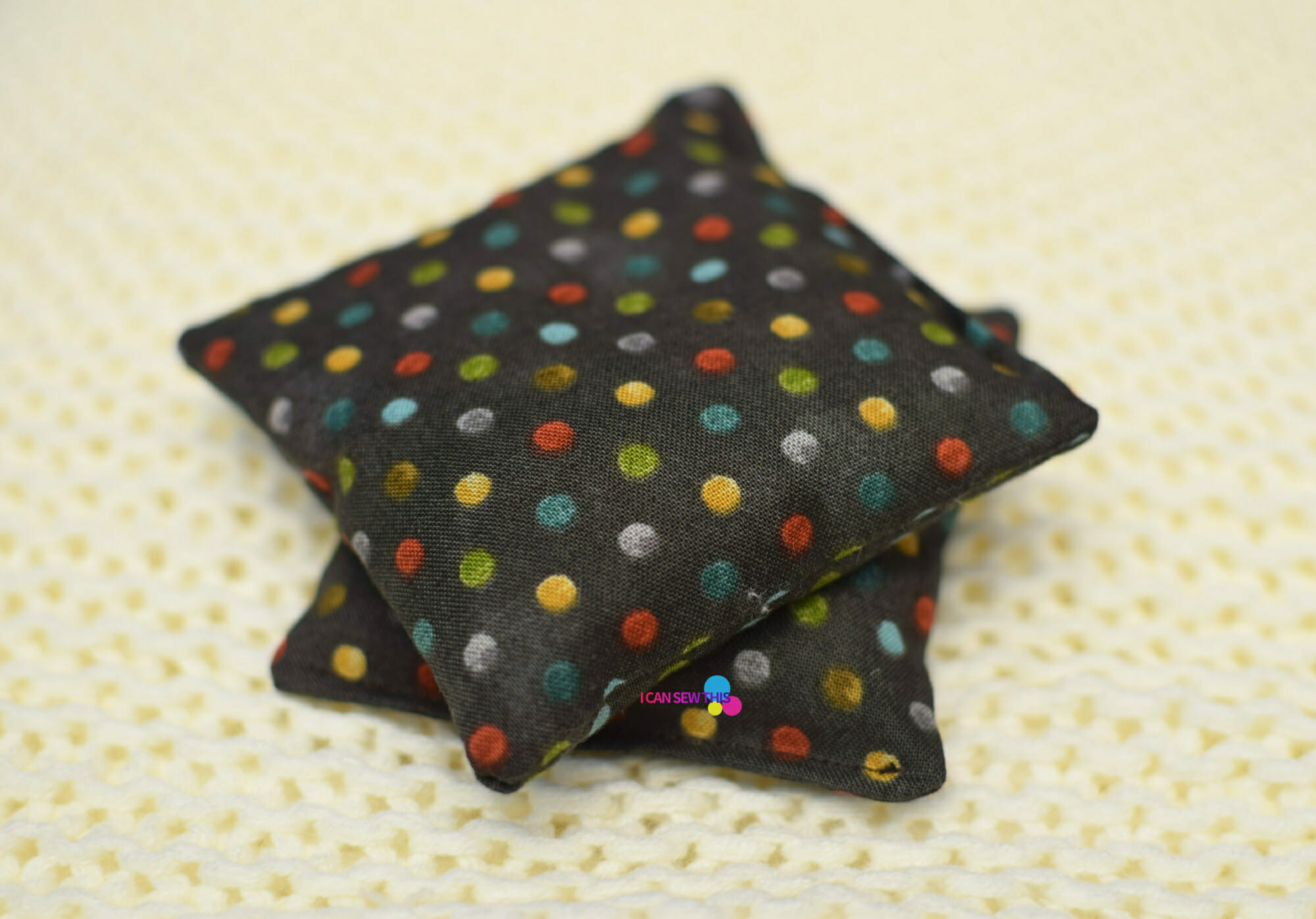 So, what fabrics can go in the microwave?
Natural fibers, like cotton or linen, are microwave safe. You should avoid synthetic fabrics (polyester will melt), and especially anything with any metallic fibers because such fabrics are extremely dangerous to heat in a microwave.
Best filling for reusable hand warmers
You can fill them with uncooked rice, flaxseeds, whole kernel corn, or cherry pits.
Here's a fun experiment – somebody actually tried out all possible fillings for hand warmers. Check the results.
Sewing supplies
Filling (uncooked rice, flaxseeds, whole kernel corn, cherry pits)
Fabric: linen, cotton or cotton flannel (no blends)
Rice hand warmers – tutorial
Step 1
Cut out your fabric. I cut 4″ squares – I have small hands, but you can cut the fabric into 5" squares to fit bigger hands.
Step 2
Pin two squares of fabric right sides together, then sew around the edges on three sides. Leave a 1-inch wide opening on the fourth side of the square. Don't forget to backstitch!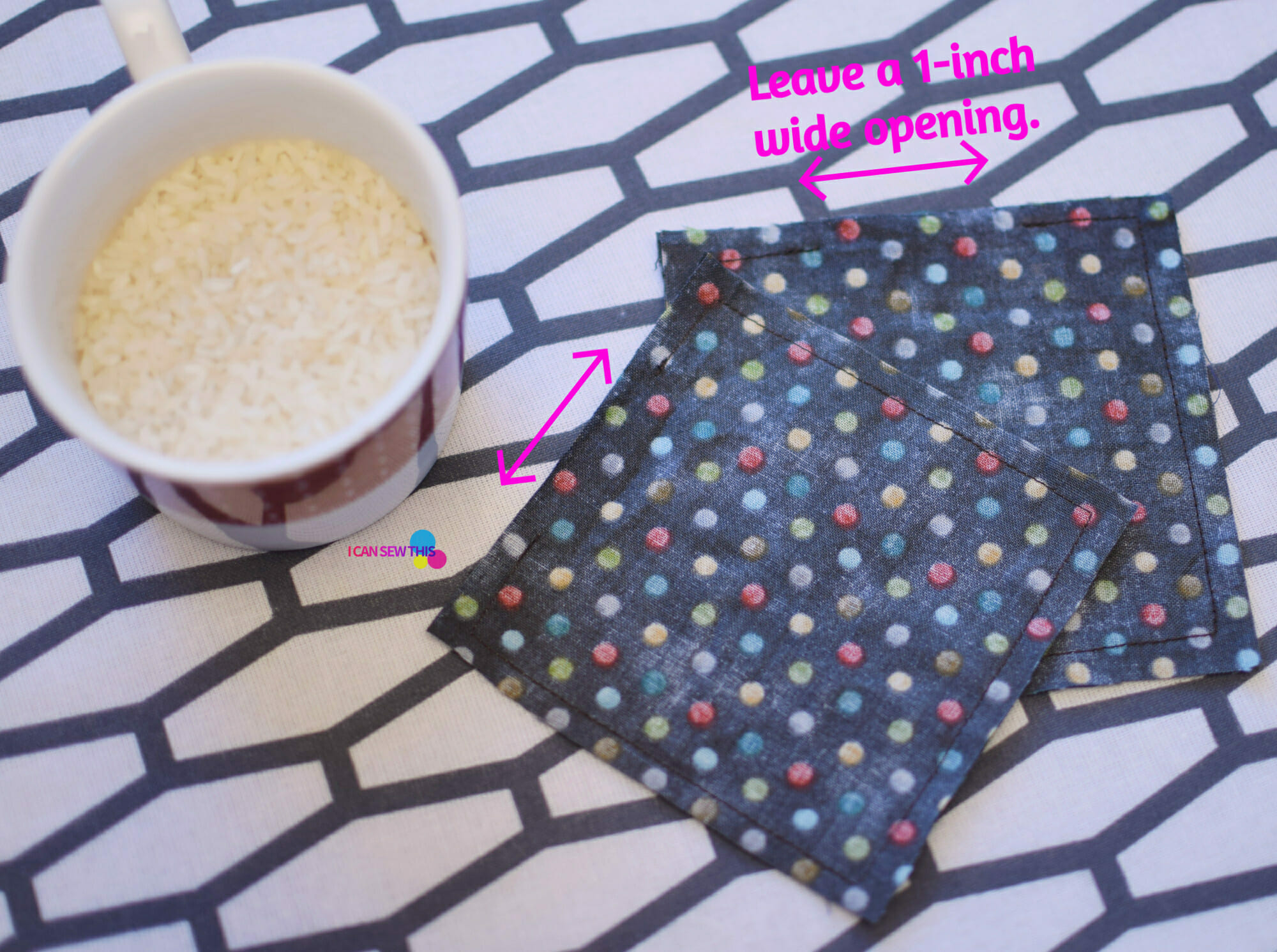 Step 3
Turn the square right side out and poke the corners out with a pencil or a chopstick.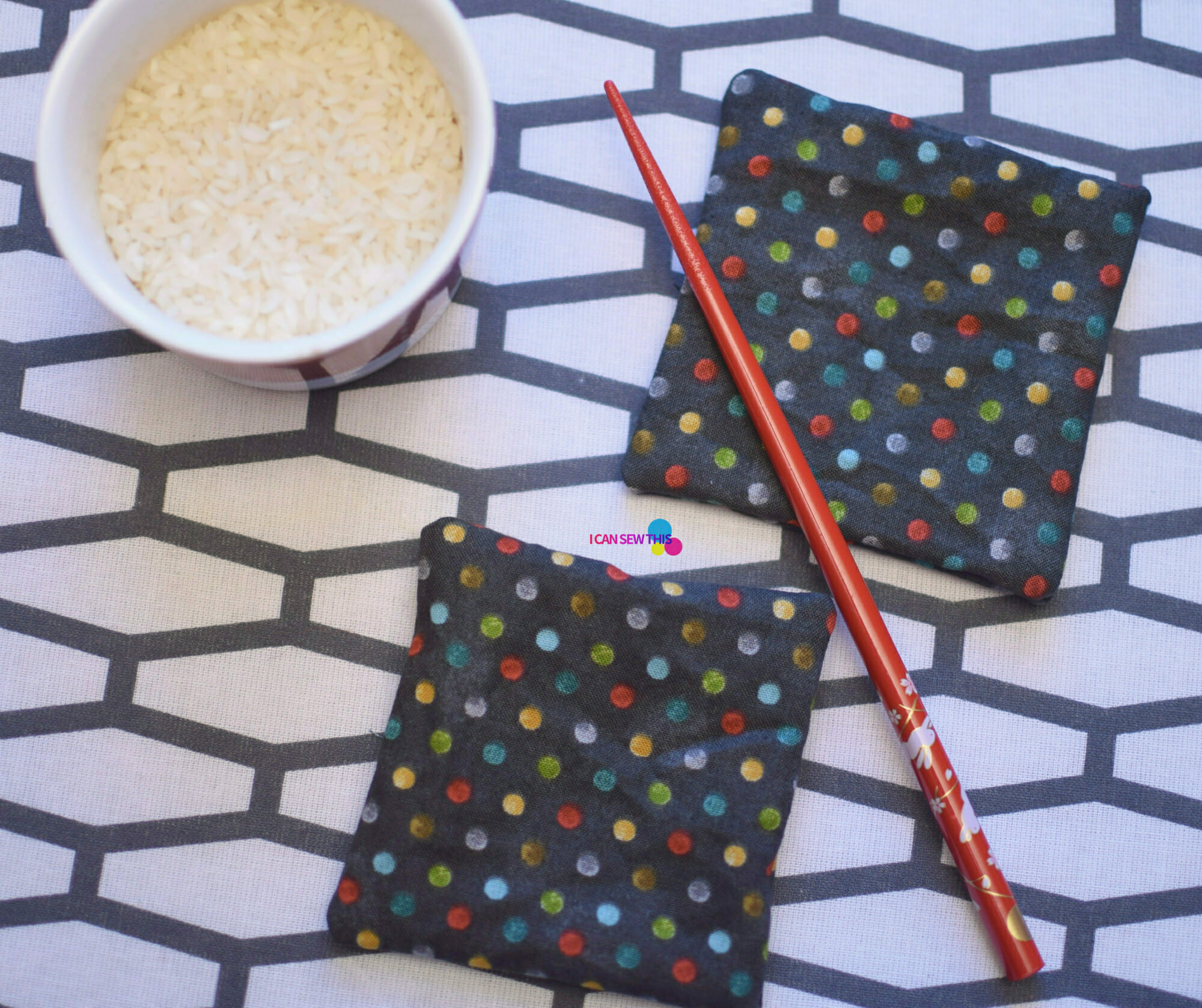 Step 4
Fill the bag with rice about ¾ full. You can use a small funnel or, as I have done, a teaspoon. I filled each of my hand-warmers up with exactly 13 teaspoons of rice.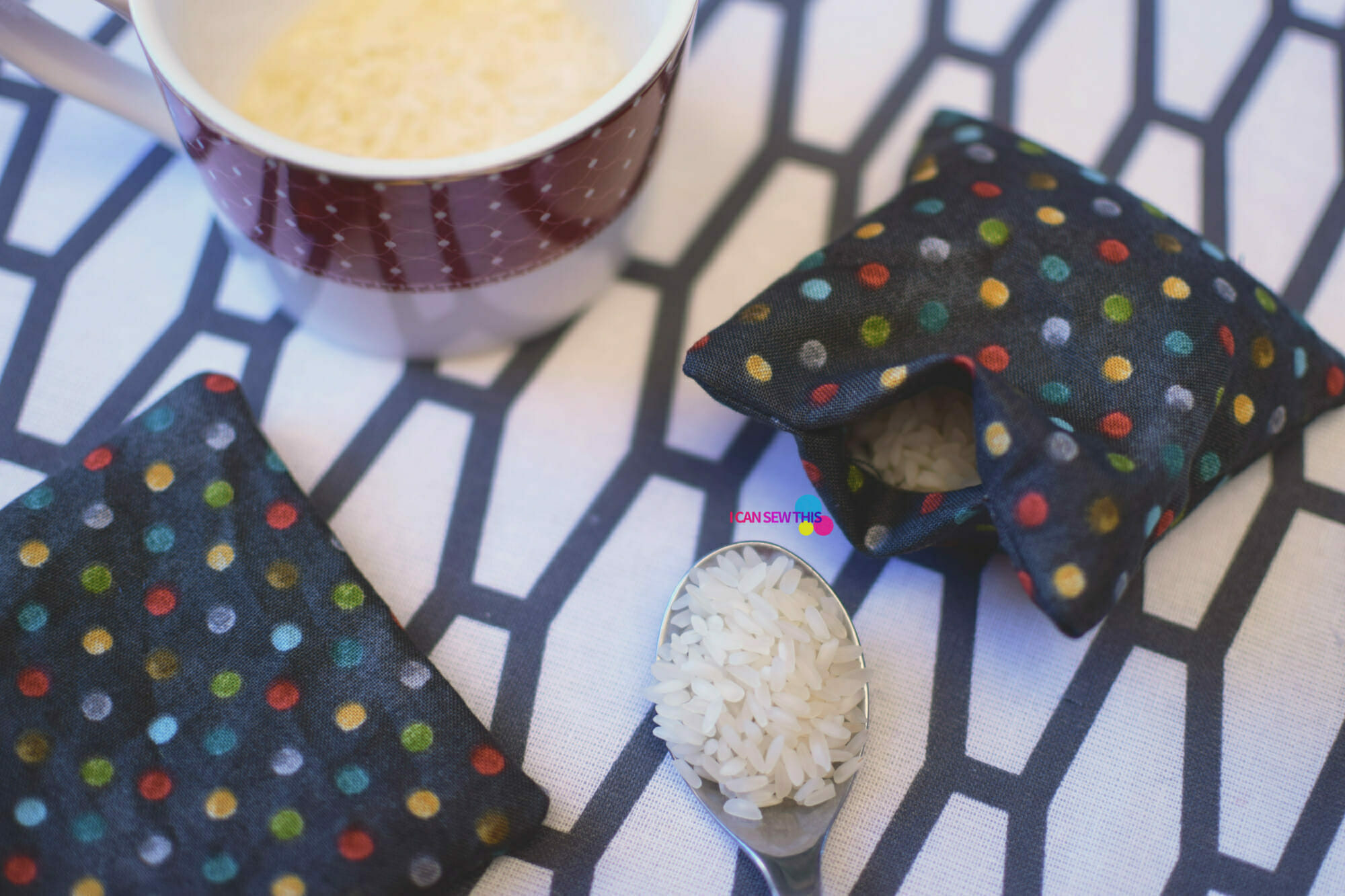 Do not fill the bag 100%. You'll need some room to sew along the seam so you can close up the opening.
Step 5
Sew the 1-inch opening closed, either by hand or with a sewing machine, and that's it!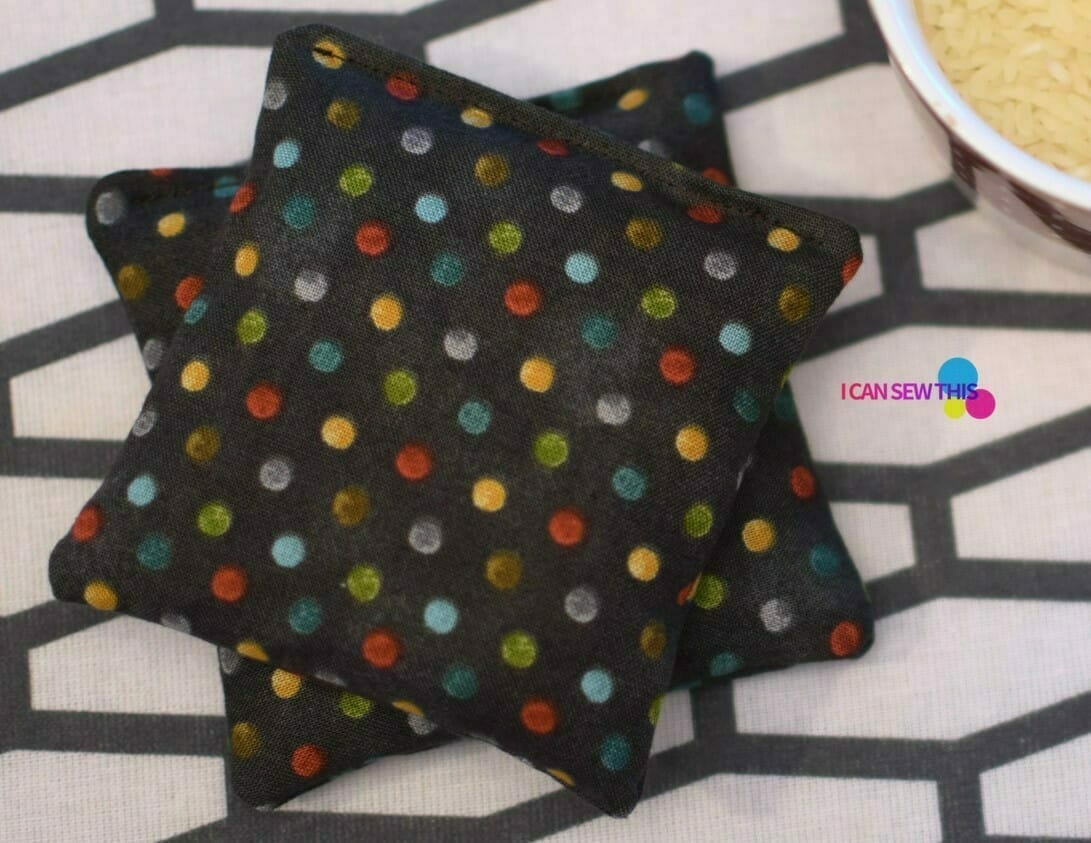 How to use the rice hand warmers
When you need a quick warm-up, just pop them in the microwave for about 20-30 seconds – but no more than 60 seconds. Shake them up a little to distribute the heat uniformly.
Reusable rice hand warmers typically stay warm for at least 15-20 minutes. Now, I have to say rice does have a particular smell when heated, but I don't mind. Still, you can add dried lavender or a few drops of your favorite essential oil to scent them.
Reheat your DIY hand warmers in the microwave to use over and over again.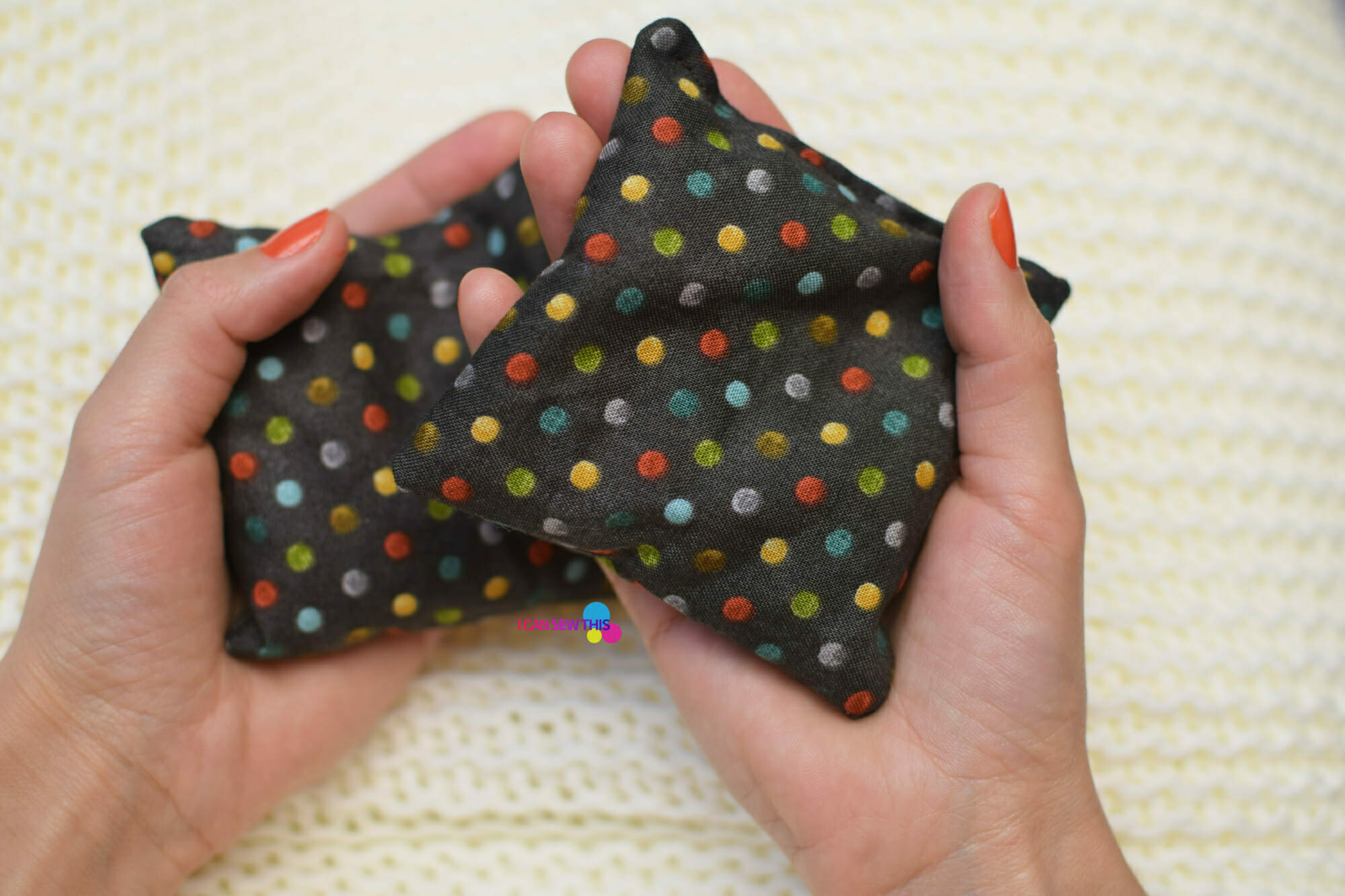 Important safety precautions
Do not leave rice hand warmers unattended in microwave oven and do not heat longer than the recommended time. I hope you enjoyed this tutorial!
Let's keep in touch! You can find me on Facebook, Instagram, and Pinterest.