Learn how to make a DIY tunic linen dress with this quick tutorial. Earlier on, I made a frayed edges linen dress that is probably the easiest dress in the world. I decided recently to change its look, and here's how I did it.
This is the frayed edges linen dress I'm talking about.
DIY tunic linen dress tutorial
First, you need to finish the inside seams – the shoulder seams and the side seams. I'm sorry I didn't take pictures from the start of this project.
Then, I lowered the front neckline – I wanted it dropped two inches from the original top center.
Immediately after that, I made another staystitching line on the neckline to stop the curved edge from stretching out.
I used self-made bias tape to finish the edge of the neckline. So I folded in half the bias tape and placed it around the neckline.
Then I stitched it with a small seam allowance.
After trimming the seam allowance (if necessary), I turned the bias tape towards the inside of the dress and pressed it well. Then I pinned it in place and stitched around the neckline.
Do your best to keep your stitching line an even distance from the neckline edge.
All that is left to do now is hem the sleeves and the bottom of the dress. I serged the raw edges, then made a small turned hem.
That was easy, right?
Last, I added a fabric belt to my tunic linen dress.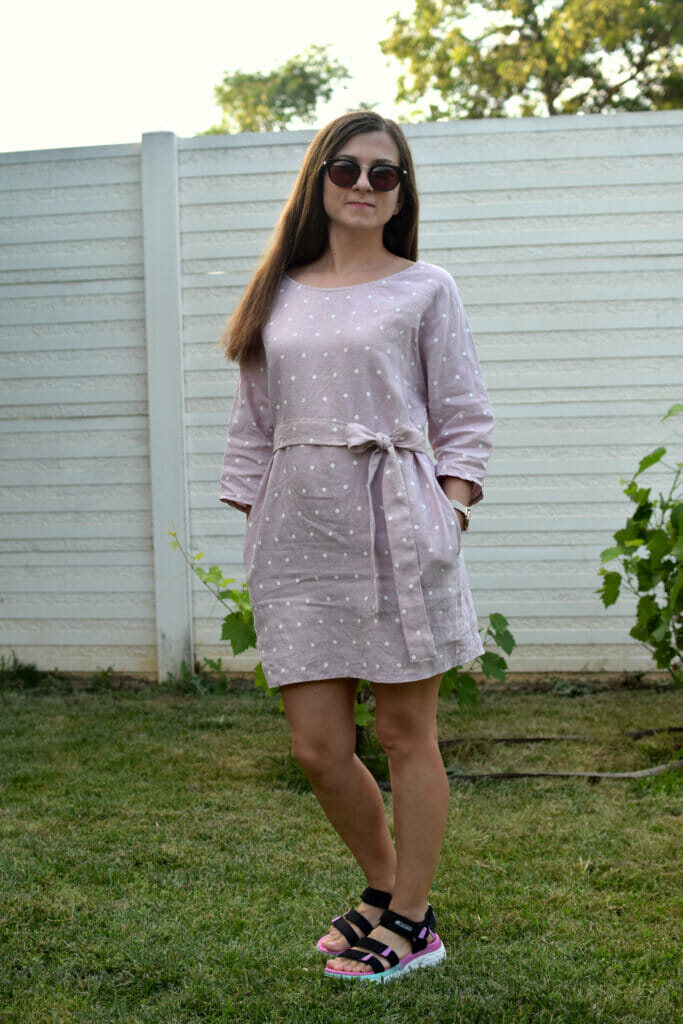 I love how my little tunic dress turned out, and I think that I'll enjoy wearing it for years to come!
Linen dress with belt and pockets
Did you find this DIY linen dress tutorial helpful? I'd like to hear what you think of it! And I would LOVE to see pictures if you give this pattern a try.
Let's keep in touch! You can find me on Facebook, Instagram, and Pinterest.