Hi, I'm Violet! I am a sewing enthusiast living in Romania and a 36-year-old mother of three.
This is my crew. 🙂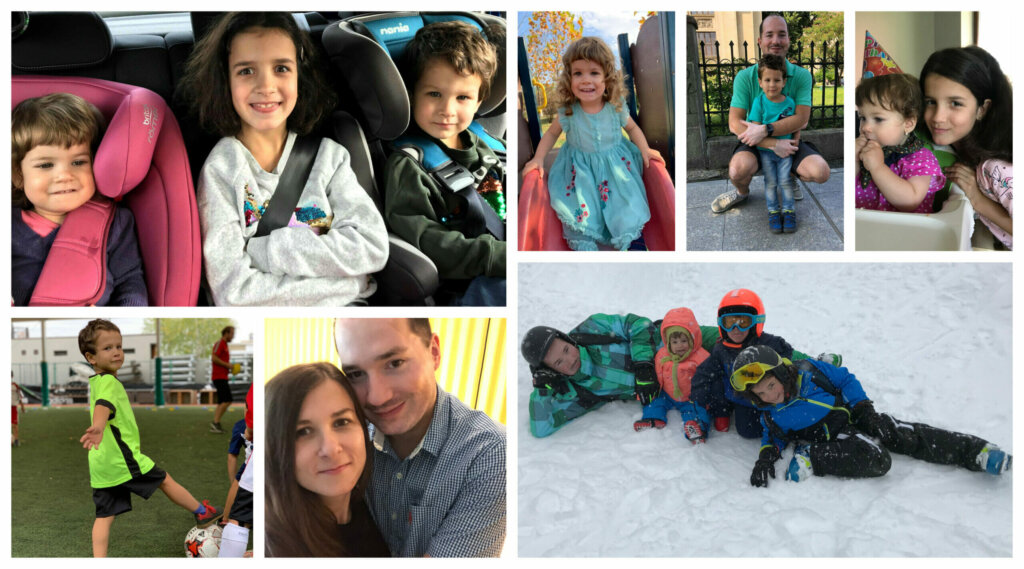 Our family consists of five members: me, my awesome husband (a wonderful man and a super smart IT geek – he takes care of the technical details of this blog, I don't know what I would have done without him), and three kids – two girls (ages 13 and 5) and a boy (age 8).
My family is my everything and a constant source of love, support, and inspiration. They make up a huge part of who I am.
You can contact me at violet (at) icansewthis (.) com
How I started sewing
I began my journey in sewing in 2016, and I'm completely self-taught. At that time, I had no idea what a sewing machine looked like, let alone how it worked, but I was determined to learn.
My kids were young then, so I sewed during their nap times and at night, picking things up at my own pace.
My skill level now, after all this time and hundreds of different sewing projects? Confident beginner, I would say.
While I may be able to insert a zipper, sew a buttonhole, or a flat-felled seam and still feel at ease from start to finish, I often go for quick and easy sewing projects since I don't have the time, or the energy, to tackle more complex patterns.
Why I started blogging?
I started this blog for two main reasons.
Firstly, I want to be a part of the amazing sewing community and share my experience with others. I've learned so much from YouTube, blogs, books, and magazines, and I hope to contribute to that knowledge.
Secondly, I am determined to keep growing and learning, and sharing my projects with others helps me stay motivated.
What is this blog about?
Icansewthis.com is my little corner of the internet where I share my sewing projects and ideas.
I mostly sew for my kids, but also for the home and myself. I think learning something new is always fun!
Thank you for reading this blog and I'd love to connect with you!