Learn to make a flutter sleeve peasant top for your little girl with this free pattern and tutorial. This top is a lovely basic, and a wonderful addition to any girl's summer wardrobe.
You'll be amazed how quickly this peasant top/dress comes together. Also, you only need basic sewing skills for this fun and simple project. You can honestly have this one finished in 30 minutes – or, let's say, one hour if you are a complete novice.
Because it has no buttons, zippers, or snaps, you don't need to have extensive sewing knowledge for this project. The neckline is elastic and stretches, so it's an easy on/easy off garment.
I made this peasant style top with flutter sleeves for my (almost) 3-year-old daughter, and we all love it! It's comfy and cute, and easy to coordinate with different colors of shorts or pants.
You can make this in various lengths – it looks great as a top, but also as a dress above the knee/below the knee.
Easy DIY flutter sleeve peasant top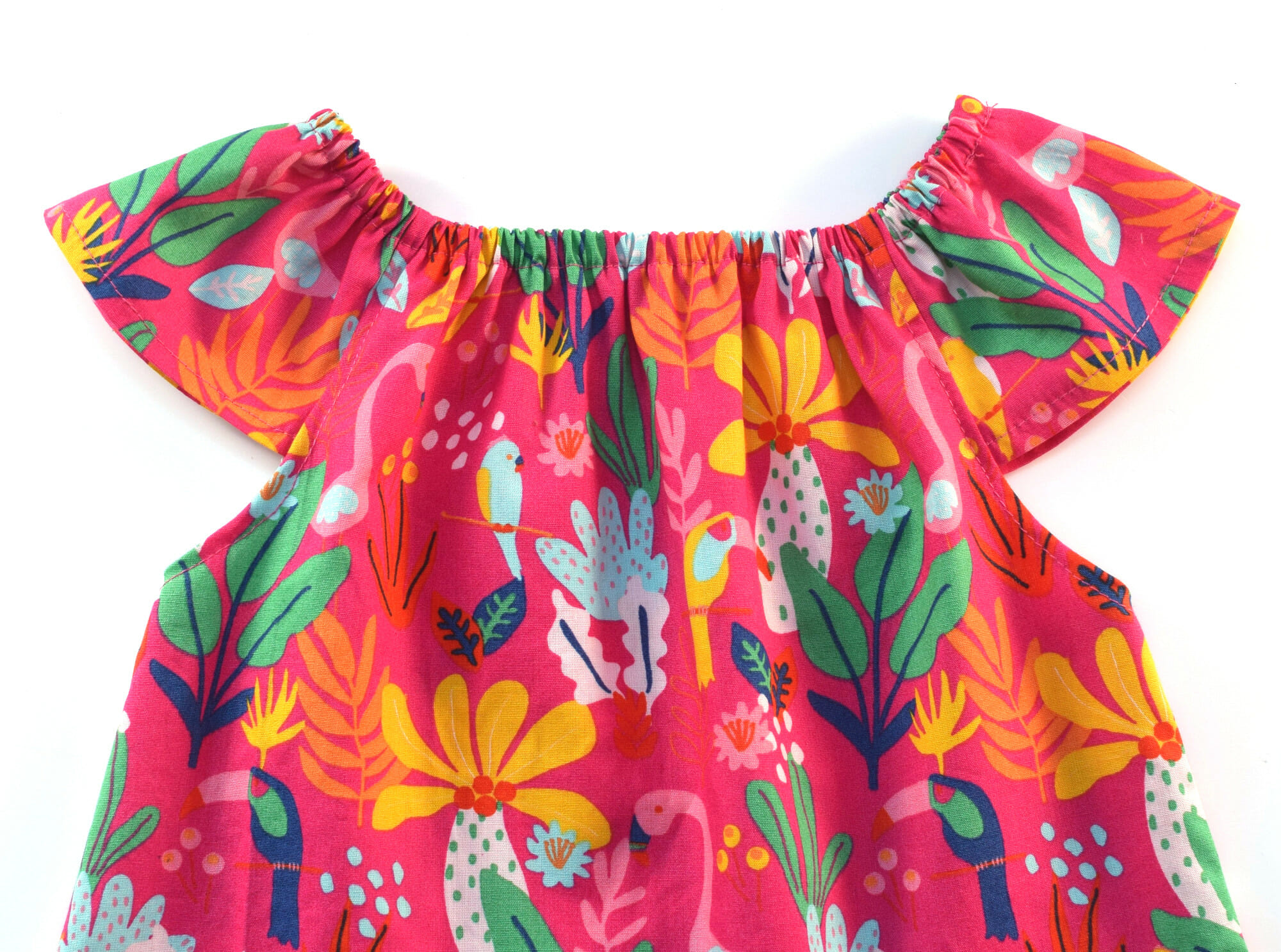 If you make it in a bold color and a playful cotton print, you're sure to get a ton of wear and joy out of this versatile item.
I love kids' clothes that are simple, beautiful, and comfortable. This is a lovely basic that is great for everyday wear in summer, and the flutter sleeves add a perfect touch of style.
Related: Looking for a fun and educational activity for your little ones? Try this free maze generator for kids – customizable mazes that will entertain and engage young minds!
Ready to sew this simple variation of the basic peasant top?
I drafted a free sewing pattern for girls in size 3T that you can download and use to create your own lovely flutter sleeve top.
Note – this pattern is for personal use only. I think it's obvious for everyone that this pattern is drafted by hand (and that I am not a professional pattern-maker), however, it fits my 3-years-old daughter perfectly, as you can see from the photos/Youtube video. She is 36 1/2 inches tall right now, the flutter sleeve peasant top allows enough freedom of movement, and I hope she'll wear it for at least one year.
Sewing supplies
Girls' peasant top with flutter sleeves – PDF pattern available above- size 3T. Make sure you print it at 100% or "actual size".
½ yard of fabric – cotton, linen, muslin
¼" elastic (I used 18″ for a 3T size)
How to make a peasant top with flutter sleeves
Step 1
Line up the pattern pieces on the fold of your fabric and cut.
The bodice is composed of three pieces – part 1, part 2, and part 3. Here's how to assemble the pattern: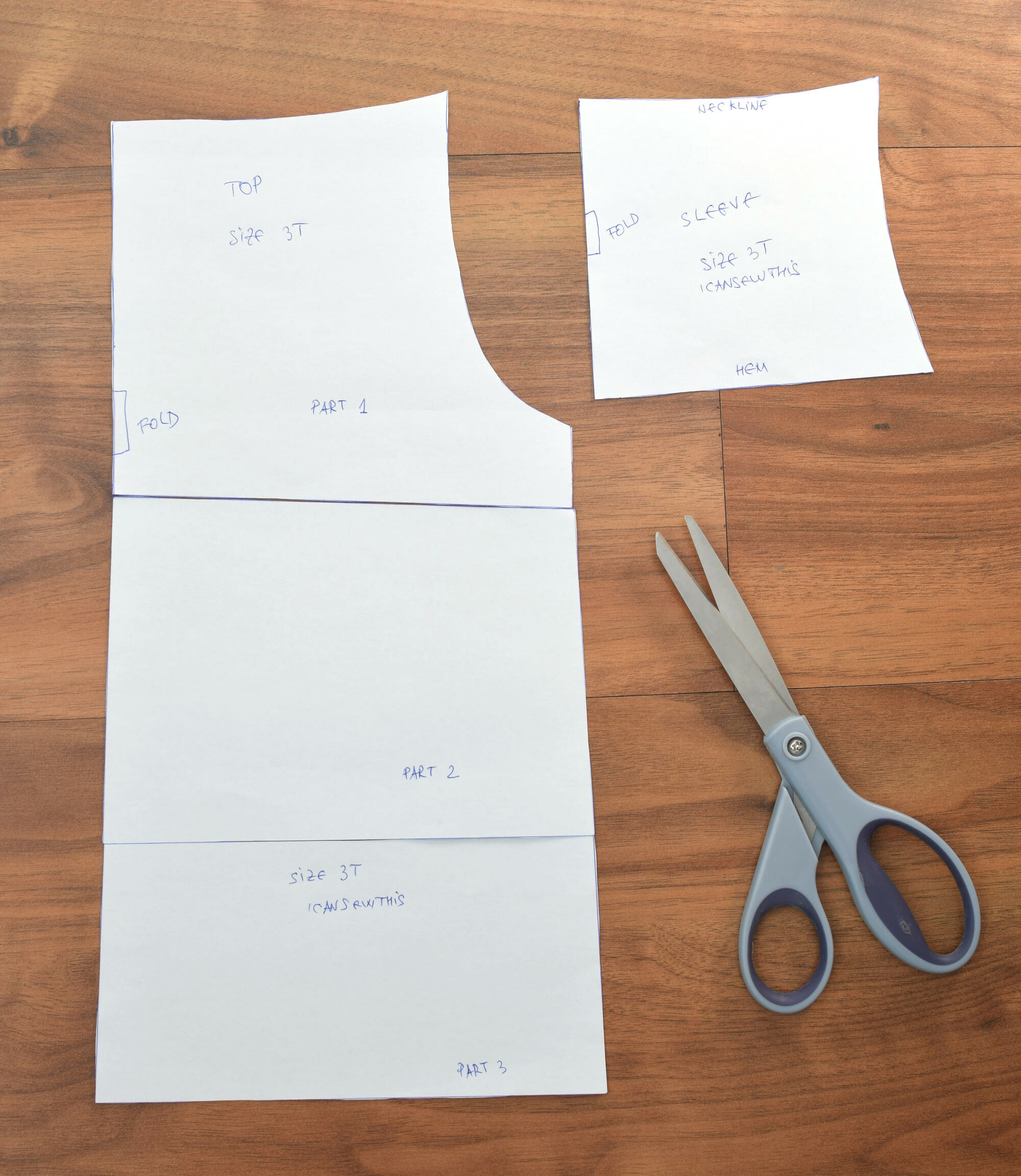 Once cut, your folded pieces should look like this – two bodice pieces and two sleeve pieces.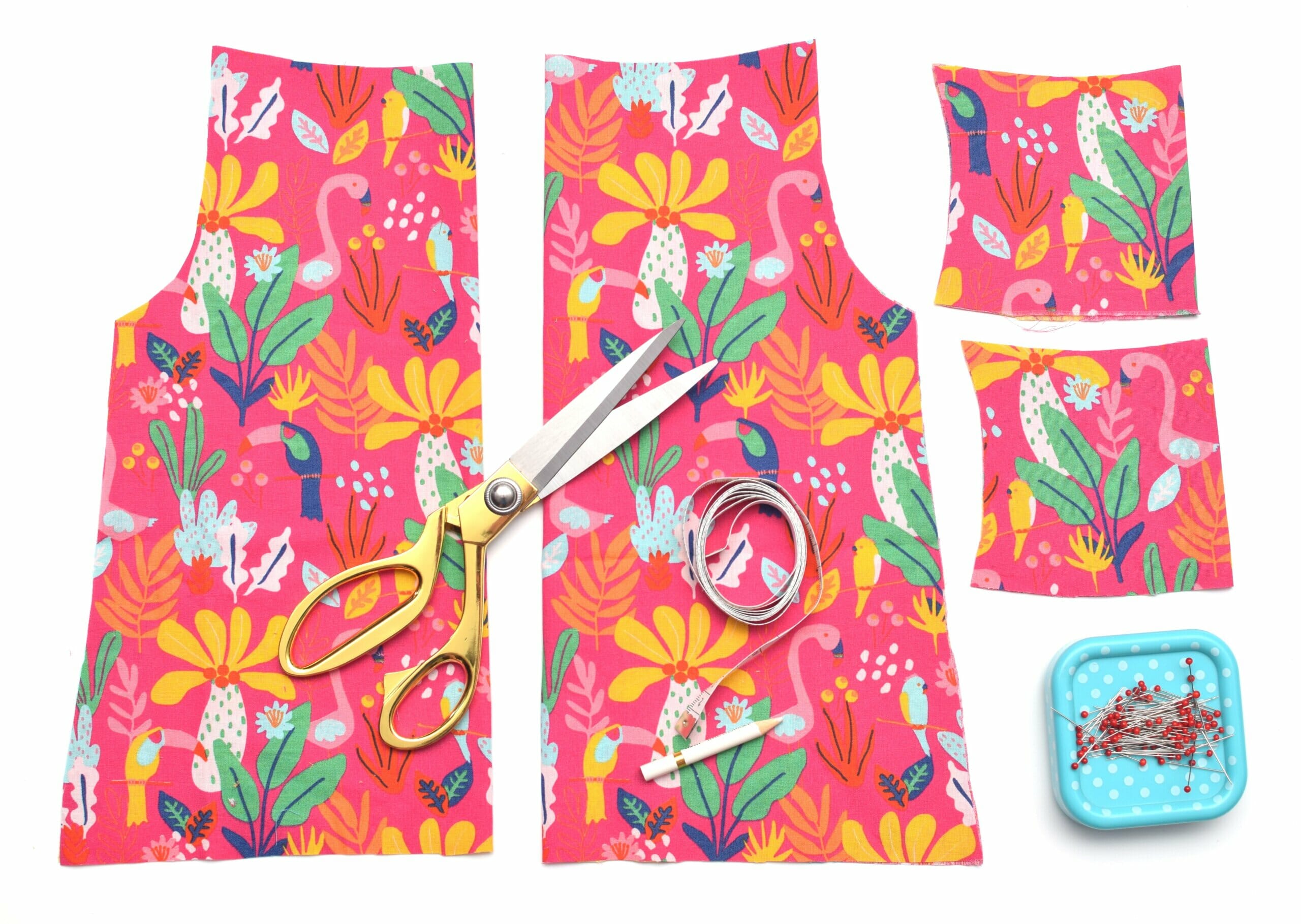 TIP
If you plan on making a peasant-style dress with flutter sleeves, just measure your little girl from the bottom of her armpit to where you would like the dress to end, then add 1" to this measurement.
Lengthen your pattern piece accordingly. Make sure when you add extra length at the bottom to follow the edge of the pattern and get a subtle A-line shape.
Step 2 – Hem the sleeves
Serge the bottom edge, then turn the edge under 1/4", press and sew. Repeat on the second sleeve.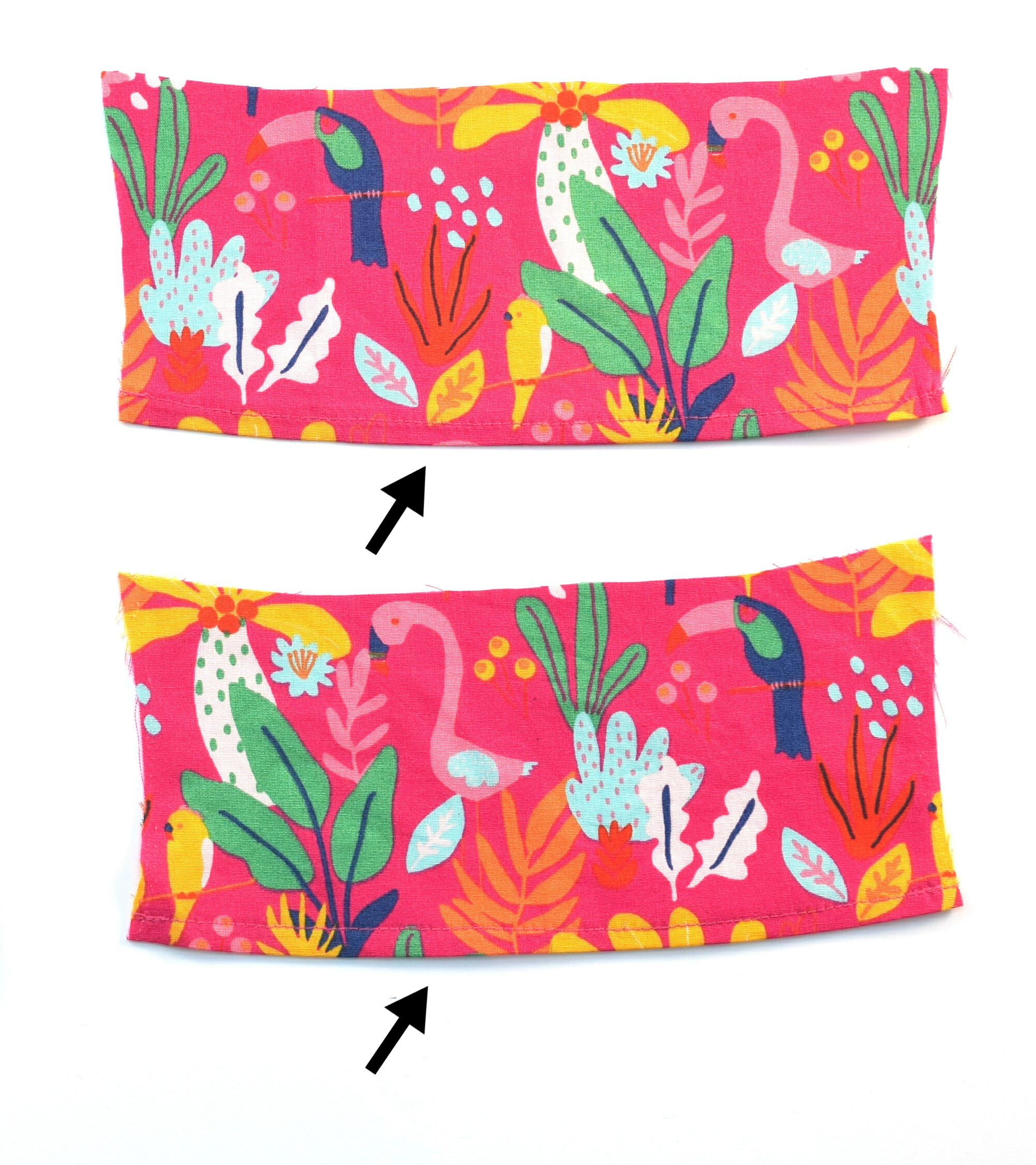 Step 3
With the right sides together, match one sleeve and the bodice back. The raw edges should be facing up towards the top of the peasant top. Sew the sleeve to the bodice, with a 3/8" seam allowance, then repeat with the second sleeve.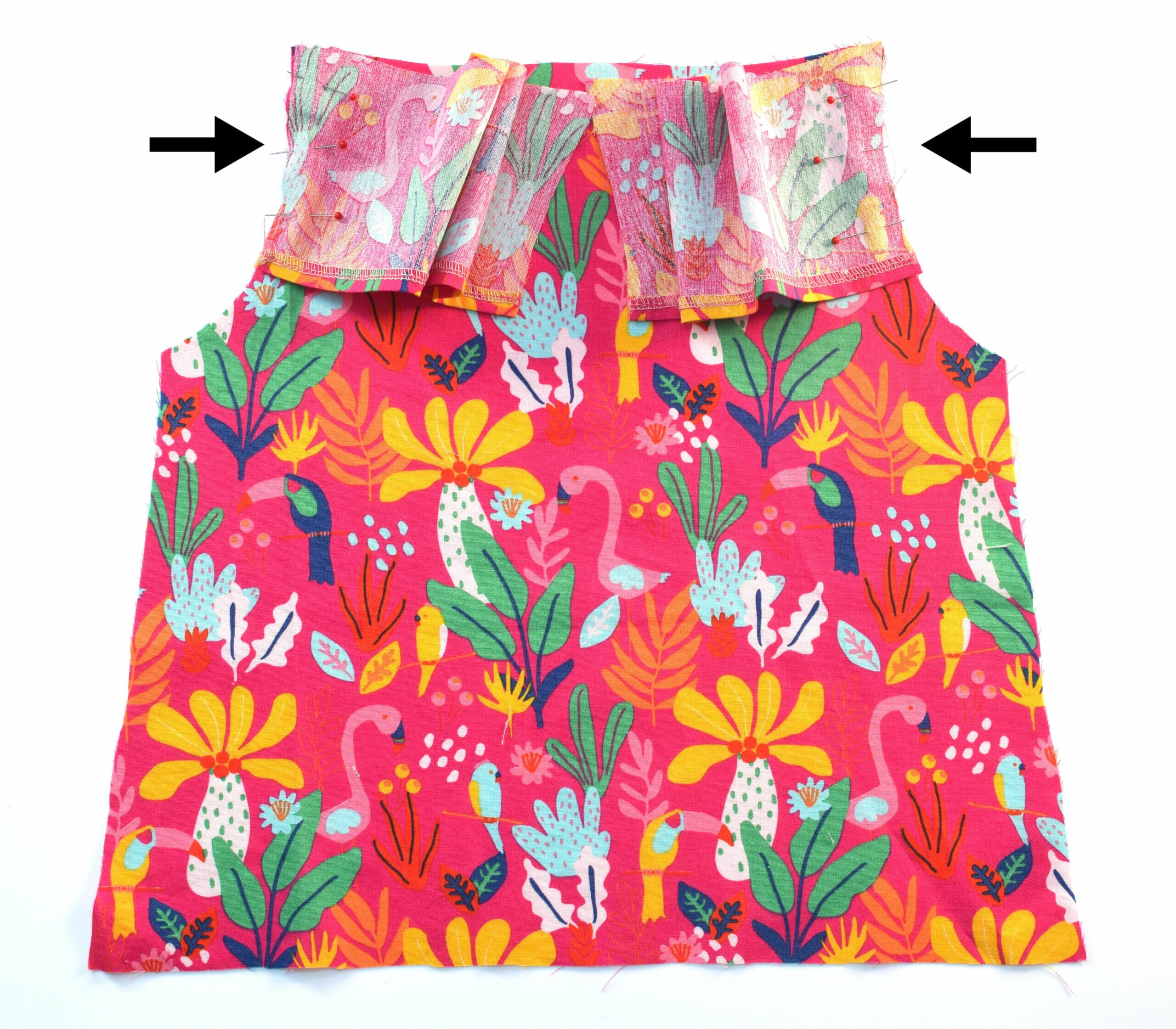 Now line the sleeve edges up on the bodice front like shown in the below picture. We are already able to see the peasant top come together.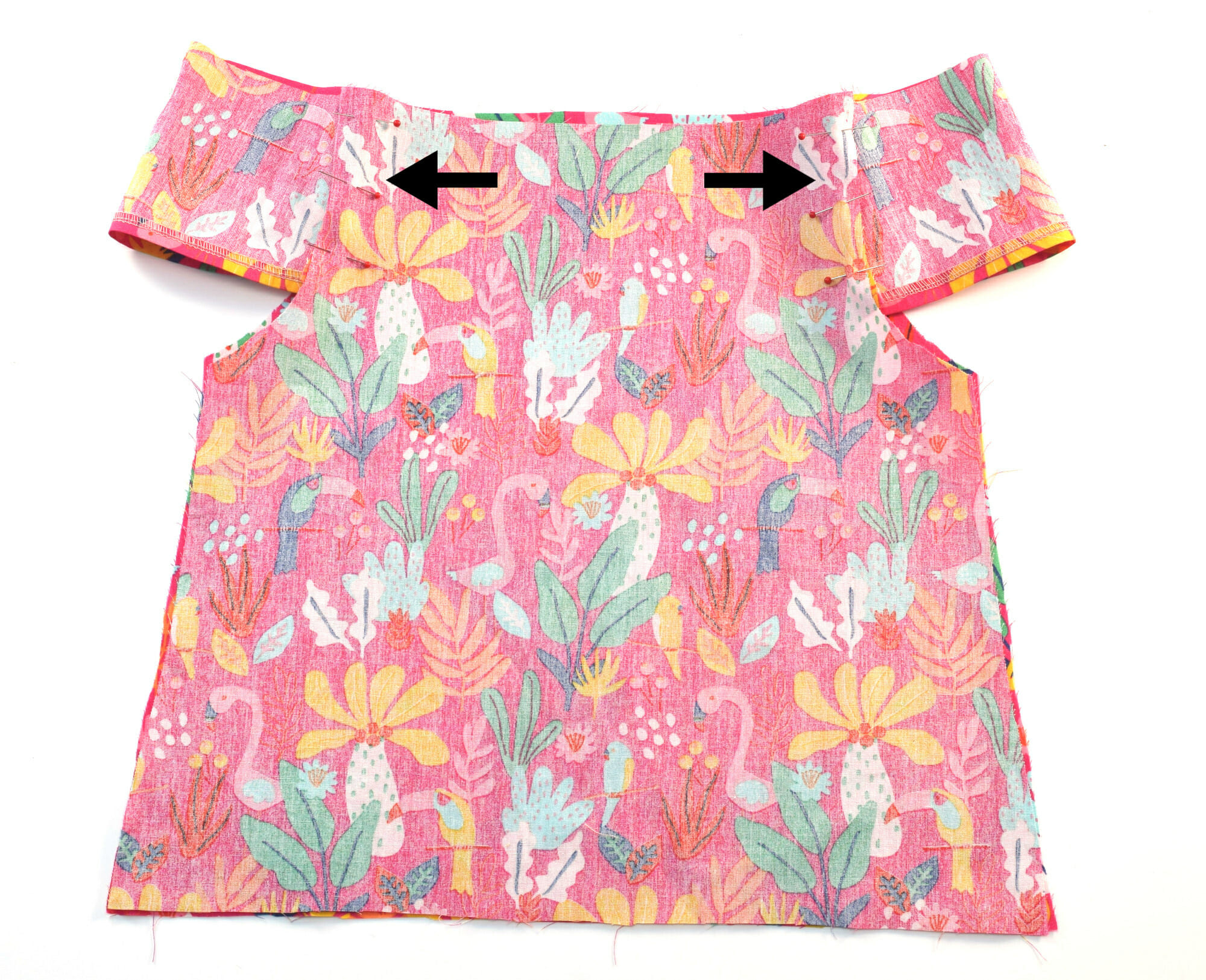 Step 4
Serge all four armholes.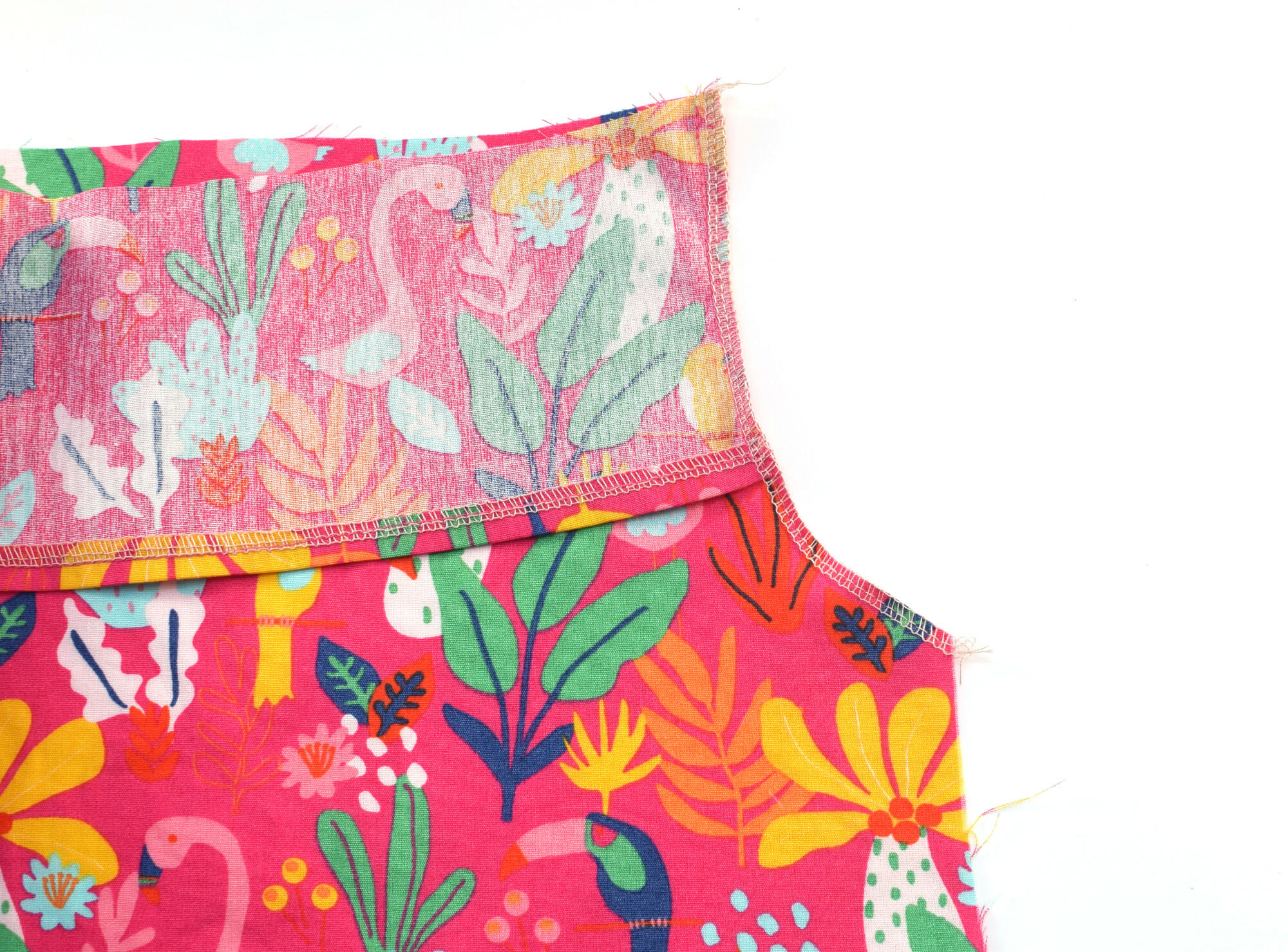 Then turn the edge to the wrong side of the peasant top, and stitch it down. Remember to backstitch at the beginning and end.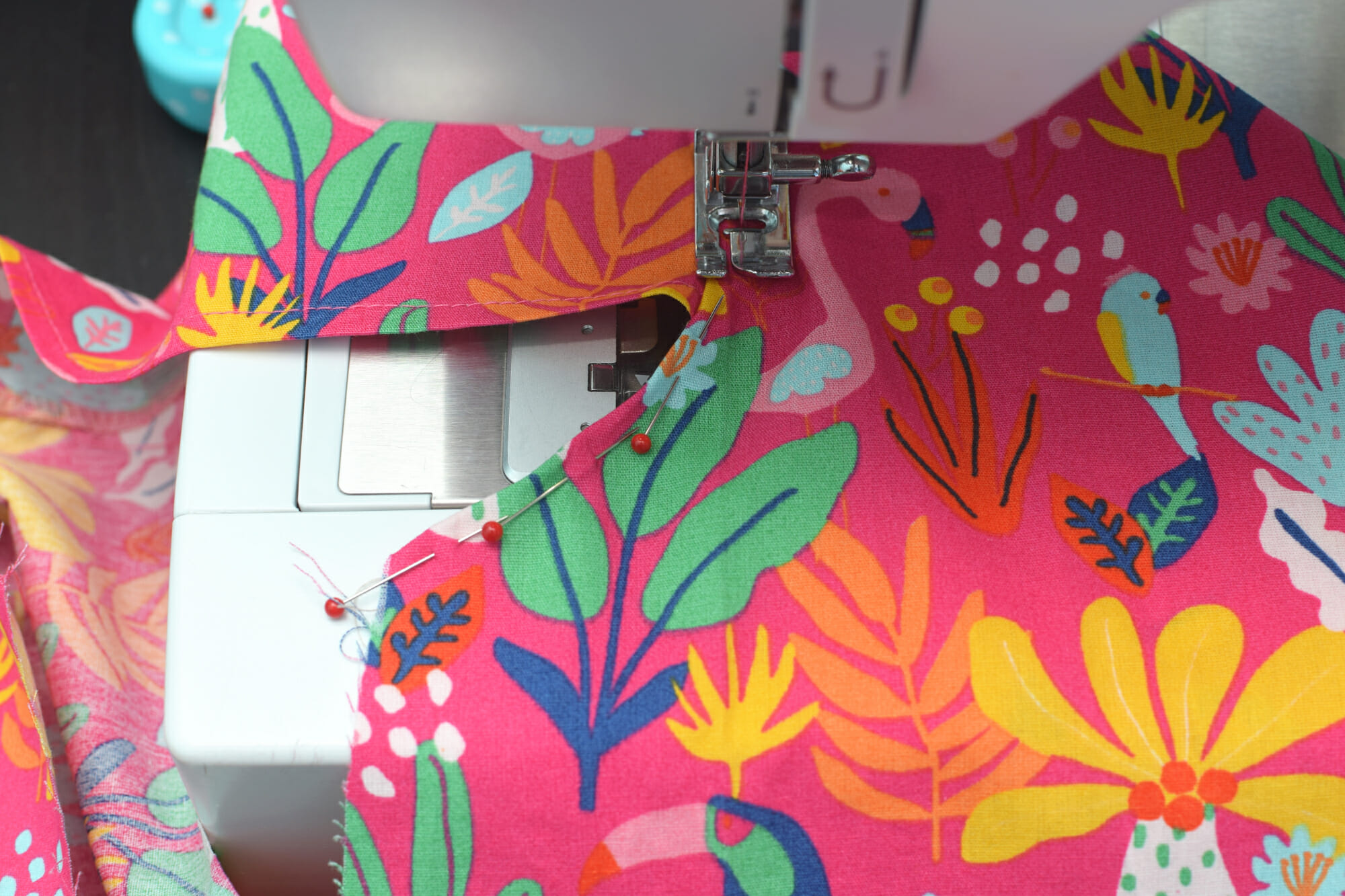 The armholes are now finished.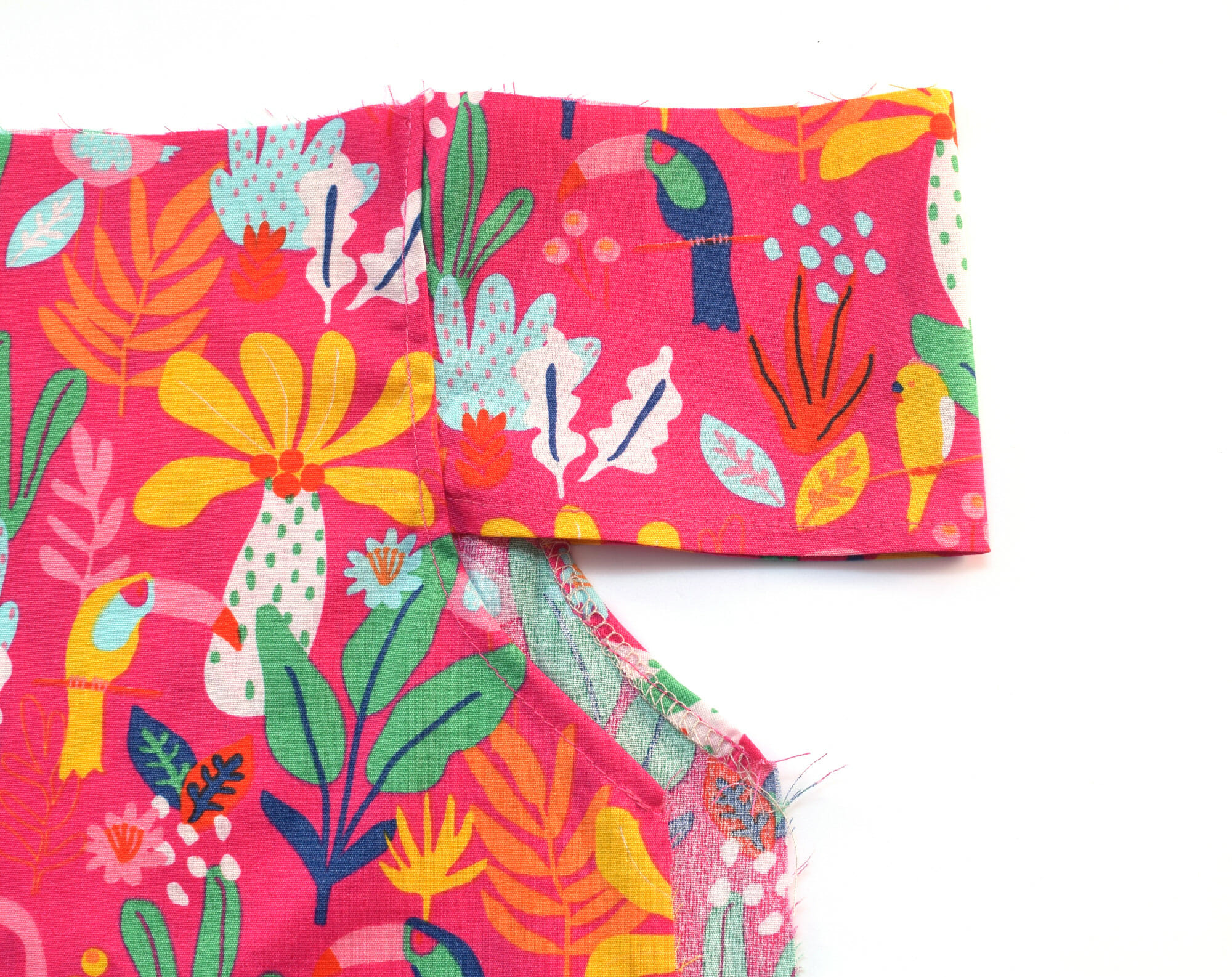 Step 5
Now place the bodice pieces right sides together and sew down the sides, from the hem to the bottom of the armhole.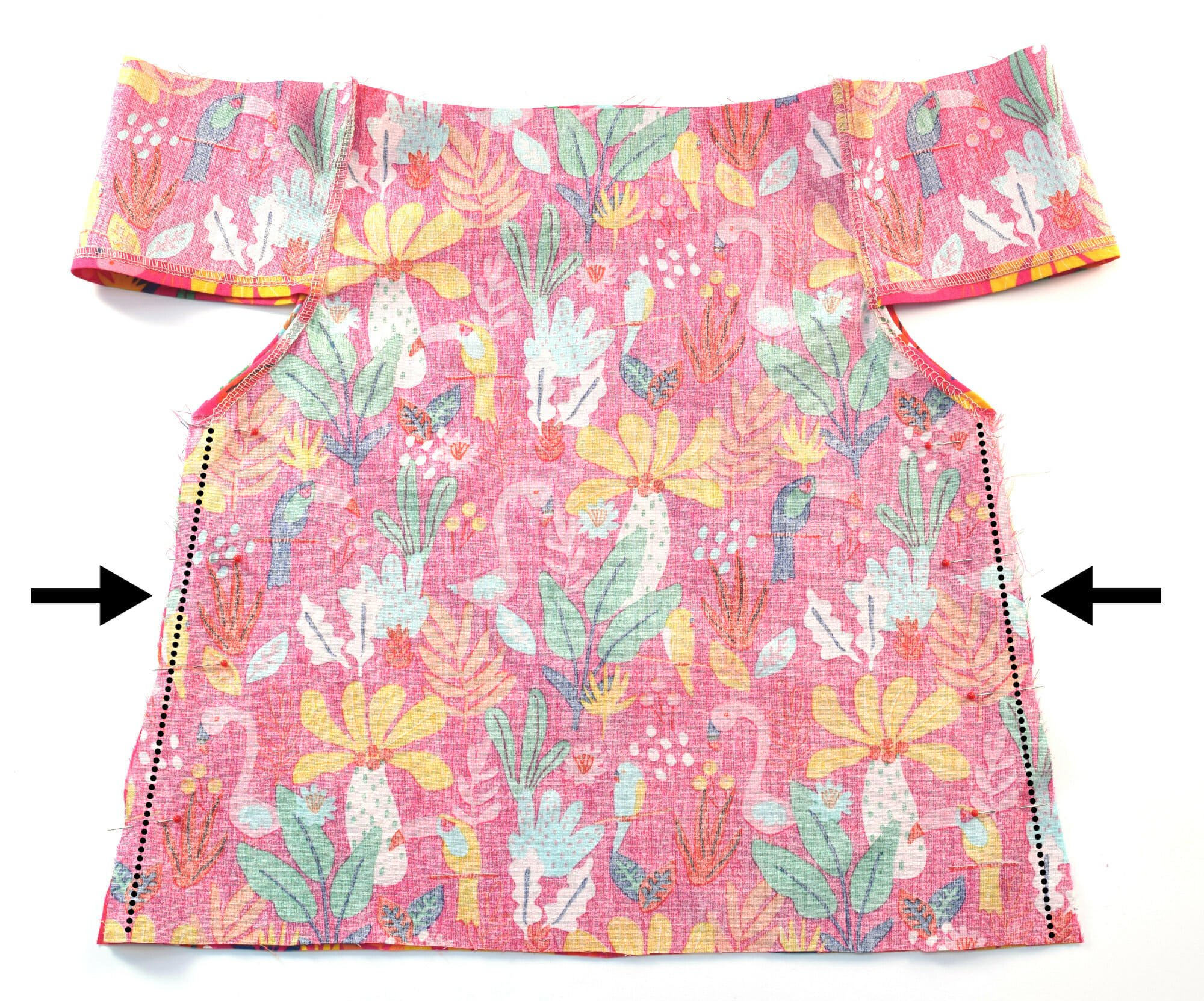 Then serge the side seams, and while you're at it, also serge the top and the bottom edges of the peasant top.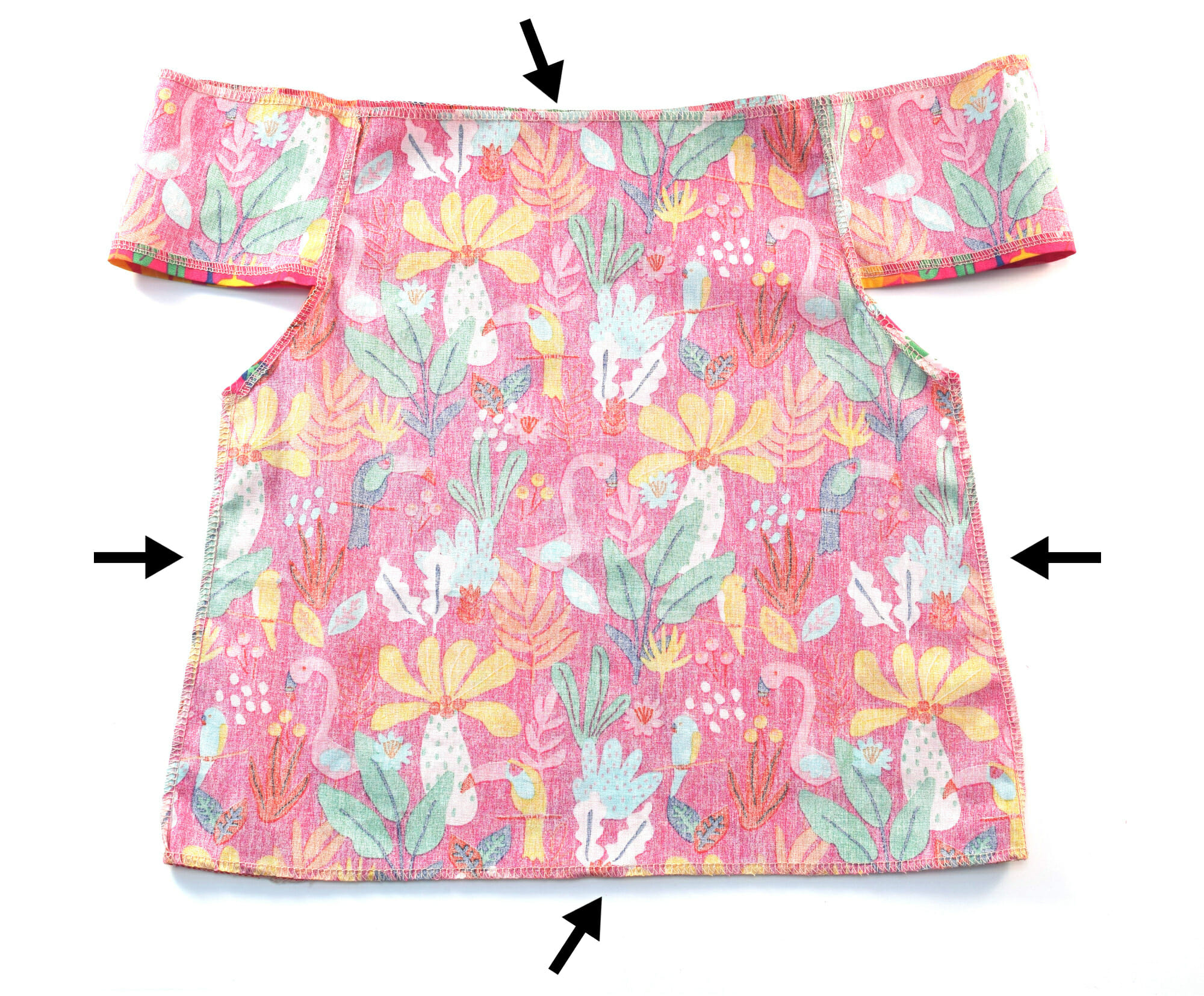 Step 6 – Let's form the top casing.
Fold the top edge over 1/2″ and press, then pin and sew 3/8" from the folded edge. Be sure to leave about 1/2″ opening so that you can feed your elastic.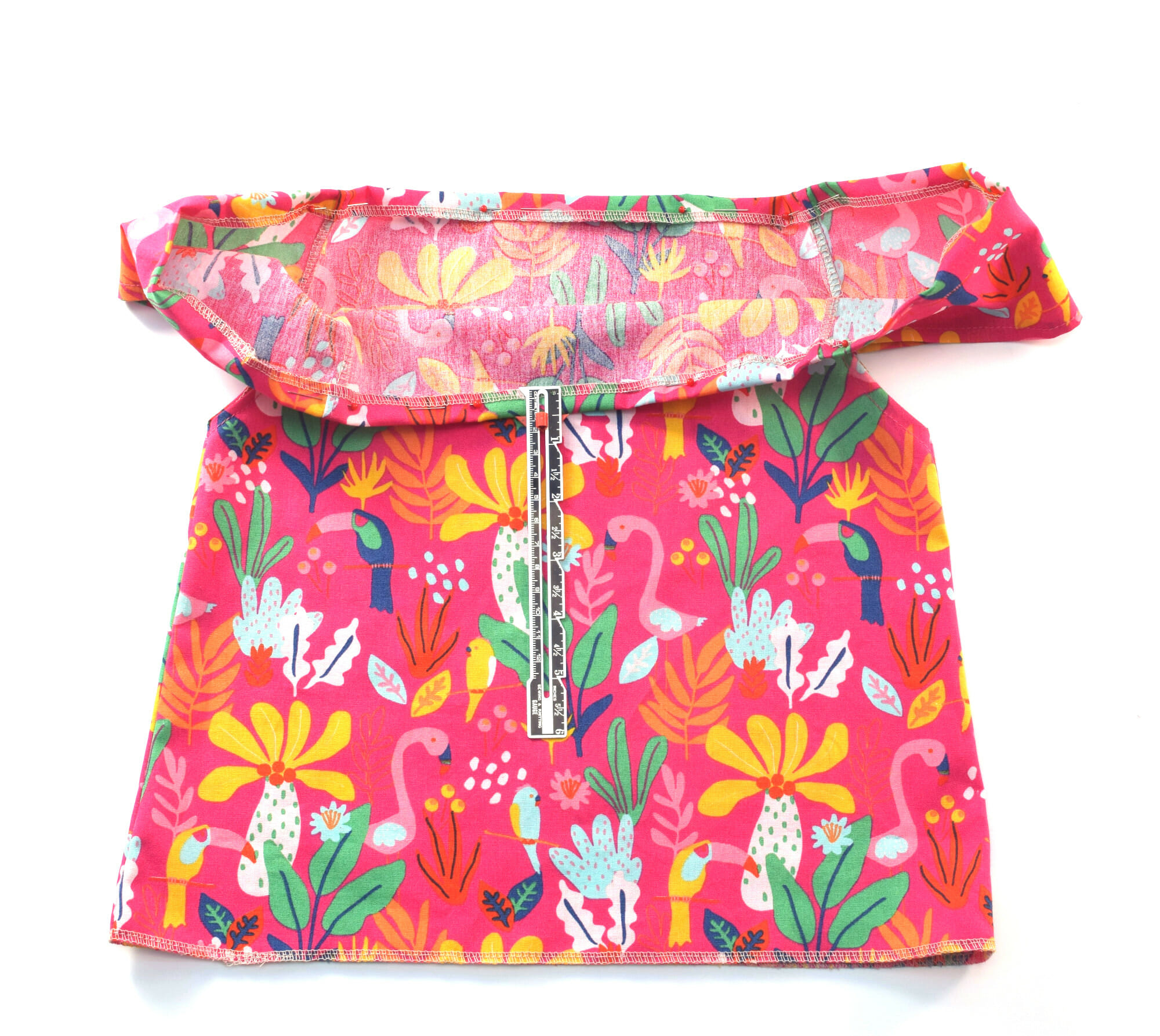 This casing goes all the way around the neckline and shoulders and this is where we'll insert our 1/4" elastic – I used a safety pin to thread elastic through it. Overlap the elastic ends and stitch them together to form a circle.
Step 7
Fold the serged hem up 1" and pin in place. I used a wide hem to give some shape to the bottom of my peasant top, but if you want a narrow hem, that's fine too.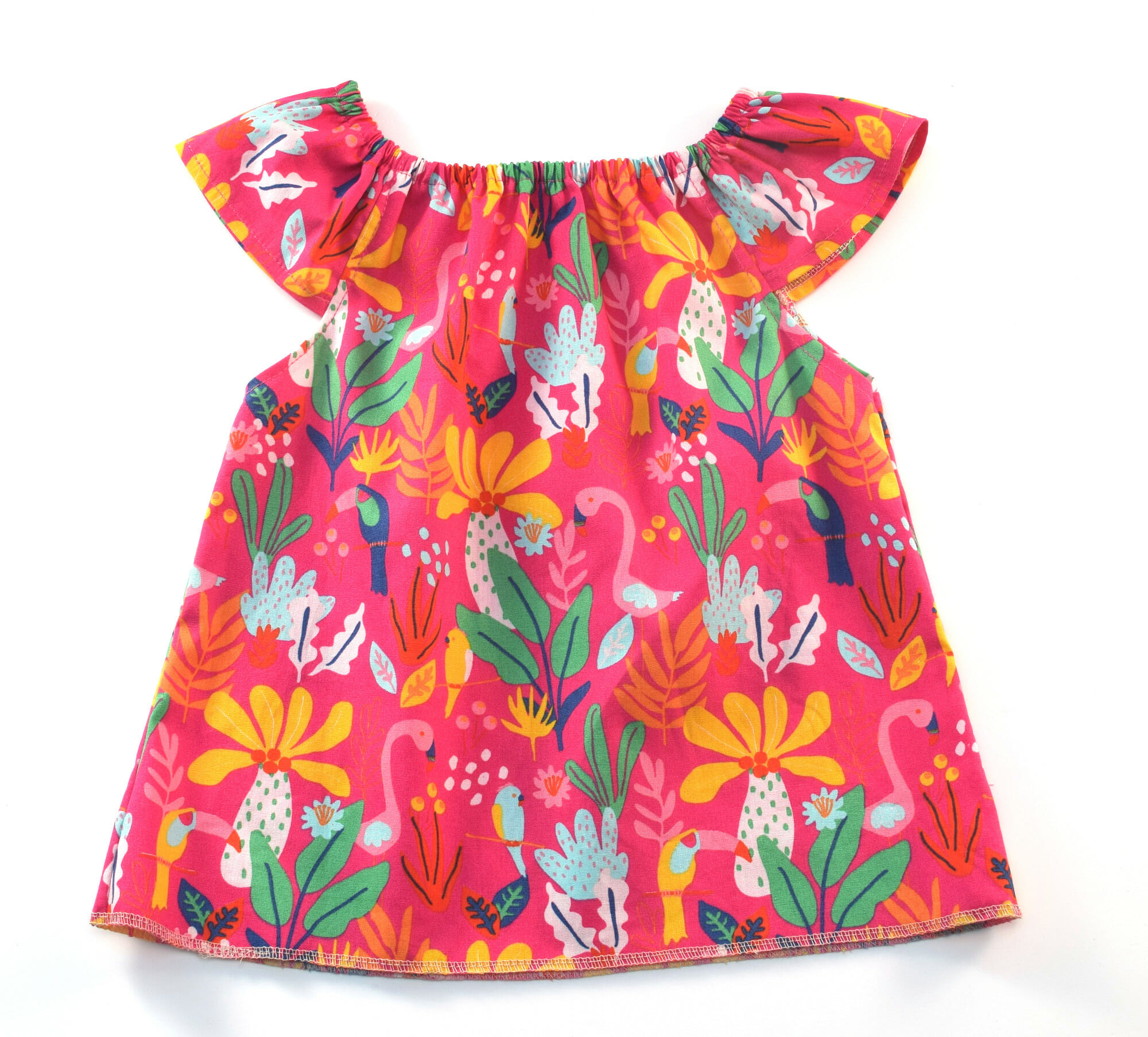 Make sure the hem is even around the peasant top. Stitch the hem close to the serged edge.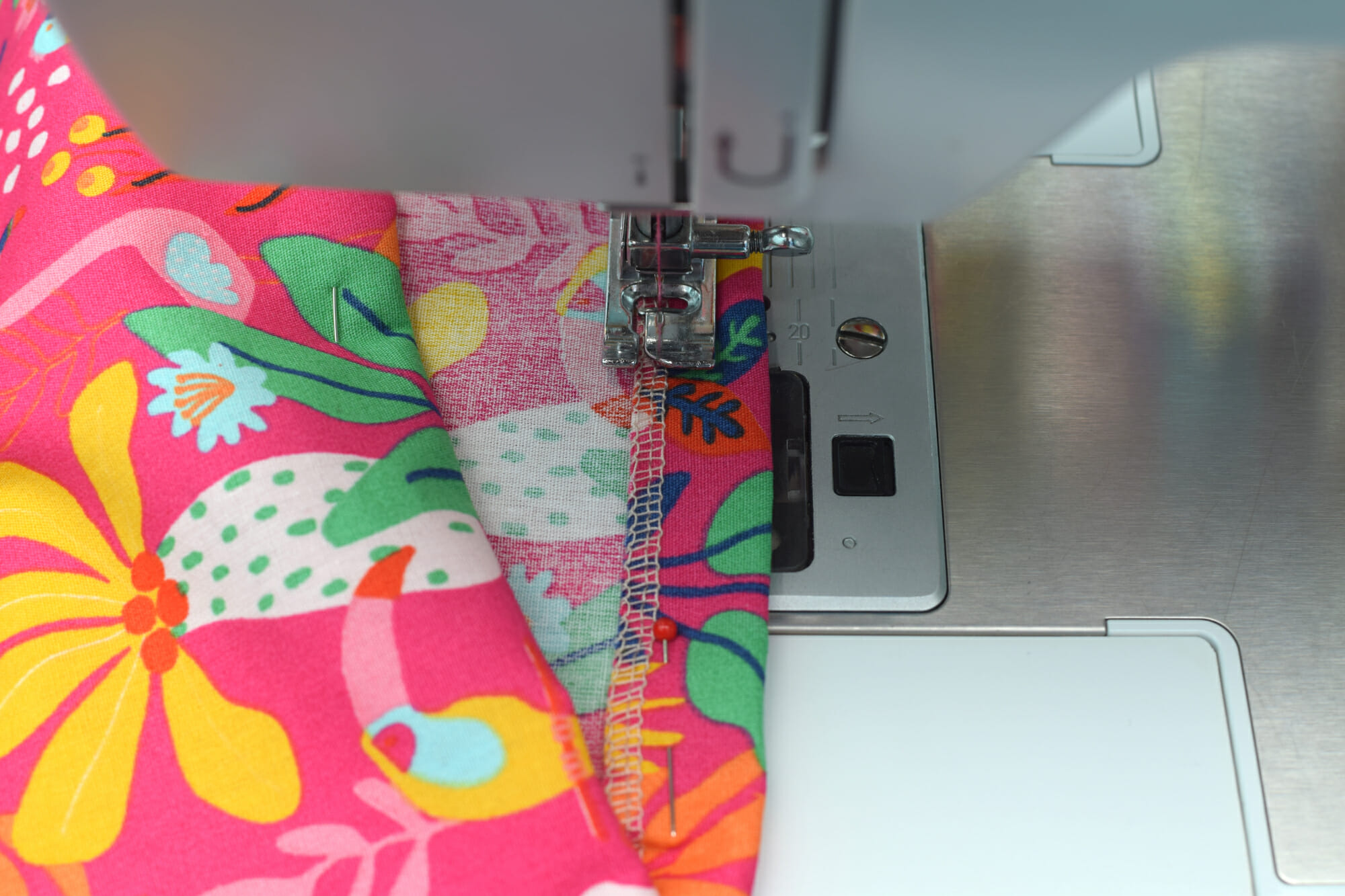 Give your little peasant top a good press and you're done!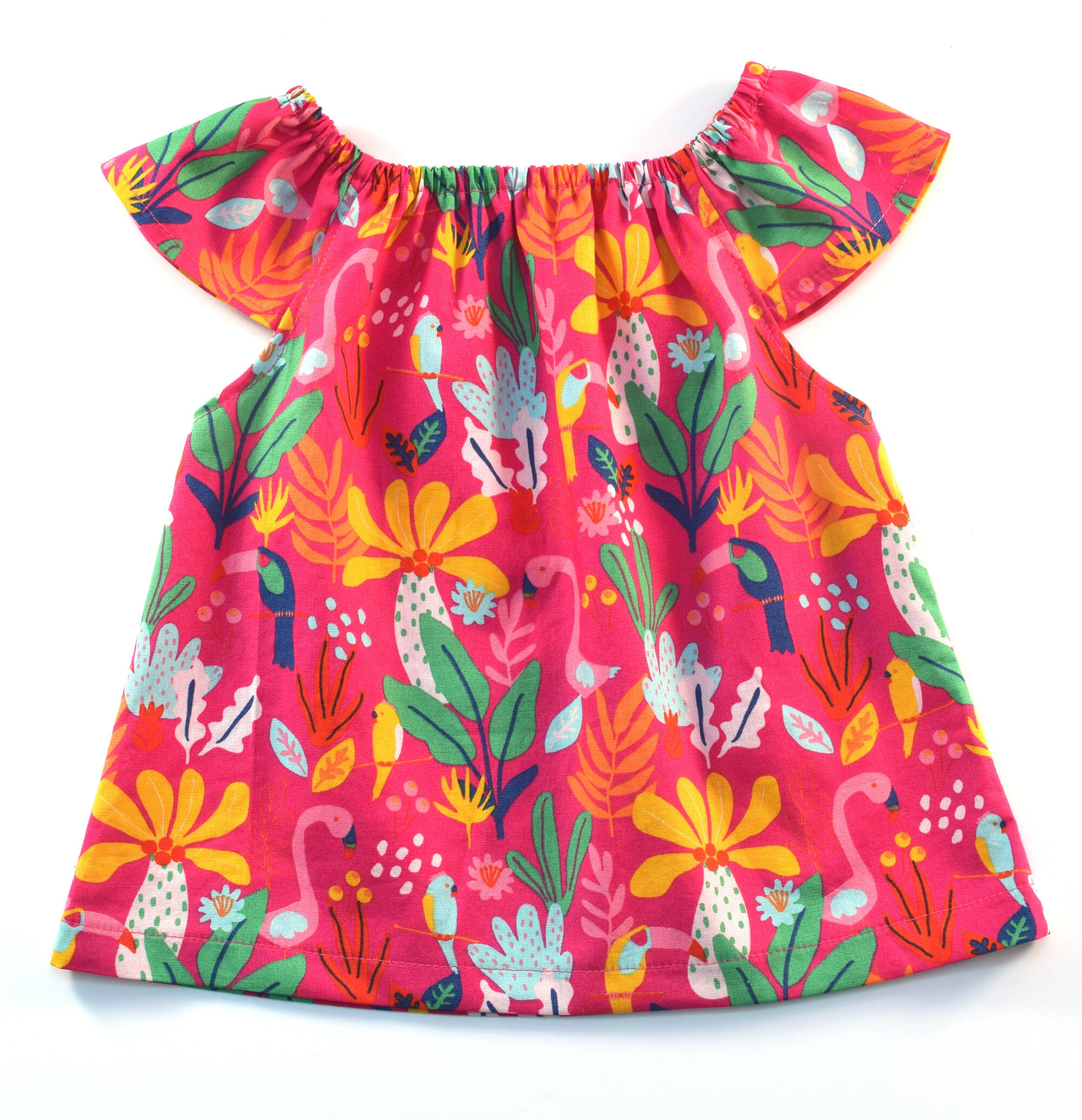 Have fun making lots of peasant tops/dresses with flutter sleeves!
If you use my tutorials or patterns I would love to see what you are making, so please share a photo on my Facebook page or tag me on Instagram!
So, here's how my lovely peasant top looks in action.