Learn how to make your own peasant top pattern in any size with this foolproof formula! No extensive knowledge about sewing or years of experience are required! This method requires little to no math and no body measurements. All you need is a short sleeve t-shirt with a regular fit, and you'll be able to create different peasant top variations in length, volume, or neckline.
With this skill, you can create peasant tops for yourself or others in different sizes and styles. This tutorial is made to be simple and easy to follow, so you can have a blast while making your first peasant top!
First off, let me make it clear that I'm not a professional patternmaker nor a professional seamstress. I'm completely self-taught and for me, sewing is a hobby that brings me a lot of joy and pleasure.
Those of you who've been around here for a while, probably know that I love peasant tops! They're super comfortable, cute, and super quick to make.
I've already shared several tutorials on how to make a long sleeve peasant top, a flutter sleeve peasant top, and even a cute dress that combines a peasant top with a tulle skirt.
Just a while ago, I noticed my daughters and I need more peasant tops/dresses for our spring/summer wardrobe, all in different sizes (11 years, 5 years, XS).
As you'd expect, I set out to make them, and here's what I came across. There is a simple shortcut anyone could use to make their own peasant top pattern!
Sewing supplies
Ruler
Pencil
Pattern paper – or substitutes like kraft paper rolls, freezer paper, wrapping paper, paper sheets taped together, even a newspaper will work. I used a drawing paper roll from IKEA.
To get started, all you need is a short sleeve t-shirt with a regular fit (not too tight but not too loose either).
Step 1 – fold the t-shirt in half and take two measurements
First, S = the opening of the sleeve at the hem.
Then, B = bust measurement.
Jot them down.
No need to double these measurements (do not calculate the total circumference of the cuff or the width of the t-shirt), just take them as-is. These are the only dimensions you'll need, because the sleeve pattern will be drafted on the fold.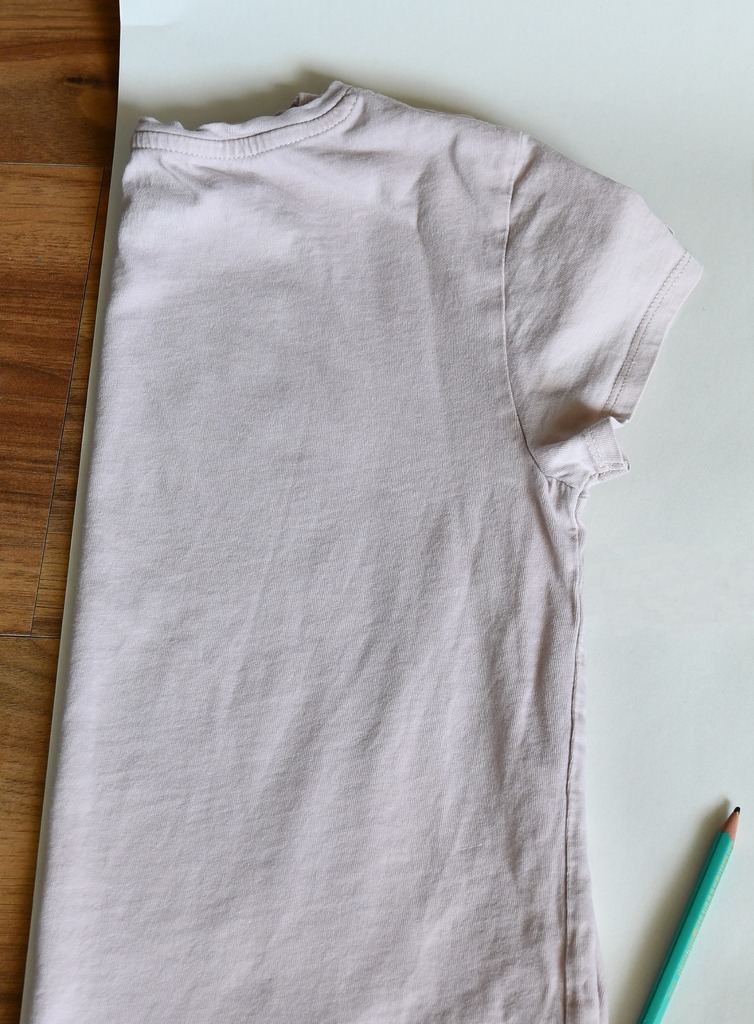 Step 2 – trace the armhole curve
Fold the t-shirt in half and lay it on a piece of paper. I used an A4 sheet to trace the contour of the armhole from the shoulder seam to the underarm seam. There's no need to be super precise, but make sure that your drawn line is about the same length as the t-shirt armhole curve.
Quick note – I know that there's a difference between the front and back of a sleeve. Normally, the armhole is cut deeper into the front of the t-shirt than the back. But for this peasant top pattern, this difference doesn't matter. The front and the back pattern pieces are identical.
Next, you have to extend the original curved line to increase freedom of movement and make room for the top elastic casing. How much should you extend the curve? Well, that depends 1. on the type of blouse and 2. the size you want to make.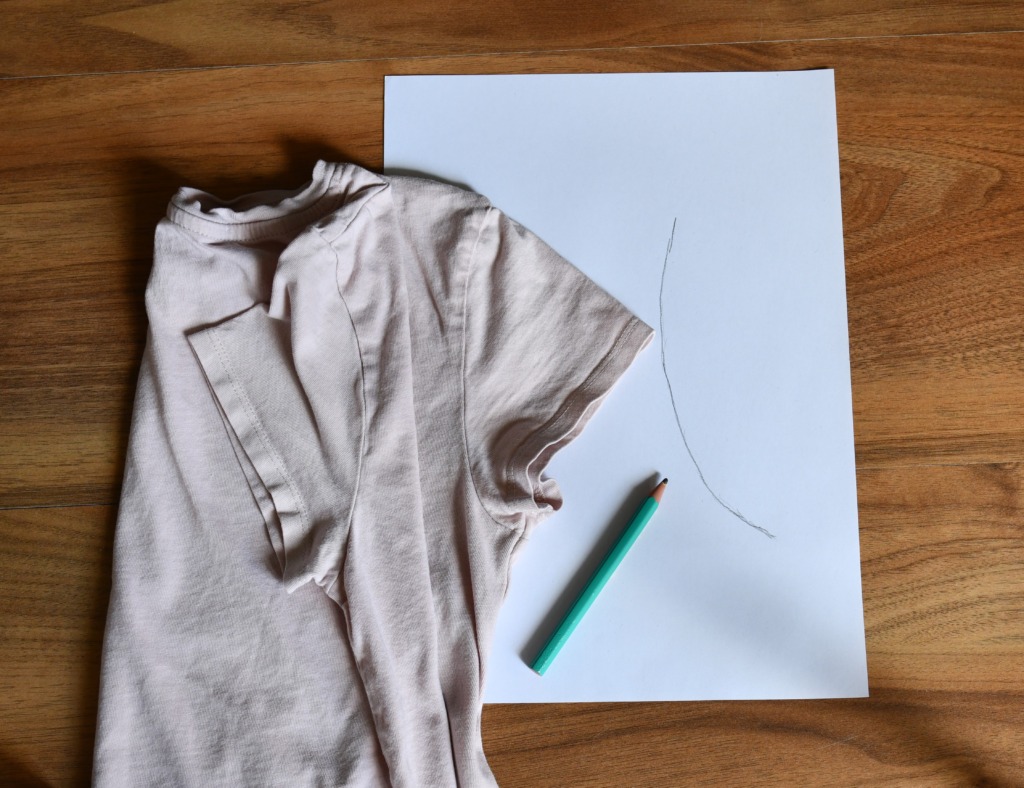 For an off-shoulder top, add about 1-2″ to your curved line. That's enough to include an elastic casing, and given that the armhole curve will be identical to the t-shirt curve, there will be plenty of room and comfort.
If a classic peasant blouse is what you want, the curve extension (the pink line in the above picture) should measure about 2-3" for a women's top, and less for a toddler's top (I'd say 1-2″).
These numbers are approximations, but now you get the idea. Use your own judgement. You also have to take into account how wide your elastic casing will be, and whether you want a ruffled neckline.
Peasant tops are usually loose and flowy. Therefore, the guiding principle is that the sleeves should have a deeper armhole to improve comfort and movement.
Step 3 – create the armhole pattern
After you finish drawing the curve, fold down the top and bottom of your paper sheet to obtain an armhole pattern.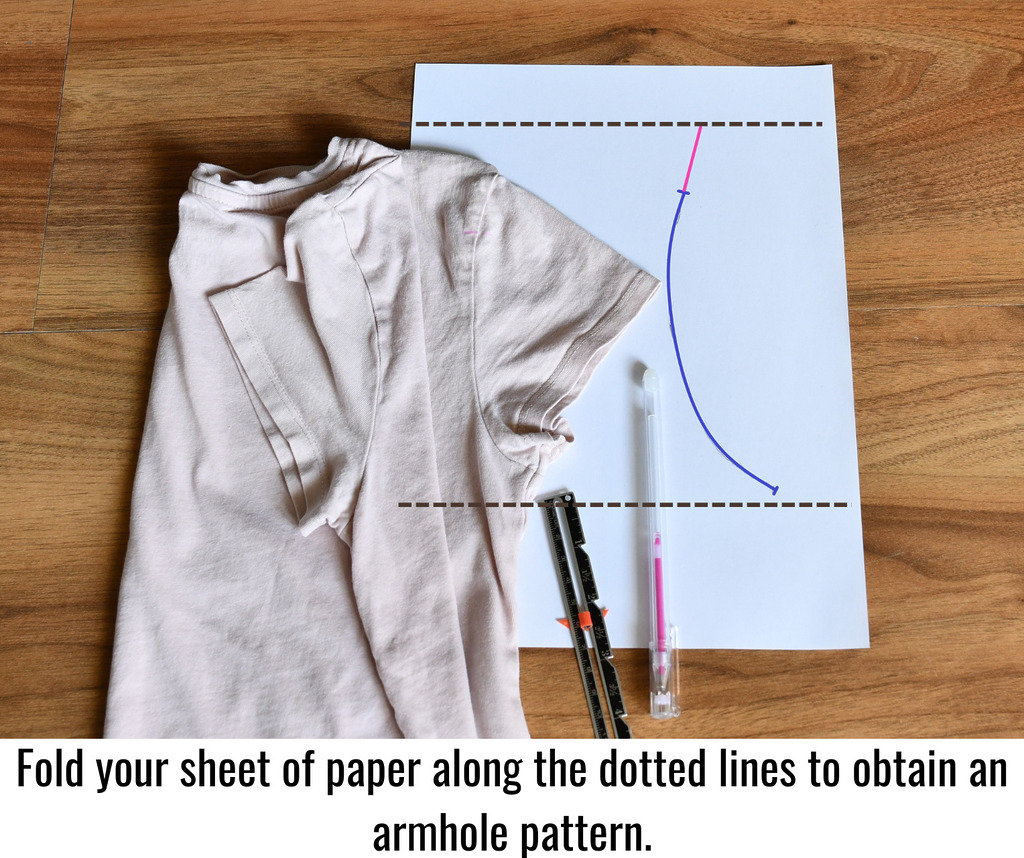 Cut through the paper along the curve – but not with your sewing scissors!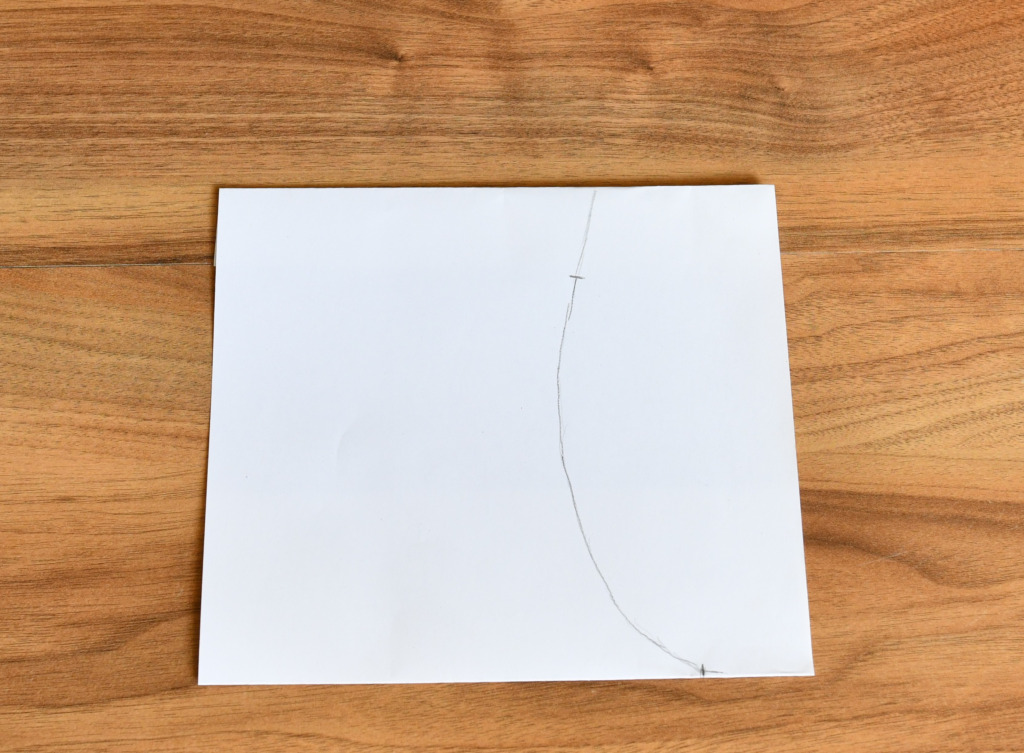 Step 4 – draw two rectangles
For this step, you will need pattern paper or substitutes like kraft paper rolls, freezer paper, wrapping paper, paper sheets taped together, or even a newspaper. This time, I used drawing paper roll from Ikea.
Now draw two rectangles for the bodice and sleeve patterns. Use those B and S measurements from Step 1 for the rectangles' width.
Add ease to your liking.
I added 3" for the bodice and 2" for the sleeve BUT you can add more or less ease depending on how many gathers, or volume, you want for your peasant top, and the fabric you use.
If you use a super lightweight fabric, like viscose, chiffon, or silk, let's say, you can add more ease – up to 5″ for each pattern piece.
Remember that these patterns are drafted on the fold. So, if the opening of your t-shirt sleeve at the hem is 5", let's say, and you add 2" for ease, then your peasant sleeve circumference will be about 14" total – that's a lot of cute sleeve gathers!
Don't worry about the length of these rectangles just yet. It's better to make them a bit longer than necessary, as you can always shorten them later on in the final step.
The length of your peasant top is up to you. You make a dress out of this pattern, a blouse, or a crop top.
Step 5 – create the bodice & sleeve patterns
Place the armhole pattern in the top right-hand corner of the bodice and sleeve patterns and trace the curve. Notice the armhole curve is exactly the same for both patterns – it's exactly how it's supposed to be!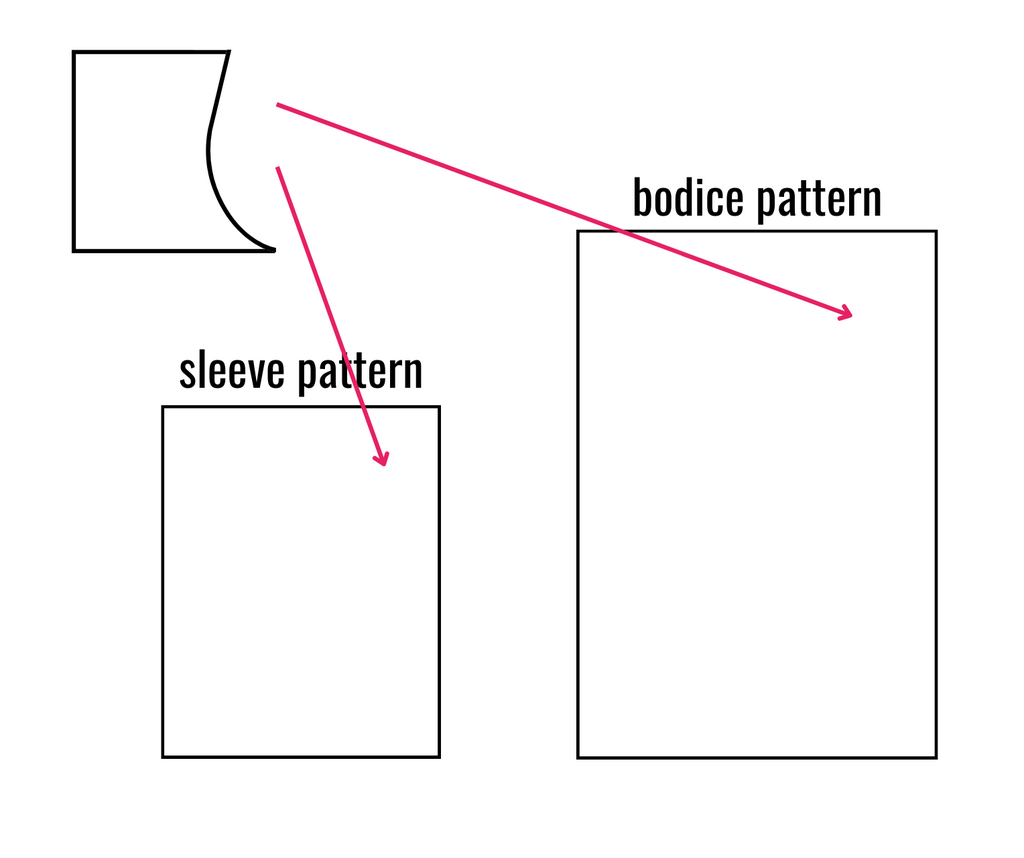 Also, you drafted the bodice on the fold – don't forget to mark this info on your pattern piece.
Adjust the length of the sleeve and the bodice as desired to create different styles of peasant tops. If you want a flutter sleeve top (like this one), cut your pattern piece down the middle of the armhole curve (don't forget to allow for the hem).
In general, I calculate the length of the finished garment by measuring down from the underarm point (remember to allow for the hem or elastic casing).
Now, cut out your peasant top pattern pieces and use them to cut your fabric. You'll then need to cut out 2 identical fabric pieces on the fold, for both sleeve and bodice – 4 pieces in total.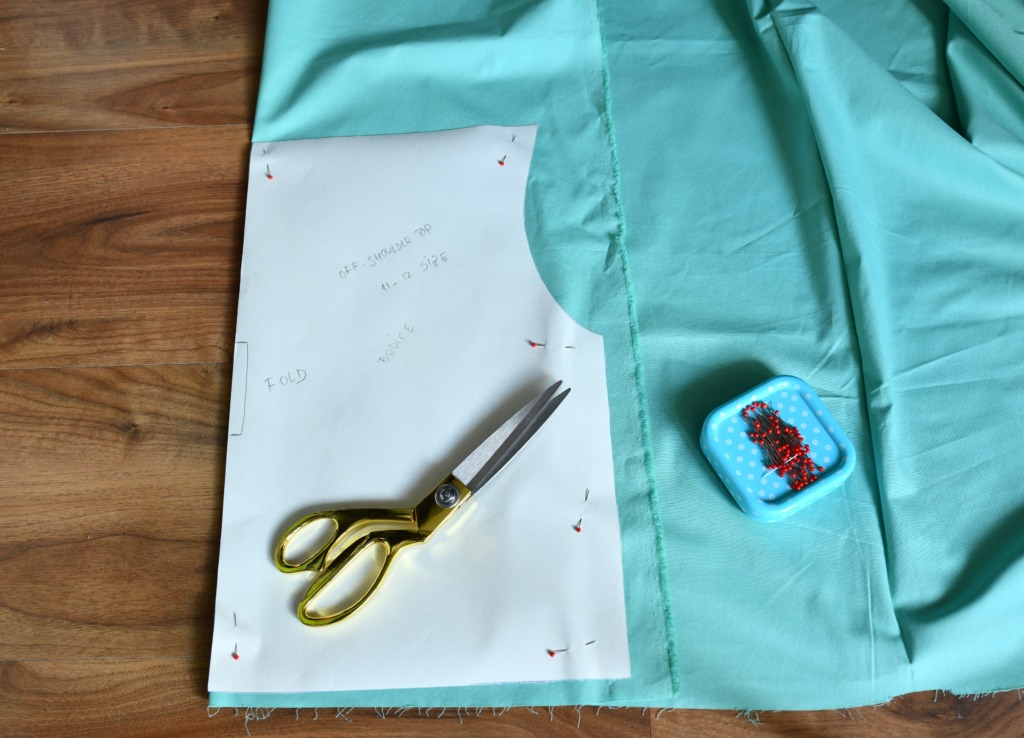 Sew the pieces together following the instructions for the specific style of peasant top you're making.
With this simple pattern drafting shortcut, you'll be able to create peasant tops in different sizes and styles, from off-shoulder tops to cute summer dresses.
Pattern drafting can be a life-changing skill that opens up unlimited opportunities and brings great satisfaction. Best of all, it's completely free and super easy to learn. So grab a t-shirt and get started today!
Best fabrics to use for your peasant top pattern
Peasant tops are usually loose and flowy, so lightweight and drapey fabrics work best. Popular choices include cotton voile, batiste, silk, lawn, rayon challis, lightweight cotton, lightweight linen, and cotton gauze. Fabrics with a bit of stretch, such as lightweight jersey, can also work well for a more fitted peasant top.
If you have any questions or observations about this peasant top pattern drafting method, please share them in the comments section below so that others can learn from your ideas too.
Let's keep in touch! You can find me on Facebook, Instagram, and Pinterest.