Learn to make a long sleeve peasant top for your little girl with this free pattern and tutorial. A great beginner sewing project – no buttons, no zippers, no stress.
A cool and comfy blouse with a relaxed fit that accommodates easy on and off, and provides unlimited freedom of movement.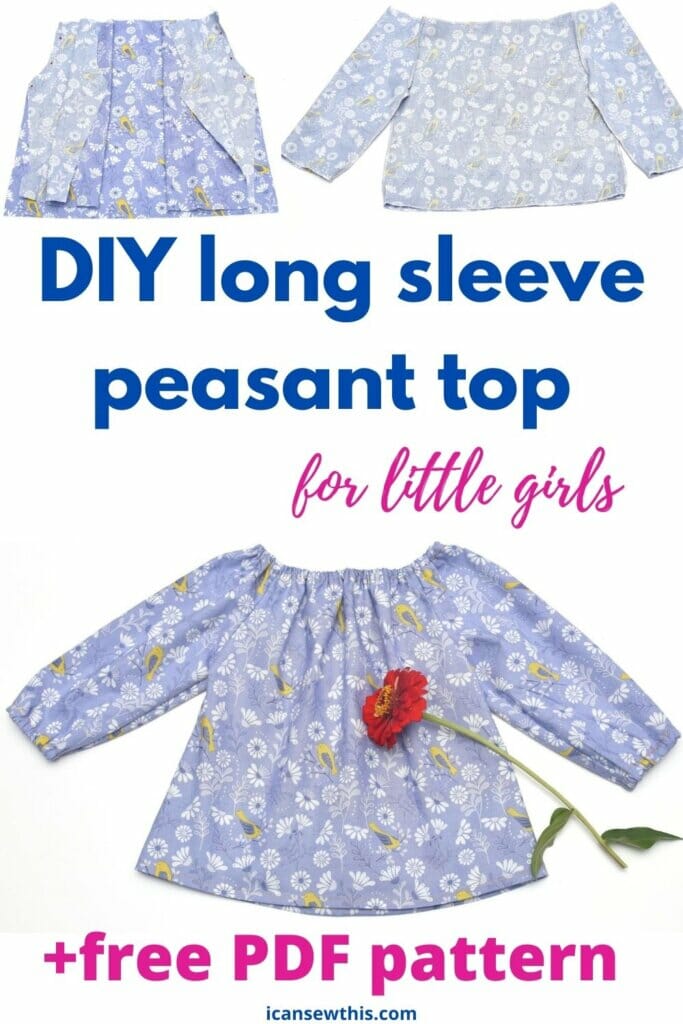 Long sleeve peasant top, perfect for mild weather
This cute top is perfect for fall and spring, and a great piece to dress up your toddler's favorite jeans or skirt.
I bought this bird print fabric four years ago, and I just kept it in my stash. It was simply too beautiful to cut. But enough is enough, and this week I decided to finally put it to good use.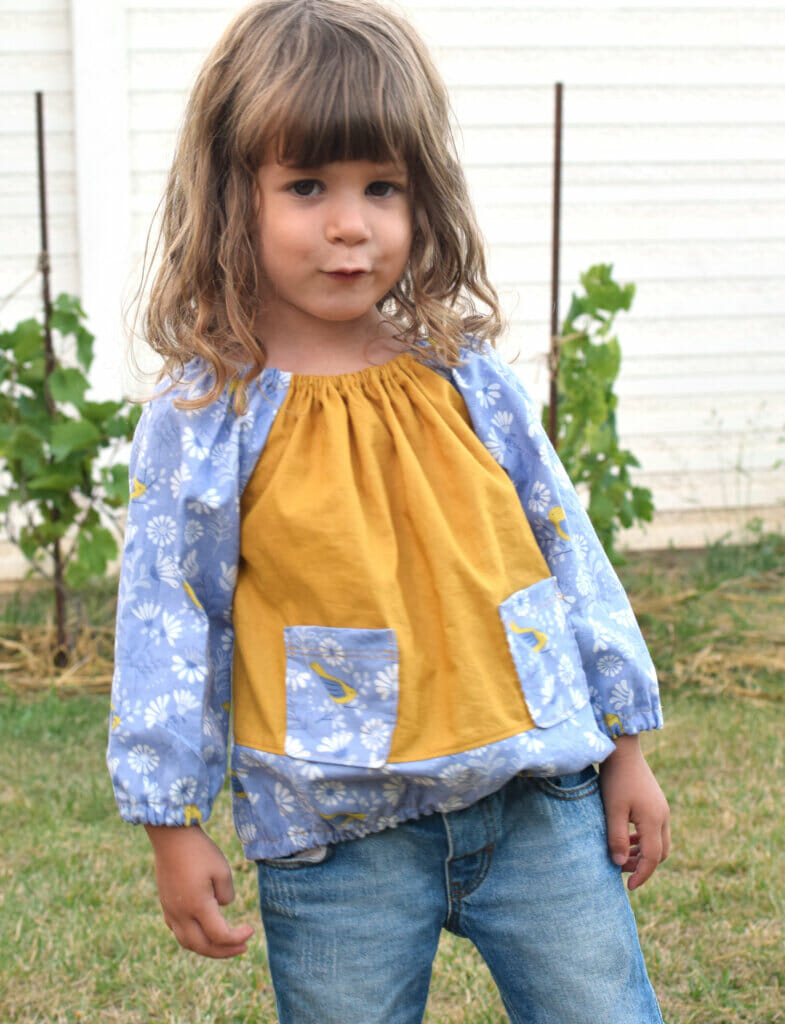 Yet this darling long sleeve peasant top with little patch pockets is a happy accident.
You see, I only had half a yard of the birds & flowers print fabric, and I was determined to make a long sleeve peasant blouse for my youngest daughter as she starts kindergarten in a few weeks, and autumn is just around the corner.
I drafted the pattern, then I mindlessly began to cut the fabric pieces.
I'd already cut the sleeves and one bodice piece, when, to my absolute horror, I realized I didn't have enough fabric! The second bodice piece was never going to fit.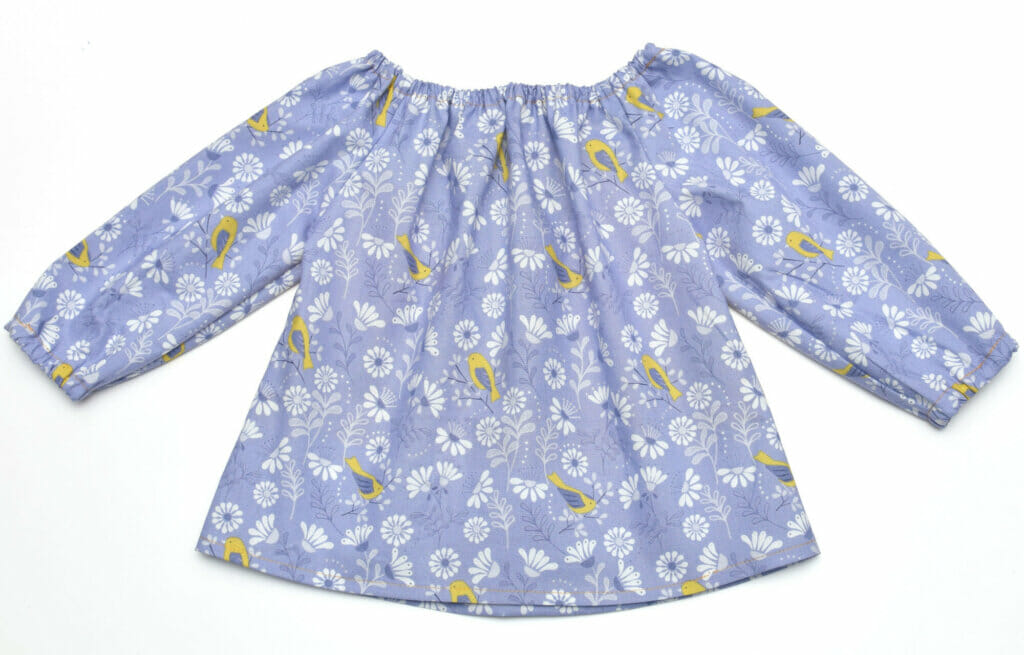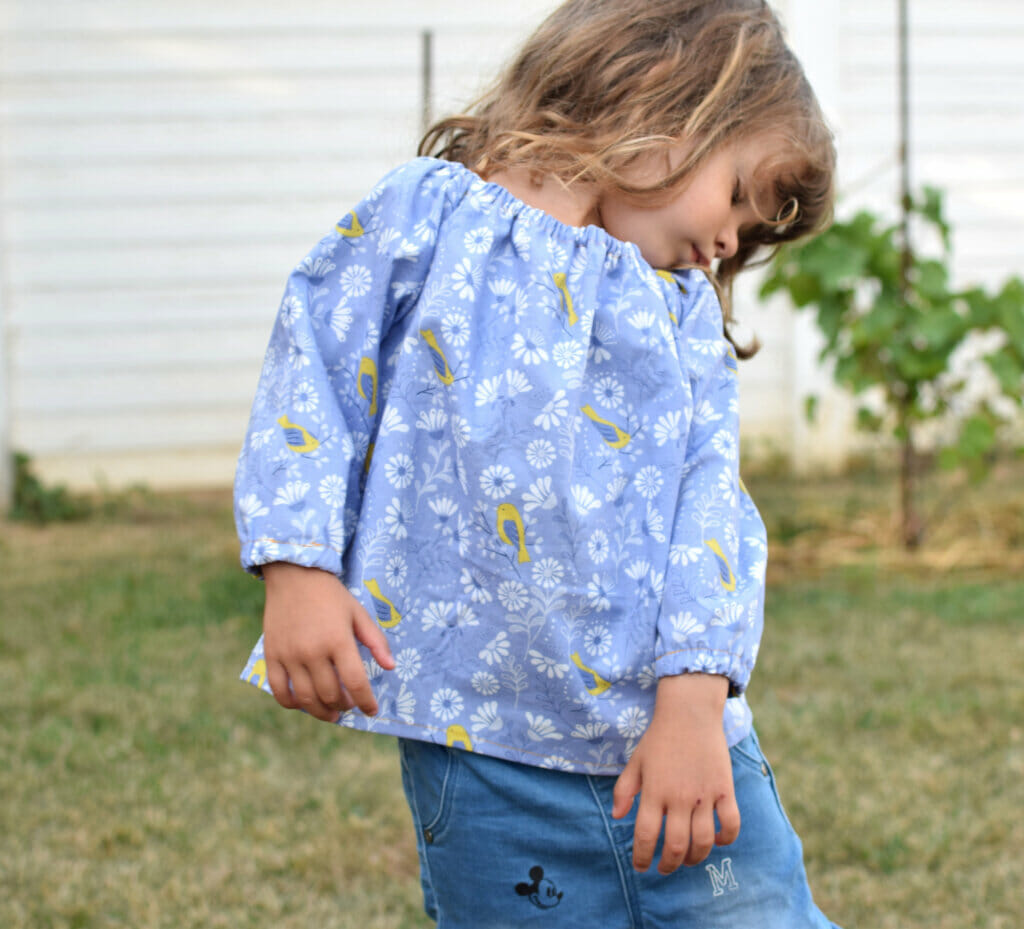 Unbelievable as it may seem, I just didn't see that coming. It was just one of those days.
This was supposed to be a simple project that would lift me up. I had no plans to get creative, nonetheless I decided to try and save the situation.
This is how I ended up with this front bodice with pockets and a contrasting band for the bottom.
This turned out the cutest little blouse on my daughter, so I'm happy I overcame the challenge.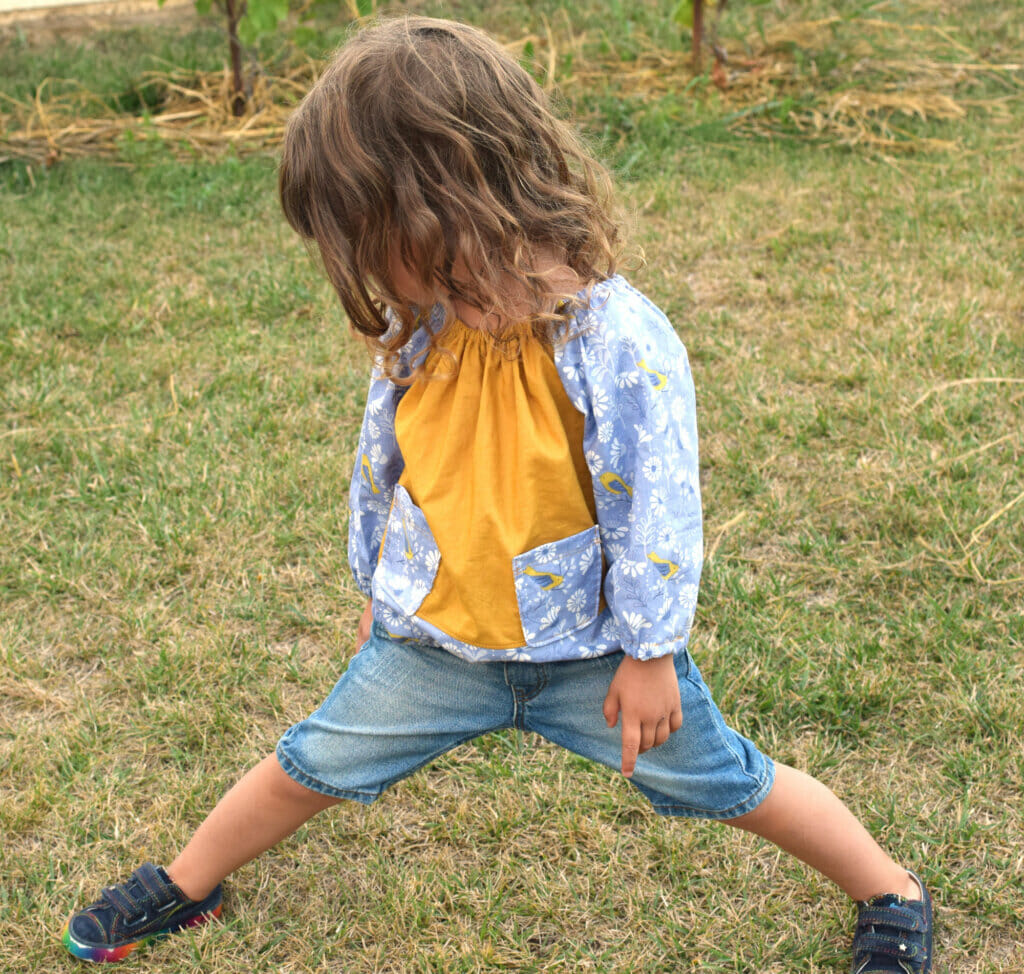 Unfortunately, there are no instructions on how to make or add the pockets or the band, because I didn't take any pictures of these steps. But if someone asks me about it, I'm happy to oblige. I followed this tutorial from Youtube to make the lined patch pockets.
Free pattern – little girls' long sleeve top
The free sewing pattern that you can download below is for a simple long sleeve peasant top. However, you can embellish your own blouse with bows, pockets, lace, rick-rack, buttons, contrasting band, a mini pom-pom hemline, or appliques.
Furthermore, you can always lengthen the pattern to make it a little girls' peasant dress.
Important: prewash your fabric before sewing to avoid shrinkage.
Note – the free pattern is for personal use only. I think it's obvious for everyone that this pattern is drafted by hand (and that I am not a professional pattern-maker), however, it fits my daughter perfectly. She is 3-years-old and about 37 inches tall right now.
Sewing supplies
Girls' long sleeve peasant top – PDF pattern available here – size 3T. Make sure you print it at 100% or "actual size".
1 yard of fabric – cotton, linen, muslin, chambray, viscose
¼" elastic
Here's how to assemble the pattern. As you can notice, I flipped over the bodice pattern when I copied it (or is it the sleeve pattern?!).
Unfortunately, I don't know how to make digital patterns, at least not yet. I usually draw my patterns on A3 size sheets (that's my oldest daughter's drawing block) then I transfer them to A4 sheets using a simple pen, then I scan all the pages in one document so that you can download and print them at home. It is pretty rudimentary, I know, sorry.
Feel free to flip either of the pattern pieces and use the "wrong" side. That's the beauty of this simple peasant top pattern – there's no correct side of the sleeve, left or right.
Just pay attention to your fabric when it's time to lay out pattern pieces (is it a directional or a non-directional print?). Both pattern pieces should be placed on the fold.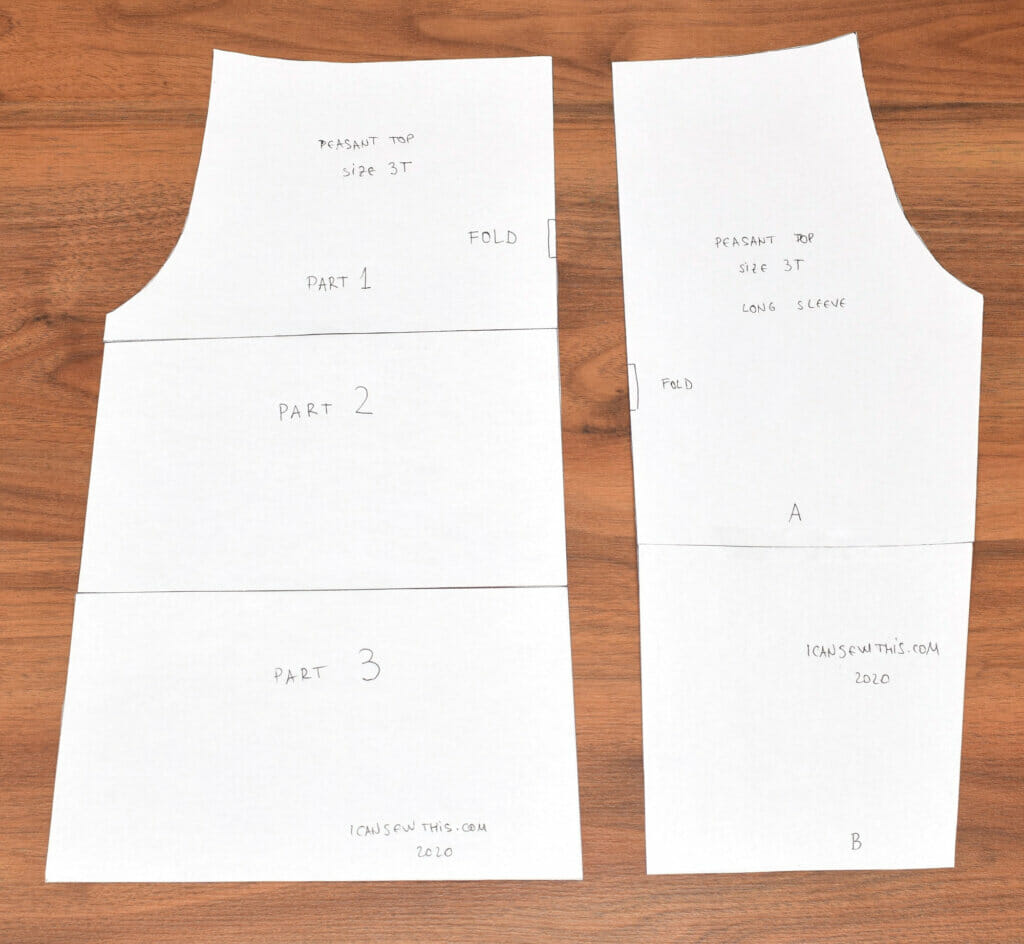 Ready to sew this adorable long sleeve peasant top? Let's begin!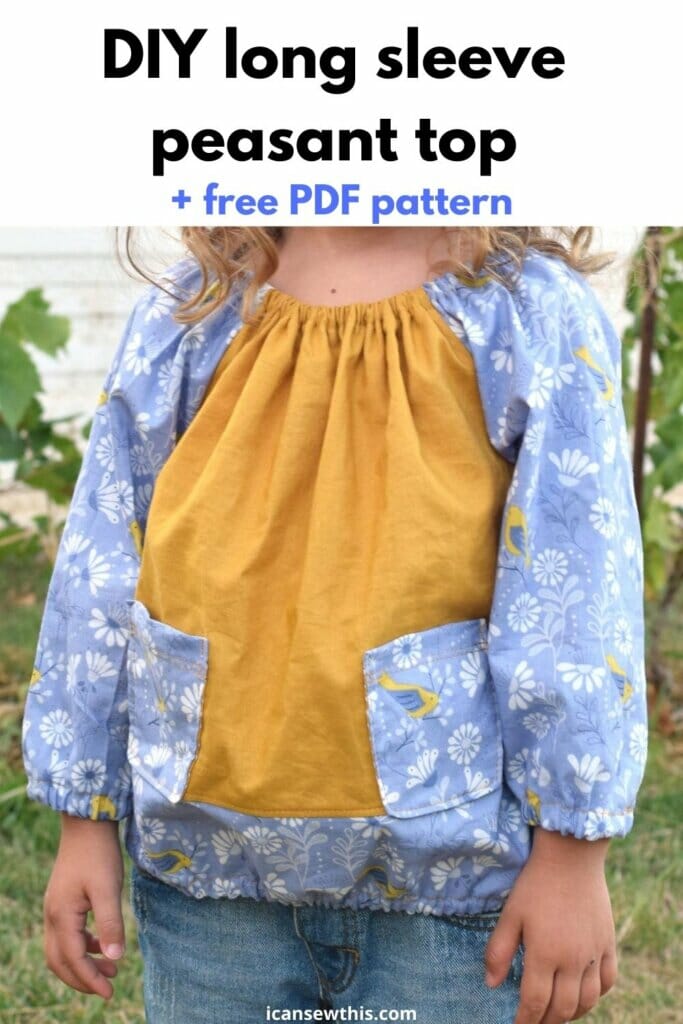 Step 1
First, cut the fabric pieces – 2 bodice pieces (front and back) and 2 sleeve pieces.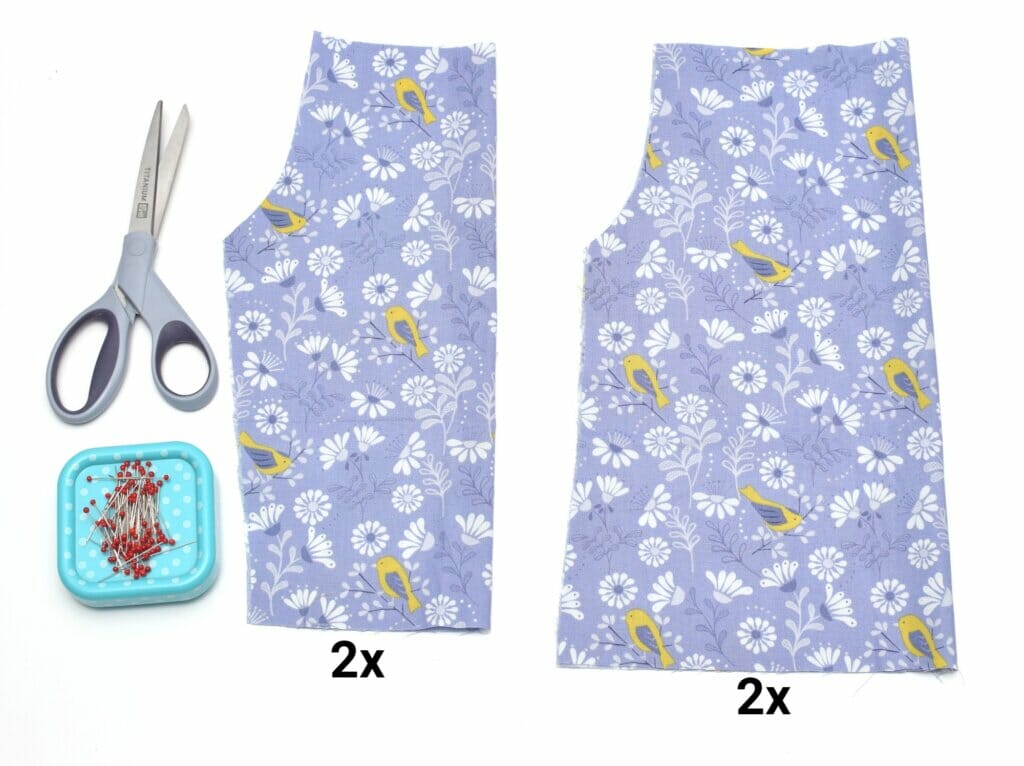 Next, you can prepare the elastic as well. You'll need ¼" wide elastic as follows – 2 x 6 ½" for the sleeves, 18" for the neckline, and 26" for the hemline (optional).
Step 2
Now, with the right sides together, match one sleeve to the bodice back armhole. The curves should fit perfectly. Sew the sleeve to the bodice, then repeat with the second sleeve.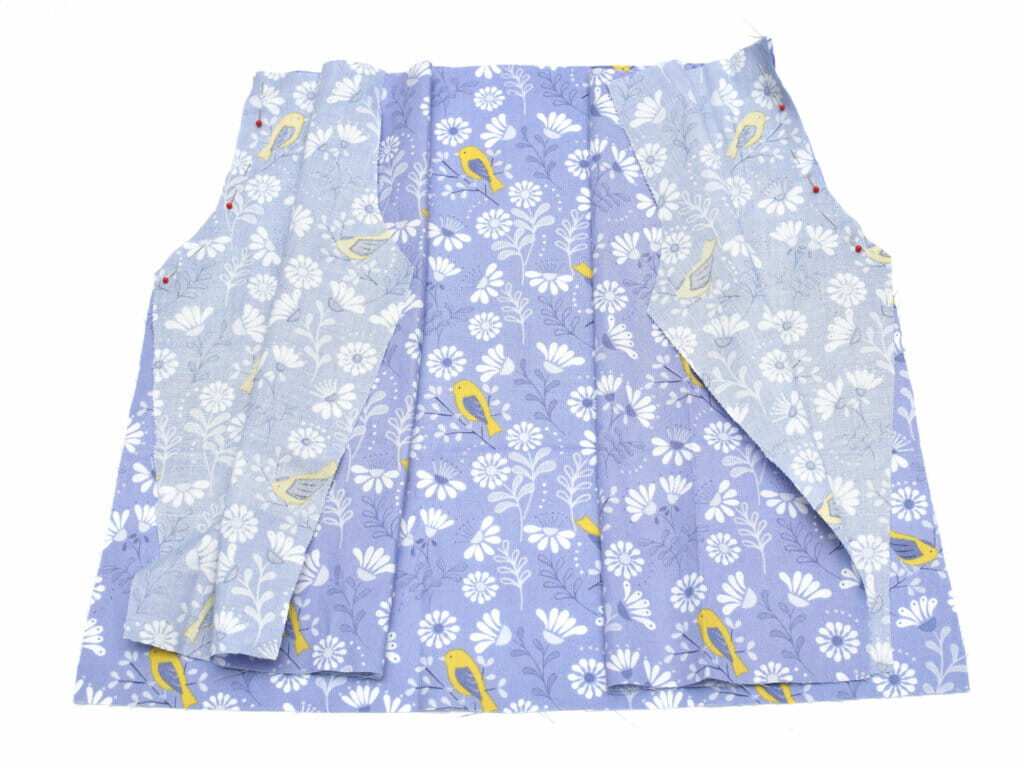 Note: In this tutorial, all seam allowances are 3/8".
Line the other sleeve's edges up on the bodice front as shown in the below picture. Finally, everything is starting to come together now. At this stage, our DIY project already looks pretty much like a peasant top.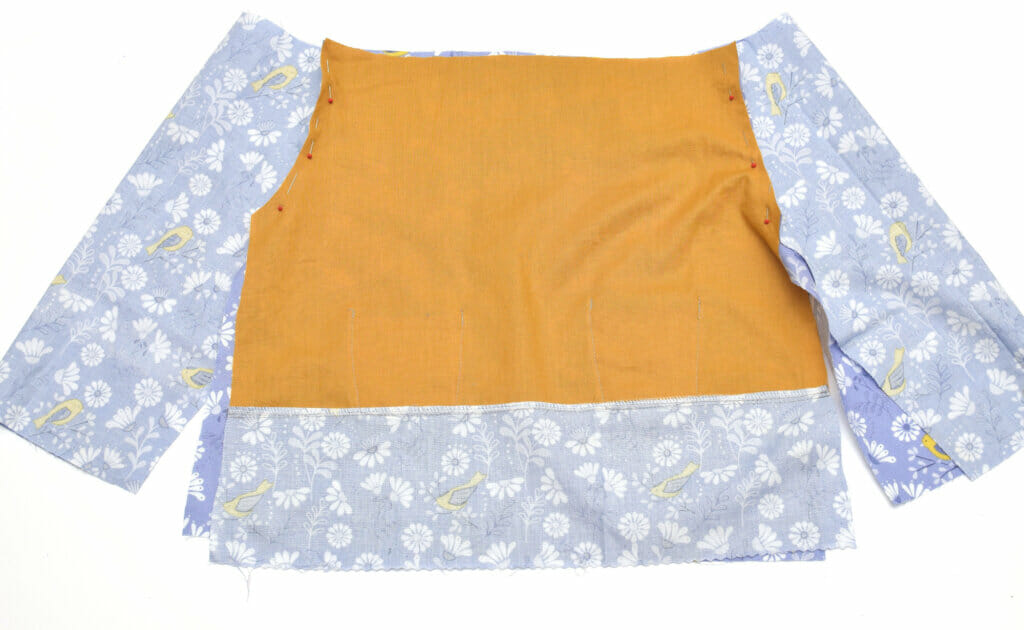 Once you've sewn all the sleeves into the armholes, finish those raw edges with a serger, zig-zag stitch or pinking shears.
Step 3
Next, place the bodice pieces right sides together and sew the sleeves and the side seams in one long seam.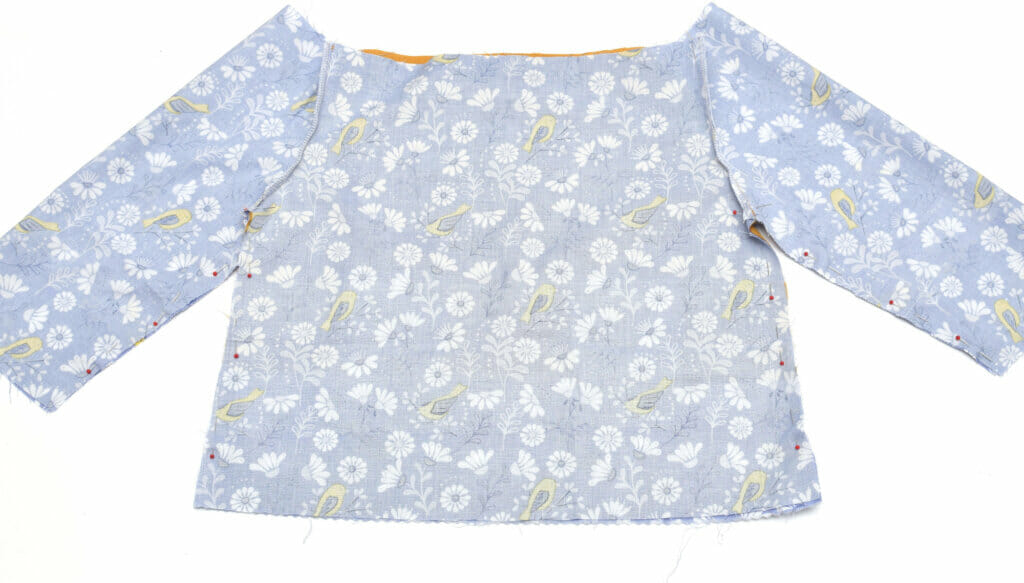 Step 4
Serge or zigzag the raw edges together. While you're at it, also serge the bottom edges of the sleeves, and the top and the bottom edges of the peasant top.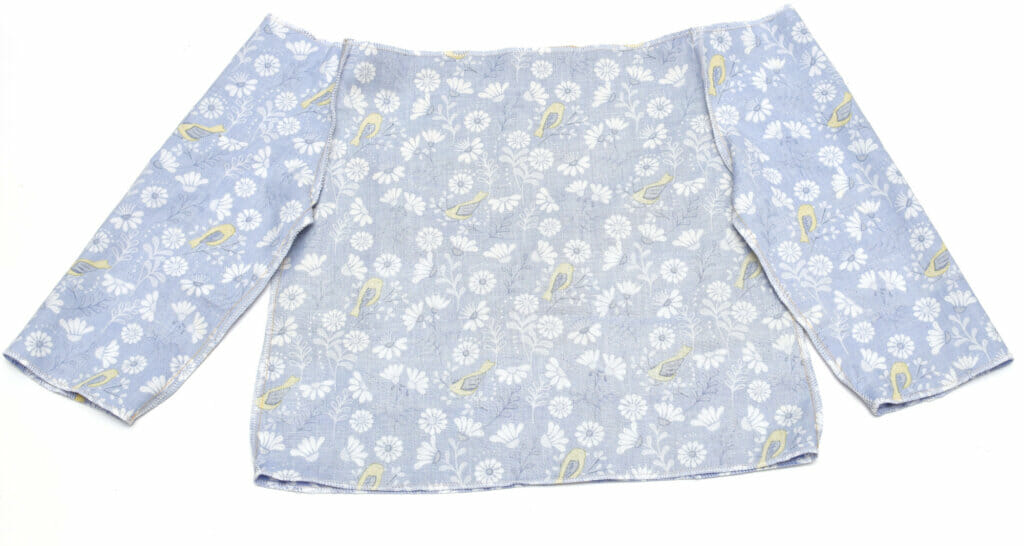 Step 5
Now, let's create the casings around the neckline and the armholes.
To form the top casing, fold the top edge over 1/2″, then pin and sew 3/8" from the folded edge. Backstitch at the beginning and end and make sure to leave a small opening so that you can feed your elastic.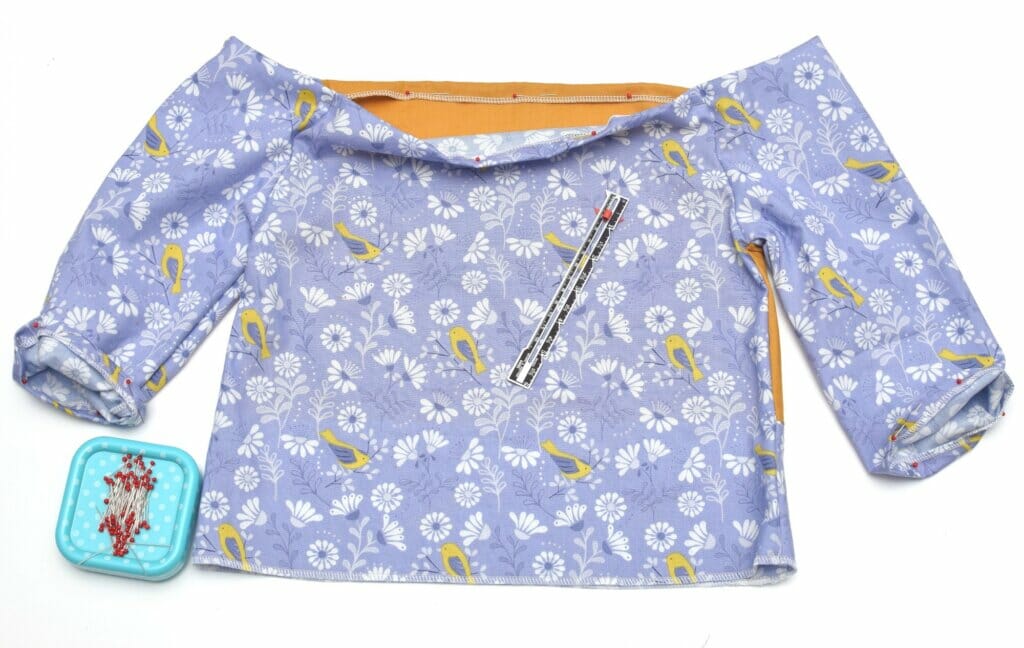 Then fold the sleeves under ½" and repeat the same steps.
Step 6
Thread the elastic through the top and sleeves' casings with a safety pin, then overlap the elastic ends and stitch them together.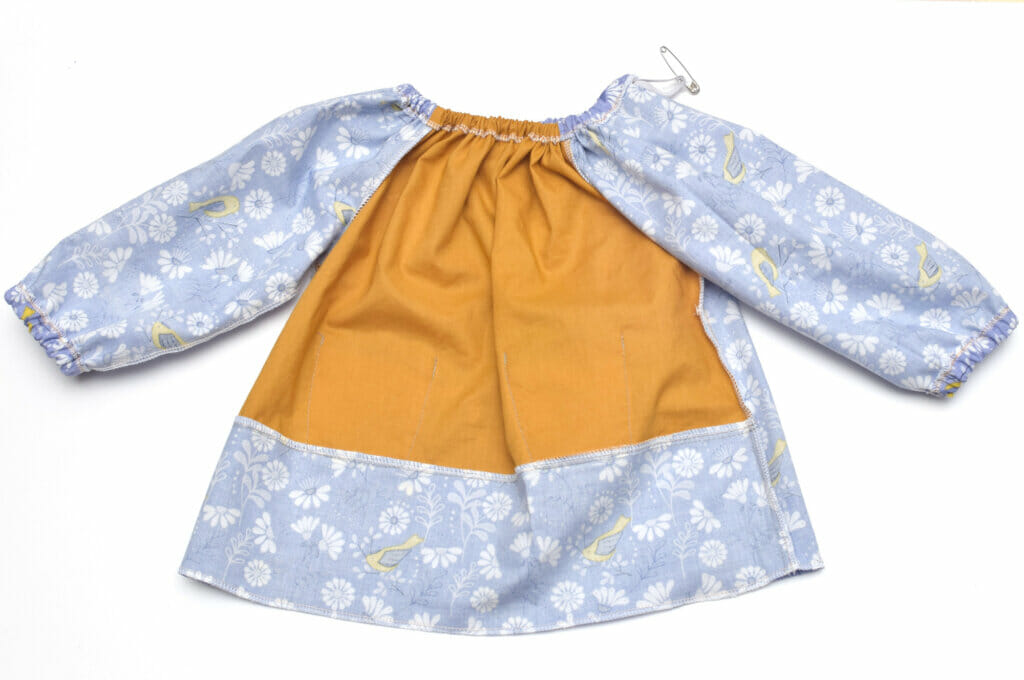 I used 6 1/2″ of 1/4″ wide elastic for each sleeve on this peasant top and 18" for the neckline.
Step 7
Hem the bottom of the peasant top – fold the fabric to the wrong side 1/2″, then stitch in place.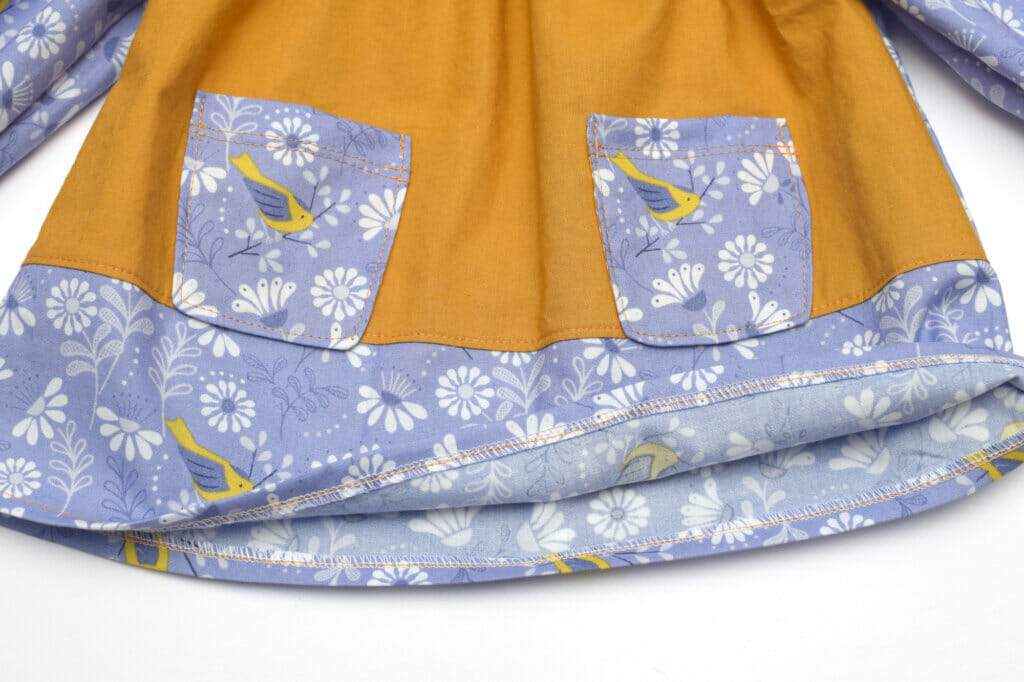 Now you have to decide what to do next.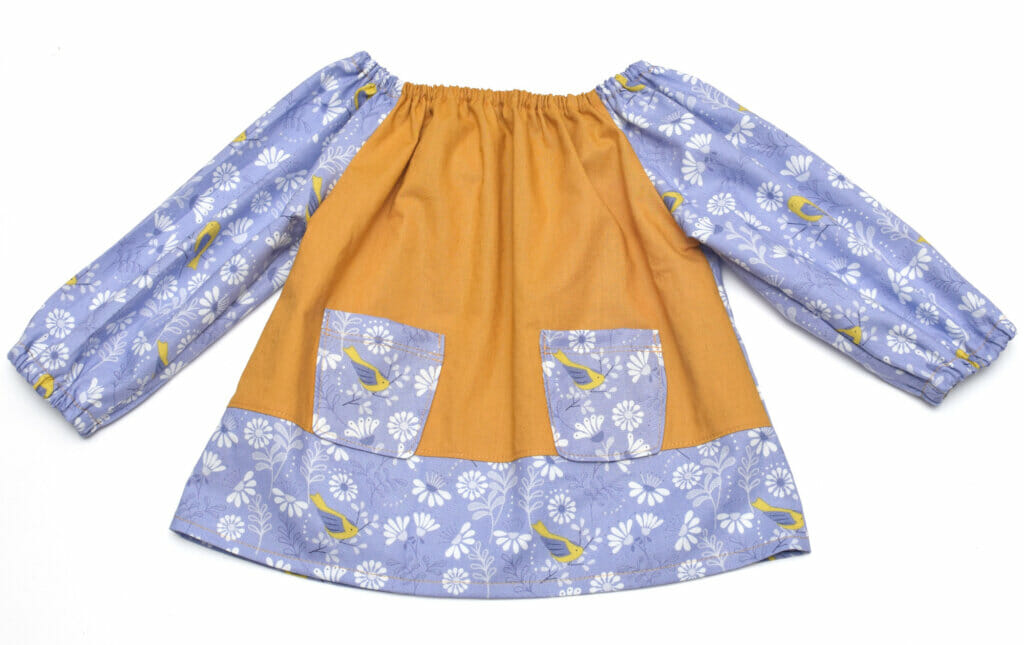 You can leave peasant the top as-is, sew the hem all around, and you are done. Or, you can leave a small opening in the hem and insert 26 inches of ¼"-wide elastic, as I did in the end.
Either is fine!
I personally prefer the latter version, with the elastic running around the bottom edge. In my opinion, the elasticated hemline adds a fun twist to this adorable peasant top.
But let me get this straight – there is nothing wrong with the first version of the top. As you can see from the pics, it definitely looks cute from the front and the back, except that I found it a little too loose-fitting for my taste from the side view.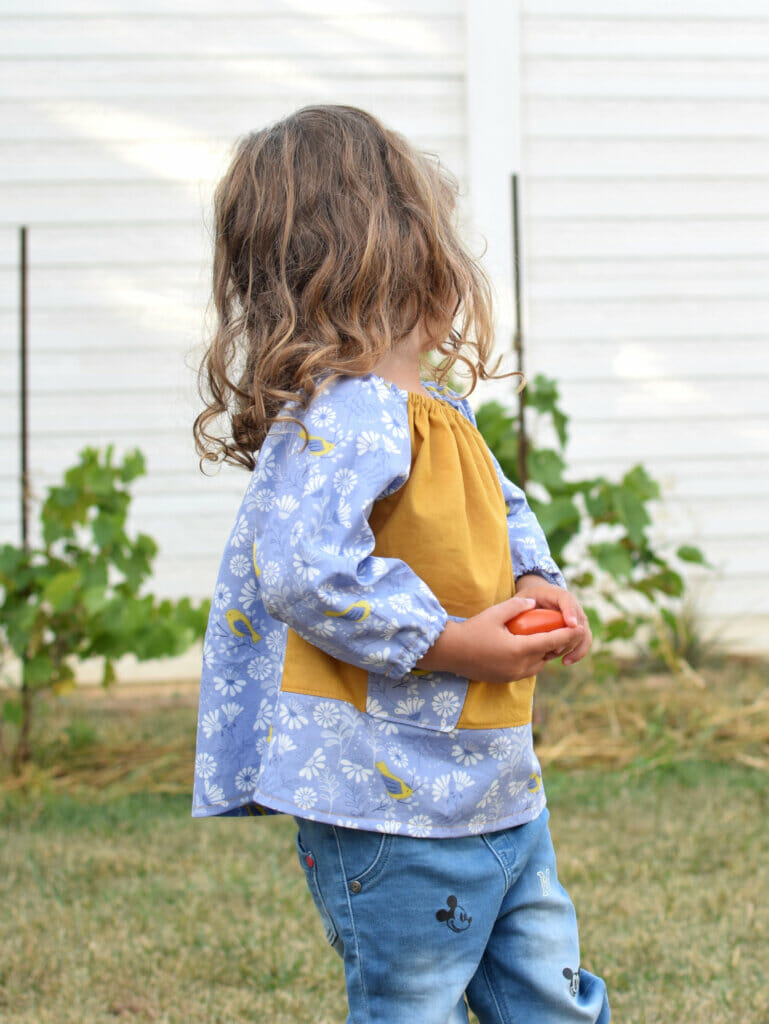 Different people like different things. I noticed loose-fitting tops and dresses gained a lot of popularity recently, and these nonchalantly oversized clothes seem to be the next big thing. The choice is yours.
So easy to wear and comfortable, this pretty peasant top is ideal for playing and exploring the world. Will you give it a try? I'd love to hear from you!
Let's keep in touch! You can find me on Facebook, Instagram, and Pinterest.