Sew an adorable and comfy peasant top for babies and girls of any age or size! You can easily create your own pattern using a simple foolproof formula. In this tutorial, I'll show you exactly how I made these cute double gauze tops.
The best part is, this method requires little to no math and no body measurements. All you need is a short sleeve t-shirt with a regular fit, and you'll be able to create different variations of peasant tops in terms of length, volume, or neckline.
With this skill, you can make peasant tops in different sizes and styles for yourself or others. They are not only comfortable and pretty but also super quick to make. What's not to love about them?
DIY double gauze peasant top for girls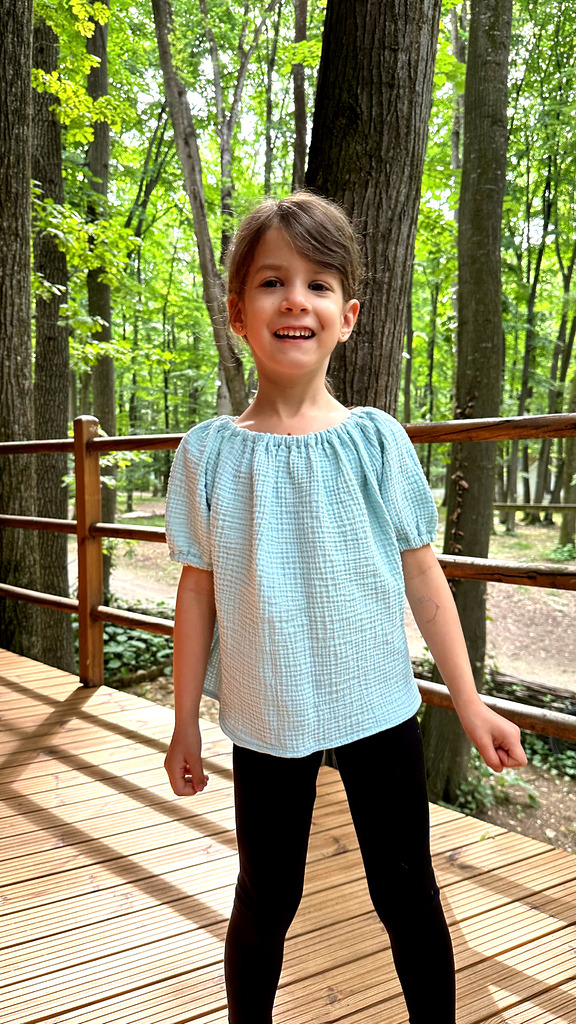 These double gauze blouses with short sleeves and a ruffled neckline are perfect for the summer. My daughter absolutely adores wearing them. They pair beautifully with skirts, shorts, leggings, jeans – you name it! They're a fantastic choice for everyday wear and great for active kids.
How to make your own double gauze peasant top pattern
To create the tops featured in this post, I used the same pattern. As you can see in the picture below, there are only two pattern pieces – a sleeve pattern piece and a bodice pattern piece.
Searching for inspiration for your next DIY project? Check out CraftsOnDisplay.com – a wide range of free project ideas and tutorials that are not only easy to follow but also packed with creativity!
To draft the pattern pieces, I simply used a short sleeve t-shirt with a regular fit that belonged to my 5-year-old daughter. First, I folded the t-shirt in half and took two measurements.
The first measurement it's the opening of the sleeve at the hem. Then, I measured to get the bust measurement. (please read this tutorial for more details on how and why).
To create the sleeve pattern piece, I extended the t-shirt's armhole curve by 1.5 inches. Additionally, I added 2 inches to the opening of the sleeve at the hem to make sure I'll get a nice puffy sleeve (see pic below).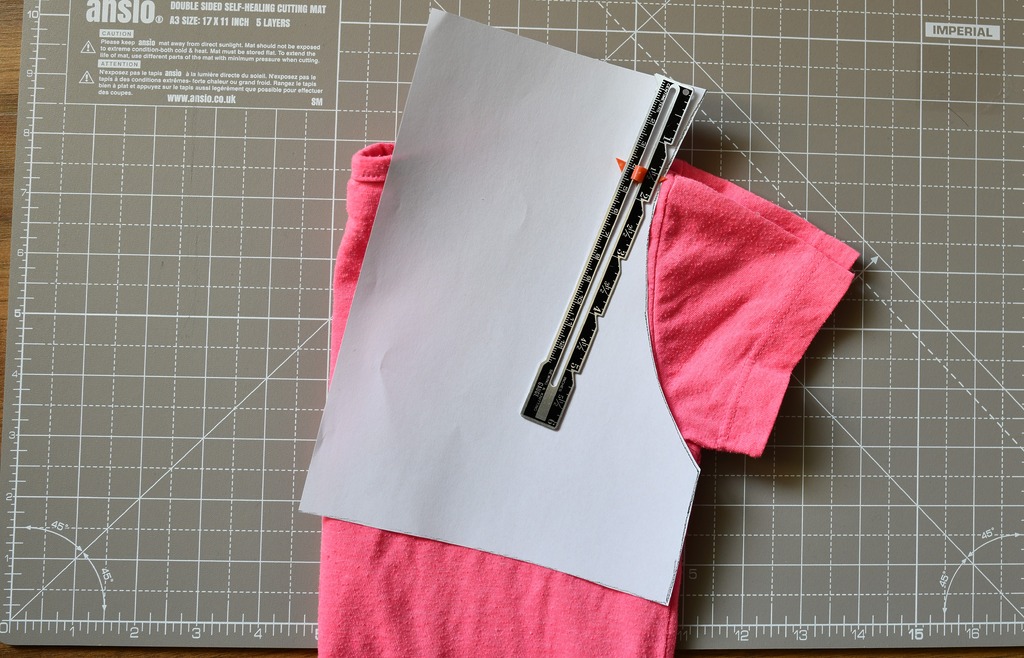 For the bodice pattern piece, I added 2 inches to the bust measurement (see pic below).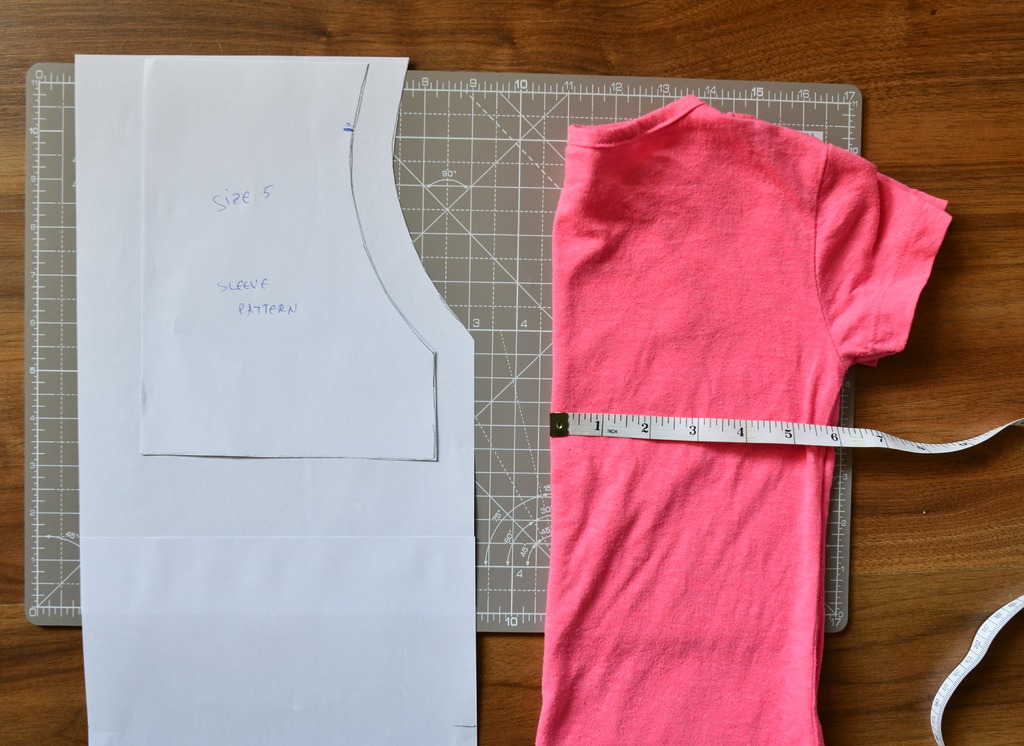 Remember, there's no single way to do this. Obviously, you can adjust the ease and gathers according to your preference and the fabric you're using.
When it comes to the length of the pattern pieces, it's better to make them slightly longer than necessary. You can always shorten them in the final step if needed.
Sew your own DIY muslin peasant top
And that's it! Now, cut out your peasant top pattern pieces and use them to cut your fabric. You'll need to cut out 2 identical fabric pieces on the fold for both the sleeve and bodice, resulting in a total of 4 pieces.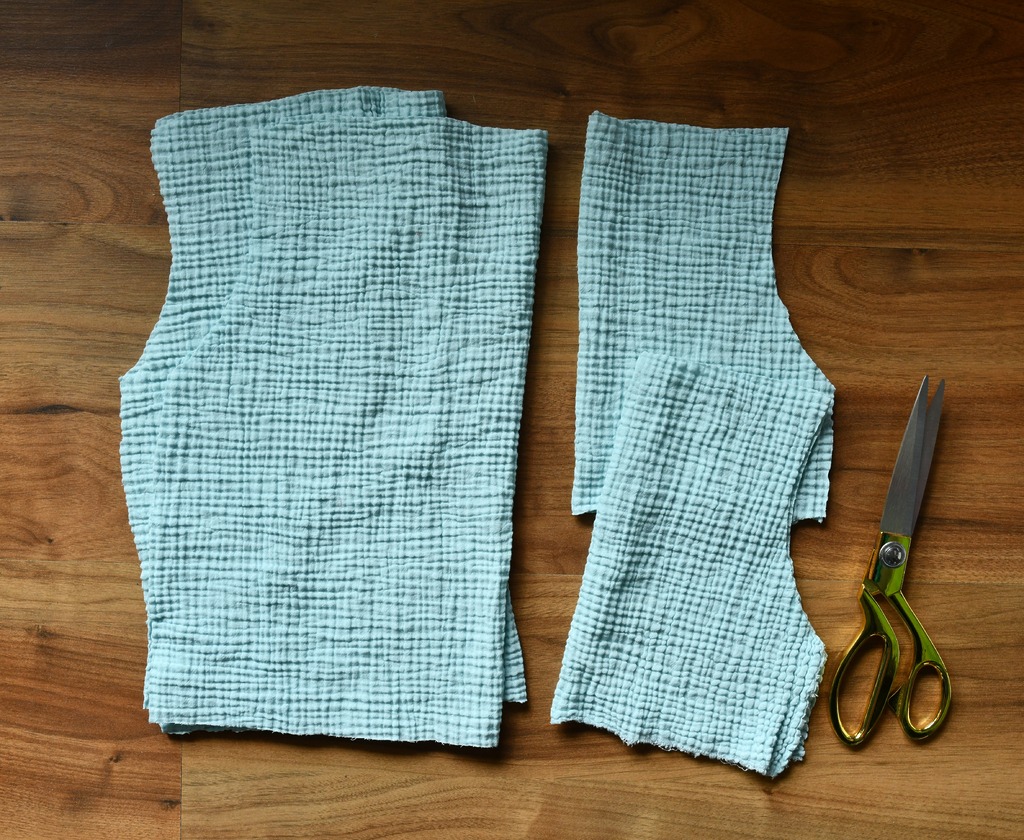 I stitched the pieces together following the instructions provided in this peasant top tutorial.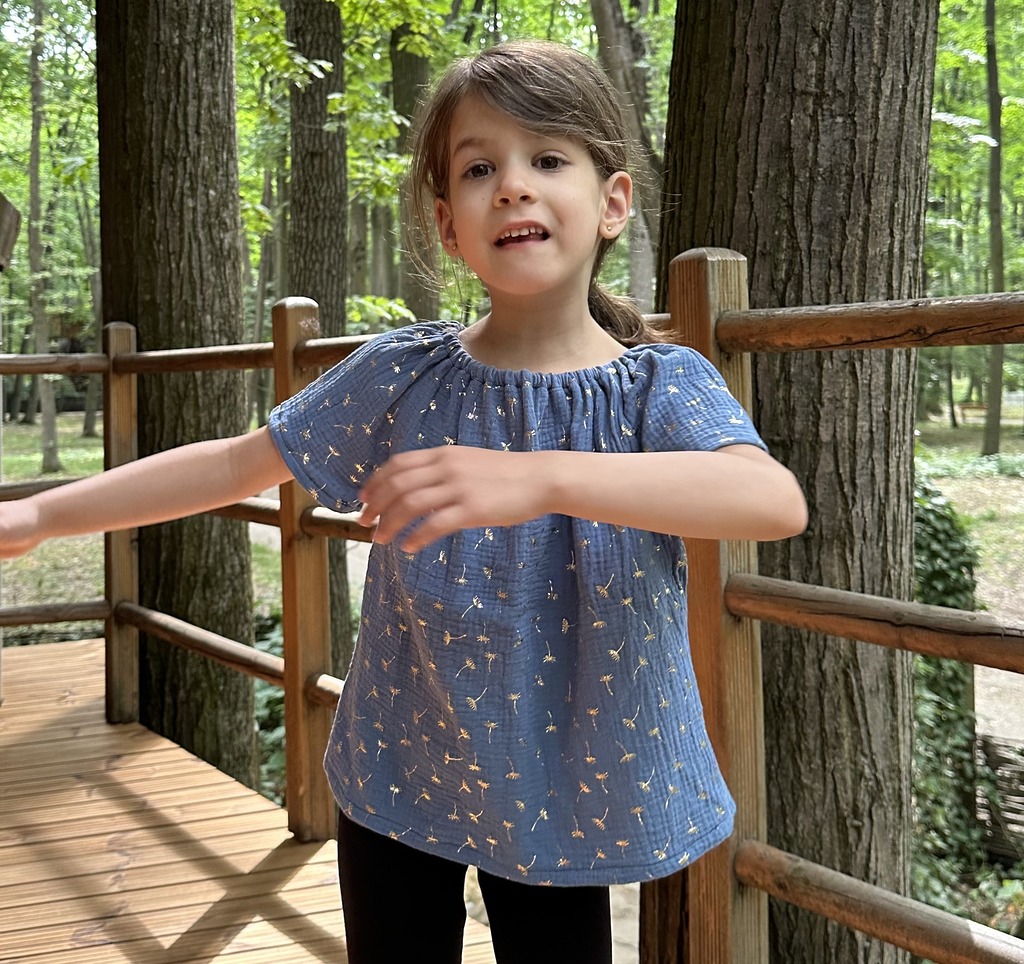 There is only one difference between the mint green top and the gold flowers navy blue one. The double gauze mint green top has elasticated sleeves while the gold flowers top doesn't. This happened because I had a small piece of fabric for the navy blue top (leftover from this sewing project) and had to carefully arrange the pattern pieces. Unfortunately, I didn't have enough fabric to cut the sleeve pattern pieces on the fold, so I had to join them in the middle instead.
Here are a few notes about this peasant top pattern drafting method:
It's likely that you'll need to experiment a bit with the pattern pieces to achieve the exact look you want. This can be seen as a drawback if you're in a hurry and looking for a perfect fit with minimal effort.
However, it can also be viewed as a positive learning experience that will help you improve your skills and boost your confidence in the future!
For example, I discovered that I would have liked these tops even more if I had extended the armhole curve further (see photo below to understand what I mean). Just a smidge more, maybe 0.5″.
This is the only modification I would make to this pattern. And it doesn't have any impact on the wearer's mobility – it's still a comfortable and loose top!
Nonetheless, the most important thing is that I'm truly proud of myself for creating these tops from scratch. And I'm certain that with every peasant top I make, my skills will continue to grow stronger!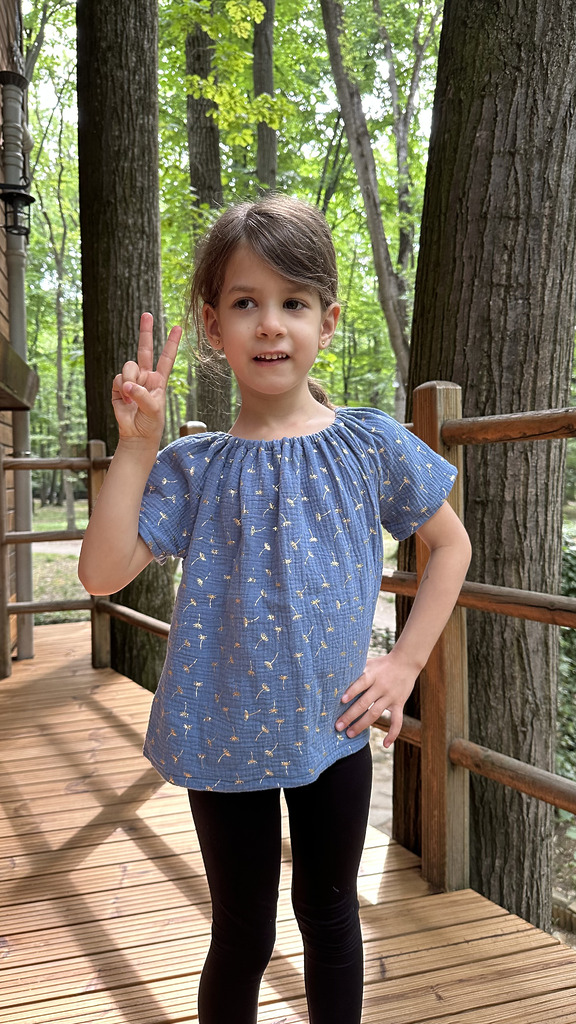 P.S. I recently came across this heartwarming story that resonated with me so much. It emphasizes the importance of not forcing our girls to smile in photos and instead allowing them to be their authentic selves. I wholeheartedly agree with this idea! Although… I must admit that I haven't been able to be as generous and apply this approach early on with my oldest daughter. However, I think that having a second (and third) kid has made me a better mom to my first, as well.
Even though my little cutie pie doesn't always have a smile on her face, I love her to the moon and back. Typically, all I ask from her is to model the clothes I sew in her own unique way. She's usually such a goofy face, but I adore all the poses she strikes!
Sewing supplies – DIY girls' peasant top
about 1 yard of fabric – double gauze, cotton, linen, chambray, viscose
1/4" elastic
Let's keep in touch! You can find me on Facebook, Instagram, and Pinterest.