A great pair of fabric scissors is an essential item every sewist needs. Take a look at this list of the best sewing scissors that cut through layers of fabric like soft butter.
Accurate cutting is a key element of any successful sewing project, so if you take this hobby seriously, you need to have a quality pair that will last for years. For the money, you're getting a great deal with any of the scissors on this list.
Fabric scissors/shears have been designed to suit specific requirements, as the dressmakers and sewists all need tools that are sharp, precise, and comfortable to hold.
It's amazing how the right tool makes a job easy and enjoyable!
A good pair of sewing shears cut cleanly and effortlessly and should be only used for fabric exclusively.
Important questions for choosing your fabric scissors
Are you right or left-handed? Most scissors are made for right-handed people. If you're left-handed, you should choose left-handed scissors, as they're more comfortable and easier to use.
Large hands or small hands? You'll need scissors to fit your hand size. For this purpose, the length of the blade is not as important as the size of the finger and thumb holes.
Weight. You have to know the sewing shears usually weigh more than regular multipurpose scissors. Their weight is a critical factor in how well you'll like your scissors. If you have diminished strength, arthritis, or another wrist/hand issue chances are you'll struggle with heavy-weight scissors.
Price and warranty length. The more expensive scissors have a lifetime guarantee and will perform better than any cheap pair you buy. While the more affordable scissors might seem a good idea and a money-saving move at first, they will not last as long and will probably be more expensive in the long run. They will dull more quickly or become unbalanced, and the plastic handles can snap off if they are widely used and often abused. Most affordable scissors just aren't built for the long haul. This list includes the very best scissors for cutting fabric, but also a few of the best budget-friendly alternatives. Don't forget to verify the warranty term of your desired scissors to find out what to expect.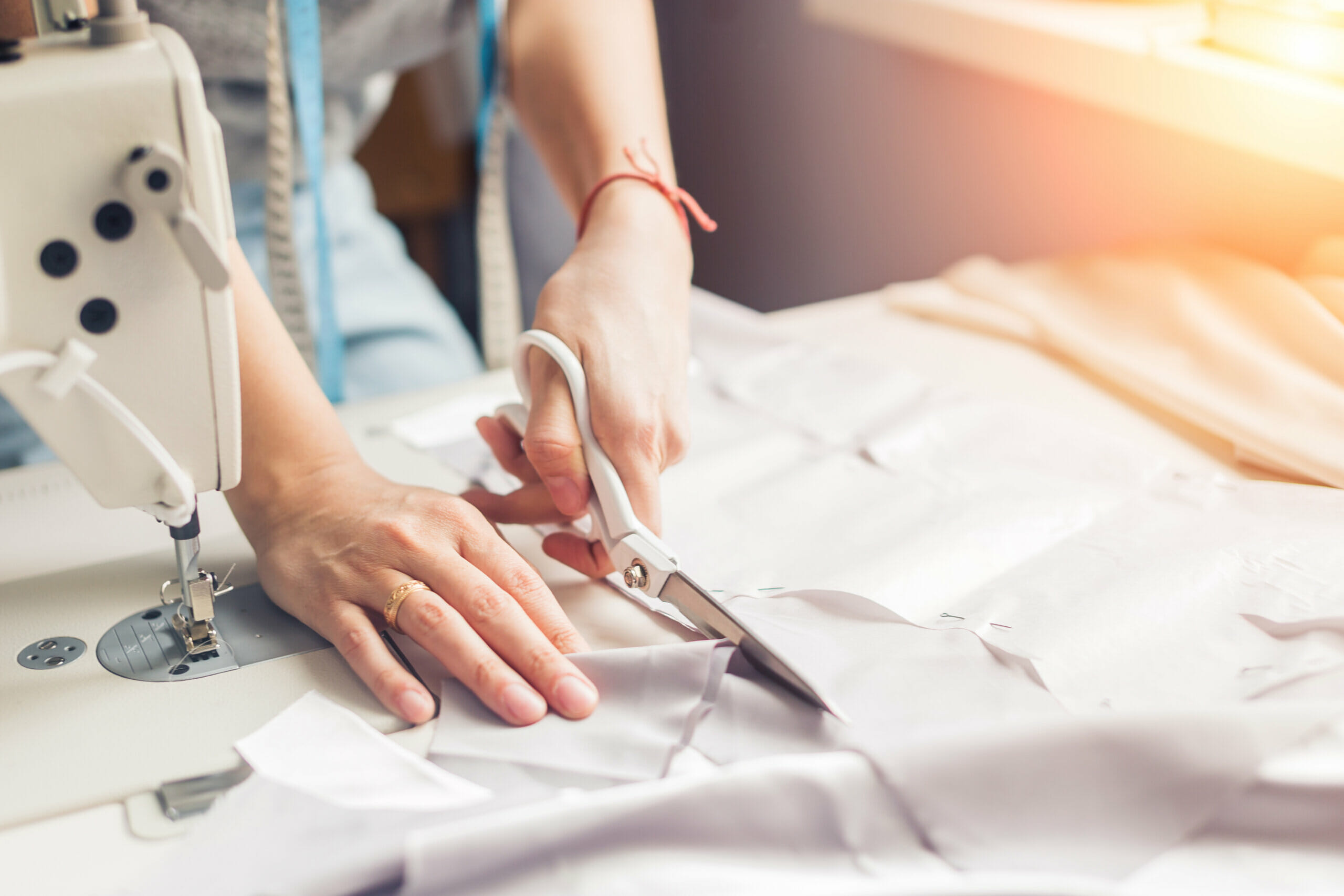 The Best Scissors for Sewing
All of these scissors are a joy to work with, feel great in the hand, and cut through any fabric, smoothly and precisely. Exactly the type that we would recommend to a friend.
Here are the best cutting tools to consider for your sewing room.
Best overall – Gingher 8″ Knife Edge Dressmaker's Shears
Many sewists say these are THE best fabric scissors. Gingher scissors have a history of being the best for sharp, precision cutting.
The knife-edge cuts easily through multiple layers of fabric and leaves the straightest, sharpest edge behind.
These fabric scissors are great, just the type you'll want to store in a locked box so nobody else will use them for other projects.
Just beware that these weigh more than most other scissors, so they'll feel nice and heavy in your hands.
Highly-reviewed – Fiskars 8″ The Original Orange Handled Scissors
The Fiskars orange handled scissors have their reputation for a reason! These are classic scissors that are still around after decades because they actually work as promised. Good quality and great price.
Ideal for cutting a wide variety of materials including denim, silk and multiple layers of fabric. The handle is sculpted to fit your hand, maximizing control and comfort.
Most comfortable – Singer 8.5″ ProSeries Heavy Duty Bent Sewing Scissors
Heavy-duty and super sharp scissors, but lightweight!
The Singer 8.5-inch bent scissors are another great affordable option for sewing shears.
Not only are these sharp scissors great at cutting fabric, but they are also super comfortable to hold due to the rubberized comfort grip handle.
Best Budget Heavy Duty – Professional 9″ Tailor Scissors
These fabric scissors made of high carbon steel are a great addition to your sewing supplies.
You don't have to worry about hand fatigue when using these scissors for extended periods.
Comfortable to use thanks to the ergonomic design, this pair cuts fabric swiftly and with little effort.
Do you have a favorite pair of sewing scissors? Please leave a comment below and let us know.
Don't forget to PIN this article to your Sewing Pinterest boards!