The best sewing machines for beginners you can buy this year. Are you ready to buy your first sewing machine? It's an exciting time, but at the same having to choose between so many options can feel overwhelming, especially if you're an absolute beginner. Here's what to look for, so you can end up with the best sewing machine for your individual needs, wants, and budget.
You want the sewing machine you choose to last for years, not months; however, most commercial sewing machines have nowadays a generous warranty period of 10 to 25 years from the date of purchase. They all seem pretty durable and reliable.
So, what are the features that set sewing machines apart?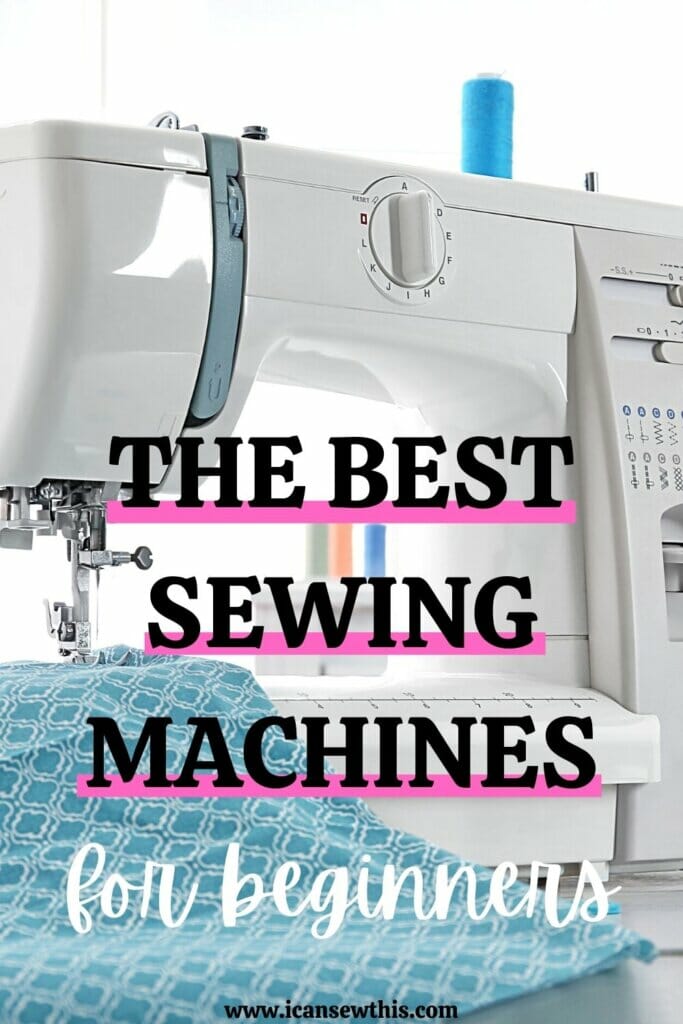 There are certainly some things that you should consider when shopping for your first sewing machine.
Whether you're an experienced sewist or just starting, it's very important to choose a good machine that you'll enjoy using and won't quickly outgrow. We've compiled a list of the best beginner sewing machines you can buy this year.
But first, let's talk about how to select the best model for you.
What do you want to do with your sewing machine?
Most home sewing machines work well for light to medium-weight fabrics like cotton, linen, satin, silk, knits, etc.
However, it's not reasonable to expect to use your sewing machine for all types of projects, no matter what.
For instance, it's not a good idea to buy a cheap, lightweight machine to sew heavy-duty curtains, leather products or to stitch over many layers of denim.
With this purpose in mind, a high-quality heavy-duty sewing machine with a walking foot is a must.
By the same token, if you plan on doing a lot of quilting, you may want to buy a machine that comes with an extra-wide extension table.
Furthermore, if you aim at bringing your sewing machine to sewing classes, make sure you choose a lightweight, portable model with a carrying handle on the top, so it is not hard to move around.
How often will you use your sewing machine?
Do you want to have a basic sewing machine on hand for small, infrequent projects like hemming skirts and trousers, or shortening the curtains? Or do you plan to pick a new hobby and make money with your sewing skills?
Related: The best scissors for fabric: A beginner's guide
In brief, if you only use your machine occasionally and sew for one hour every week or so, you surely don't need a top-notch model.
But if you sew continuously for many hours a day, be sure to choose a good quality, heavy-duty sewing machine.
How many built-in stitches do you need?
This is the number of preset stitch patterns that are available on a sewing machine.
The more, the better?
No, not necessarily. Even the simplest sewing machines accommodate the most commonly used sewing stitches – straight-stitch, basting stitch, zig-zag, blind hem stitch, buttonhole stitch. These functional standard stitches are about all you need in a sewing machine.
Think ahead before buying your first sewing machine
Buy the best you can afford. Sewing is an amazing hobby and chances are that you'll learn fairly quickly to sew and you'll like it very much.
Besides, you can't buy happiness but you can buy a nice quality machine that sparks joy. And that's pretty close.
Instead of buying a sewing machine exclusively for your needs right now, it might be a good idea to think about the future – where do you think you'll be in a couple of years?
If you intend to improve your sewing skills and can spend a little more, then you could buy a step-up model. Above all, the best sewing machine is one that works well with different types of fabric, is easy to use, and can grow with you as you learn.
The best sewing machines for beginners
Each sewing machine on the list below was chosen due to its high overall performance scores and customer reviews. These models are a good place to start for anyone learning how to sew.
---
This machine is one of the most popular beginner sewing machines with over 15.000 customer reviews on Amazon, and a general rating of 4.7 out of 5.
The vast majority of customers praise the good value for the money for a sewing machine that comes with a computerized system and 60 built-in stitch options.
The machine works well with different types of fabrics, from silks, satin, chiffon, knits to denim and canvas.
The CS6000i sewing and quilting machine is user-friendly and designed to help you get started quickly. While extremely affordable, this machine has many automatic features and great accessories that give great value for beginners who want to explore sewing and quilting.
You can add decorative stitches to a sleeve, create a neat row of buttonholes on a coat, sew an invisible zipper on a custom-tailored skirt, or create a machine-stitched hem that is nearly invisible with the included blind stitch foot.
---
The majority of people who left reviews for this machine (and there are over 12.000 ratings!) are pleased with how smoothly it sews different types of fabrics.
Basically, you can trust the Singer 4423 Heavy Duty to easily sew through leather and heavy denim jeans as well as delicate lace or finest silk.
That seems to be the general consensus – the best way to describe the Singer 4423 Heavy Duty would be a workhorse with extra-high sewing speed and a powerful motor.
People love this easy-to-use machine and the fact that it sews fast and impeccable straight stitches.
The Singer 4423 Heavy Duty is a great starter machine at a reasonable price, and versatile enough that you won't outgrow for many, many years.
Find similar products
If the Singer 4423 Heavy Duty doesn't meet your budget, you should know there is another model – Singer Heavy Duty 4411 sewing machine with 11 built-in stitches, and it costs a little less. That makes Singer 4411 sewing machine one of the best inexpensive heavy-duty models available.
However, the main difference between the two machines is that the 4411 model lacks automatic needle threader and has a 4-step buttonhole, whereas 4423 comes with a 1-step buttonhole.
And, if you can spend a few dollars more and want more decorative stitches, then you could buy a step-up model, namely the Singer Heavy Duty 4432 Sewing Machine with 32 built-in stitches. The additional stitches are the only difference between the Singer 4423 and 4432 sewing machines.
Having said that, all these three machines are amazing, versatile and perfect for beginners and advanced sewists alike. You practically can't go wrong with any of them.
---
The CS5055PRW is a computerized sewing machine that comes at an affordable price and is incredibly easy to learn and use. The Brother CS5055PRW sewing machine includes 50 built-in stitches that cover a wide range of utility, decorative, heirloom and quilting stitch functions, 5 one-step buttonhole styles, provides easy and reliable threading of both top and bottom threads, and a LCD screen.
Equally important, it weighs only 10.1 pounds and comes up with a convenient carrying handle. As a result, this little sewing machine is ultra-lightweight and portable, hence perfect for carrying from room to room, or for taking to classes.
Not only there are over 3.000 customer ratings for the Brother CS5055PRW Sewing Machine, but also the overwhelming majority of them are 5-star reviews. A clear indication that this nice little computerized sewing machine exceeds expectations.
" Nearly four years later and I still adore it", writes one reviewer. "I made a purse with a thick lining in it and was hesitant as to whether it would be able to get through all the layers. It went right through with no hesitations or problems and I was amazed!" he adds.
---
The Janome 2212 is a quality entry-level sewing machine with no fancy features and a limited number of stitches, that comes at a great price. This simple mechanical machine feels solid and durable, runs smoothly and features 12 built-in stitches and a four-step buttonhole. Most owners find the machine easy to use and it is recommended as a great machine for beginners.
This machine has over 1000 customer ratings on Amazon, and the majority of them are positive. "Perfect machine for beginners and experts alike", writes one owner, adding that the machine can handle delicate fabrics as well as bulky projects.
People who tested it say the Janome 2212 sewing machine works like a charm, feels very solid and is all metal inside. Many appreciate its build quality that makes sewing enjoyable, since every feature on it works so well.
The Janome 2212 also seems to be a good options for those who enjoy quilting: "This was a wonderful fit for me as a person looking to try quilting as a new hobby without spending an arm and a leg, and also wanting to avoid the random issues that can come up with electronic machines", writes one customer.
---
The Singer Start 1304 is a basic, simple, yet impressive sewing machine. It's and easy-to-use mechanical sewing machine, with 6 Built-in stitches, that still has mostly metal parts, as opposed to low-cost machines that are usually mostly plastic. It's very portable, as it weighs only 9.8 pounds.
One of the most important qualities of the SINGER 1304 is that it runs quietly and smoothly every time you use it, and seems a reliable sewing machine that's built to last.
Certainly, Singer 1304 is great for light or mid-weight fabric such as cotton, linen, knits or wool.
The majority of people that tested it agree this model is perfect for anyone doing quick, easy projects, or those who want a lightweight, compact and easy-to-store machine: " If you are looking for a great little machine, with basic stitches such as zig-zag, baste and a basic buttonhole stitch, along with a blind hem and one decorative one, then this is a great machine! It is quiet, the motor runs smooth and it easy to thread. I literally opened the box and in 20 minutes was sewing with it", as one owner writes.
---
The Brother XM2701 is a lightweight, but full-featured sewing machine, perfect for beginners learning to sew and for more experienced sewists looking for a versatile and portable model.
This sewing machine weighs 12.6 pounds and can be portable as well as stationary.
There are over 13.000 customer ratings for this simple computerized sewing machine, and about 81% of them are 5-star reviews. That's surely impressive!
Strong enough for jeans and gentle enough for silk. Happy customers report that the Brother XM2701 can easily handle delicate fabrics as well as thicker fabrics. "I've sewn with stretchy velvet to cotton print to slippery satin, and each time the stitching comes out even and perfect". "With the use of a denim needle, this machine will power through two layers of denim without problems".
"This affordable Brother sewing machine is awesome!" says one self-described intermediate seamstress and quilter.
If you're looking for the best value for money, this machine is a good choice. "Easy and capable. I have had it a month and I already hemmed three skirts, which the local tailors and cleaners wanted $60 apiece for. So it has already paid for itself", reveals one customer.
---
Built for durability, this limited-edition Project Runway computerized Brother XR9550PRW sewing machine is a good choice for beginners.
The XR9550PRW is a top-rated sewing machine and many praise its user-friendliness, versatility, and the numerous built-in stitches.
Indeed, the Brother XR9550PRW gets a fair share of rave reviews. "Love this versatile easy to use sewing machine. This is my first computerized machine, but it is very user-friendly, making the transition quite easy. The automatic bobbin threader, needle threader, speed settings, and needle placement options are particularly useful."
But one review, in particular, stands out: "Don't get discouraged. You'll get it. I am new to sewing at the age of 55. This machine made it easy".
Likewise, people who bought this machine to use for quilting are happy with their purchase and they say they recommend it to friends, relatives, and colleagues.
---
The Singer 2277 Tradition model is a great sewing machine, with amazing features for a fair price. Many customers say this machine is a pleasure to use. "The stitching on the bottom looks as finished and perfect as the stitching on top. The feed is accurate and true. Not one bit of trouble in everything I've tried so far. Nicely made" writes a reviewer.
A great choice for your first sewing machine – The Singer 2277 Tradition has an automatic needle threader, fully automatic 1-step buttonhole, and a heavy-duty metal frame for overall durability and skip-free sewing.