Are you ready to buy your first sewing machine? It's an exciting time, but at the same having to choose between so many options can feel a bit overwhelming, especially if you're an absolute beginner. Here's what to look for, so you can end up with the best sewing machine for your individual needs, wants and budget.
There are a lot of good sewing machines out there, but what works for one person may not be the best choice for another. Let's get something straight. It's hard to wind up with a bad sewing machine, but it's not that easy to buy the right one for you.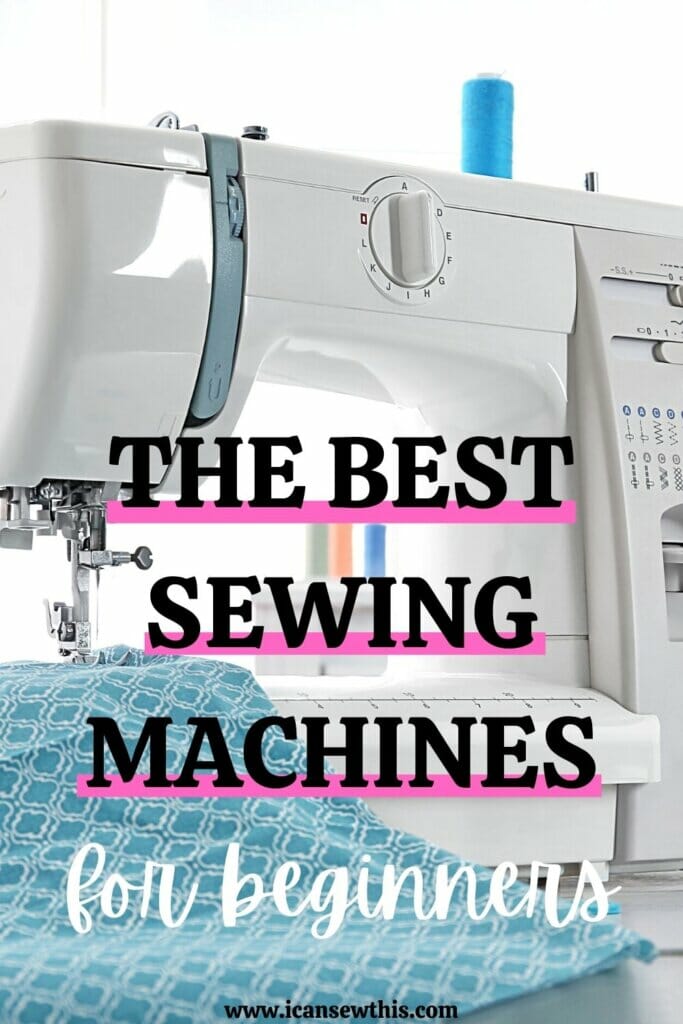 Whether you're an experienced sewist or just starting out, a good sewing machine is extremely important. I've compiled a list of the best sewing machines you can buy this year.
These are the best beginner sewing machines on Amazon in 2021, based on customer reviews:
Brother CS6000i Sewing Machine
Singer 4423 Sewing Machine
Brother CS5055PRW Sewing Machine
Janome 2212 Sewing Machine
Singer 1304 Sewing Machine
Brother XM2701 Sewing Machine
Brother XR9550PRW Sewing Machine
Singer Tradition 2277 Sewing Machine
How to choose a sewing machine for beginners
The prices for new sewing machines range from several tens to a few thousand dollars, with many brands and models contending at each point along the way.
But you already have some idea of what kind of sewing machine you can afford, so that should help narrow the market down a lot.
Still, there are probably a considerable number of sewing machines that meet your budget. Buying a sewing machine is certainly not a one-model-fits-all kind of decision.
I'm here to try and help you gain clarity and make the best decision possible for you.
Most commercial sewing machines have nowadays a generous warranty period for 25 years from the date of purchase, so they all seem pretty durable and reliable. So, what are the features that set sewing machines apart?
Here are the most important points to consider when buying a sewing machine.
What do you want to do with your sewing machine?
By now, you probably know what are you going to use your machine for. Maybe you want to use your machine to make and sell cute baby clothes or to occasionally hem trousers, or maybe sew your own wardrobe.
Do you want a basic machine or would you like to create t-shirts with beautiful machine embroidery?
You need to identify your needs and expectations
Most home sewing machines work well for light to medium-weight fabrics like cotton, linen, satin, silk, knits, etc.
However, it's not reasonable to expect to use your sewing machine for all kinds of projects, no matter what.
For instance, it's not a good idea to buy a cheap, lightweight sewing machine to sew heavy duty curtains, leather products or to stitch over many layers of denim.
With this purpose in mind, a high-quality heavy-duty sewing machine with a walking foot is a must.
By the same token, if you plan on doing a lot of quilting, you may want to buy a machine that comes with an extra-wide extension table.
Furthermore, if you aim at bringing your sewing machine to sewing classes, make sure you choose a lightweight, portable model with a carrying handle on the top, so it is not hard to move around.
How often will you use your sewing machine?
Do you want to have a basic sewing machine on hand for small, infrequent projects like hemming skirts and trousers, or shortening the curtains? Or do you plan to pick a new hobby and make money with your sewing skills?
In brief, if you only use your machine occasionally and sew for one hour every week or so, you surely don't need a top-notch model.
But if you sew continuously for many hours a day, be sure to choose a good quality, heavy-duty sewing machine.
How many built-in stitches do you need?
This is the number of preset stitch patterns that are available on a sewing machine.
The more, the better? No, not necessarily.
As a matter of fact, even the simplest sewing machines accommodate the most commonly used sewing stitches – straight-stitch, basting stitch, zig-zag, blind hem stitch, buttonhole stitch. These functional standard stitches are about all you need in a sewing machine.
For example, there are only 6 built-in stitches available on the Singer Start 1304 sewing machine, but most of the customers report it's "plenty" and they don't seem to miss at all the extra decorative stitches offered on other machines.
All the same, the upper-end computerized machines often come with hundreds of built-in stitches options. For example, there are 110 built-in stitches on the Brother XR9550PRW computerized sewing machine.
People who bought this machine love the abundance of stitch options and vouch for the fancier stitches. One reviewer writes about this machine: "It gives me so many excellent stitches and my fabric art is greatly embellished by the options it provides".
The best sewing machines for beginners in 2021
---
One of the most popular beginner sewing machines
This machine has close to 9.000 customer reviews on Amazon, and over 6.000 of them are 5-star reviews – that's amazing! With a general rating of 4.5 out of 5, that pretty good feedback.
Many customers share positive experiences and write they're "happy to give this machine a well-deserved 5-star rating". "No complaints after nearly 3 years of use!" says a customer who uses the CS6000i sewing machine for making her own clothes and accessories like bags, home items, and gifts.
Good value for the money
Namely, the vast majority of customers praise the good value for the money for a sewing machine that comes with numerous built-in stitch options and important advantages of a computerized system. Somebody says exactly that: "I thought this machine seemed too good to be true", but quickly adds that he's thrilled with his purchase.
Actually, dozens of people report that they decided to buy the machine based on the reviews, and a large part of them are glad they did so. "This is a great beginner sewing machine. It's smart enough to simplify threading a needle and easy to adjust stitch settings. It doesn't take long to get to know it. I've had it for nine years now" says one reviewer.
Works well with different types of fabrics
Above all, one reviewer is particularly impressed with how the machine works with different materials: "Although I mostly sew with cotton/cotton blends, I have sewn silks, satin, knits and canvas. I've also sewn multiple layers of cotton with heavy fleece interfacing without issue".
Again, another one admits being skeptical about the small price tag, but then writes "three years later and still in love – I've sewn satin, chiffon, silk, canvas, denim, knit, and cotton as well as odd things like thin plastic or paper. I have never had any issues".
Affordable and user-friendly
The CS6000i sewing and quilting machine is user-friendly and designed to help you get started quickly. While extremely affordable, this machine has many automatic features and great accessories that give great value for beginners who want to explore sewing and quilting.
You can add decorative stitches to a sleeve, create a neat row of buttonholes on a coat, sew an invisible zipper on a custom-tailored skirt, or create a machine-stitched hem that is nearly invisible with the included blind stitch foot.
Brother CS6000i Sewing Machine – Read all positive 5-star reviews here.
Brother CS6000i Sewing Machine – Read all negative 1-star reviews here.
Brother Computerized Sewing and Quilting Machine, CS6000i – Product description
25-year limited warranty
Item weight – 13 pounds
Free customer phone and online technical support for the life of the product
60 Built-in Stitches
Maximum Sewing Speed (Stitches Per Minute) – 850
7 Styles of 1-Step Size Buttonholes
Wide Table – for quilts and other larger projects
Hard Cover
LCD Display
Built-in free arm
Automatic Needle Threader
Adjustable sewing speed
Easy-to-see, super-bright work area
Super easy bobbin winding
9 presser feet included in this machine – buttonhole, overcasting, monogramming, zipper, zigzag, blindstitch, button fitting, walking, and spring action quilting foot
---
The majority of people who left reviews for this machine (and there are over 5.000 ratings!) are pleased with how smoothly it sews different types of fabrics.
An absolute workhorse
Basically, you can trust the Singer 4423 Heavy Duty to easily sew through leather and denim as well as delicate lace or silk.
One reviewer says "I'm a professional dressmaker, working for myself I use a wide range of fabrics, from the finest silk chiffon to the heavy denim jeans that always need shortening. This machine does the lot".
That seems to be the general consensus – the best way to describe the Singer 4423 Heavy Duty would be a workhorse: "The type of sewing I do generally is with heavyweight fabrics such as ski/hockey gear, denims, corduroy, cottons but occasionally lighter weights such as silk, rayon etc." / "No problem to sew heavy leather or a bulk of denim or even delicate fabrics like silk" / "I sew a very high volume of scarves made out of knit and woven material and this machine can handle the constant use" / "I can even sew on knit fabrics and they don't pucker with this nice machine", "We get a beautiful stitch regardless the kind of material we use; from a thick and stiff vinyl, silky satin to stretchy lycra". And these are just a few examples of the positive feedback this sewing machine received from so many customers.
Extra-high sewing speed and powerful motor
People love this easy-to-use machine and the fact that it sews fast and impeccable straight stitches: "Was sewing perfectly within 5 minutes of opening the shipping box! The "automatic" needle threader is amazing, and routing the thread couldn't be simpler. I was concerned about some of the negative reviews that said this machine isn't heavy-duty, but I was able to effortlessly sew through 7 layers of medium-weight denim without using a denim needle", details a happy customer.
Suitable for beginners
Also, in case you were wondering, the Singer 4423 Heavy Duty is suitable for absolute beginners: "Never owned a sewing machine before, and as this is the first one I am really glad I chose it. It does everything I want and more", as one reviewer notes. Another one mentions: "I bought this machine over 4 years ago as my starter sewing machine, and it's still going strong. This machine is so versatile, I've been able to do everything I need to on it. It has never needed maintenance (aside from a little oil), and it very easy to set up & use".
Singer 4423 Sewing Machine – Read all positive 5-star reviews here.
Singer 4423 Sewing Machine – Read all negative 1-star reviews here.
Singer 4423 Heavy Duty – Product description
25 year limited warranty
Item weight – 14.6 lbs
Free owner's class videos and lessons via Singer App
23 built-in stitches – 6 basic stitches, 12 decorative stitches, 4 stretch stitches, and 1 buttonhole
High-speed sewing machine – 1.100 stitches-per-minute. the 60% stronger motor provides greater piercing power for thick seams.
Heavy-duty metal interior frame
Accessories included – all-purpose foot, zipper foot, buttonhole foot, button sewing foot, seam ripper/lint brush, quilting guide, needles, bobbins, screwdriver, auxiliary spool pin, spool pin felt are all conveniently located and stored in the accessory tray. a soft-sided dust cover is also included in the packaging.
Automatic needle threader, three needle positions, with 6mm stitch width
Drop feed for free-motion sewing
Top drop-in bobbin with clear view cover
Adjustable presser foot pressure control
Fully automatic 1-step buttonhole
Free arm
Adjustable stitch length
Automatic reverse: automatically sew in reverse and reinforce stitches
Extra-high presser foot lifter, snap-on presser feet
Find similar products
If the Singer 4423 Heavy Duty doesn't meet your budget, you should know there is another model – Singer Heavy Duty 4411 sewing machine with 11 built-in stitches, and it costs a little less. That makes Singer 4411 sewing machine one of the best inexpensive heavy-duty models available.
However, the main difference between the two machines is that the 4411 model lacks automatic needle threader and has a 4-step buttonhole, whereas 4423 comes with a 1-step buttonhole.
And, if you can spend a few dollars more and want more decorative stitches, then you could buy a step-up model, namely the Singer Heavy Duty 4432 Sewing Machine with 32 built-in stitches. The additional stitches are the only difference between the Singer 4423 and 4432 sewing machines.
Having said that, all these three machines are amazing, versatile and perfect for beginners and advanced sewists alike. You practically can't go wrong with any of them.
---
An affordable computerized sewing machine
The CS5055PRW is a computerized sewing machine that comes at an affordable price and is incredibly easy to learn and use. The Brother CS5055PRW sewing machine includes 50 built-in stitches that cover a wide range of utility, decorative, heirloom and quilting stitch functions, 5 one-step buttonhole styles, provides easy and reliable threading of both top and bottom threads, and a LCD screen.
Equally important, it weighs only 10.7 pounds and comes up with a convenient carrying handle. As a result, this little sewing machine is ultra-lightweight and portable, hence perfect for carrying from room to room, or for taking to classes.
Not only there are over 1.000 customer ratings for the Brother CS5055PRW Sewing Machine, but also the overwhelming majority of them are 5-star reviews.
" Nearly four years later and I still adore it", writes one reviewer. "I made a purse with a thick lining in it and was hesitant as to whether it would be able to get through all the layers. It went right through with no hesitations or problems and I was amazed!" he adds.
Great for beginners
One customer reveals he is a sewing novice and found the CS5055PRW to be exactly what he needed: "I didn't realize how bad my old sewing machine was until this machine arrived. Wow! If you're on the fence, just buy this. It's very easy to use and great for a beginner like me. I stayed up all night sewing the night it arrived because I was so excited! Great features, like the needle threader and the bobbin threader, are really easy to use".
It seems this nice little computerized sewing machine exceeds expectations. Other happy customers praise this model and say it's "an exceptional machine for a great price", for both beginning and experienced users: "I am a lifelong craft, hobby and garment sewer, and I have yet to encounter a project that this sewing machine couldn't handle".
Brother CS5055PRW Sewing Machine – Read all positive 5-star reviews here.
Brother CS5055PRW Sewing Machine – Read all negative 1-star reviews here.
Brother Project Runway CS5055PRW 50-Stitch Computerized Sewing Machine – Product description
Item weight – 10.7 pounds
25 year limited warranty
Free technical support for the life of the product
50 built-in stitches
5 one-step, custom-sized buttonholes
Vertical spool pin
Automatic needle threader
Drop-in top bobbin
LCD screen with intuitive stitch selector
Drop feed for free-motion quilting
LED-lit work area
Included accessories – soft cover, 7 sewing feet, and instruction manual
---
A solid and durable sewing machine
The Janome 2212 is a quality entry-level sewing machine with no fancy features and a limited number of stitches, that comes at an amazing price. This simple mechanical machine feels solid and durable, runs smoothly and features 12 built-in stitches and a four-step buttonhole. Most owners find the machine easy to use and it is recommended as a great machine for beginners.
This machine has over 500 customer ratings on Amazon, and the majority of them are positive. "Perfect machine for beginners and experts alike", writes one owner.
Easy to use and reliable for more advanced sewing projects
"It's excellent for beginners, intuitive to use, and can sew through almost anything without breaking a sweat! I was making a beanbag chair out of thick upholstery fabric and had places where multiple seams came together and there were up to 6 layers of fabric at a time. This machine hardly even noticed", she said, adding that the machine can handle delicate fabrics as well as bulky projects.
"I bought this machine because I wanted to learn how to sew. I really love this little machine. As a true beginner, it has done everything I needed it to do. It has mended jeans, sewn through several layers of thinner material", writes one reviewer, who mentions that all the problems he's had with the machine were simply user error.
The positive reviews keep pouring in: "This sewing machine is so easy to use and I can carry it with one arm. I only do light sewing and it has been my favorite so far" and "I can sew both thick and thin materials with this machine. I needed a lightweight high-quality machine, and I highly recommend it for anyone who needs a simple machine to operate".
Good build quality and performance
Customers say the Janome 2212 sewing machine works like a charm, feels very solid and is all metal inside: "It never tears a thread or breaks a needle, never gets stuck, sews through everything and is very simple to use. It has only a few stitch options, which is honestly all I need" writes one reviewer.
The build quality is much appreciated: "The Janome is built very well and will, more than likely, last a long time. This machine makes sewing quite enjoyable because every feature on it works well and makes learning fun".
Many vouch for the Janome 2212 is the best first sewing machine for a beginner. As one reviewer summarizes: "There aren't a lot of fancy features, but even 7 years in, I haven't needed to do anything this machine can't do. Can't beat the price either!"
The Janome 2212 seems to be a good options for those who enjoy quilting: "This was a wonderful fit for me as a person looking to try quilting as a new hobby without spending an arm and a leg, and also wanting to avoid the random issues that can come up with electronic machines", one reviewer writes.
Janome 2212 Sewing Machine – Read all positive 5-star reviews here.
Janome 2212 Sewing Machine – Read all negative 1-star reviews here.
Janome 2212 Sewing Machine – Product description
Weight 13 lbs
Limited 25-Year Warranty
Easy turn dial pattern selection
12 built-in stitches including a four-step buttonhole
Adjustable stitch length & width
Max stitch width = 4mm, max stitch length = 5mm
Reverse button/lever
Drop feed for free-motion sewing and quilting
Front-loading bobbin
Free arm
Manual tension control
Automatic Bobbin Winding
Needle Threading System – manual
Extra high presser foot lift
Built-in thread cutter
Max sewing speed of 860 stitches per minute
---
The Singer Start 1304 sewing machine is a basic, simple, and easy-to-use mechanical sewing machine, with 6 Built-in stitches.
A simple yet impressive sewing machine
The SINGER 1304 is very easy to use and great for beginners, and many reviewers seem to agree on that: "Impressive quality for a low-cost sewing machine for beginners/intermediates." – "Great price for a quality machine that still has mostly metal parts (some low-cost machines are mostly plastic)" – "I am completely happy with this purchase. A month ago I committed to learning to sew and with this machine I have already done many projects".
"Nice little machine for beginners and those who don't need a lot of bells and whistles. (…) It gives beginners a nice little launching pad without overwhelming them with extra features ", writes one experienced sewist who tested the Singer 1304.
6 built-in stitches – perfect for learning basic stitches
There are only 6 built-in stitches in the SINGER Start 1304 sewing machine, but nobody really complains about that.
In fact, there are dozens of such positive reviews: "I would recommend this machine for those who do not need a machine that has all the extra fancy stitches. It has enough different stitches and functions (like sewing on buttons and making buttonholes, more than I'll ever need) to be truly useful to have", "There are only 6 stitches, but that is more than adequate for my needs. A truly great basic sewing machine", or "Unless you are looking for fancy stitches, you probably will find that the 6 stitch options are plenty."
Built for years of sewing pleasure
One of the most important qualities of the SINGER 1304 is that it runs quietly and smoothly every time you use it, and seems a reliable sewing machine that's built to last.
People are pleased with the solid feel of the machine: "Stands up to any real power tool in terms of durability and seems capable of long-term use with minimal maintenance. Based on the price point, I'd say this is a real value buy. Does everything you need, easy to use, and it (according to me) counts as a power tool." writes one reviewer.
Certainly, Singer 1304 is great for light or mid-weight fabric such as cotton, linen, knits or wool. Many sewists agree this model is perfect for anyone doing quick, easy projects, or those who want a lightweight, compact and easy-to-store machine: " If you are looking for a great little machine, with basic stitches such as zig-zag, baste and a basic buttonhole stitch, along with a blind hem and one decorative one, then this is a great machine! It is quiet, the motor runs smooth and it easy to thread. I literally opened the box and in 20 minutes was sewing with it", as one owner writes.
Singer 1304 Sewing Machine – Read all positive 5-star reviews here.
Singer 1304 Sewing Machine – Read all negative 1-star reviews here.
SINGER Start 1304 – Product description
Weight: 11.5 pounds.
Warranty: 25 years limited
6 Built-in stitches – straight, satin, zig-zag, blind hem, scallop, 4-step buttonhole
Sewing speed: max 750 stitches per minute
Feet type included: all-purpose foot, zipper foot, buttonhole
Heavy-duty metal frame
Stainless steel bedplate
Free arm
Automatic bobbin winding system
Built-in reverse
Easy threading
Removable extension table
---
Fully equiped and portable
The Brother XM2701 is a lightweight, but full-featured sewing machine, perfect for beginners learning to sew and for more experienced sewists looking for a versatile and portable model.
There are 2,513 customer ratings for this simple computerized sewing machine, and about 79% of them are 5-star reviews. That's surely impressive!
Strong enough for jeans and gentle enough for silk
Happy customers report that the Brother XM2701 can easily handle delicate fabrics as well as thicker fabrics: "I've sewn with stretchy velvet to cotton print to slippery satin, and each time the stitching comes out even and perfect", and "With the use of a denim needle, this machine will power through two layers of denim without problems".
"This affordable Brother sewing machine is awesome!" says one self-described intermediate seamstress and quilter.
Brother XM2701 also appears to be very beginner-friendly: "I had never touched a sewing machine let alone knew anything about sewing before buying this, now only 2 months later I am fully making leggings and other items. My favorite feature is the needle threader" writes one customer.
Great machine for the price
If you're looking for the best value for money, this machine is a good choice: "Easy and capable. I have had it a month and I already hemmed three skirts, which the local tailors and cleaners wanted $60 apiece for. So it has already paid for itself", reports one reviewer.
Another one agrees that it's much cheaper and faster to hem your pants with this sewing machine than to pay for the service: " I have an operation coming up needing pajamas shortened. It was cheaper to by this sewing machine than to pay to have the four pairs hemmed. Now I can hem all of my pants easily. I completed this project including learning how to thread the machine and hem four pairs of pants in under two hours. Very, very happy with this purchase".
Brother XM2701 Sewing Machine – Read all positive 5-star reviews here.
Brother XM2701 Sewing Machine – Read all negative 1-star reviews here.
Brother XM2701 Sewing Machine – Product description
Item weight – 12.6 pounds
25 year limited warranty
Free technical support for the life of the product
27 built-in decorative, blind hem, zigzag, and stretch stitches
1 auto-size buttonhole
Automatic needle threader
Drop-in top bobbin
Included accessories: 6 sewing feet, instructional DVD and manual
Free arm
LED-lit work area
---
Beginner-friendly and versatile
First, let me say the Brother XR9550PRW model features an amazing percent of 5-star ratings. Built for durability, this limited-edition Project Runway computerized Brother sewing machine is a good choice for beginners.
The XR9550PRW is a top-rated sewing machine and many praise its user-friendliness and versatility. "I'm a beginner and before this machine, I didn't have a clue how to use a sewing machine. The instructional DVD was so easy to understand. I learned within the hour to use the machine. I love it!" writes a satisfied customer.
Customers love the 110 built-in stitches
"Great for beginners and experts alike. Very easy to use, and the manual is great when you run into any issues. All the pre-programmed stitches and provided presser feet are simple to use, including the monograms. Also does reasonably heavy-duty work- I used duck cloth canvas in as much as 4 layers and heavy-duty thread, with no issues, after getting the tension right", raves one customer.
Indeed, the Brother XR9550PRW gets a fair share of rave reviews. "Love this versatile easy to use sewing machine. This is my first computerized machine, but it is very user-friendly, making the transition quite easy. The automatic bobbin threader, needle threader, speed settings, and needle placement options are particularly useful."
But one review, in particular, stands out: "Don't get discouraged. You'll get it. I am new to sewing at the age of 55. This machine made it easy".
Likewise, people who bought this machine to use for quilting are happy with their purchase and they say they recommend it to friends, relatives, and colleagues.
A good portable sewing machine
Weighing only 8.96 pounds, this is a very lightweight and portable machine, so it's easy to lift and handle, but has plenty of power to motor through challenging tasks.
Brother XR9550PRW Sewing Machine – Read all positive 5-star reviews here.
Brother XR9550PRW Sewing Machine – Read all negative 1-star reviews here.
Brother XR9550PRW Sewing Machine – Product description
Item Weight – 8.96 pounds
25-year limited warranty
Free technical phone support for the life of the product
Large and intuitive LCD screen
110 built-in stitches – includes 165 utility, decorative, heirloom, and alphanumeric stitches
8 one-step button styles
Automatic needle threader
8 sewing feet included – zigzag, buttonhole, zipper, button sewing, overcasting, blind stitch, monogramming, and quilting feet.
Protective hard case
Oversized wide table to accommodate larger quilt projects
---
Amazing features for a reasonable price
The Singer 2277 Tradition model is a great sewing machine, with amazing features for a fair price. Many customers say this machine is a pleasure to use: "The stitching on the bottom looks as finished and perfect as the stitching on top. The feed is accurate and true. Not one bit of trouble in everything I've tried so far. Nicely made" writes a reviewer.
"This machine is beyond amazing, I would do 10 stars if I could. It is great for beginners and advanced sewers, such an amazing machine. I have gone through three and this one is by far my favorite." says a happy customer, impressed by the smooth, even seams that this machine produces.
A great choice for your first sewing machine
Specifically, many reviewers acknowledge this sewing machine is great for beginners: "Unless you want a serger or want to embroider with your machine, I can't think of any other features you'd want on this machine. It seems sturdy, the automatic threader is wonderful", as one satisfied owner reports.
Others agree: "This is a basic Singer machine. I'm a basic sewer, so it has everything I need. If you want lots of bells and whistles and a hundred fancy stitches, keep looking, but this will get the job done and really is everything you need to complete the average sewing project", and "I bought this as my first sewing machine ever. This is a great quality item and is perfect for beginners. There aren't too many different stitches to get overwhelmed with, and the instruction manual reads well for somebody who has no idea what they're doing!".
Singer Tradition 2277 – Read all positive 5-star reviews here.
Singer Tradition 2277 – Read all negative 1-star reviews here.
Singer Tradition 2277 – Product description
Item weight – 13.6 pounds
Limited 90-day warranty for adjustments, belts, rings, bulbs, attachments, Limited 2-Year Warranty for motors, light assembly, wiring, switches, speed control, and electronic components, Limited 25-Year warranty for sewing machine head
23 built-in stitches: 6 essential stitches, 7 stretch stitches, 9 decorative stitches, 1 buttonhole
Fully automatic 1-step buttonhole
Heavy-duty metal frame
Automatic needle threader
Adjustable presser foot pressure
Extra-high presser foot lifter
Adjustable stitch length and width
Simple Stitch Selection
Adjustable tension
Free arm
On-Board Storage
Included accessories – all-purpose foot, buttonhole foot, button sewing foot, pack of needles, bobbins, thread spool cap, darning plate, l-screwdriver, seam ripper/lint brush.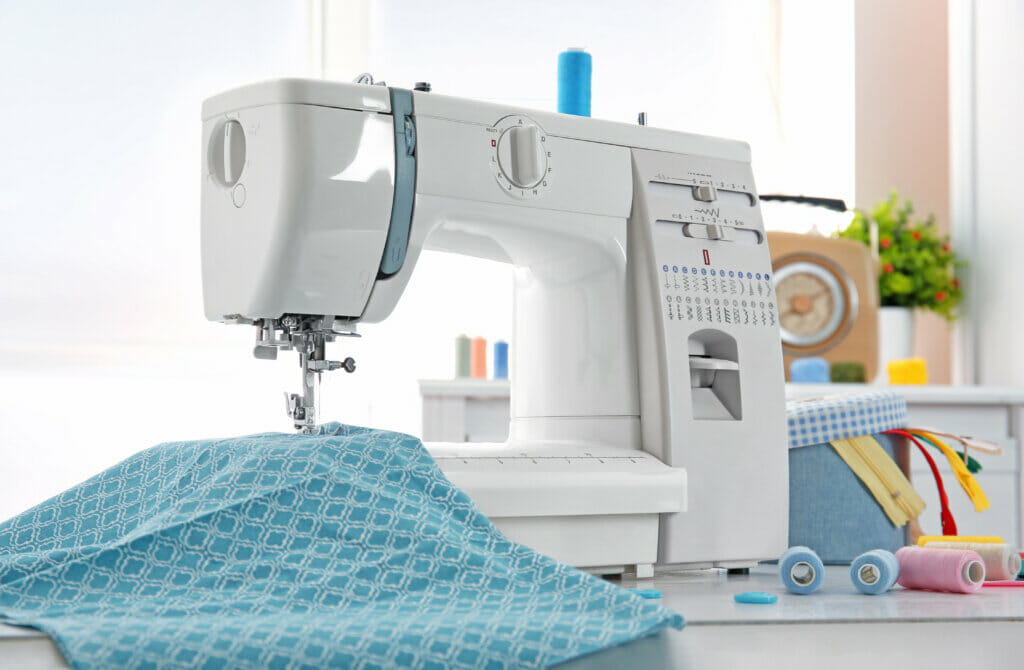 The best beginner sewing machines you can buy
---
To sum up, these are the best sewing machines for beginners under 200$ you can find in 2021, and all of them offer great value for the money.
So which one is right for you?
This is ultimately up to you. Eventually, the key to finding your first beginner sewing machine is knowing the market and honestly evaluating your needs and wants.
My first piece of advice.
Buy the best you can afford. Sewing is an amazing hobby (read here about the various benefits people who regularly sew get to enjoy), and chances are that you'll learn fairly quickly to sew and you'll like it very much.
Besides, you can't buy happiness but you can buy a nice quality machine that sparks joy. And that's pretty close.
And my second piece of advice.
Instead of buying a sewing machine exclusively for your needs right now, it might be a good idea to think about the future – where do you think you'll be in a couple of years?
If you intend to improve your sewing skills and can spend a little more, then you could buy a step-up model. Above all, the best sewing machine is one that works well with different types of fabric, is easy to use, and can grow with you as you learn.
---
What to do AFTER buying your first sewing machine
The first step – read the owner's manual before starting your sewing adventure
The manual is the one source you can turn to for any information you might need. If you have lost your manual, no problem – you can download almost all sewing machine manuals online.
Nevertheless, most people would rather not read the complicated instructions in the sewing machine's manual and just assume they can figure it out by using common sense.
This method sometimes leads to errors and unnecessary frustration. Many common sewing machine problems can be very well solved on your own, no need for a trip to the repair shop. The user manual is seriously your best friend, and you should always keep it at your fingertips when sewing.
Every machine is different, but you always should read and understand the step-by-step instructions in the manual before using and installing the machine.
Each sewing project requires different size needles and thread
Keep in mind that there are many different types of fabric. So you can't really expect to get your machine out of the box and immediately start to sew whatever material you have on hand, be it socks fabric, satin, spandex or denim. Always make sure you choose an appropriate thread for your sewing project and an appropriate needle for your fabric/thread combination.
Quick sewing machine troubleshooting
If you own a Singer sewing machine, the SINGER® Sewing Assistant application would be of great help. The app has been custom developed to educate and guide you through the machine, help you learn how to get started, how to sew and on top of that, get good quality.
The Brother company offers free customer phone and online technical support for the life of their sewing machines – you might want to take advantage of this service.
Moreover, if you are just starting out in the sewing world, there are plenty of sewing tutorials on the internet with helpful tricks and tips, or you could join Facebook groups aimed at helping beginners.