The best gift ideas for sewists and quilters. Gift guide 2021: this list will make it easier to find the perfect gift for your sewing friends, family, and colleagues this year.
Are you looking for creative gift ideas for the quilters and sewists in your life?
Truly cool gifts that are as awesome as they are affordable are hard to come by. That's why we created this collection of 25 gift ideas for sewists.
This list is good year-round and works great for Christmas gifts, birthday gifts, and many other holidays or occasions.
No matter how well you know someone, it can still be difficult to find the right present.
Here's a great list of gift ideas for sewists. We hope you find the perfect thing!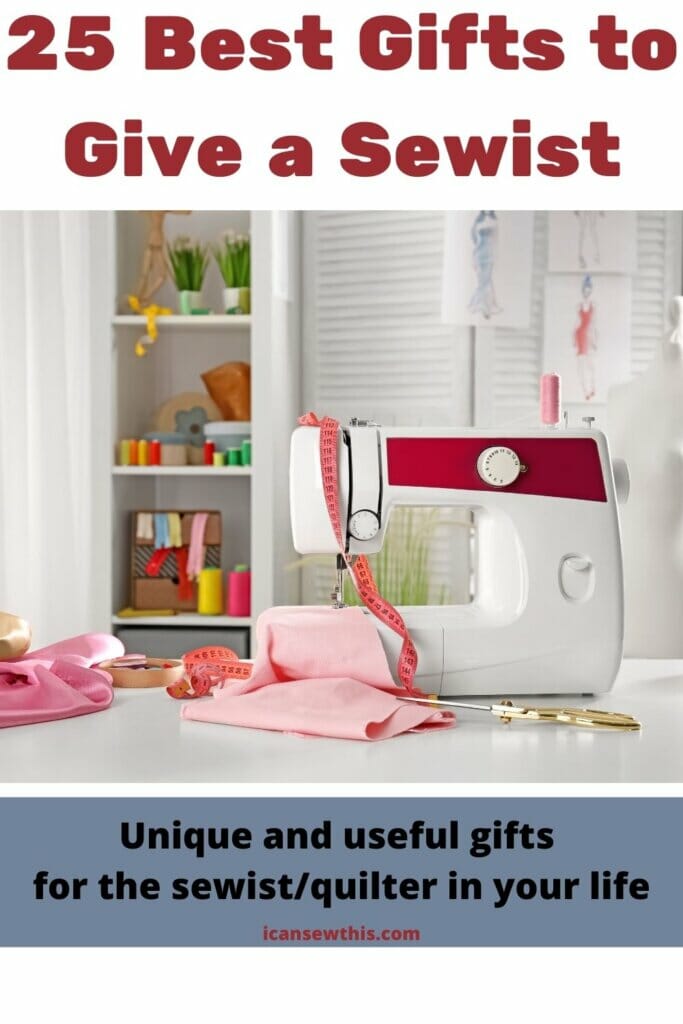 Unique and useful gifts for the sewist/quilter in your life
I think that buying a new sewing machine for someone that already sews and already owns one would be rather tricky.
But, if your close friend/relative/significant other is a beginner and has expressed interest in learning to sew, giving a sewing machine as a gift does sound like a good idea.
The one pictured here, the Singer 4423 Heavy Duty, is an amazing machine for beginners, as it's straightforward, versatile, and sews different types of fabrics.
A serger is different from a sewing machine; it's also called an overlock machine, and it helps take your sewing to the next level. It creates a clean and professional finish on garments, as it has a blade that cuts off the seam allowance as it sews.
The serger encloses the edge of the fabric inside a thread casing, preventing the fabric edges from fraying.
The Brother 1034D serger suggested here is a very popular choice. Pretty much everyone that bought it love this easy-to-use and reliable machine.
This vintage pendulum wall clock would look cute in any sewing room!
The swinging scissors pendulum is such a nice detail.
Great gift to those that sew/quilt.
A large craft storage tote bag – what a wonderful idea! One of those actually useful gifts all practical people will appreciate.
It is as beautiful as it is functional, and your sewist friend can carry pretty much everything in this bag. It's also perfect for keeping all the supplies in one place.
Jewelry really is the perfect gift and we've got a soft spot for these cute little things! Beautiful sewing themed jewelry is suitable for any age and makes a fantastic present for anyone who enjoys this hobby.
A pretty brooch, sewing machine earrings, or a necklace can make wonderful gifts.
These markers work like magic on so many different fabrics.
Perfect for every DIY person. They have fine tips, are easy to use, and wash out completely after a quick touch of the iron. Nice variety of colors as well.
The best gifts are both personal and functional, and that's why these fun sewing mugs are a great idea.
These mugs are sure to make your friends and family smile.
The best kind of present is a present the recipient will actually use.
So, if you're looking for gifts for people who want to learn how to sew, this practical sewing kit has all the basic accessories that one needs to start out with.
The list of gift ideas for sewists couldn't be complete without this tool.
Any sewing enthusiast needs a pair of dedicated fabric scissors that are super sharp, strong, and comfortable in the hand.
Professional sewing scissors are a practical present that is sure to impress the sewist in your life!
Well, these are too cute to resist! Mini scissors are great for fine detail work.
They're small and very sharp, so they perform well for precision cutting.
Sewists are practical people, and there's no such thing as too much fabric! Sooner or later, this gift will get put to good use.
A sewing book is a perfect gift idea for the sewist looking to improve their skills or for the kids and teens who are beginning their sewing journey.
A rotary cutter is a tool generally used by quilters and sewists to cut fabric.
If your friend does not already have one, this can become her new favorite cutting tool.
Self-healing mats are definitely a thing!
This is an unusual but useful gift to delight your sewist friends (if they don't own one by now).
The self-healing technology reseals the surface of the mat after the toughest of cuts and it will protect the work surface.
This bag can hold a sewing machine and a lot of notions and supplies.
Most people with the sewing itch probably would be thrilled to receive such a gift.
A good tape measure with a quirk. It is retractable and sports a cute, modern design.
This retractable tape measure is a small but thoughtful gift for your friend.
A sewing table is not something you'd buy for a new friend you know well, but not that well.
However, if your significant other uses the kitchen table for her sewing projects, she might gladly welcome the idea of receiving a sewing table as a present.
These multipurpose sewing clips come in a variety of colors and are incredibly cute and useful too.
In truth, the clips are safer than pins for sewing. As a result, more and more crafters switch to these. No more pinholes in your fabric, and no more pinpricks in your fingers, that's pretty cool.
Cute as a button!
Many people are a little bit obsessed with buttons (myself included). A collection of buttons that cover the entire rainbow spectrum could be an amazing gift idea.
While this isn't an essential, it's definitely nice to have tool.
If you know your sewist friend plans on making clothing patterns or sewing her own clothes, a dress form – also known as a dressmaker's dummy or mannequin – is a great help.
More presser feet are always welcome for a sewing enthusiast!
The presser feet are basically an attachment used with sewing machines to hold the fabric down under the needle as it is sewn.
This sewing machine presser foot kit pictured here is highly giftable, as it comes in a pretty storage case.
A high-quality thread kit will help your sewist friend keep their sew-jo up.
Choose a pretty, vibrant assortment of colors, or perhaps some specialty and effect threads she has never used before, but really wanted to try out.
This is a great gift to give someone who is into fabric paint experiments.
Fabric paint makes for a fun way to teach children about color mixing while doing a creative activity.
This cool pincushion gives a modern vibe and can make any sewing project so much easier and fun.
The strong magnet is perfect for holding pins and needles, and will surely improve the work efficiency of your sewist friend.
A ruler gets used almost every day, and this item usually wears out with time.
Surprise your sewist friend with a beautiful new ruler that she'll love and use regularly.
A sewing journal is a thoughtful gift for that special person that loves to sew!
This is the perfect planner for dressmakers and sewists to record each project they make.
Who doesn't love a cute mini iron?
This one here is small, lightweight, easy to control, and it has the ideal size for many crafting projects. A good iron is an essential tool for any sewist or quilter.
Which one is your favorite? Leave a comment below!
Do you have other ideas that aren't on this list of gift ideas for sewists? We'd love to hear your recommendations!