Discover a list of 10+ cool sewing tools and notions you might not have yet. These are great little gadgets to have next to a sewing machine.
I was surfing the net these days, unwinding and looking for new sewing supplies that could help make my life easier.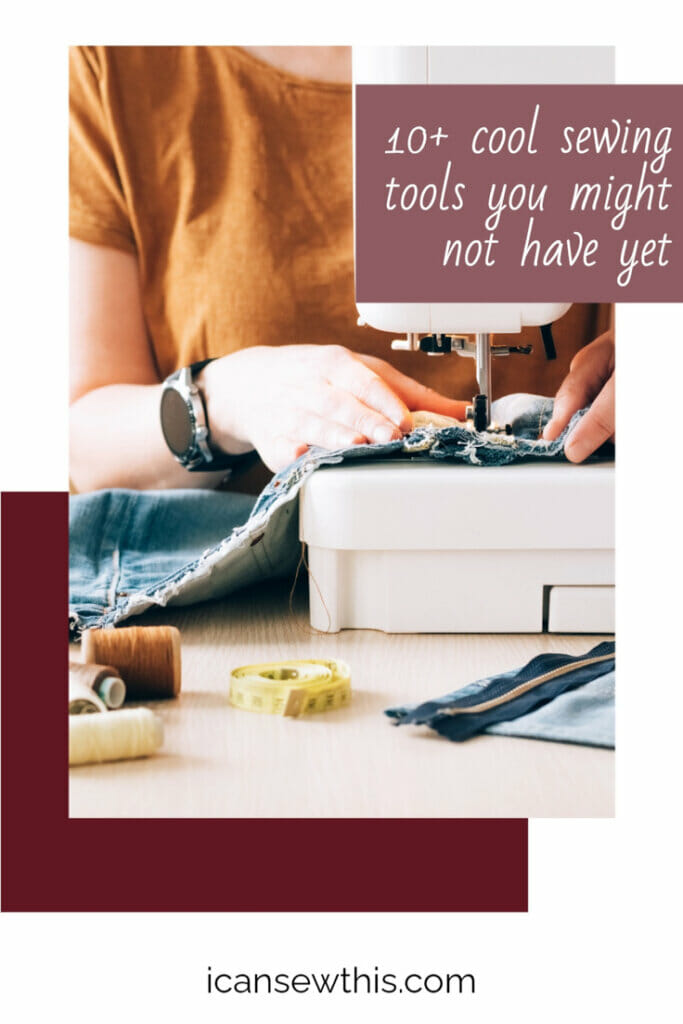 In truth, I loved having a peek at the latest sewing tools out there. When I started to sew, I had no idea that such accessories even existed.
Every year, more and more amazing and useful sewing tools, which can make our life easier and save a lot of time, are launched.
There are some sewing supplies that, when you see them, you wonder how you ever got by without them.
Why did I not know about these cool sewing tools sooner? Sew helpful!
I've rounded up the coolest sewing tools that you probably haven't seen before.
10+ cool and useful sewing tools for every sewing enthusiast
This tracing wheel has little metal spikes which dig in and create marks on the fabric. It's ideal for tracing and transferring patterns, but you can also use it for buttonhole placement, darts, notches, or copying your favorite clothes.
Classy storage for small items. This sewing needle organizer box looks very nice, is well made, and works great.
Excellent for storing sewing needles and protecting needles and yourself too!

These clips have taken the sewing world by storm and provide a great alternative to sharp sewing pins.
They offer a firm grasp of multiple layers and, unlike pins, are safe to use (even around kids) and do not prick or pierce. No wonder so many sewists love them and recommend them highly! Plus, they come in a little container that is incredibly cute.
This organizer can store 20+ metal and plastic sewing bobbins. The plastic channel is flexible, so it's easy to put on and remove the bobbins.
Such a great way for keeping bobbins corralled and tidy, even when turned upside down.
Bonus, you can easily display it on your pegboard!
It's such a simple little thing, but it works very well, based on the reviews and on personal experience.
We all had our bobbins unwind in the sewing box and get all entangled and messy.
If you have a standard case for bobbins, these holder clips will keep those threads from popping out.
These spool huggers quickly solved a problem that has been around for years.
Not surprised so many sewists are in love with them.
They are great for keeping thread around the spool neatly. Besides, these spool huggers might just make your sewing more colorful and fun.
For sure, this is a good concept and a handy tool. Looks nice and works great too.
This tape measure is easy to use, portable, and the most popular feature – it's retractable.
An ergonomic seam ripper is pure gold for a sewing beginner, in my opinion. However, it makes seam ripping an effortless task for anybody.
When I was just starting out, I spent more time using my seam ripper than sewing. A standard seam ripper can become uncomfortable during long use sessions.
This one here is easy to grip, comfortable to hold, and strong enough to get the job done.
Many sewers say this little tool is a lifesaver.
This craft/sewing tool is so handy and makes it much easier to turn and press the seams than using a pencil.
Its curved end with a tip for point turning really makes a difference in pushing out corners, too.
This tool might be the best needle threader ever since so many customers share positive experiences.
It's durable, easy to hold, and its tips can be stored away safely, so it doesn't get lost in the drawer.
And definitely better quality than what you get in a regular sewing kit.
This clever tool is so versatile and has so many uses.
It's great for turning corners, feeding the fabric evenly under the foot of your sewing machine, inserting elastic through a waistband, easing the fabric through the presser foot when there is bulk, or poking stuffing in toys.
You'll be surprised how much you reach for that purple thang tool!
These erasable fabric marking pens work like magic!
You can use these tools on various colors of fabrics. I wish I'd discovered them sooner!
After finishing your project, the ink disappears completely with just a hot iron or a hairdryer.
The magnetic sewing pincushion is better than a regular pin cushion and many sewists appreciate it.
The powerful magnet tends to make the pins line up parallel to each other and makes it really easy to pick up dropped pins too.
This magnetic wrist pincushion not only looks elegant and modern but also helps you keep your hands available for sewing.
It fits snug and feels comfortable, based on the reviews. The magnet holds a decent amount of pins as well.
15. Sewing thimble – finger armor for hand sewing
This sewing thimble is a little bit dramatic yet so cute! Now that we think about it, a finger armor is a great idea!
Most of the reviews are positive, and people say not only it looks so pretty, but it also works much better than the traditional thimble. It might be worth a try if you sew by hand.
These little sewing tools are perfect for anyone who sews. Not only they are useful but also spark joy in the daily routine. Clearly, certain items are worth the investment.
Hopefully, this list is helpful. Did I miss anything?
What are the sewing tools that you just can not do without? Please leave a comment below!
I'd love to hear your recommendations!