Learn how to make a cute floral skirt with side bows and ties in this easy tutorial for beginners. Perfect for spring and summer, this skirt features an adorable detail that little girls will love. Learn how to make fabric ties and attach them securely to the skirt.
This cute floral skirt with side bows and ties is perfect for spring and summer! Not only is it simple and quick to make, but it also has an adorable detail that little girls will love – tying the straps in a bow. It's also a great opportunity to teach a child how to tie a bow. In this tutorial, I'll explain how to make this cute skirt and provide you with all the necessary details, so that even beginners can make it with ease.
Simple gathered skirt with side bows and ties – sewing supplies
Fabric – cotton, poplin, linen
To start, you'll need to make the skirt itself. If you're not sure how to do this, don't worry – I've already explained everything in my previous tutorial. Once you have your skirt hemmed and elasticated, it's time to move on to the side ties.
But first, here's a peek at how the skirt looks on the inside. Instead of using a serger, I folded the raw edges for the hem and elastic casing. As you can see, it looks pretty neat!
How to choose the length of your fabric ties
To make my ties, I cut two fabric pieces that were 28 inches long and 1.5 inches wide. My finished ties measure approximately 27″ x 1/2″.
Keep in mind that I made this skirt for a 5.5-year-old girl. If you want to recreate the exact same look for your skirt, you can use the rule of three to determine the length of your side ties. It's easy and simple math, I promise!
For example, my skirt is 13 inches long, and I used two ties on each side that are 28 inches long.
So, if you want to make a 10-inch long skirt, you'll need two ties that are about 22 inches long. Similarly, for a 15-inch long skirt, you'll need two ties that are 32 inches long, and so on. By using the rule of three, you can easily calculate the appropriate length of ties for your skirt.
Regardless of the ties' length, I would still keep the same width of 1.5 inches for all sizes. This width seems to be just right for tying a cute bow on a girl's skirt – not too thin like a spaghetti strap, but not too wide to bother the hand movements.
Nevertheless, you can always make your side ties longer, shorter, or wider – it's just a matter of taste, after all!
How to make the fabric ties tutorial
Once you have your fabric pieces cut to size, fold each one in half lengthwise, with the right sides facing each other. Use pins. Next, fold about 3/8 inch of the fabric towards the wrong side on each short end of the fabric piece, and press it in place.
Then, stitch along the long edge with a 1/4″ seam allowance, leaving the ends open. I used a small safety pin to turn the ties right side out. Then, press them with an iron to make sure they lay flat.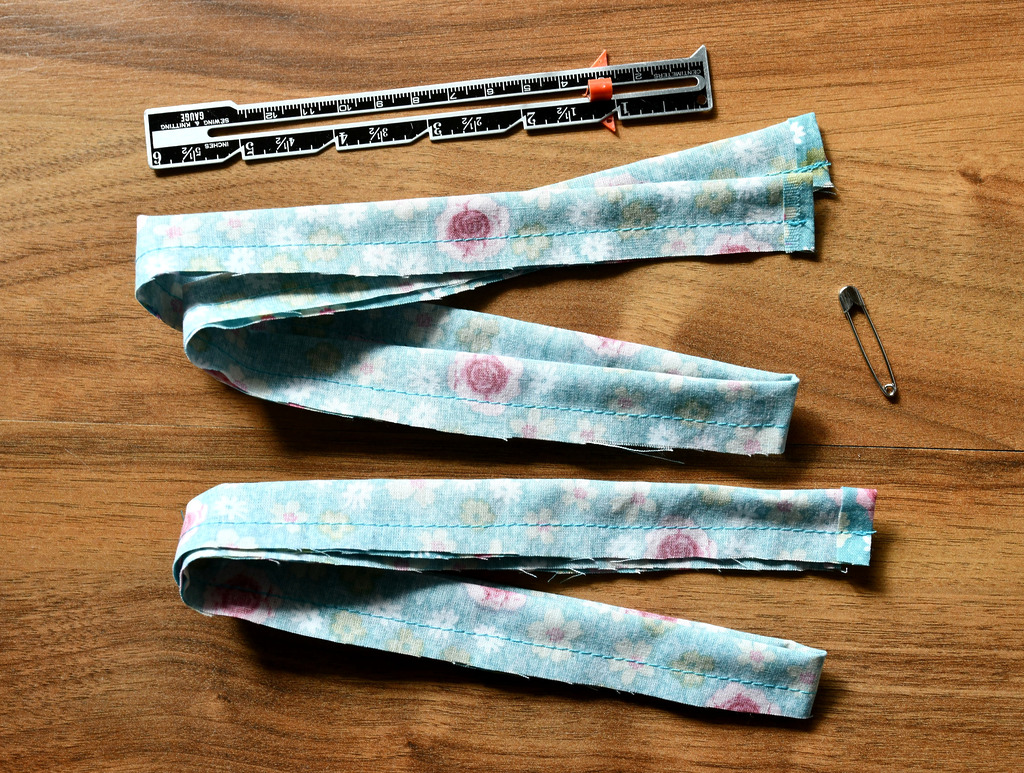 If you don't have a loop-turner hook, don't worry! Here are some tips and tricks to help you make thin fabric tubes.
To attach the ties to the skirt, align the middle of each tie with the side seams of the skirt. Pin them in place, and then stitch them to the skirt using a straight stitch. Make sure to backstitch to ensure that they are securely attached.
To finish off the ties, tie them in a bow on the outside of the skirt.
For added safety, you may want to consider sewing the ties and loops to the skirt after completing the bow. This will help prevent the ties from coming undone and keep your little one safe.
And that's it! You now have a cute floral skirt with side bows and ties that is perfect for any little girl. I hope you'll enjoy making this fun and easy project!
DIY gathered skirt with side bows and ties
PS: don't mind the seam – you can also place one bow in the center of the skirt. This creates a different but still beautiful look for your skirt!
Also, if you enjoyed this post and want more free patterns and tutorials, be sure to check out craftsondisplay.com! There, you'll find a wide range of DIY projects to inspire your creativity and help you improve your sewing skills.
Did you find this cute gathered skirt with side bows and ties helpful? I'd like to hear what you think of it! And I would LOVE to see pictures if you give this project a try.
Let's keep in touch! You can find me on Facebook, Instagram, and Pinterest.