Learn to make an easy tulle dress for little girls with this free pattern and tutorial. No zippers and no buttonholes involved! A simple sewing project, suitable even for those with only basic sewing skills.
This free toddler dress pattern combines cotton and tulle into a cute and comfy outfit. I had so much fun sewing this pretty little thing!
A quirky combination that works – a comfy peasant top and a fancy tulle skirt
I wanted to make a simple yet spectacular dress for my 3-year-old daughter to wear whenever she wants to dress up and pretend play, and this is what I came up with. I had this beautiful floral cotton fabric for years now and I finally had the opportunity to use it.
This combination of cotton peasant top with elastic neckline and tulle skirt may seem a bit too much for some of you. That is to say, I'm fully aware that peasant tops are more on the casual side, while the tulle skirts are rather elegant.
But there are also a few indisputable benefits.
First, you can make this princess dress even if you are a sewing novice – there are no zippers or buttonholes to make and not even real curves to sew.
The easiest toddler princess dress you'll ever make
This easy to sew toddler dress pattern will make you feel like the crafty superstar that you are, even though you're fairly new to sewing.
Anyway, you don't have to be a beginner to enjoy easy sewing projects.
Be sure to check out my other tutorials on how to make a flutter sleeve peasant top & long sleeve peasant top for little girls! Both come with free sewing patterns.
Some days I see challenges as opportunities for growth. On other days I want to stay in my comfort zone and just indulge in some quick wins. I'm at peace with that.
And second, this free princess dress pattern has no back or front – most likely, your little girl will be able to put it on without any help. Mine certainly does!
Actually, this was an important factor when I decided to make this dress. I have a very independent and spirited toddler – she practices self-dressing skills for almost two years now, and she loves being able to get dressed alone. And I'm happy to let her take charge of as many of her own activities as possible.
DIY Disney princess-inspired tulle dress for toddlers/little girls
One or two hours spent at the sewing machine, and your little girl can dress up as her favorite Disney characters.
Make a gorgeous dress in yellow and your happy toddler will twirl as Belle in the "Beauty & The Beast" movie, or make an Elsa blue dress for your little Frozen fan.
There are a lot of options for you, really. Just pick your favorite Disney Princess for inspiration – Cinderella, Aurora, Tiana, Ariel, Elena of Avalor, Merida, Rapunzel, or Snow White. A cute princess dress in pink, blue, yellow, red, or purple is sure to make your little girl's dreams come true!
This sweet cotton and tulle princess dress is comfortable enough for everyday wear, yet durable enough to withstand repeated wearing and washing.
This DIY princess dress will be the perfect gift to celebrate any occasion – photo shoots, birthday parties, holidays, or dress-up games with friends. Making your little girl feel like royalty doesn't have to be expensive – it's so easy to create your own princess costume.
So, here's how to make this easy tulle dress for little girls.
Sewing supplies – girls tulle dress pattern
The free PDF pattern for the peasant top – size 3T – download below (seam allowances included)
Cotton fabric of your choice
Soft tulle fabric
Lining fabric for the skirt – satin/cotton
sewing machine needle / jersey needle
Free girls tulle dress pattern and tutorial
For the peasant top, cut your fabric pieces on the fold – you need 1 front piece, 1 back piece, and 2 sleeve pieces for the cotton bodice.
Skirt lining – 1 cotton piece – 13 inches long x 44 inches wide.
Tulle skirt – 2 tulle pieces – 13 inches long x 118 inches wide.
You'll also need about 32 inches of bias tape and about 55 inches of 1/4 inch wide elastic.
Step 1
First, pin the front of the top and one sleeve to the armhole, with the right sides together. Sew with a 3/8" seam allowance. Repeat with the other sleeve.
Press the seam allowance to one side – I skipped this step and it shows.
Step 2
Next, align the back sleeves and the bodice back to the armhole, right sides together, and sew.
Then finish all the four armhole seams with a serger/zigzag stitch.
Step 3
Sew the top together at each side, matching the underarm seams.
Finish and press the seams.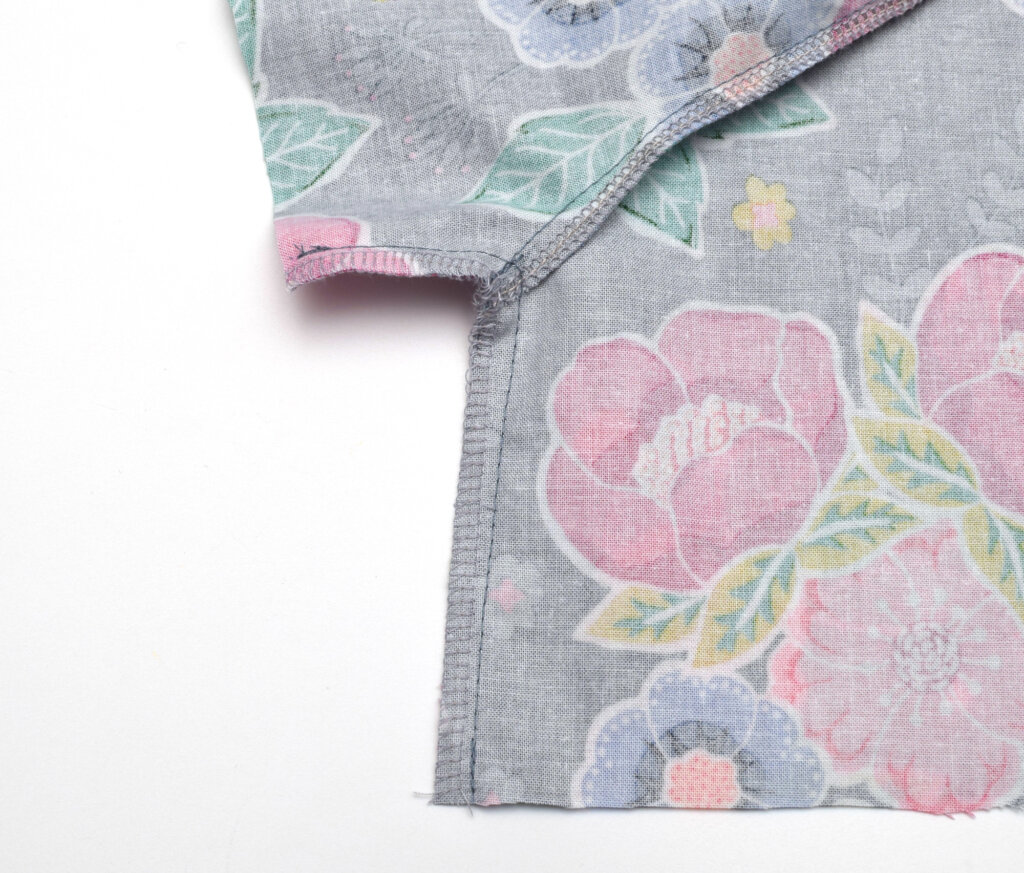 Step 4
Serge around the neckline and the bottom of each sleeve.
Step 5
Let's form the elastic casings. Turn under the edge of each sleeve about ½ inch and sew, leaving a small opening.
Repeat for the neckline.
Step 6
Fold the 44" x 13" fabric rectangle in half, right sides together, to create a side seam, then sew with a 3/8 inch seam allowance and finish the seam with your serger/zigzag stitch.
Change the stitch length to the longest possible and baste around the top edge of the skirt lining and gather it until it fits around the bottom of the peasant top.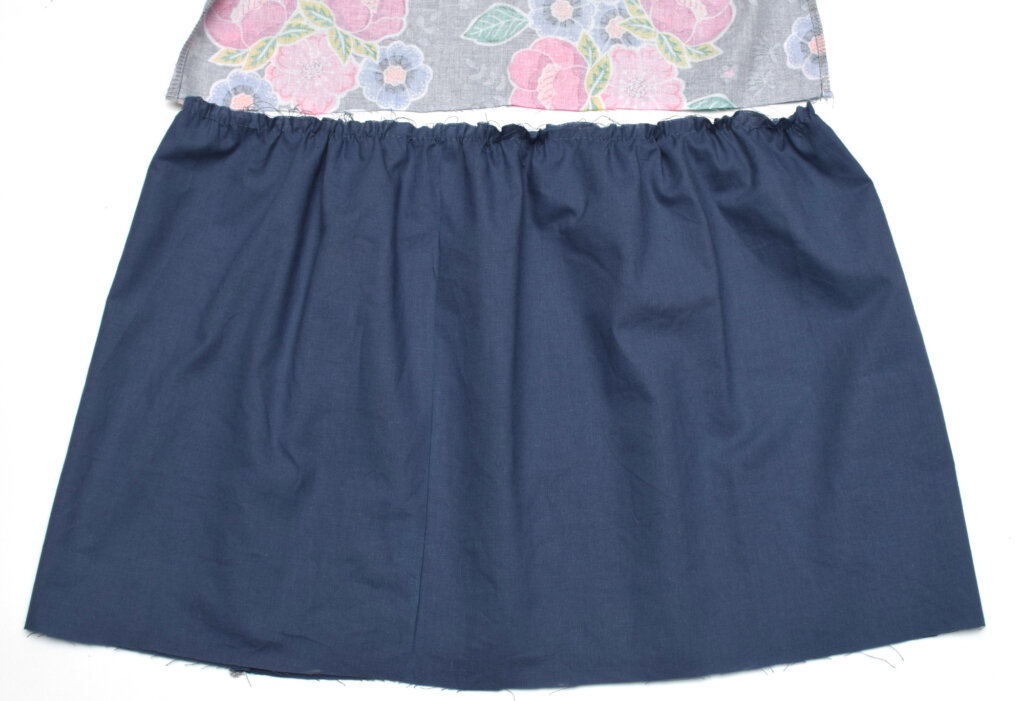 Step 7
To avoid wonky seams on tulle fabric, switch your needle for a new ballpoint/jersey needle – size 70/10 is what I used. Then, use a short straight stitch and slow down your sewing machine speed to avoid puckering. Find more tips on how to sew with tulle fabric here.
Repeat for the other tulle layer. Set the iron on the lowest temperature setting and press the tulle side seams.
Now, the tulle layers will be individually gathered. So, baste around the top edge of one of the tulle layers and gather it until it fits around the bottom of the peasant top. Repeat for the second tulle layer.
Subsequently, place one tulle layer inside the other, the wrong side of the first layer to the right side of the second. Sew the two layers together.
More detailed instructions in this tutorial.
Step 8
Next, sew together the tulle layers and the skirt lining – the wrong side of the second tulle layer to the right side of the lining.
Step 9
Right sides together, place the tulle skirt inside the peasant top, aligning the edges as shown in the picture below.
Sew and finish the seam.
Step 10
Pin the bias tape along the serged edge of the waistline as shown. Stitch along the folded crease of the tape.
I turned in the short ends of the bias tape before stitching across to avoid raw edges. This method also allows me to have a small opening where I can insert the elastic afterward.
Next, sew the other edge of your bias tape to the peasant top. Use your fingers to smooth things out and press the bias tape nice and flat.
Step 11
Now cut 4 pieces of elastic, as follows:
For the neckline, I used approx. 18 inches of 1/4 inch wide elastic.
For the sleeves – about 7 – 7 ½" inches.
And for the waistline – Wrap a piece of elastic around your child's waistline and add 2-3 inches to this measurement before you cut it. I used 22 inches of 1/4 inch wide elastic.
Insert the elastic through the opening using a safety pin and stitch the overlapped elastic ends.
Step 12
Hem the skirt lining – serge along the raw edge of the hem, then fold the hem at 1/2" towards the inside of the skirt and stitch.
After that, iron down the hem for a nice, clean finish.
And that's all, this DIY girls' princess dress is now ready to wear!
Did you find this tutorial helpful? I'd like to hear what you think of it! And I would LOVE to see pictures if you give this free girls tulle dress pattern a try.
Post Scriptum
This post was originally published on March 2, 2020, in a slightly different form.
I decided to remake the whole tutorial and sew a new girls tulle dress since I was displeased with the quality of the step-by-step photos and the bias tape I used for that dress (it was ugly and clashing, and it bothered me, no matter how hard I tried to ignore it).
It was cute, nevertheless, but I felt this free princess dress pattern deserved a better sewing tutorial. I hope I made it.
Let's keep in touch! You can find me on Facebook, Instagram, and Pinterest.