Hey everybody, I've had a major revelation after sewing my first button-down shirt. It appears that I've been lying to myself all this time. Sewing shirts is not difficult at all! Moreover, the whole process is genuinely fun!
I bought the Cool shirt pattern by Frocks and Frolics because it's cute and my son kept reminding me that I sew too many things for his sisters, and too few for him.
He is right, of course. It's much easier for me to whip up a gathered skirt or a headband than make him garments that he'll actually like and wear.
I was nervous and stressed just thinking about the buttonholes-making part, all the curves, and the little pieces.
But I took the plunge anyway because that's what we do.
I made a point to always check the instructions and this Youtube tutorial before moving to the next step. In addition to that, I've had a similar store-bought shirt at the ready. Seeing the outcome helped me to better understand the process.
This is my first shirt ever and I'm all over the moon! New skill unlocked!
It was an amazing experience and I felt like I should have tried making shirts ages ago.
This pattern, along with the video, was so easy to follow even though I've never sewn a shirt before. And my first completed shirt looks so professional!
This is my second shirt! Really happy with how it turned out!
Is it difficult to sew shirts?
Short answer, no. I've just finished sewing my first two shirts ever and I can say with certainty that as long as you use a good pattern and you're familiar with your sewing machine's basic functions, you can go for it!
At the end of the day, you might find yourself swooning over a lovely, professional-looking button-down shirt that you've made!
The honest truth is that starting is the most difficult part.
You'll only struggle (if at all) with your first shirt. As you move on to the second shirt, most likely you will be sewing like a pro! Making button-down shirts is not hard. As with anything, it just takes practice and patience.
Also, shirts are usually made from woven cotton fabrics. It just so happens that these are the easiest fabrics to sew for a beginner!
What you need to know before sewing your first shirt
Here's a complete list of all the necessary techniques you need to be familiar with before sewing a shirt for the first time:
how to apply fusible interfacing
how to sew around curves
how to topstitch
how to make a basting stitch
how to sew buttons and buttonholes
If none of these things sound odd for you, then you're basically waiting in the wings!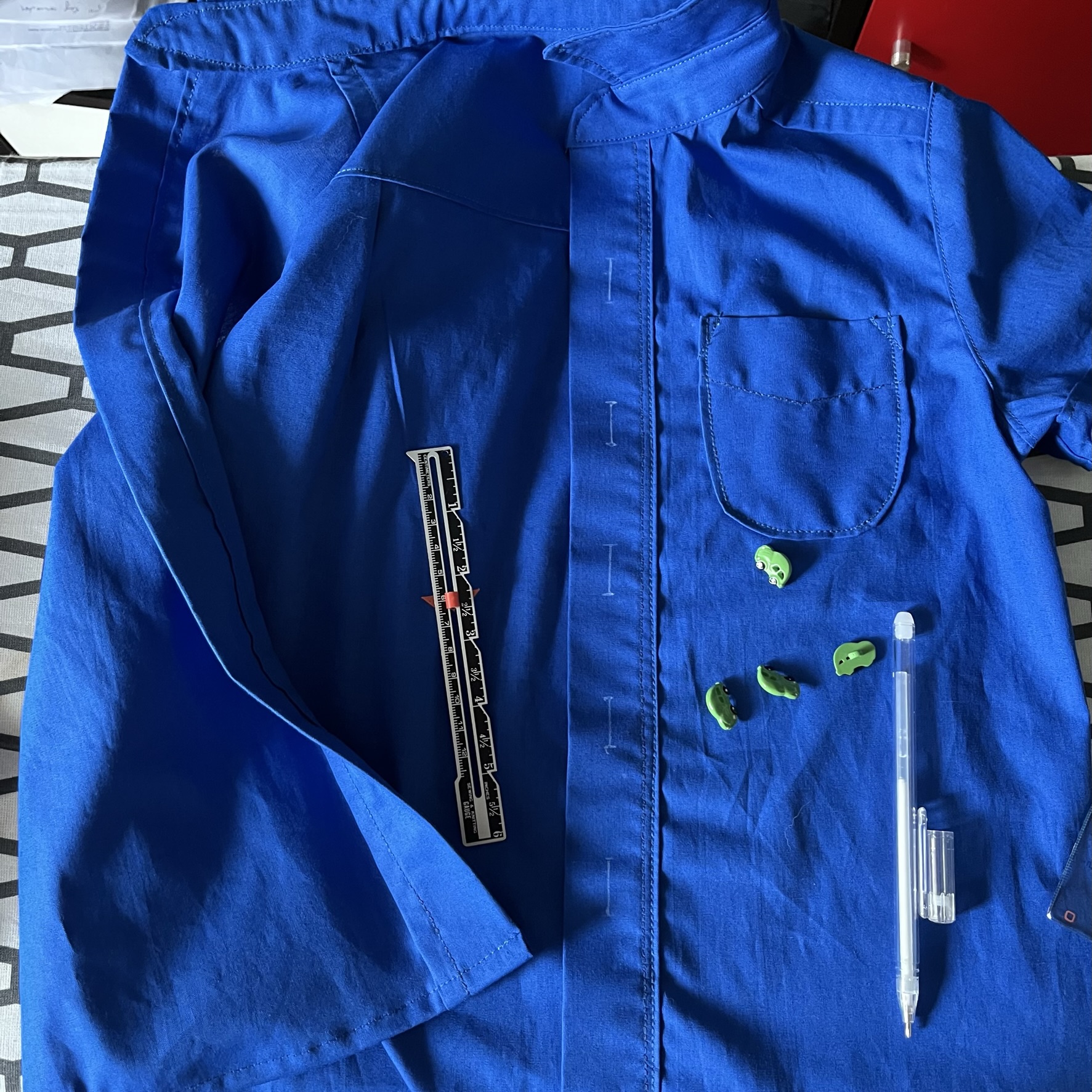 How much fabric do you need to make a shirt?
It depends on the type of sleeves (long or short), the size you're making, if you're using any contrasting fabric for the yoke or the cuffs, and the width of the fabric.
Generally, to make a men's or women's shirt you'll need somewhere between 1.5 and 2.5 yards of fabric. For kids' shirts, you'll often use less than 1 or 1.5 yards of fabric.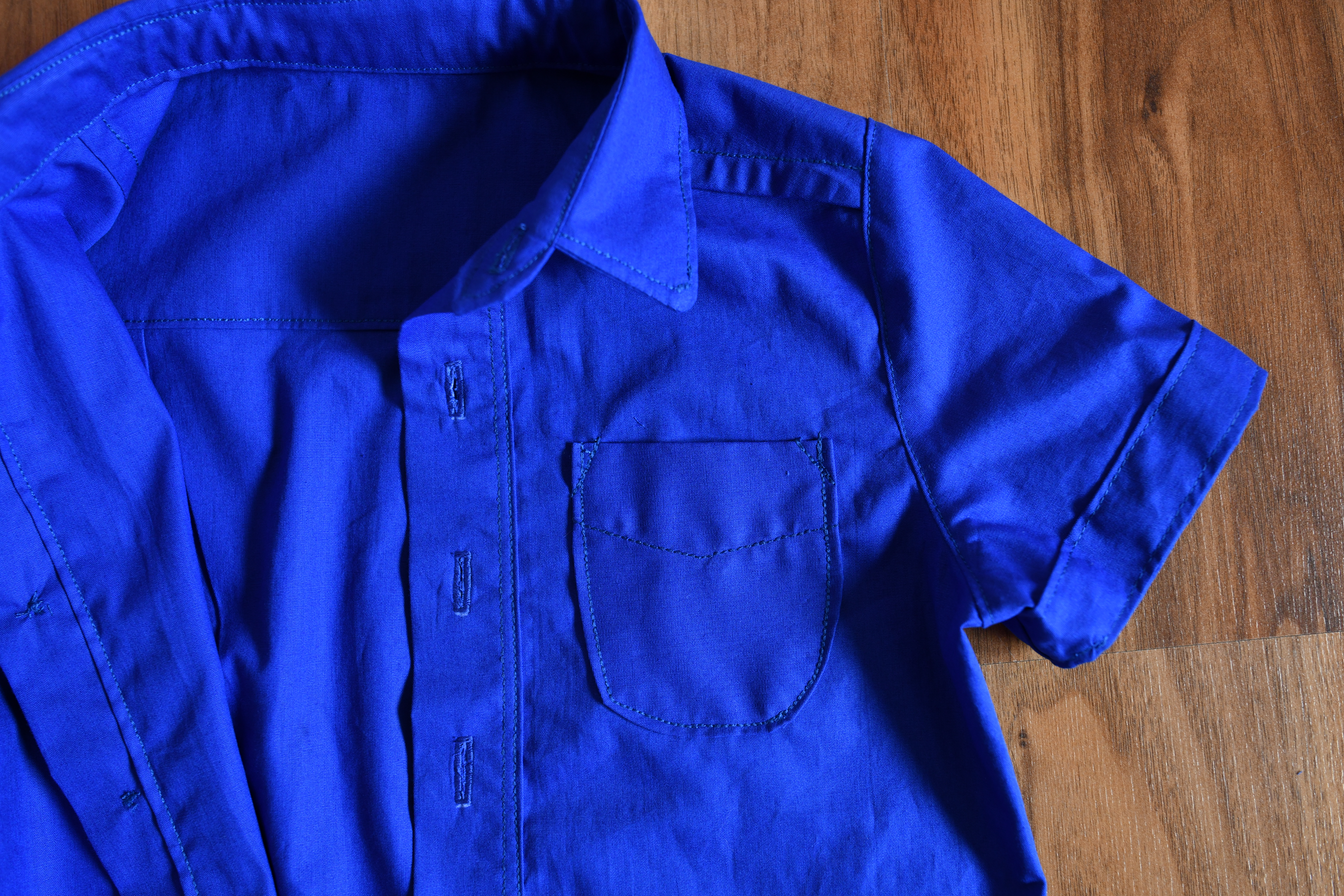 How long does it take to sew a shirt?
I can only speak from my (limited) experience. To make each of these boys' shirts (size 6/7 years) I cut and sewed 14 pieces in total (2x front, 1 back on the fold, 2x yoke on the fold, 2x collar, 2x collar stand, 1 pocket, 2x sleeve, 2x facing for the short sleeve).
I then analyzed a bunch of my husband's classic office shirts and noticed they are all made of the same pieces – nothing more, nothing less.
So, if I were to make a men's shirt, the process would be pretty much the same, except it will take longer due to having longer seams.
It took me about 3-4 hours to make my first shirt ever. I'm not counting the time to prepare all the pattern pieces. If you go really slow, take a lot of breaks, and double-check your work, then let's say your first shirt will be finished in roughly 8 hours (or a day's work).
The solid color shirt is the first one that I finished. I made some silly mistakes along the way but I will neither mention nor fix any of them. I'm so proud of this cute little shirt with car-shaped buttons!
The second shirt (in gingham fabric, see photo below) went a lot smoother and faster! I finished it in less than 2 hours.
My best tips for making a shirt in a (relatively) short amount of time
Choose a good pattern (essential). A good sewing pattern will give you all the tools you need for a successful project.
Take the time to read and understand the instructions.
Keep a similar store-bought shirt close by.
Don't even think about outsmarting the patternmaker! Follow the instructions and don't skip steps (stick to the recommended seam allowance, press the seams, pin, trim or baste where needed, use interfacing, etc.).
Use a lot of pins and take your time sewing around curves.
Keep your iron/ironing board set up the entire time.
Is sewing shirts worth it?
Definitely yes. Learning how to sew a button down shirt from scratch is an hugely rewarding pursuit!
It's so satisfying to know that you can just pick a piece of fabric and turn it into a cool 3-D item with your own bare hands – and a sewing machine! You can make nice, good-quality shirts that will last years, at least for adults.
Although sewing your own shirts is not cheaper than buying fast fashion, it is cheaper than buying fine clothes made by a designer or a tailor.
About the pattern I used
I love so many things about this shirt pattern by Frocks and Frolics! First, it's unisex and available in multiple sizes for kids aged 1 to 14. That's great because I have a son and two daughters, aged 5 to 13, so I will use this pattern a lot from now on. More shirts to come, of that you can be sure!
Also, it's the first time I've seen a pattern to include one PDF file per size, and I find that to be extremely convenient.
The instructions are clear and easy to follow, and the video tutorial shows each step in detail. All pattern pieces are drafted to match up and fit perfectly together like pieces of a puzzle.
I'm so proud of the results! I can't wait to share photos of these adorable shirts in action! It will have to wait though a few days because my kids are currently on vacation with the grandparents.
Let's keep in touch! You can find me on Facebook, Instagram, and Pinterest.