Learn how to make a mini zipper boxy pouch with this step-by-step tutorial and free pattern. This is a beginner-friendly gift-worthy DIY project that can be finished in less than 30 minutes.
There's no PDF pattern to download. It's a super easy and quick project. All you need is two small rectangles of fabric – you can even use scraps!
These small boxy pouches make a great last-minute gift for Christmas, Mother's day, or Teacher Appreciation Week. Anyway, you can also give a pretty little thing for no occasion at all. Just because!
Initially, I made one mini boxy pouch as a cute little gift for my 8-year-old son who rarely receives sewn gifts from me because, honestly, it's easier for me to sew girl things (scrunchies, headbands, skirts etc.), it's like a weird default setting.
Then, I thought it would be a good idea to make some more, since these small boxy pouches are not only adorable but also useful.
My kids use them for coins, lego figures, and small trinkets. I think that these zipper pouches are a DIY gift that everyone will love.
I can even see myself using one for lip balm, tampons, hand sanitizer, and whatnot. My favorite one is the floral pouch. It's actually the same fabric I used to make a knotted headband for my daughter (tutorial here).
Finished boxy zipper pouch size – approx. 3″ long x 2″ deep x 2.5″ tall
Sewing supplies – small zippered boxy pouch
How to make a mini zipper pouch
Step 1 – prepare fabric pieces
You will need:
Cotton fabric – 2 pieces measuring 9" x 5" (1 main, 1 lining)
Lightweight fusible interfacing – 2 pieces measuring 9" x 5"
1 small strip of fabric measuring 5" x 1.5" for the pull tab
One 4" long zipper.
Tip #1 If you don't have this exact size, I'd recommend you choose a longer zipper, such as 6" or longer, so that the zipper pull won't stand in your way when sewing the pouch. I personally don't like lifting the presser foot and sliding the zipper pull past the presser foot.
Tip #2 If you use a directional fabric for the exterior of your mini zipper pouch, take a look at the picture below. It will matter which way you cut that fabric piece. The first photo shows how to do it the right way.
Beware of directional fabric with one-way designs. If that's what you want to use, instead of cutting one 5"x9" piece, cut 2 pieces measuring 5"x5" so that you'll have the same orientation of the print on both sides of the zipper pouch. More info on directional fabrics here.
Step 2 – sew the pull tab strip
Ideally, the pull tabs should complement the outer fabric so choose accordingly.
Next, fold your pull tab piece in half lengthwise so that the wrong sides are together, and press. Then, open the piece back up and fold the long edges over to the wrong side so that they meet in the center. Now fold the entire strip in half again along to hide the raw edges inside and press or use pins.
Topstitch to close the seam, about 1/8″ away from the edge.
Step 3 – apply interfacing
Apply the fusible interfacing to the back of both your main and lining pieces.
Cut your pull tab piece in two, to make 2 strips each 2.5" long.
Step 4 – sew one side of the zipper
Place your main fabric piece right side facing up.
Next, lay your zipper face down over the short 5" edge of the main fabric piece, and line up the edges. Make sure the zipper stop is about 3/8" away from the edge.
Then, place the lining on top of them, right sides touching.
Basically, now you're sandwiching the first side of the zipper between the main fabric piece and the lining. Pin to secure all layers.
Using a zipper foot, sew them together.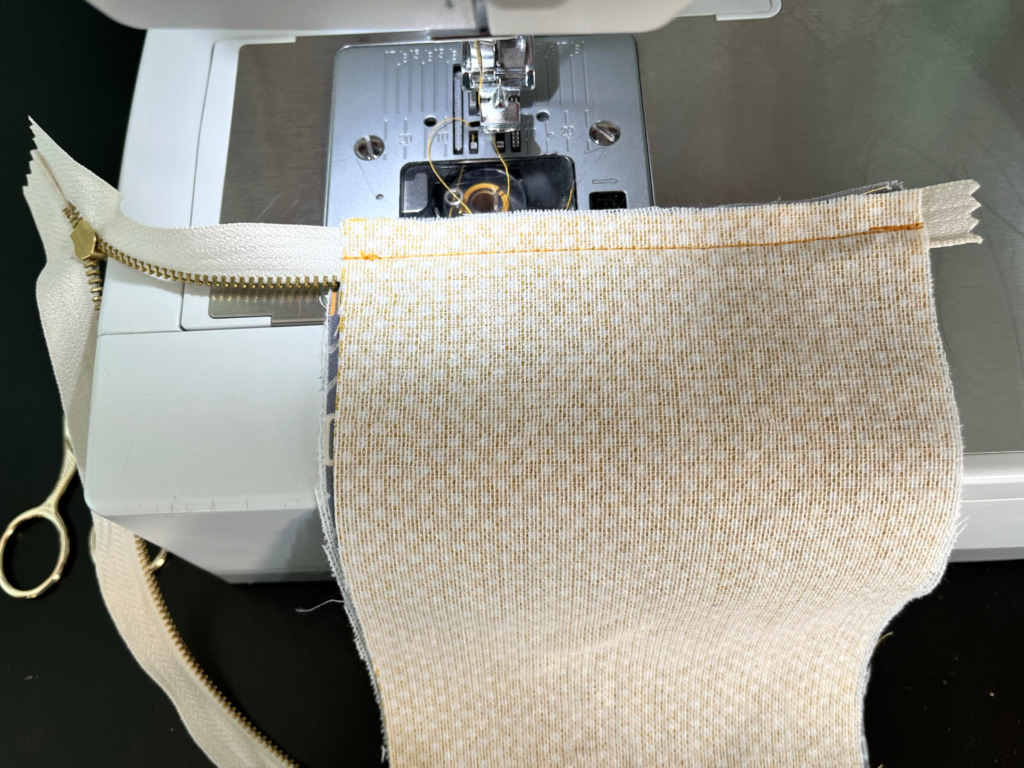 Step 5 – sew the other side of the zipper
This is how your mini zipper pouch project looks right now.
Now, this is your starting point. Your fabric pieces and the zipper should be placed exactly like this.
You don't have to change anything – just take the unsewn side of the zipper and line it up with the other short edge of the main fabric. After that, bring the lining and place it on top, then line up the edges. Just like you did in the previous step.
Only this time you have to make sure the zipper isn't twisted inside. Also, it's a good idea to check that the zipper stopper is flush with the other side.
When you're sure, pin the layers, then stitch.
Step 6 – topstitch both sides of the zipper
Now turn your pouch right side out.
Use your fingers to press the fabric away from the zipper, then topstitch along both sides of the zipper.
This way you will prevent the fabric from ever getting caught in the zipper.
Step 7 – baste pull tabs in place
Flatten your mini zipper pouch and fold it so that the zipper sits centered on top, as shown below.
Now's a good moment to place a pull tab in between the zipper and the exterior fabric at each end of the pouch.
Take your pull tab pieces and fold them in half to create a loop. The looped end should be facing in. I basted each pull tab in place with a small seam allowance.
Step 8 – sew the sides of the pouch
In this step, it's important to open the zipper halfway before sewing so that you'll be able later to turn your pouch right side out easily.
Use a ruler or a sewing gauge to make sure the zipper is placed at an equal distance from both edges.
Now sew along both size edges of the pouch, as shown in the photo below.
Sewing metal zippers
When you get to the part where you have to sew over the metal zipper, just stop as close to the metal teeth as possible. You can't sew through the metal, so you'll have to use the hand wheel exclusively.
Take your foot off the machine's pedal. Your goal now is to avoid hitting the metal part with your needle. You'll need to wiggle the pouch until the needle gets past the zipper teeth.
I usually go back and stitch another line in the same place, in the same way, to strengthen the seam.
Use regular scissors to trim the seam allowance and remove unwanted parts of the zipper.
Step 8 – cut 1" squares
Your mini zipper pouch is still wrong side out.
Next, pin through all layers to prevent fabric shifting.
Draw 1" squares in all 4 corners of your mini zipper pouch. Start measuring 1" from the folded edge, then from the stitching line. Do not take into consideration the seam allowance.
Otherwise, you'll end up with a rectangle instead of a square and the diagonals will not match.
Use a tailor's chalk or a fabric marking pencil to draw the squares.
Then, cut out carefully along these lines to remove them.
After that, I like to backstitch at the beginning and end of both side seams to prevent the stitching lines from coming undone in the next step.
Zig-zag over the raw edges (or use pinking shears) to prevent fraying. I left my raw edges unfinished (no big deal!).
Step 9 – create the boxy look for your mini zipper pouch
Press the corners of one of the squares together to create a straight line. Bring the side seam and bottom fold together, matching them.
Pin it in place, then stitch with a small seam allowance. Repeat for all squares.
Ideally, all stitching lines that surround the zipper should be parallel with the zipper itself, as much as possible. This will ensure that your mini zipper pouch will stand up nicely.
And that's all! Now turn your cute zipper pouch right side out and enjoy the fruits of your labor!
I hope you enjoyed this mini zipper pouch sewing tutorial, see you next time!
Let's keep in touch! You can find me on Facebook, Instagram, and Pinterest.