DIY crib sheets are so quick and easy to make! Even if you're a beginner, this fun sewing project is surely not beyond your skills. So, how to make a crib sheet? For instance, how much elastic for a fitted crib sheet? What is the best fabric for crib sheets? How many sets of crib sheets do you need? What is the size of a crib sheet? You're going to find all the answers in this free sewing tutorial.
This is a super easy DIY project, perfect for beginners. The funny thing is that the most time-consuming part of this sewing project is feeding the elastic through the casing.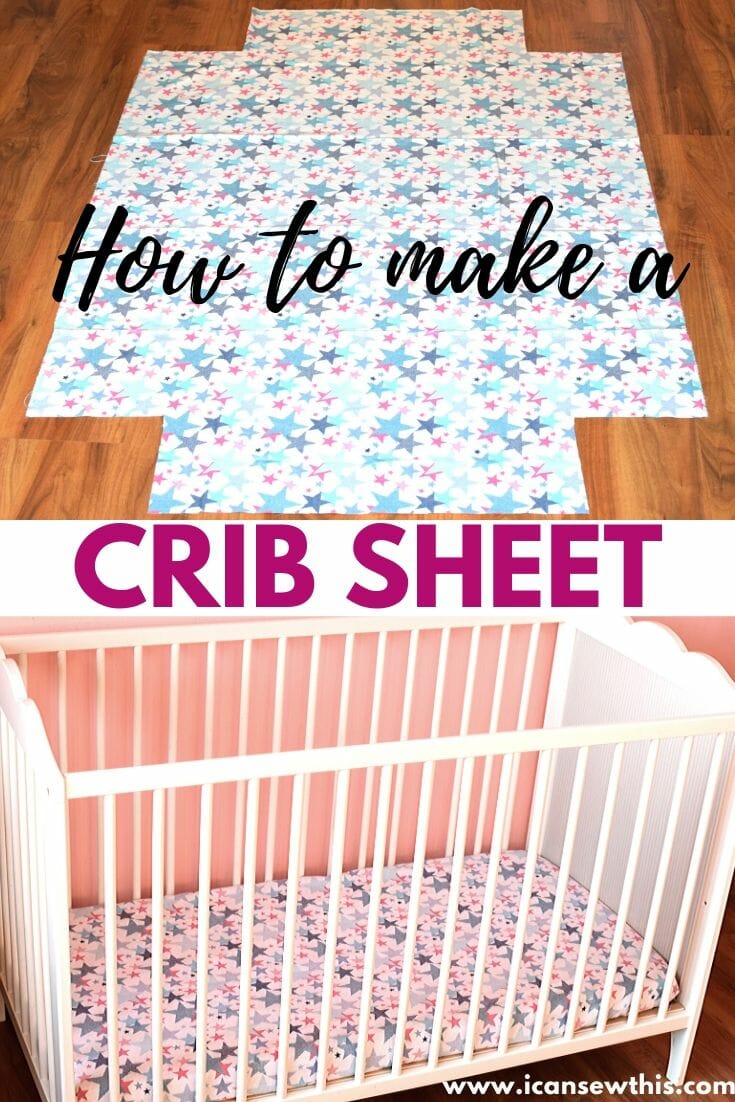 Make your baby crib sheet in a beautiful fabric to complete the nursery of your dreams – there are so many prints and patterns to choose from! DIY crib sheets also make a great baby shower gift.
Or maybe you can turn some old sheets into crib sheets to save money.
Either way, why settle for the crib sheets they have in stores when you can have something better?
This tutorial will show how easy it is to make your own.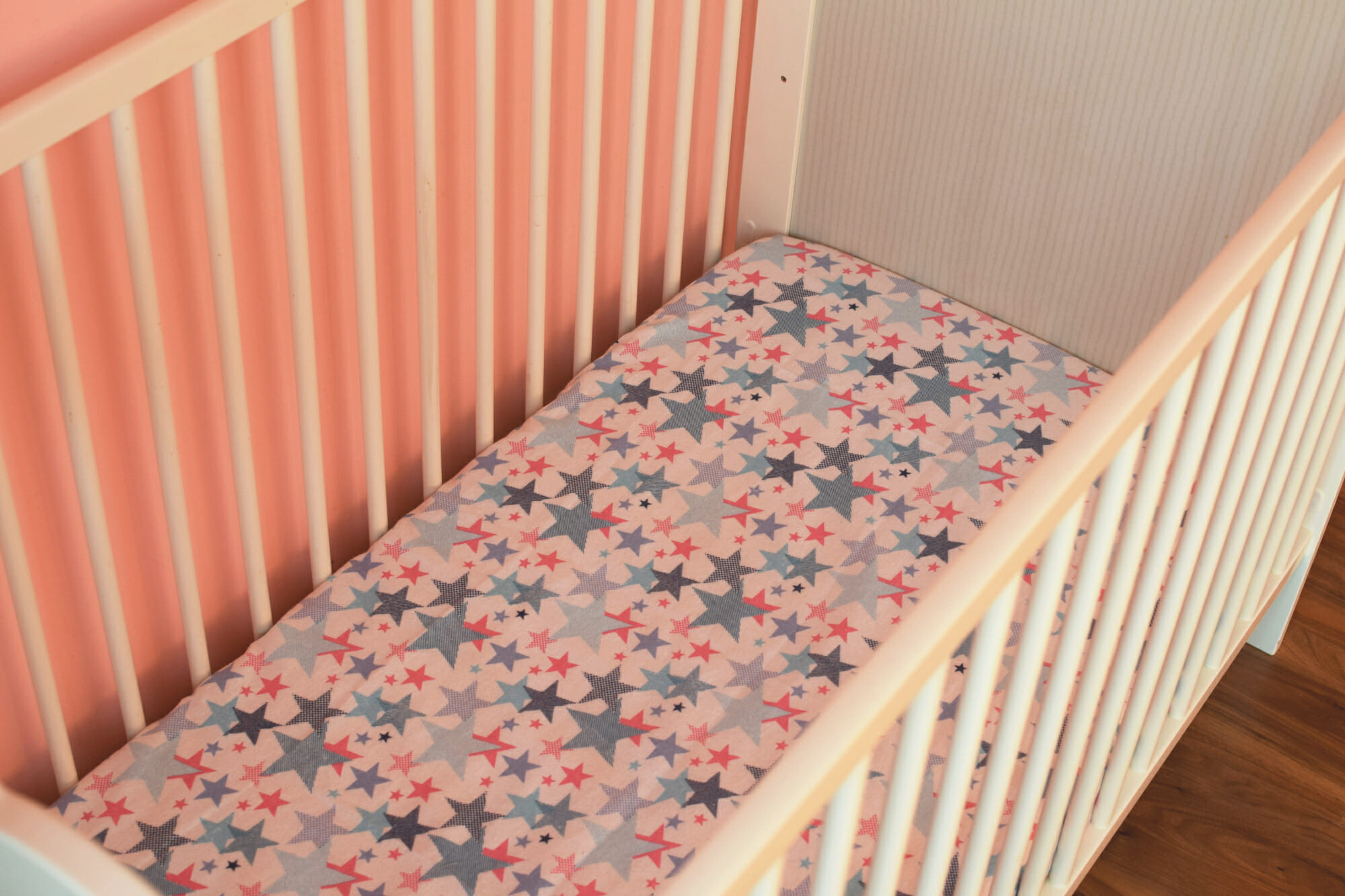 How much fabric do you need for a crib sheet?
Standard size for a crib mattress is 51 5/8 inches long by 27 1/4 inches wide by 5 1/2 inches thick. In addition, the mattress should not be thicker than 6 inches.
So, 2 yards of 44" wide fabric will be just enough to make one that fits the standard size crib mattress.
What is the best fabric for DIY crib sheets?
Cotton bed sheets are the most common choice for a baby crib sheet. That's because cotton is an all-natural breathable fabric, hypoallergenic and durable, which keeps your little one cool during the summer and warm in the winter.
Polyester blends with cotton are also an option. Although not as breathable as 100% cotton fabric, these sheets tend to cost less, are soft and warm, and don't wrinkle as much – therefore perfect for the cold season, but not great during the summer.
Flannel crib sheets are the best choice for the winter if you want to keep your baby warm and comfy.
How many sets of crib sheets do you need?
Certainly, they are a necessity and it's always handy to have a good few of them, as things tend to get messy pretty quick with babies.
In theory, baby sheets should be changed 1-2 times per week, including the mattress pad. In practice, crib sheets get soiled almost every day, as most babies throw up small amounts of milk from time to time, or after a messy diaper.
So, how many sets of sheets does a new parent need? The answer is at least two crib sheets. But, to be safe, you should have three to four pieces of crib sheets, so that you can be able to change the bedding whenever needed.
---
Looking for some other fun stuff to sew for kids?
Here are some ideas for you:
---
How much elastic for a fitted crib sheet?
We aim to make a crib sheet tight enough that it doesn't pose a safety concern and at the same time, it's still easy to get on and off the mattress.
First, make sure to only use elastic that recovers to its original length after stretching. A good elastic length for baby crib sheets can be anywhere from 60" to 70" of 1/4″ wide elastic, but that usually depends on how snug you want the sheet to fit on your mattress and, of course, the elasticity of your elastic.
Keep in mind there is no single right answer on how long to cut the elastic. Some elastics stretch more than others, so make sure to adjust your elastic length accordingly.
How to make a crib sheet
I love flannel sheets, they are so soft and cozy – perfect for keeping the little ones warm on chilly winter nights. And we do have some rough winters here, I can tell you.
Here's how I made my fitted crib sheet. The directions are super easy to follow, as you'll see for yourself.
These dimensions fit standard U.S. crib mattresses – 27-28″ wide, 51-52″ long, and 3-6″ deep.
Note: It's important to pre-shrink the fabric by washing and drying before you start sewing!
Sewing supplies
2 yards of fabric – cotton / flannel
approx. 60-70" of 1/4" elastic
8″ square paper pattern for cutting out corners
Step 1
Cut your fabric so that you get a piece measuring 68" long x 44" wide.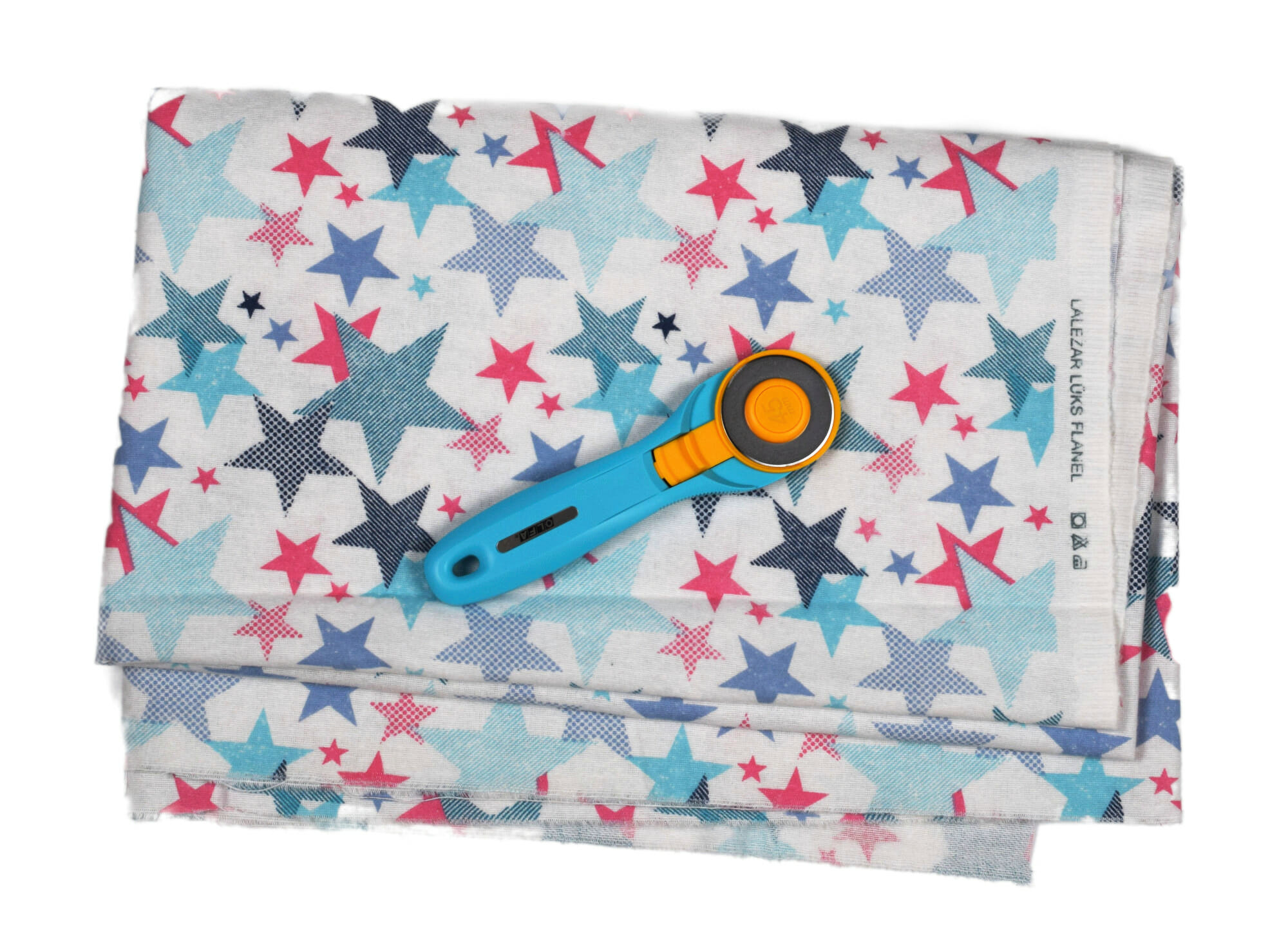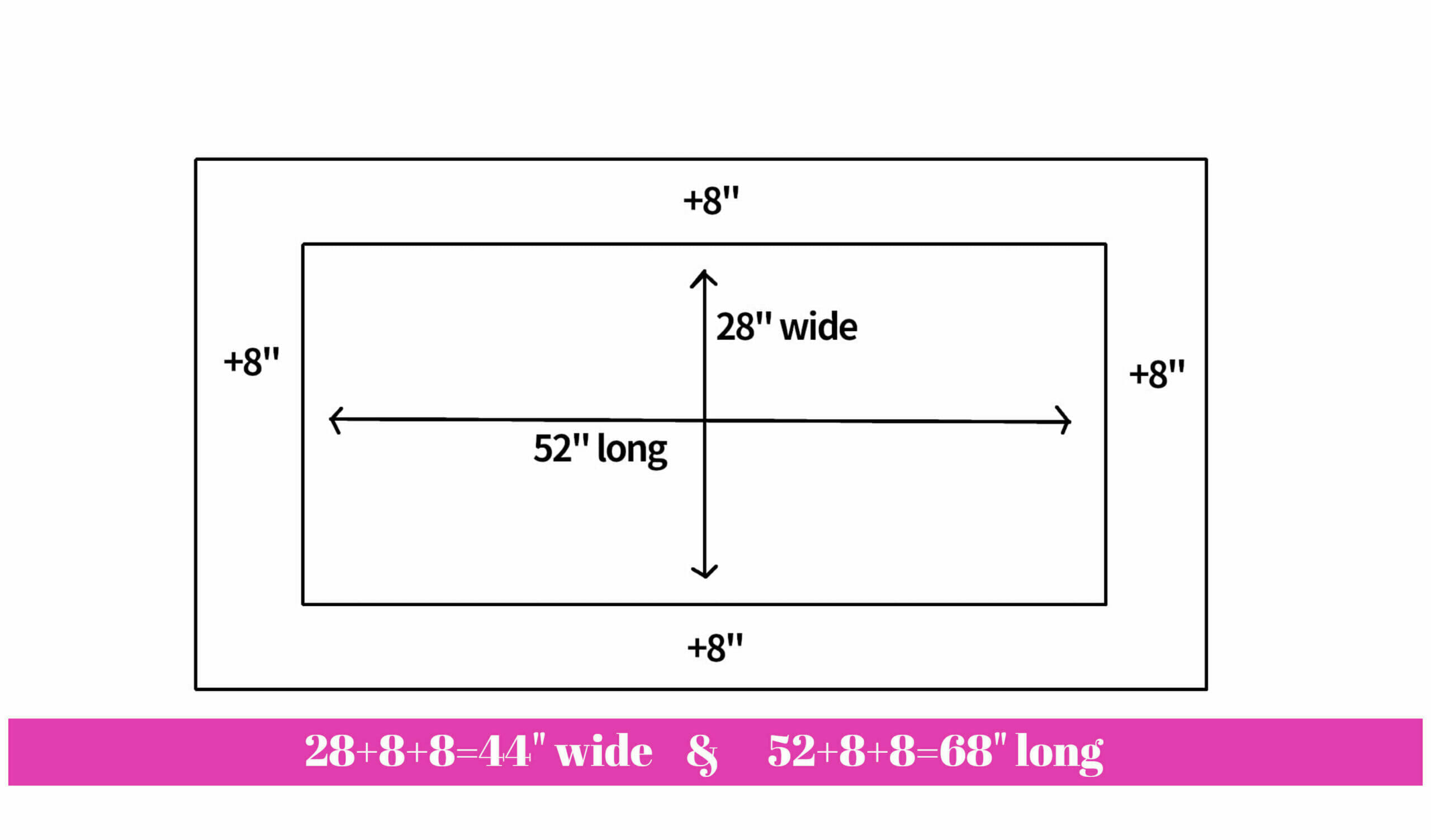 Step 2
Cut 8 inch squares out of all four corners.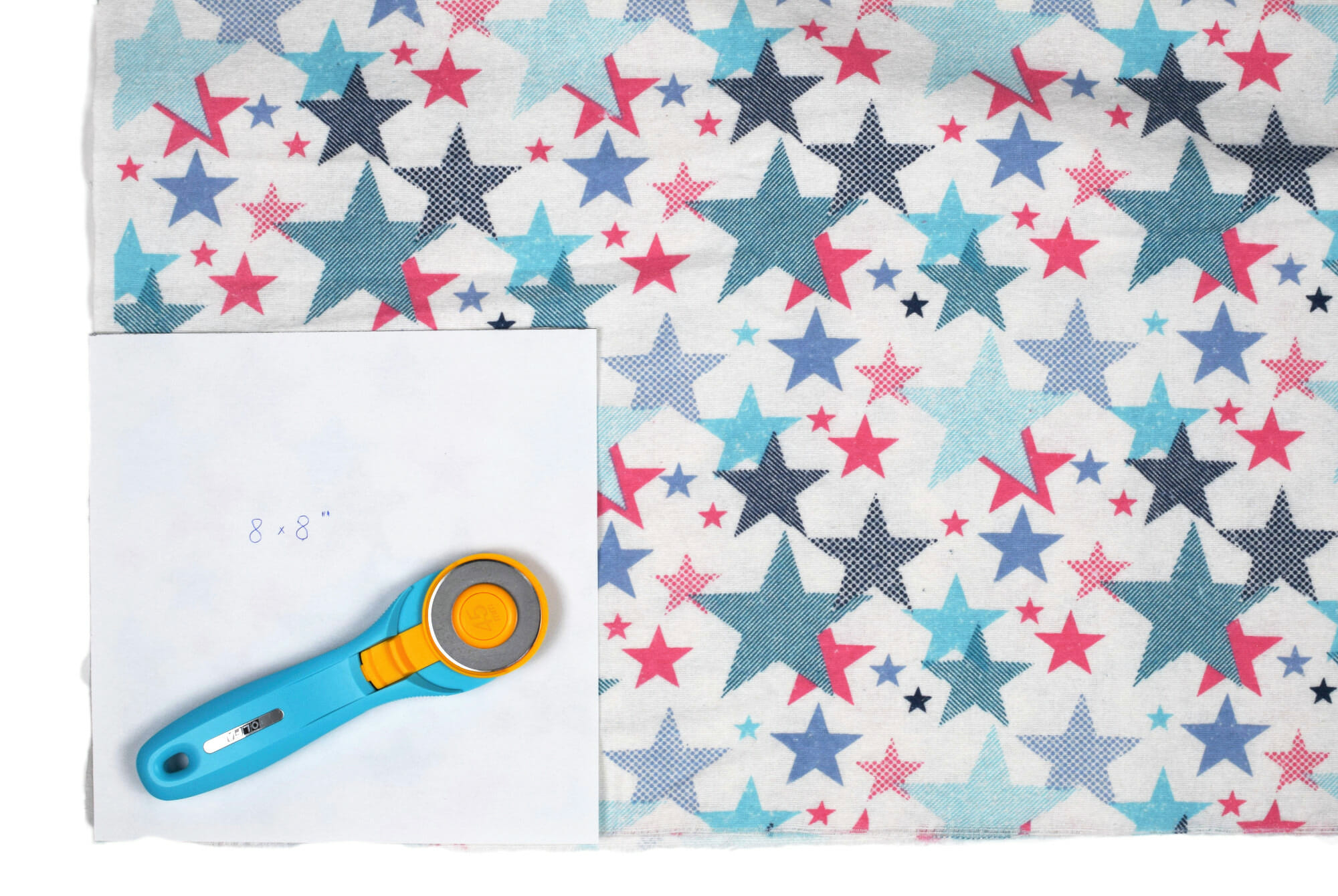 As a result, your piece of fabric should now look like this: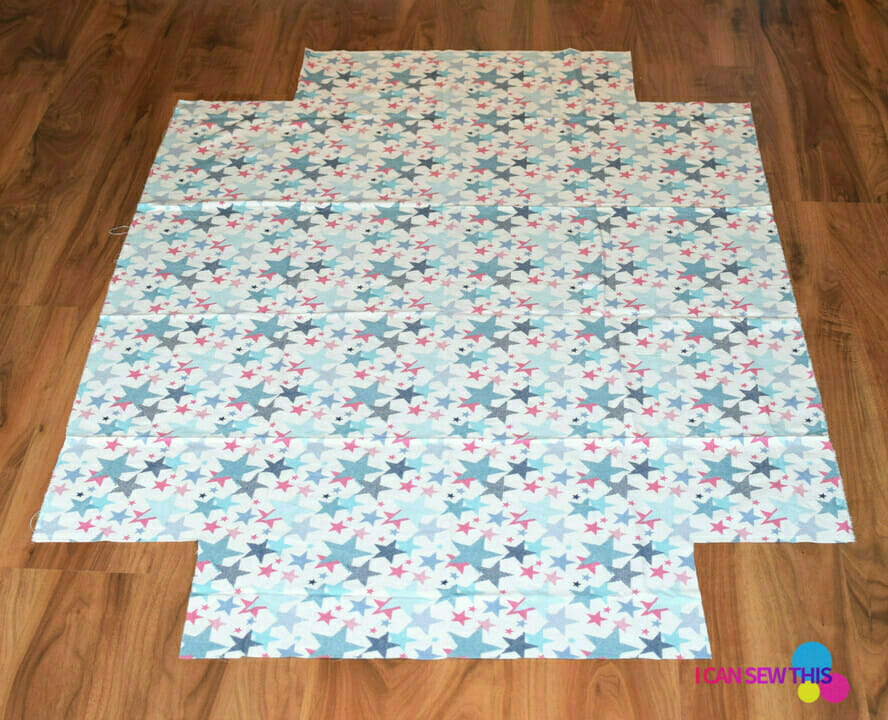 Step 3
Pin the edges of your cut corners, right sides together. Sew with a 5/8″ seam allowance to create corner seams. Use a backstitch at the beginning and end of each seam. Repeat for all other corners.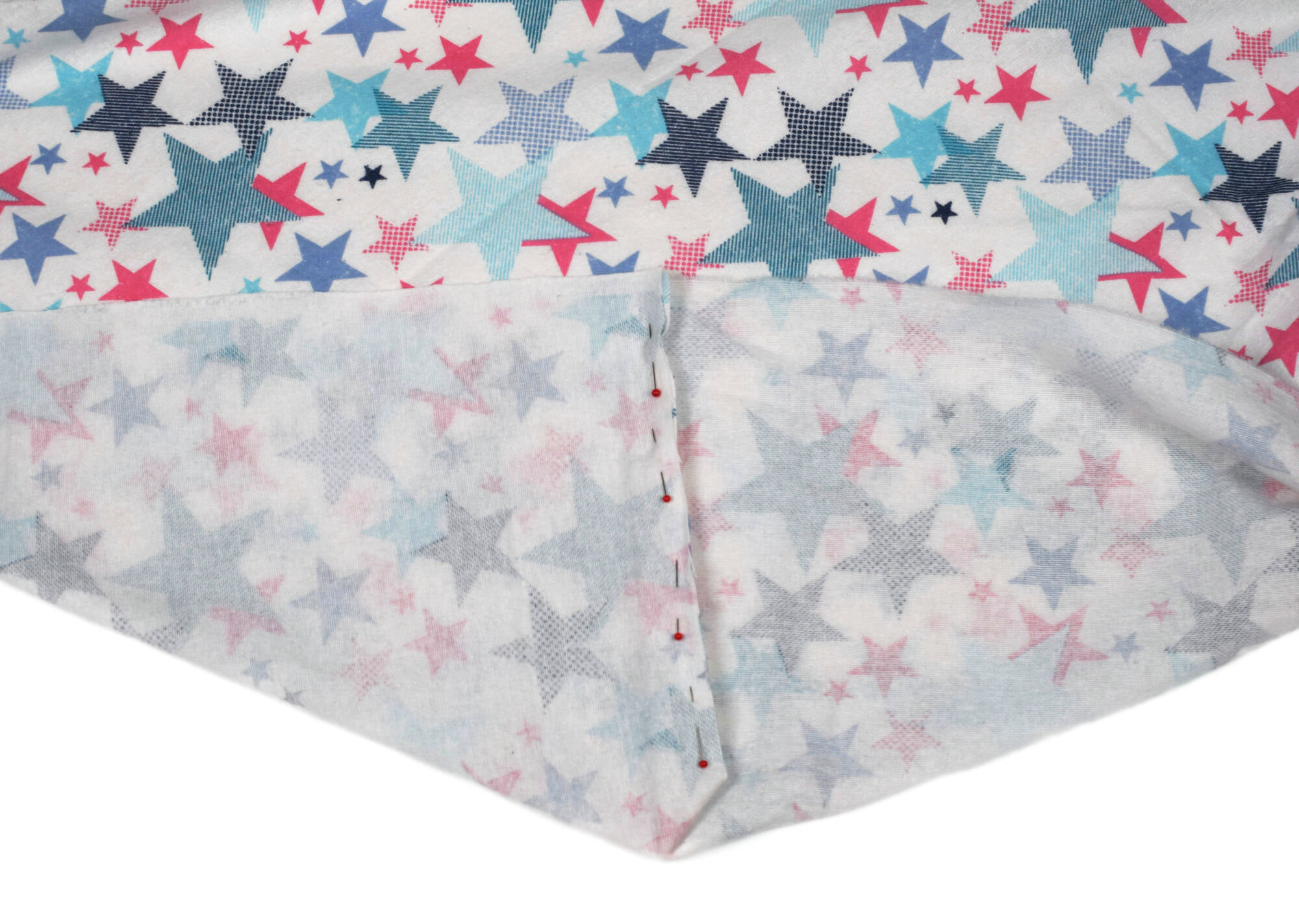 Finish the edges of each of the four corners with a serger or a zig-zag stitch.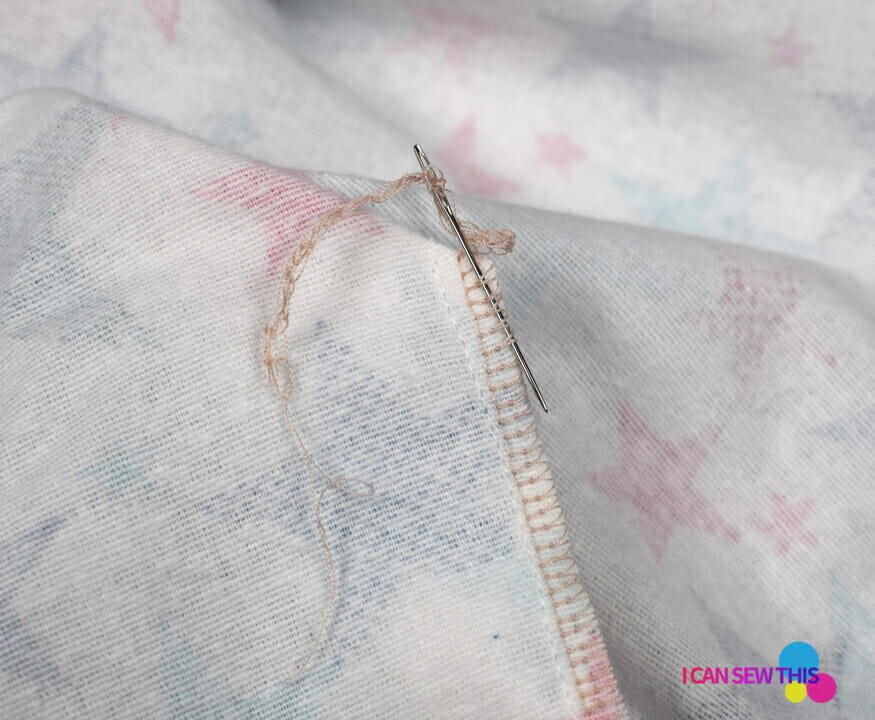 Step 4
Hem the edge of the sheet. You can use a serger, a zig-zag stitch, or you can fold the edge under 1/4″ and press with an iron.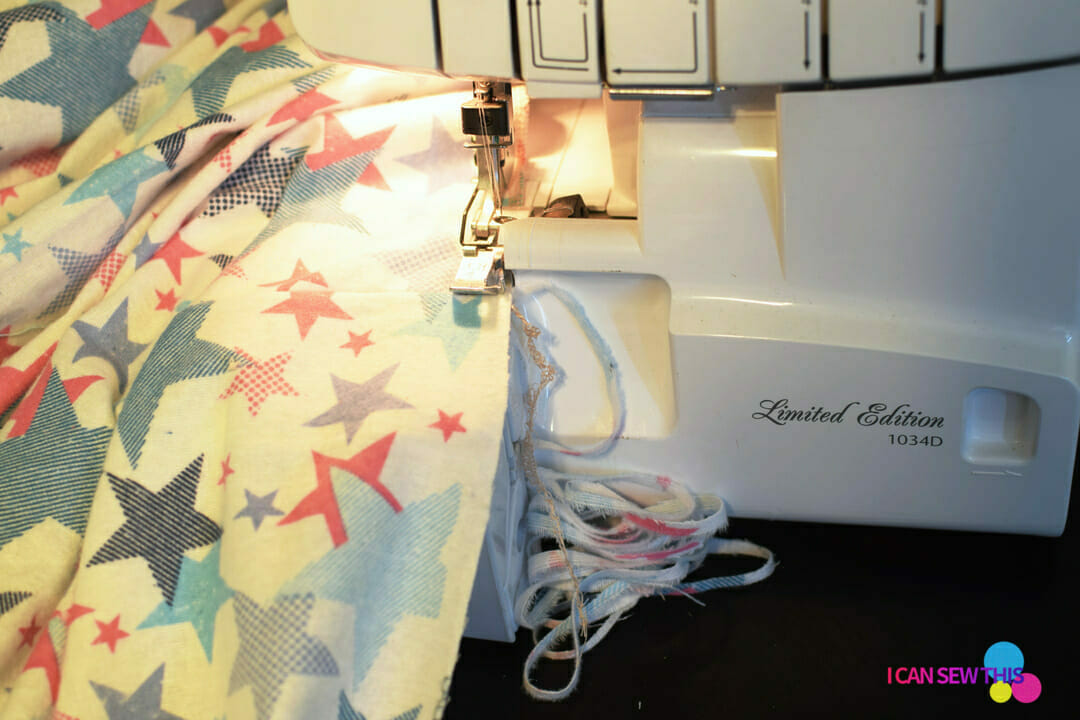 As you can see, I serged all the way around. That's by far the easiest and fastest method to finish the 224″ long edge of the crib sheet.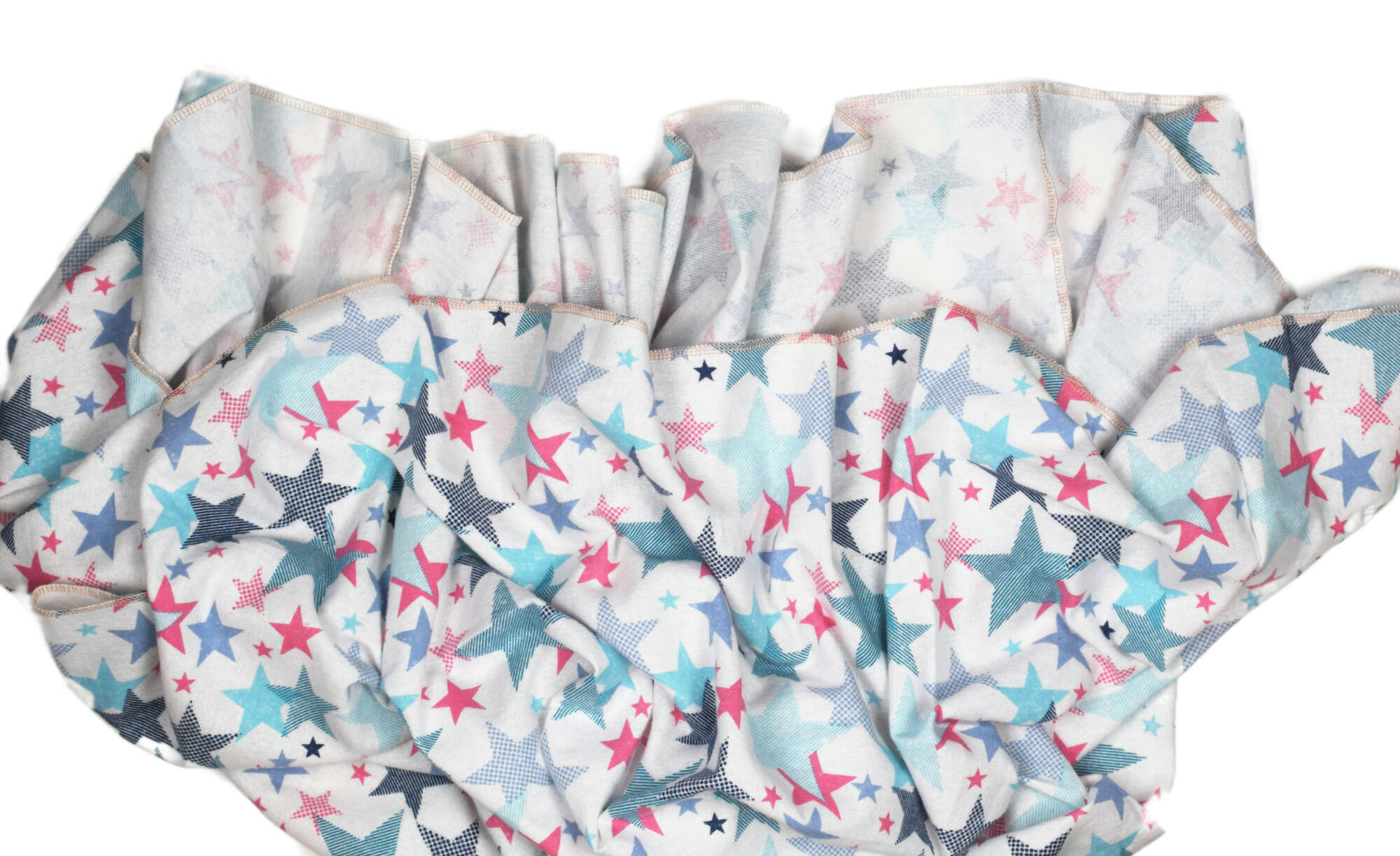 Step 5
Make a small casing for the elastic. Then, fold the edge under 1/2 inch and sew it with a straight stitch. Leave a 1" opening, so you can insert the elastic.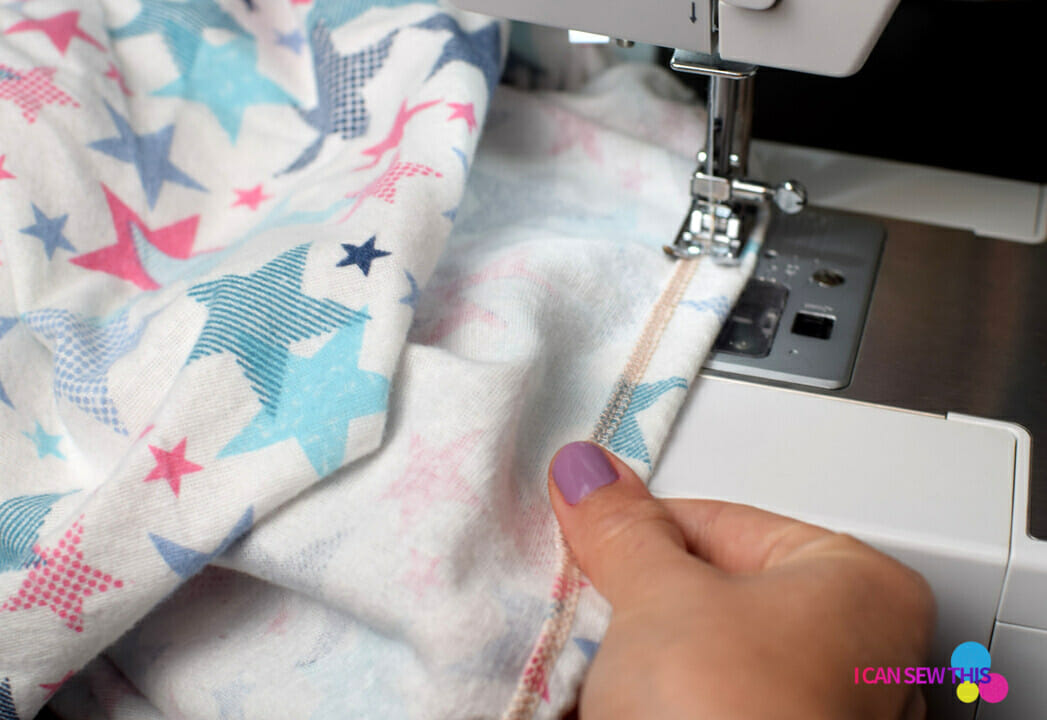 Step 6
Cut your elastic 60-70" long and attach safety pins to both ends. Feed the elastic through the entire casing.
Next, overlap your elastic ends and sew them together.
Finally, sew the small opening shut.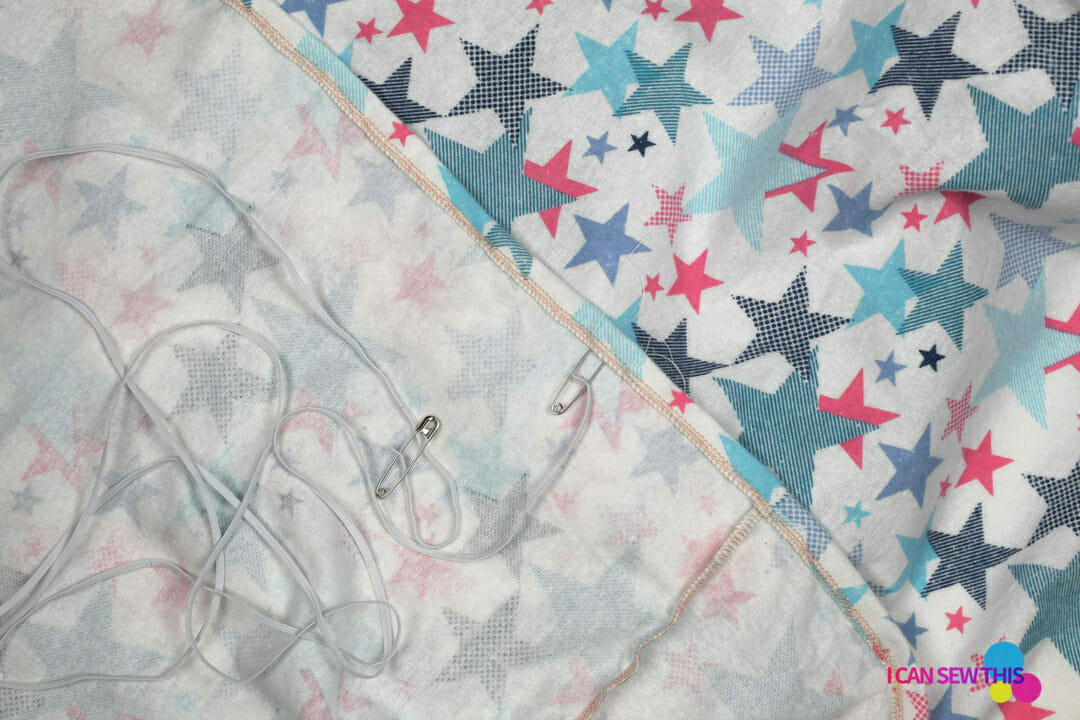 And that's all!
Let's keep in touch! You can find me on Facebook, Instagram, and Pinterest.