Beanie hat DIY tutorial and free PDF sewing pattern. I made this cute beanie hat with jersey fabric and fleece, and it's perfect for the cold winter days. Learn how to make your own jersey beanie hat lined with fleece with this easy step-by-step tutorial.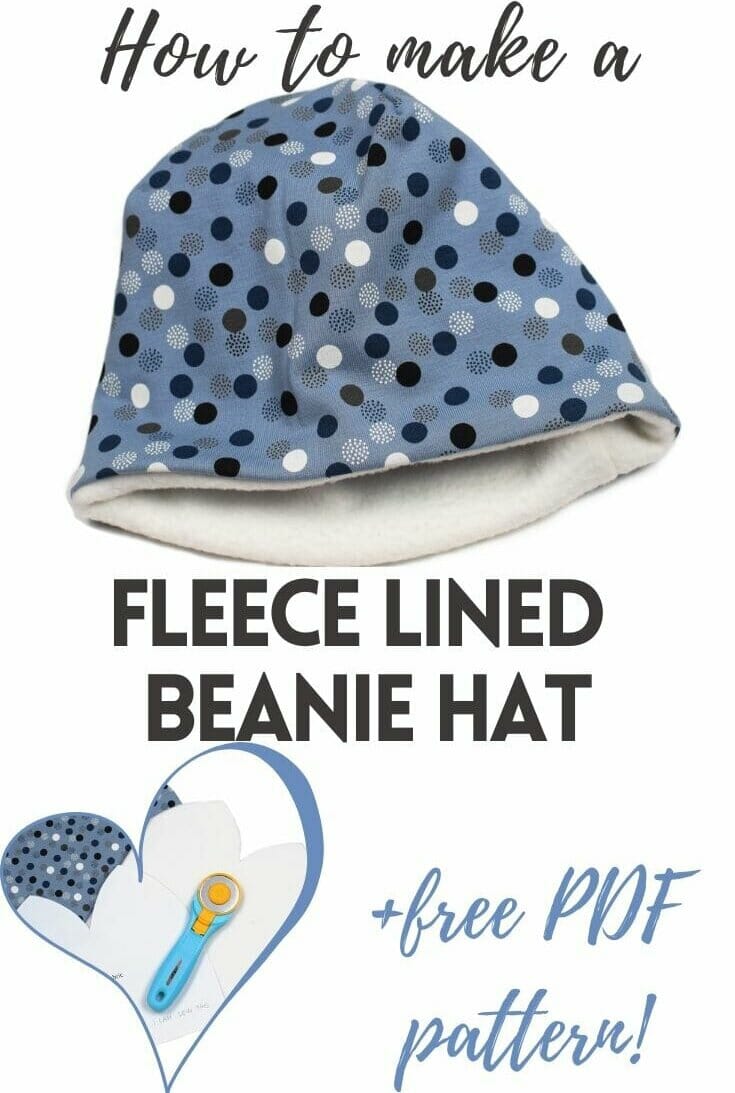 This week I did a lot of sewing for baby – even though my youngest, Iris, now 2 years-old, is not a baby anymore. I started with a DIY flannel crib sheet, then it got really cold outside (don't let the sunny pictures fool you, the weather is around 40°F and winter is just around the corner) and this lined beanie hat became a necessity.
I have to confess I drafted this pattern by hand and I just winged it, using measurements of another beanie hat.
I'm very pleased with how well this simple DIY beanie hat project turned out. It's soft and warm, and it's pretty, too.
My daughter absolutely loves her beanie!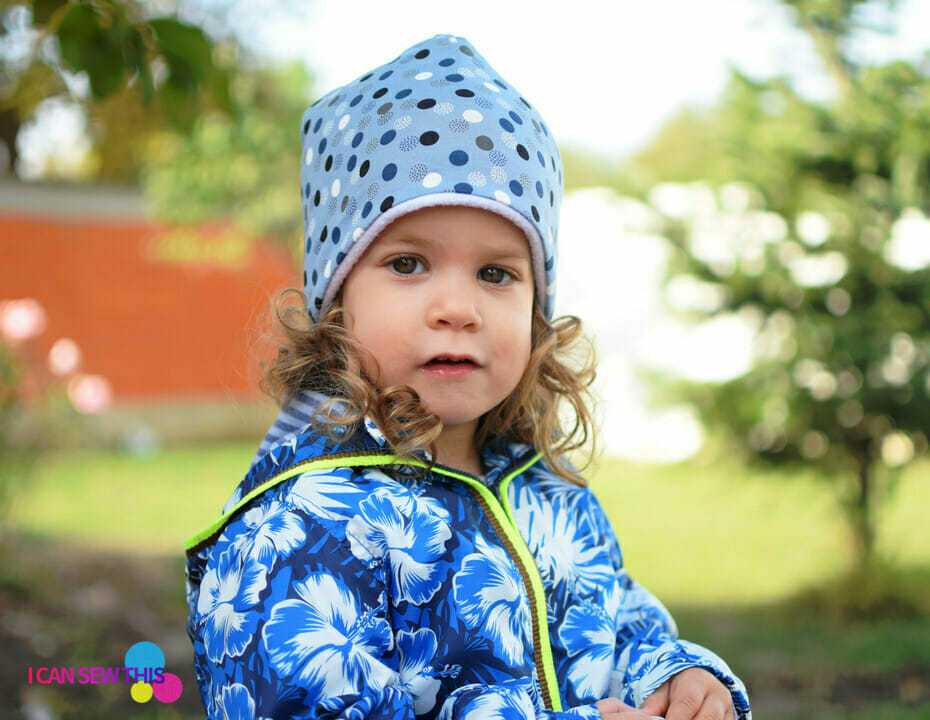 With so many fun jersey prints options for the exterior, this DIY beanie hat makes the perfect gift for your little one or a friend.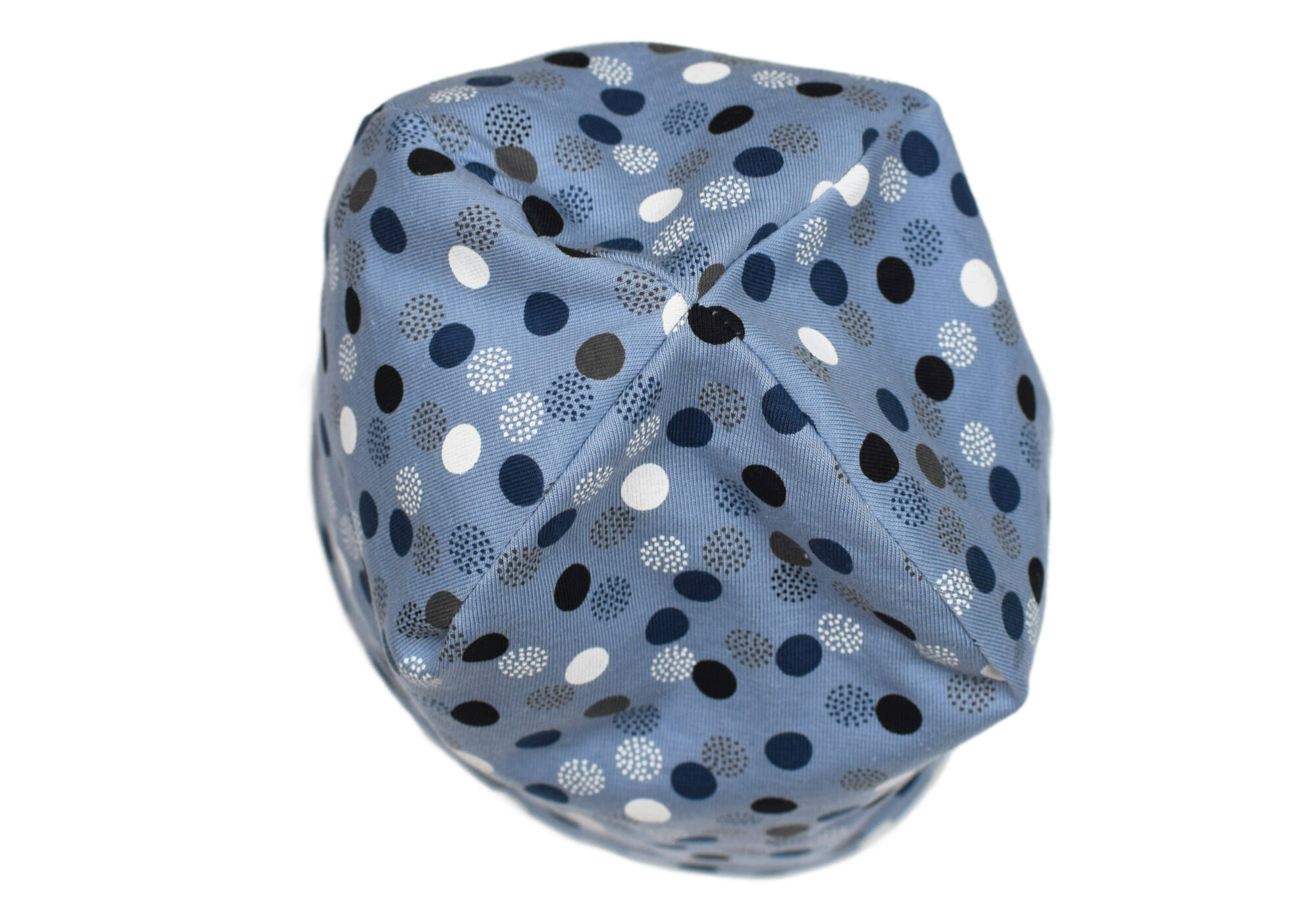 Print the PDF pattern and you can easily make this cute toddler hat in approx. 10 minutes. It's a quick and easy sew, I promise.
The beanie stays in place and also has room to stretch, for additional comfort. It's very easy to wear and very practical.
Looking for some other fun things to sew? Here are some ideas for you: Infinity scarf / Free knotted baby hat
DIY beanie hat – sewing supplies
DIY beanie hat – PDF pattern available below – size 2T. Make sure you print it at 100% or "actual size". The pattern includes a 3/8″ seam allowance.
Before you start sewing…
Before sewing, hand wash the jersey fabric to pre-shrink it – trust me, I did this mistake before, I'm speaking from my personal experience! There's no need to pre-wash the fleece.
Here's how to tell the right side of the fleece fabric. Pinch and stretch the selvage edge – fleece always curls towards to the wrong side of the fabric.
That means the other one is the right side. Am I funny or what? 🙂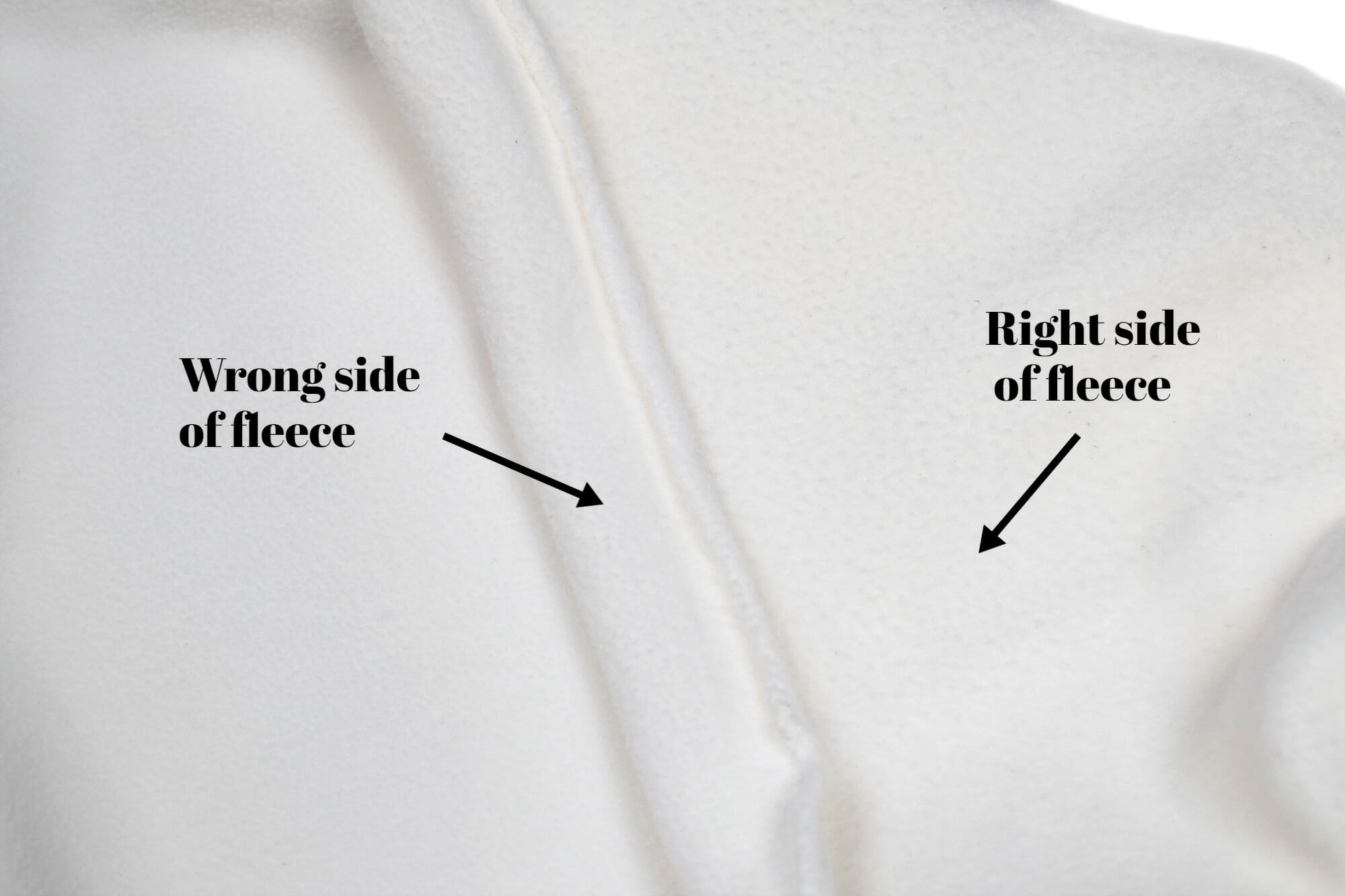 DIY beanie hat lined with fleece – tutorial
Step 1
Cut your fabric pieces on the fold– 1 of the jersey fabric, 1 of the fleece. Make sure the stretch of fabric runs side to side.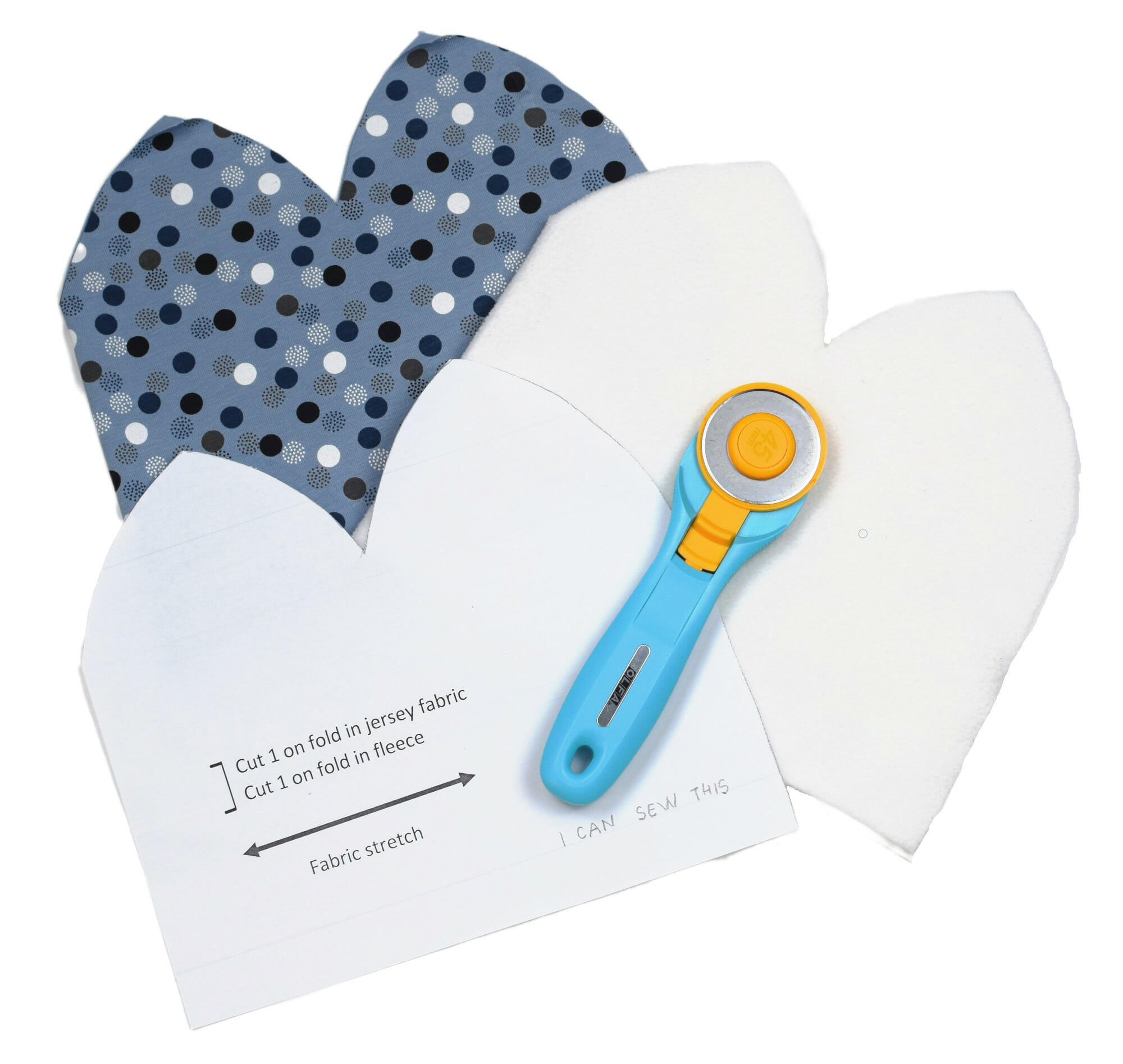 In the picture below you can see how the two fabric pieces look like before sewing.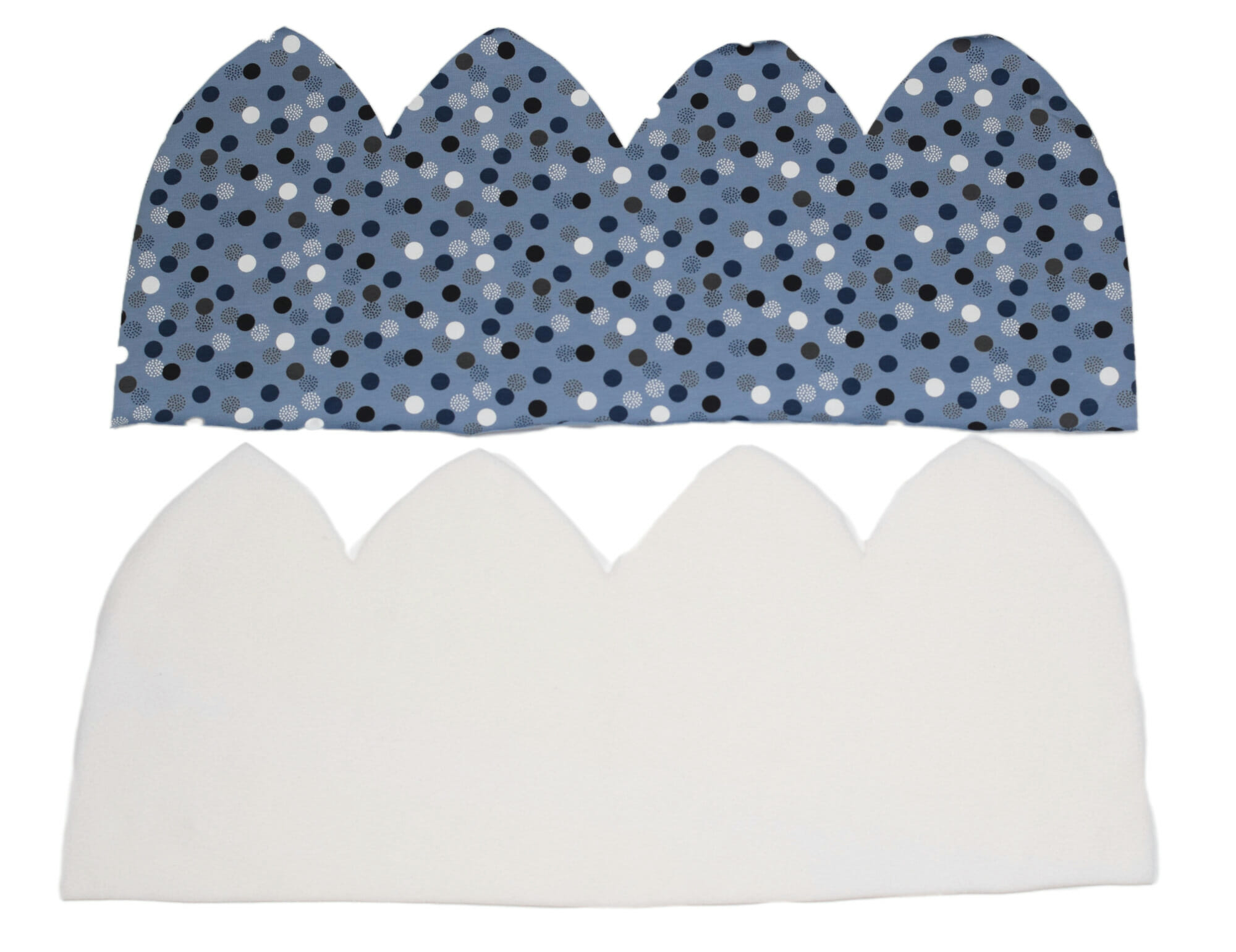 Step 2
Fold each of the two fabric pieces right sides together. Pin and sew the outer edges with a 3/8" seam allowance, as shown in the photo below.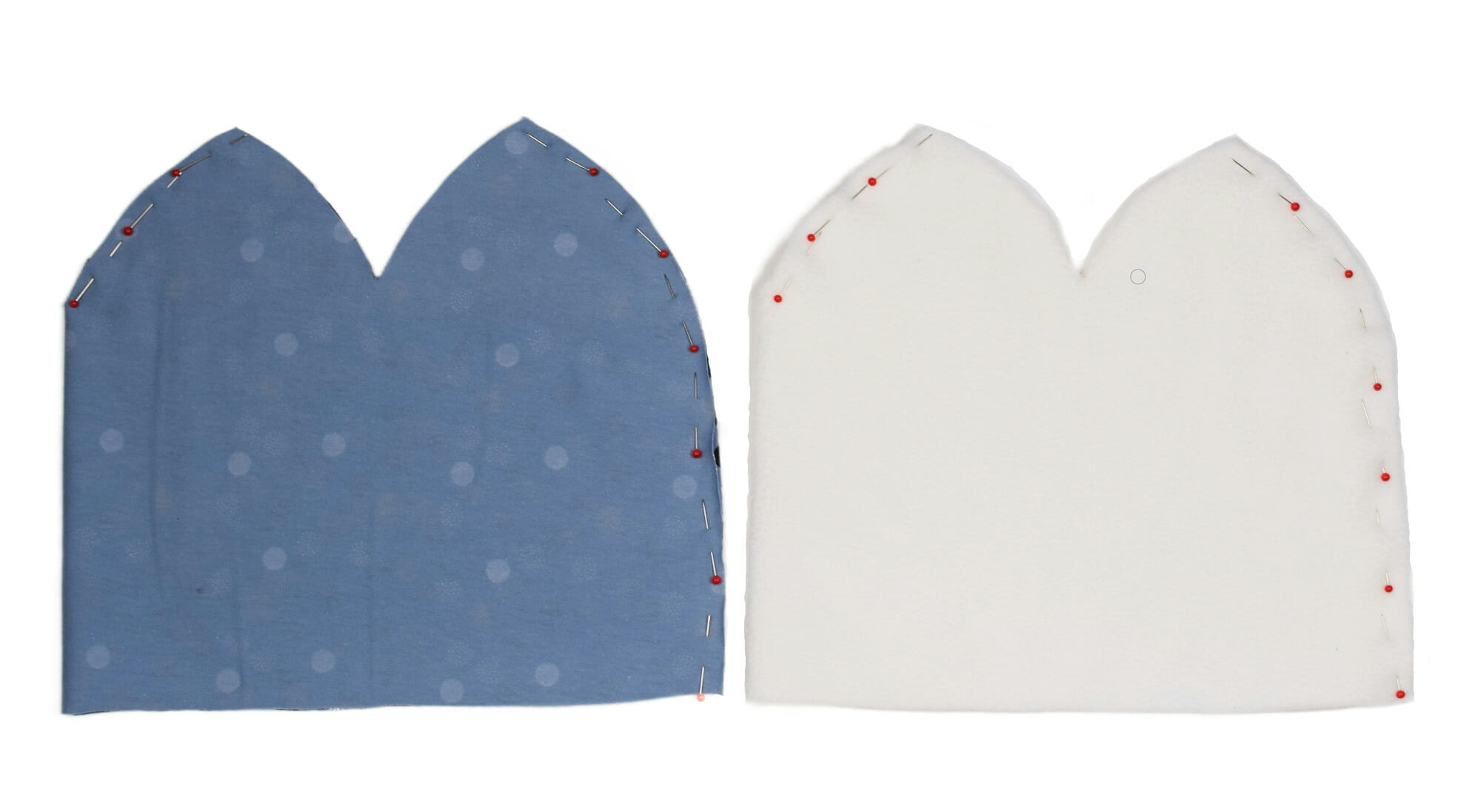 I used a straight stitch, but you can use a zig-zag if you like. Since we're sewing with jersey fabric and fleece, there's no need to finish the inside seams.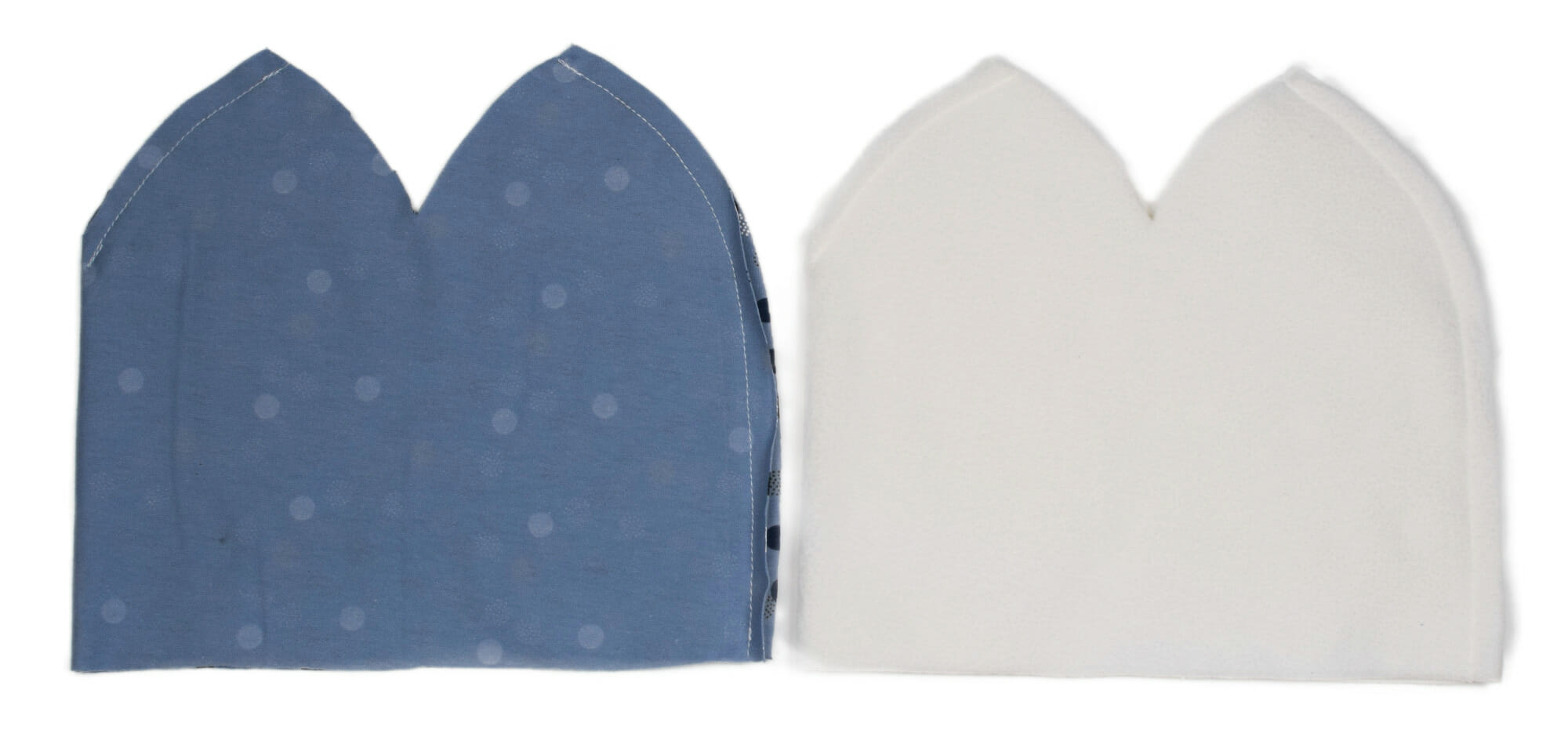 Do you see that perfect straight stitch on my jersey fabric? Just zoom in on the photo above. Now here's the very simple secret – stretch needles! I used a 90/14 size needle for my beanie hat.
Apparently, stretch needles are better for sewing very stretchy fabrics than jersey/ballpoint needle. However, it's a good idea to test your stitches with both needles (jersey and stretch) on your fabric before starting your project.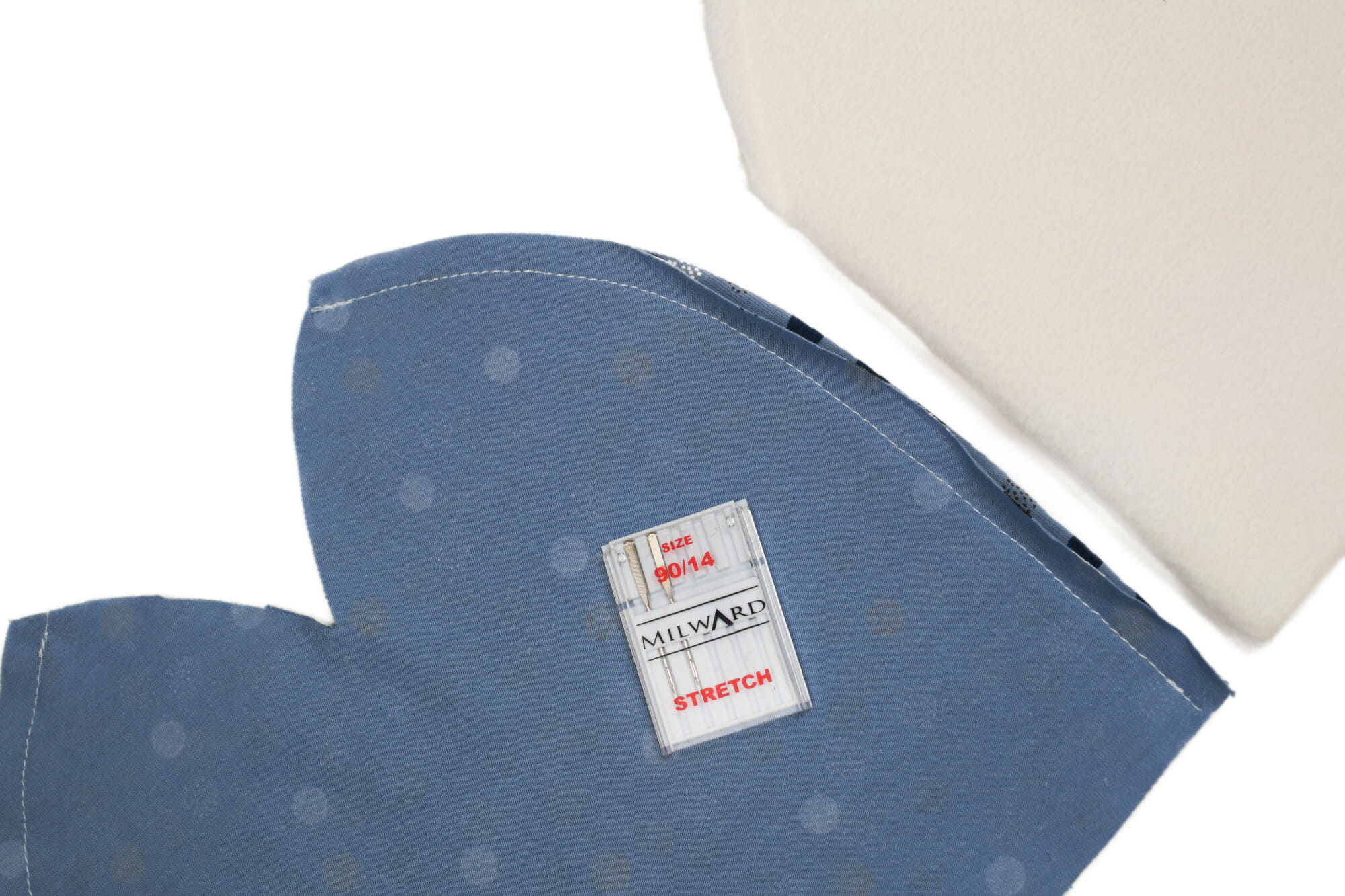 DIY beanie hat – a tried-and-true tip for sewing knits
For this project, I made all possible adjustments and tried each and every needle I had in my sewing storage box, before I finally got to this 90/14 stretch needle. For some reason, the 70/10 size jersey needles did not work with this lightweight jersey fabric on my Heavy Duty Singer machine, even though most sources tell us to use small needles for lightweight fabrics, and large needles for heavyweight fabrics.
So, if you also struggle sewing knit fabrics, you might want to try this. It's not about the brand here – just buy whatever good quality stretch needle you can find.
If you have other tips and tricks for sewing with knits, please let me know!
I got a little sidetracked, but now let's go back to the beanie hat tutorial.
Step 3
Now we will close the top of each hat.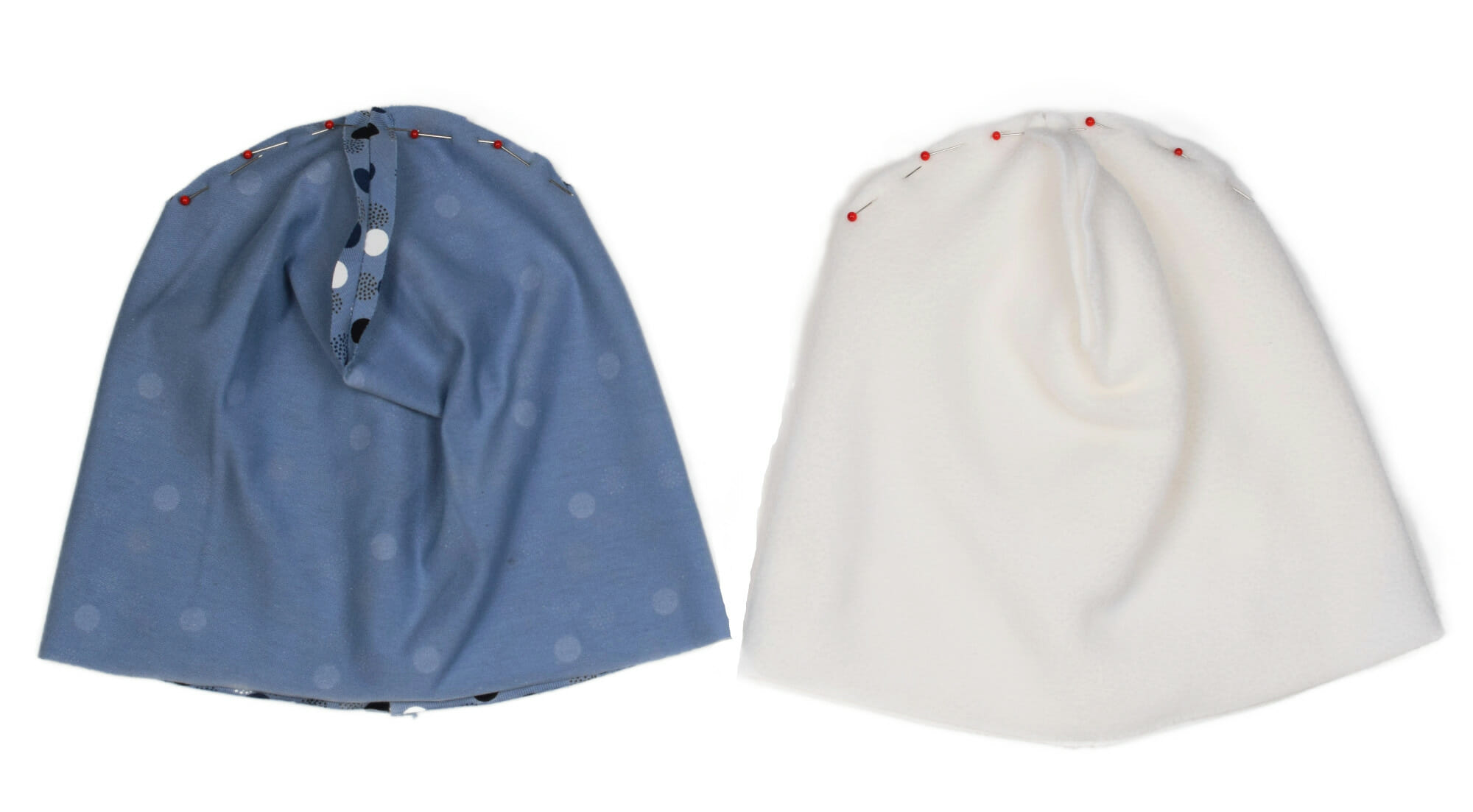 Fold the jersey hat in half and make sure the seams you just sewed are aligned. Stitch along the top edge.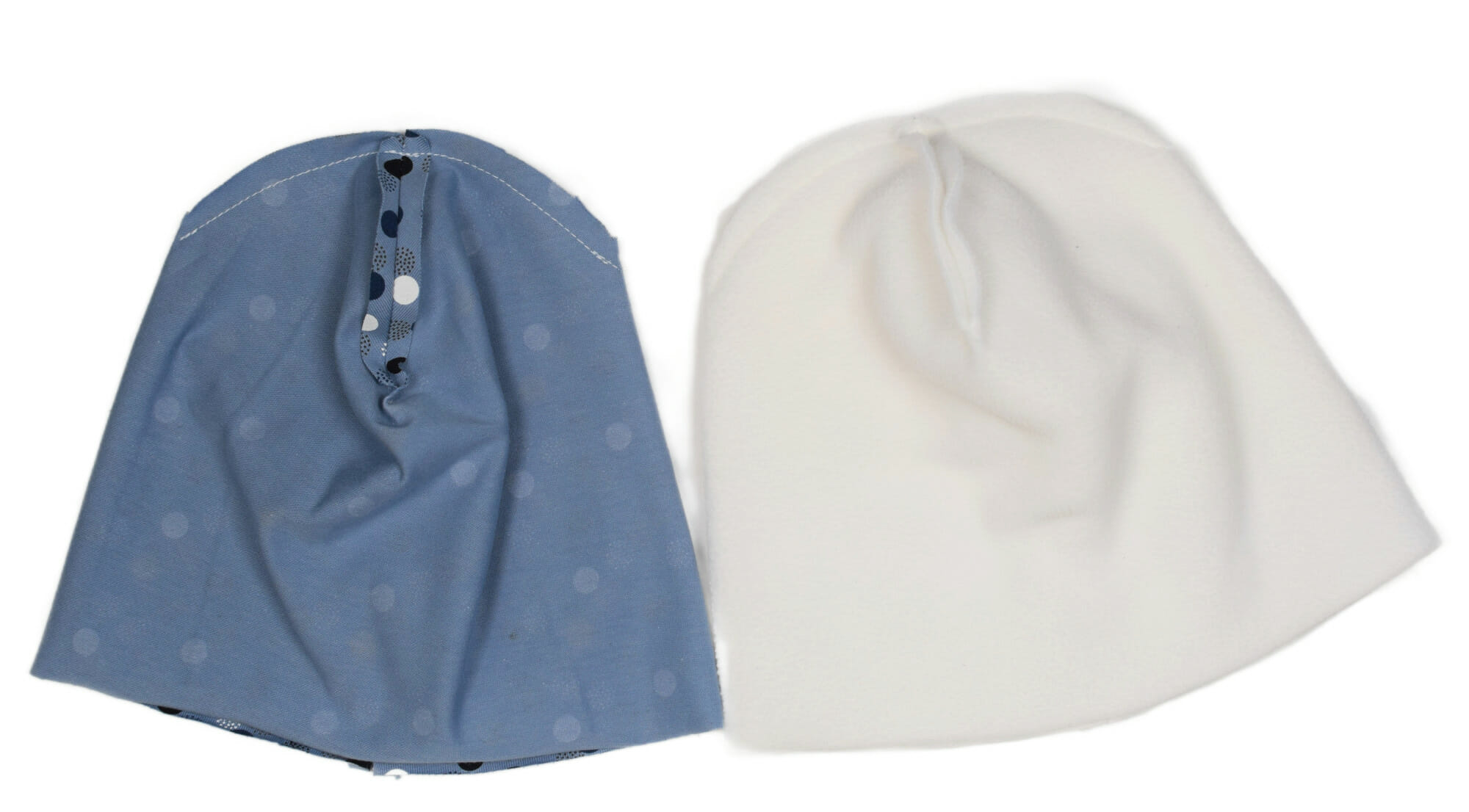 I like to snip a little bit into the corner, almost up to the stitching line, and press the seam open.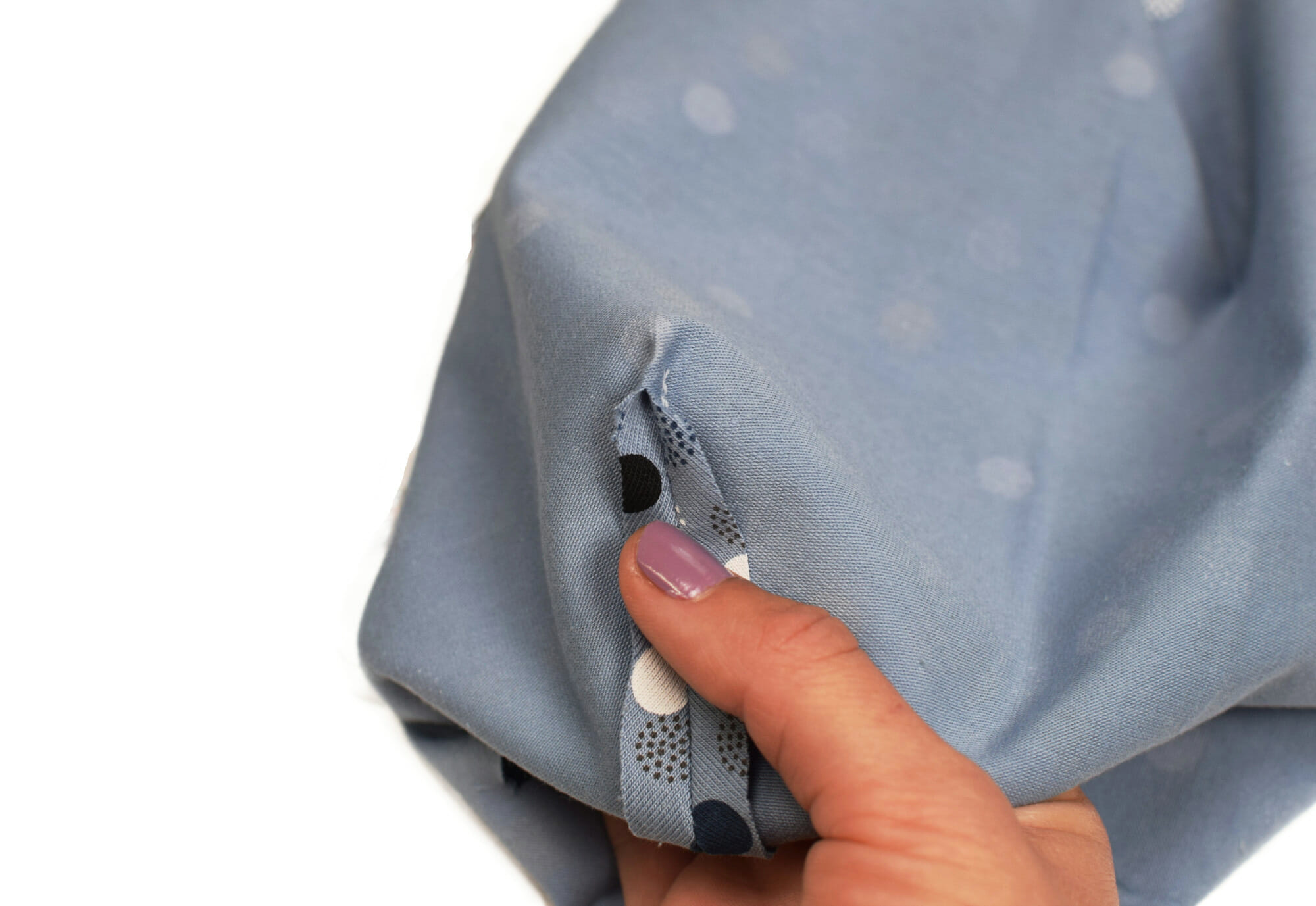 Step 4
Place the fleece lining inside the jersey beanie hat, right sides together, and align the back seams.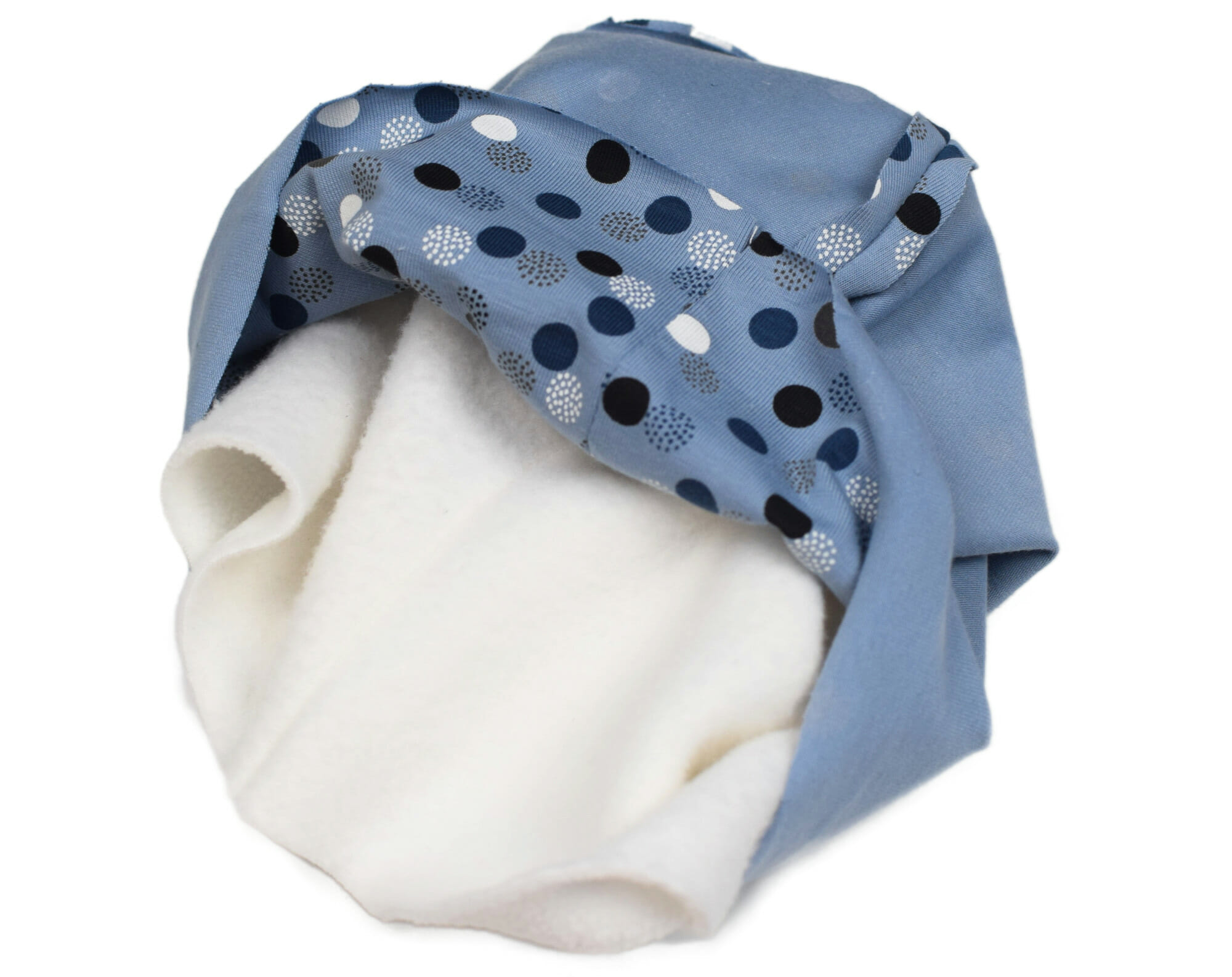 Using the free arm on your sewing machine, sew along the edge with a zig-zag stitch – no straight stitch here, because we don't want to limit the material's potential to stretch.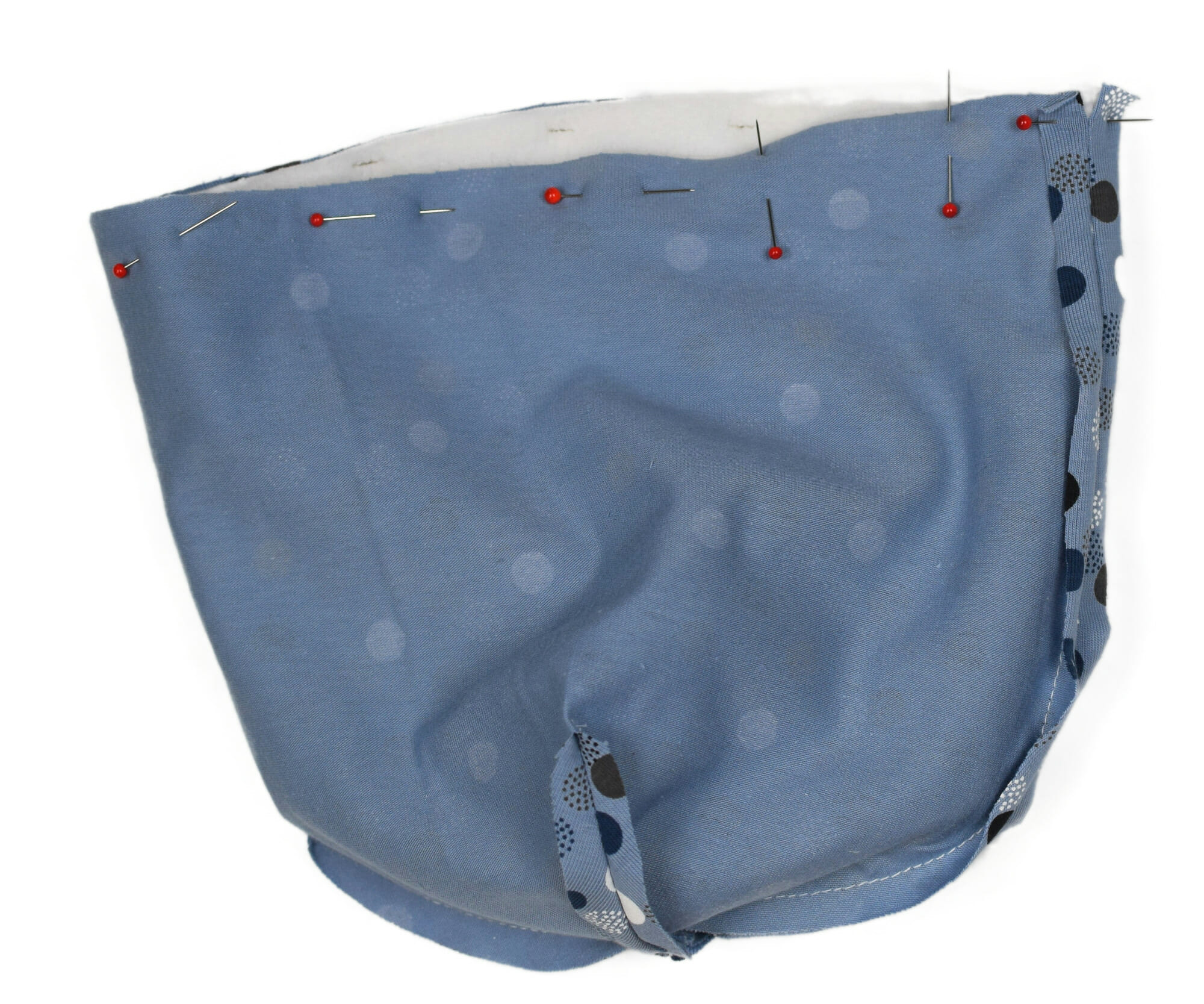 Backstitch at the beginning and end, and remember to leave a 2" opening.
See? No skipped stitches, yaaay! 🙂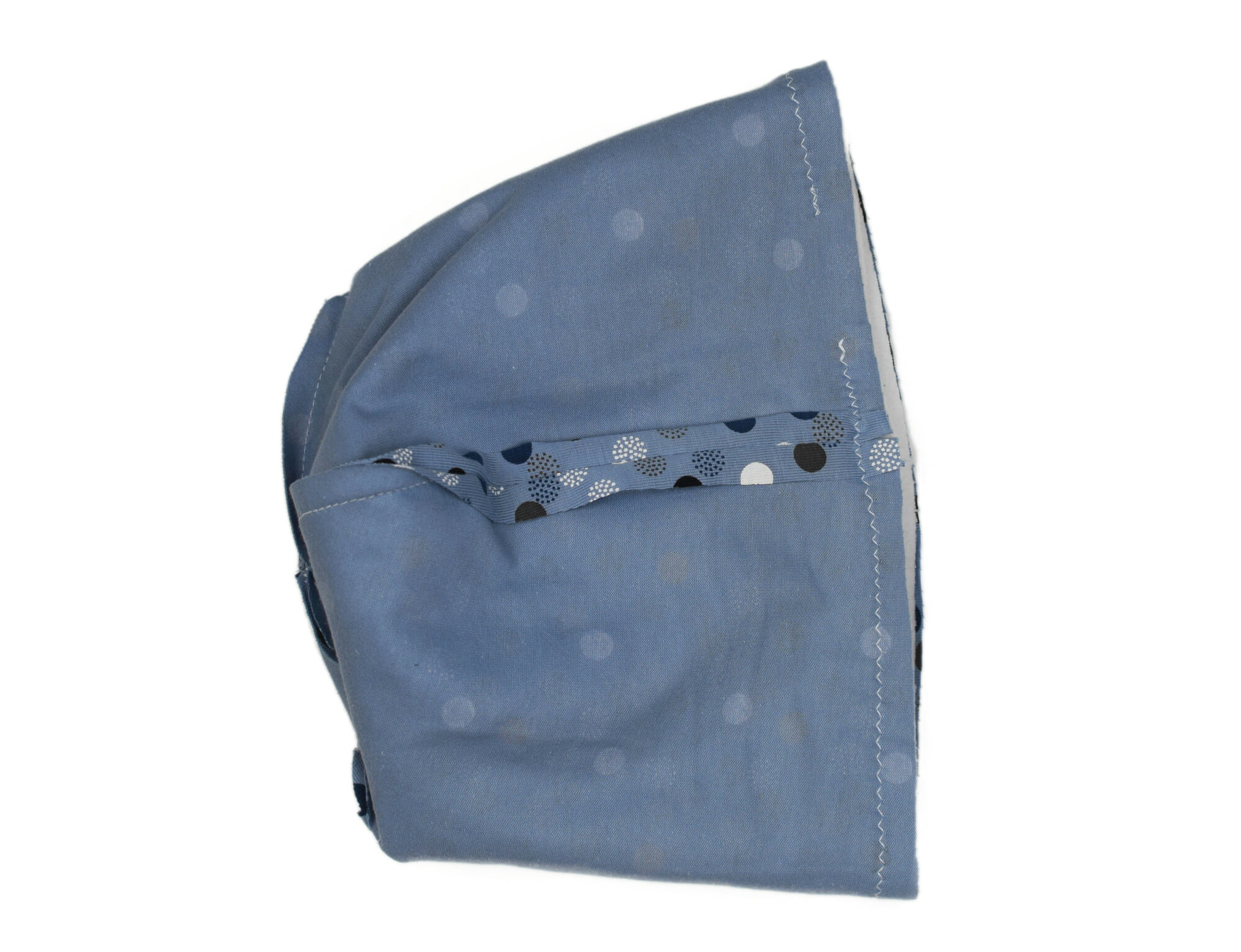 Step 5
Using that small opening, you can now turn the beanie on the right side.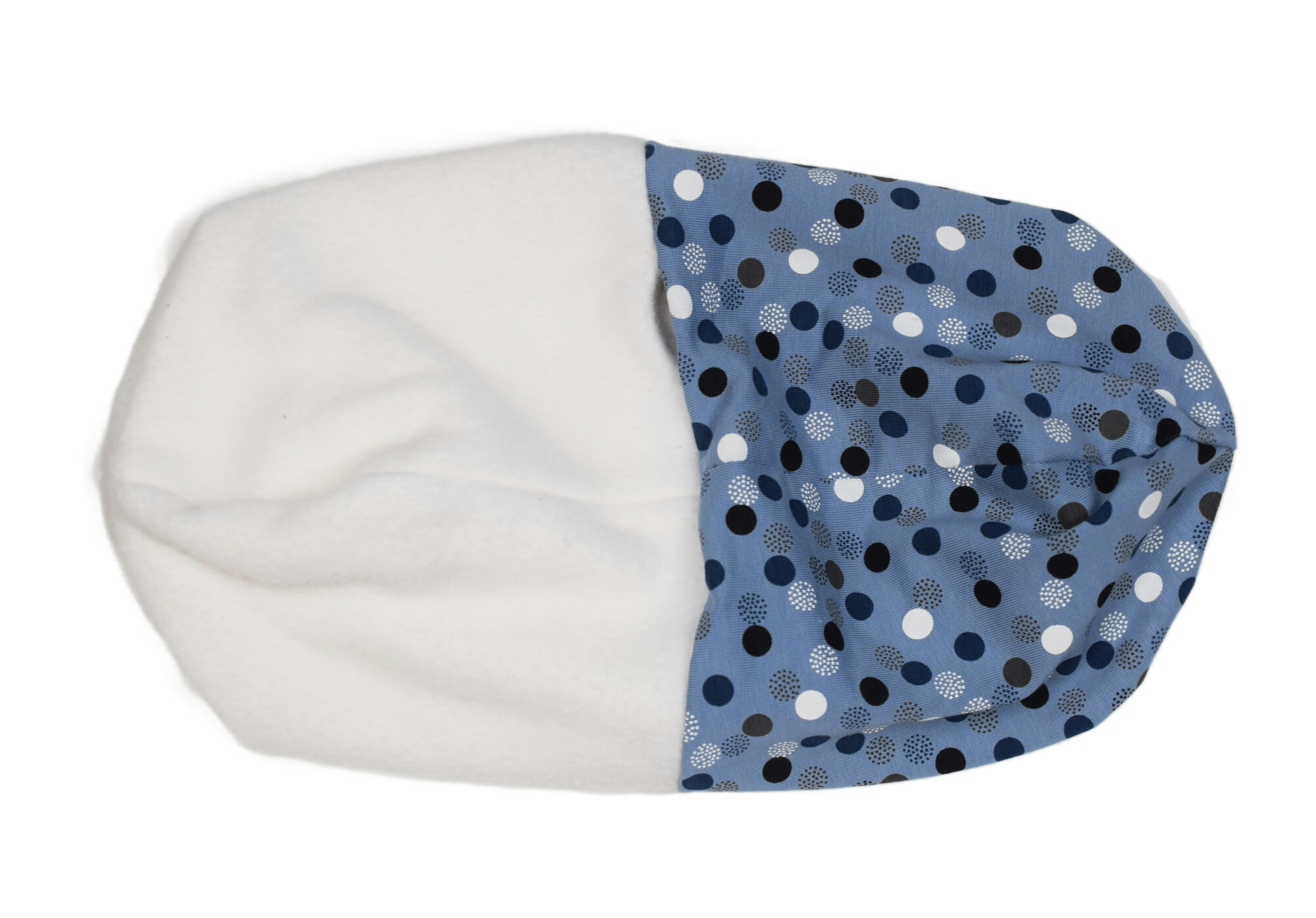 Close the gap by hand with a ladder stitch.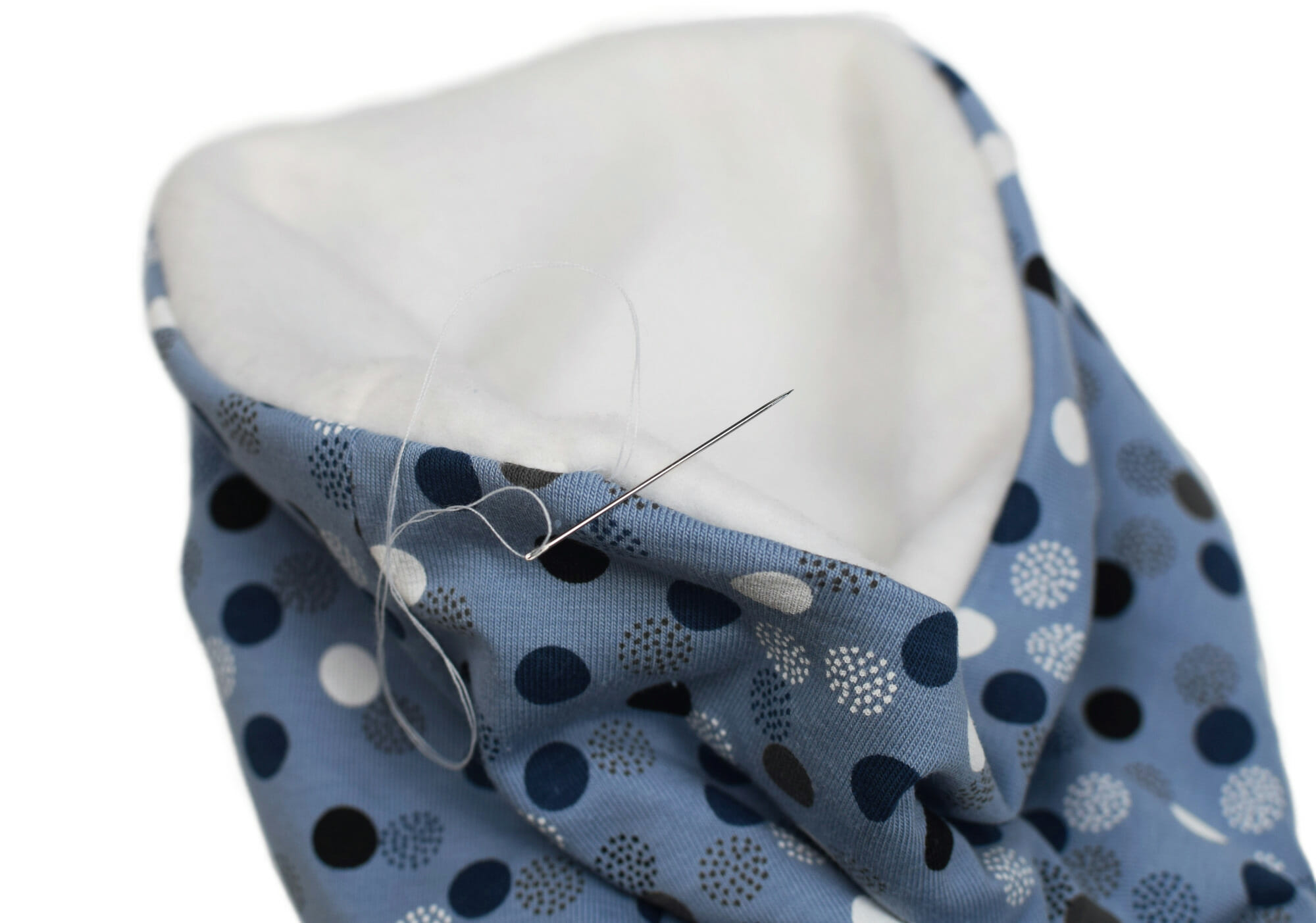 Your super cute and cozy beanie hat lined with fleece is now ready for wearing!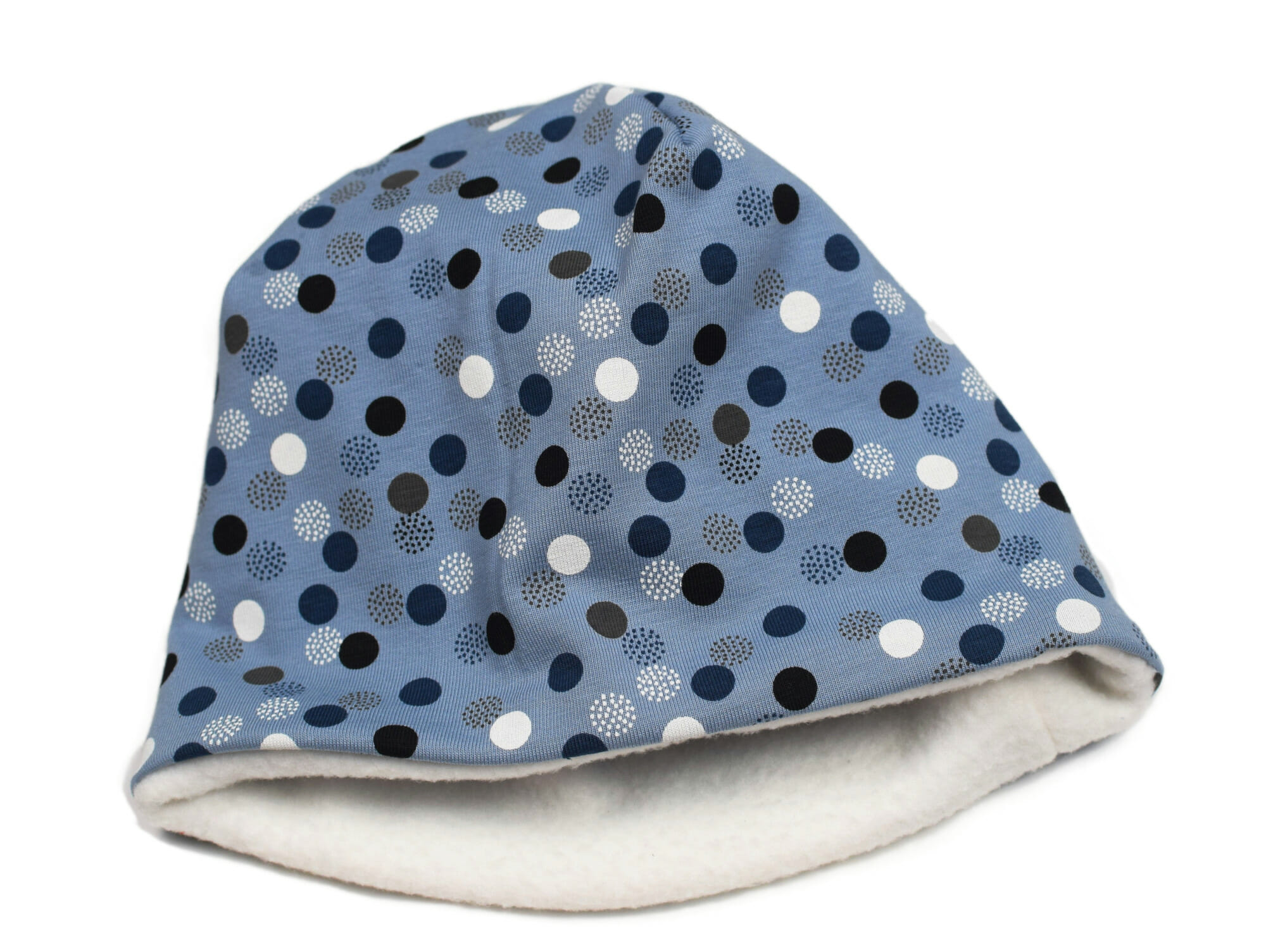 UPDATE 22.01.2021
I published the post and made this cute lined beanie hat in November 2019.
After more than a year it still fits my 3.5 yo daughter, and she wears it often.
I love getting as many wears as possible out of each handmade clothing, and if you're anything like me, I thought I'd let you know that from now on, I can see her starting to outgrow the beanie (the fleece is not as stretchy as a jersey).
So, while this free pattern is perfect for a 2-year-old, if you plan to make this beanie hat for a child who already turned 3-year-old, I'd suggest you make it just a bit wider and longer. Conversely, if you want to sew the beanie for a 1-year-old, make the pattern a smidge more narrow and short.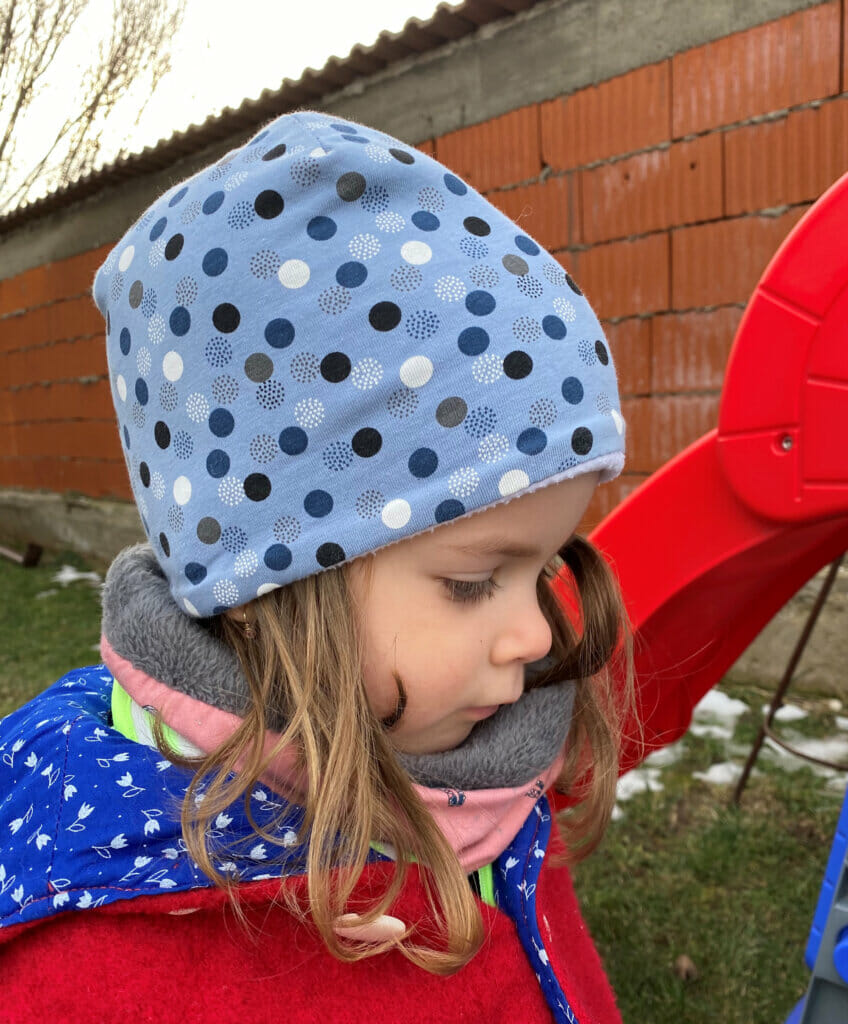 Let's keep in touch! You can find me on Facebook, Instagram, and Pinterest.