What can you make with an old sweatshirt? As it turns out, quite a lot. I planned to use up every little, tiniest scrap and I got really close to completing my goal. Here are all my DIY upcycle ideas – cool new things you can do with an old sweatshirt.
I had this old sweatshirt sitting around for ages in my sewing room, waiting to be upcycled. It had a few burn holes in its sleeves and I haven't worn it in the last 5 years, not even once.
Finally, the time has come to breathe new life into this formerly cute fleece sweatshirt.
I have been eyeing these adorable plush cosmetic bags on Etsy for a while, so my first make was this fluffy and cozy zip pouch.
This makes a great makeup organizer, perfect for travel. By the way, I did a lot of travel-related sewing projects lately – have you seen this toothbrush holder?
This purple fleece bag is roomy enough to fit all my and my family's products. I think this may be my favorite sweatshirt upcycling idea, so far!
I followed the same steps as shown in this tutorial. To make this makeup zipper pouch I cut a 16" by 13" rectangle from the sweatshirt front. Then, I applied fusible interfacing to the back of my rectangle.
I used zippers by the yard – I just love how versatile and cost-efficient these are!
The only difference from the mini zipper pouch tutorial is that in Step 8 I cut 2" squares in all four corners to make my bag larger.
I ended up with a boxy zipper pouch that measures roughly about 7.5" (length) x 3.5" (width) x 4.5" (height).
It's soft on the outside and really nice to touch. I am excited to have such a great-looking pouch with a zipper closure to help contain everything.
Easy zipper pouch / cosmetic bag
Then, I cut up one sleeve to make a simple pencil case for my kid.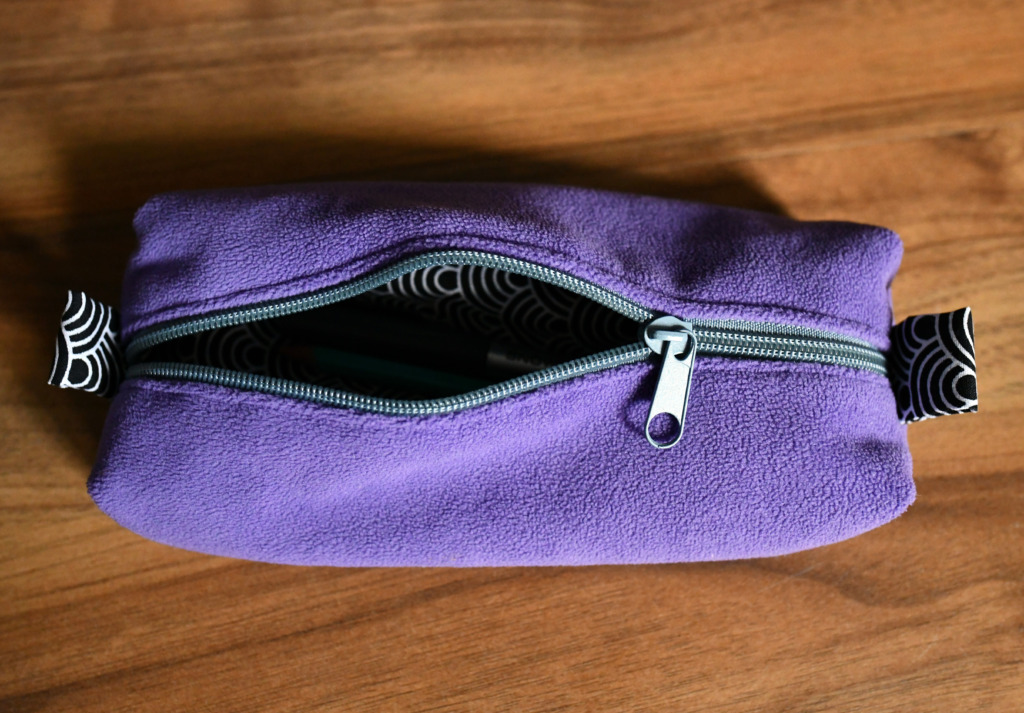 After that, I sewed another zip pouch, this time with a flat bottom. This bag is about 7" (length) x 3" (width) x 5" (height).
It's smaller than the first pouch but still spacious enough to stuff my goodies into.
Sweatshirt upcycle ideas
Afterward, I decided to make cute things just for fun. A fleece DIY flower that measures 3" across. The fabric does not fray, so it was a piece of cake.
Easy fleece flower
Next, a tiny teddy bear, small enough to fit in a pocket. All my kids love it! And I'm rather pleased with how its face turned out.
Pocket teddy bear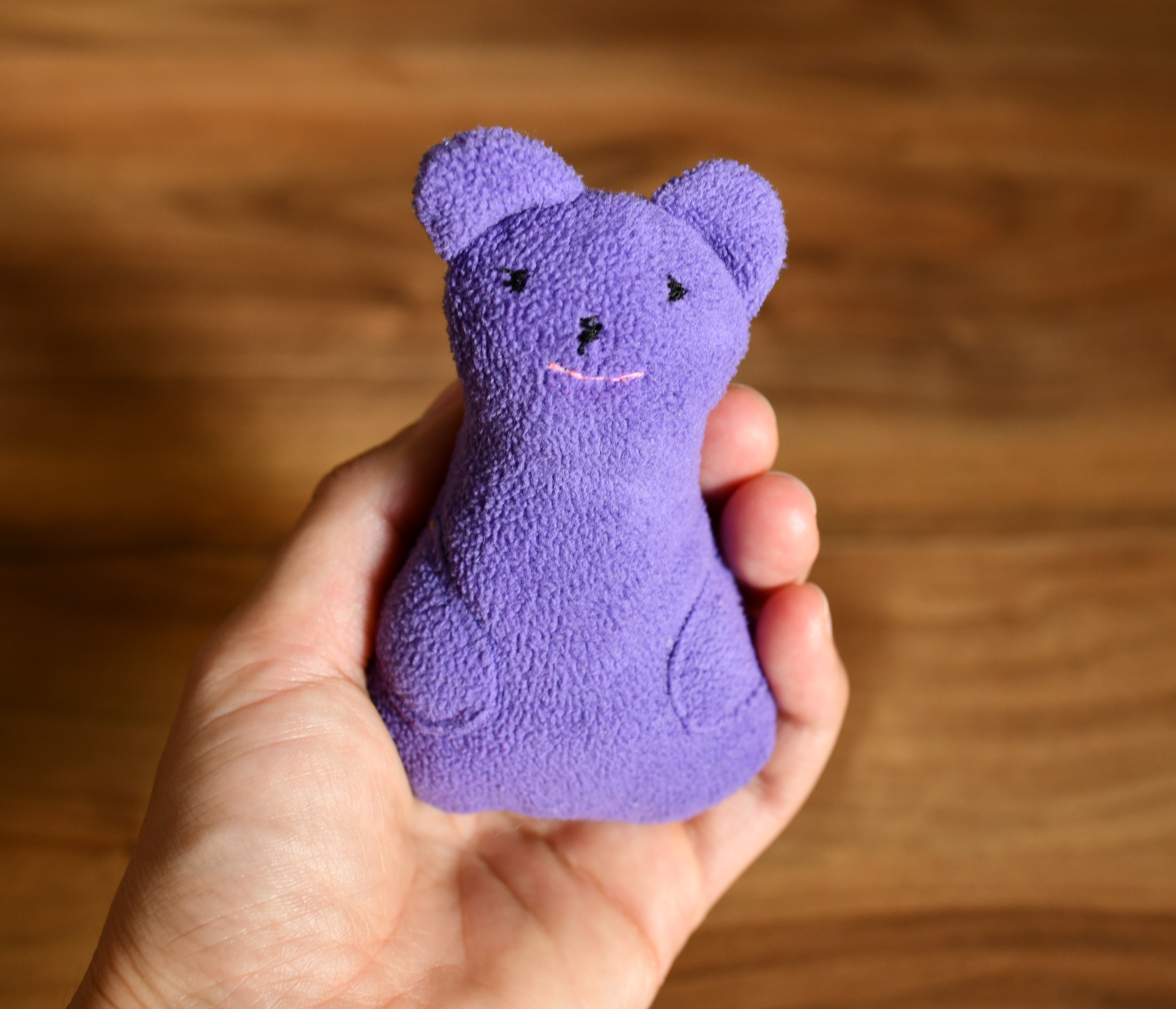 I applied a small piece of interfacing to the head of the teddy bear to reinforce the fabric. For the eyes and nose, I made tiny zig-zag stitches with the sewing machine, while for the mouth I used a triple straight stitch.
I filled my pocket teddy bear with minuscule fleece scraps and then I used a blanket stitch to close the stuffing hole. Pretty neat!
Cool new things you can do with an old sweatshirt – upcycle ideas
Then, I made a fleece jacket for Barbie. Just in time for the cold season! I used this free PDF pattern but I added a 1/4" seam allowance for ease. Another modification is that I cut the front piece down the middle.
No buttons or Velcro strips, this time I'm keeping it simple.
Fleece jacket for Barbie dolls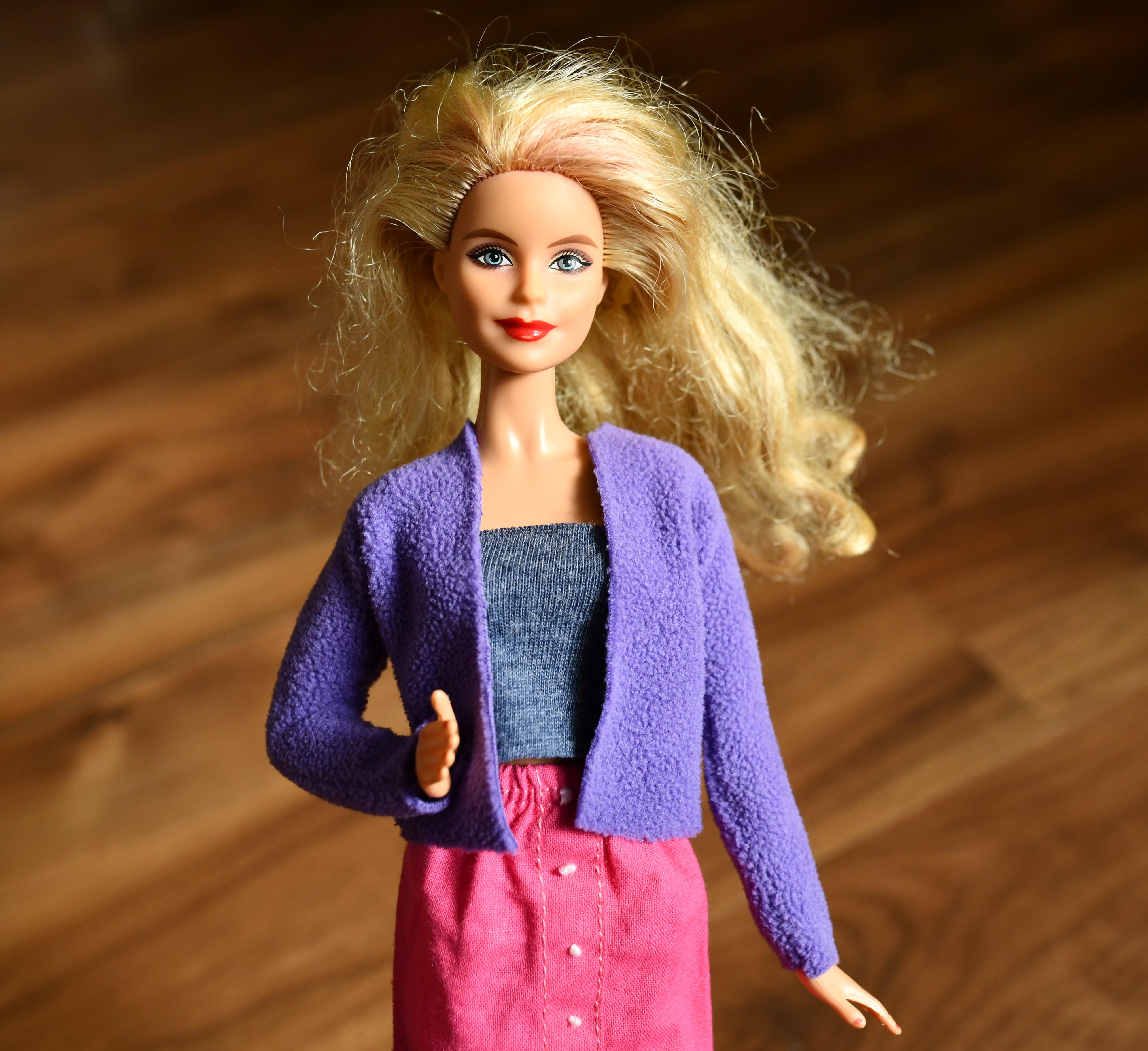 By this time, I think it's obvious that I looove this fabric!
After all these sweet sewing projects, I still had fabric left so I made an ear warmer headband for my youngest daughter from the other sleeve of the sweatshirt. This will keep her warm and cozy on those cold days out.
Fleece ear warmer headband
I mostly winged this fleece headband.
The circumference of the finished headband is exactly the size of her head (my fleece fabric has a bit of stretch, but not too much). The headband has a shaped design so that it provides additional ear coverage for warmth.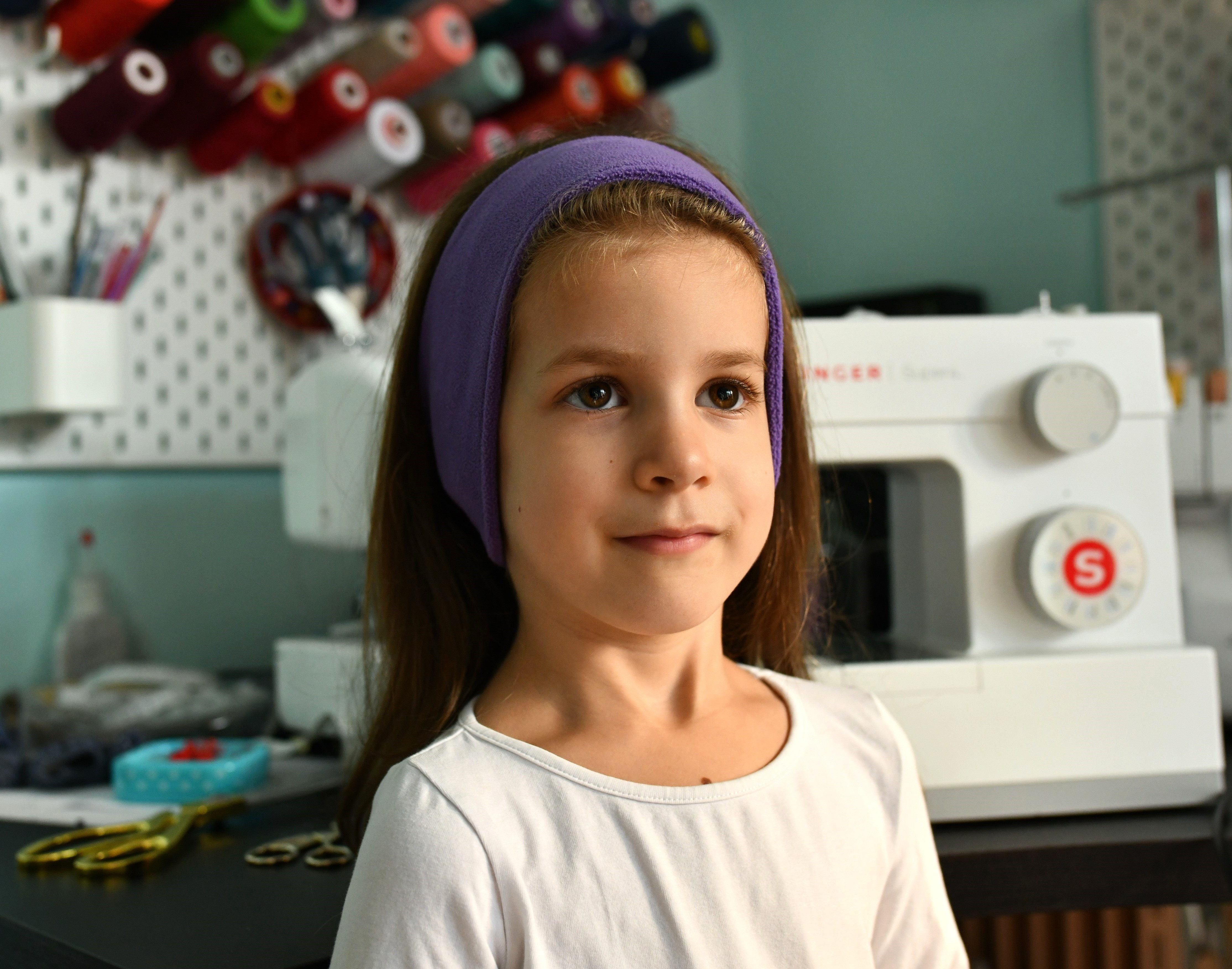 The width is 2.5" but the headband becomes wider (3") when it reaches the ears.
To be honest, at this point I still have some fleece fabric left from this sweatshirt, just enough to make a… phone cover, let's say. However, I'm running out of steam so I will be taking a break. Time to engage in new projects!
I'm sure we will get a lot of use out of these cute new items. These are my upcycle ideas for an old fleece sweatshirt at the moment.
I hope you dig out some old sweatshirts and sew up a few pretty things! Happy crafting!
Let's keep in touch! You can find me on Facebook, Instagram, and Pinterest.