Learn to make a cute princess tulle dress for your Barbie doll with this free pattern and tutorial. This is a beginner-friendly sewing project that can be done in approximately 10 minutes.
My youngest daughter loves to play dress up games with her dolls. She's always so excited when I make new doll clothes!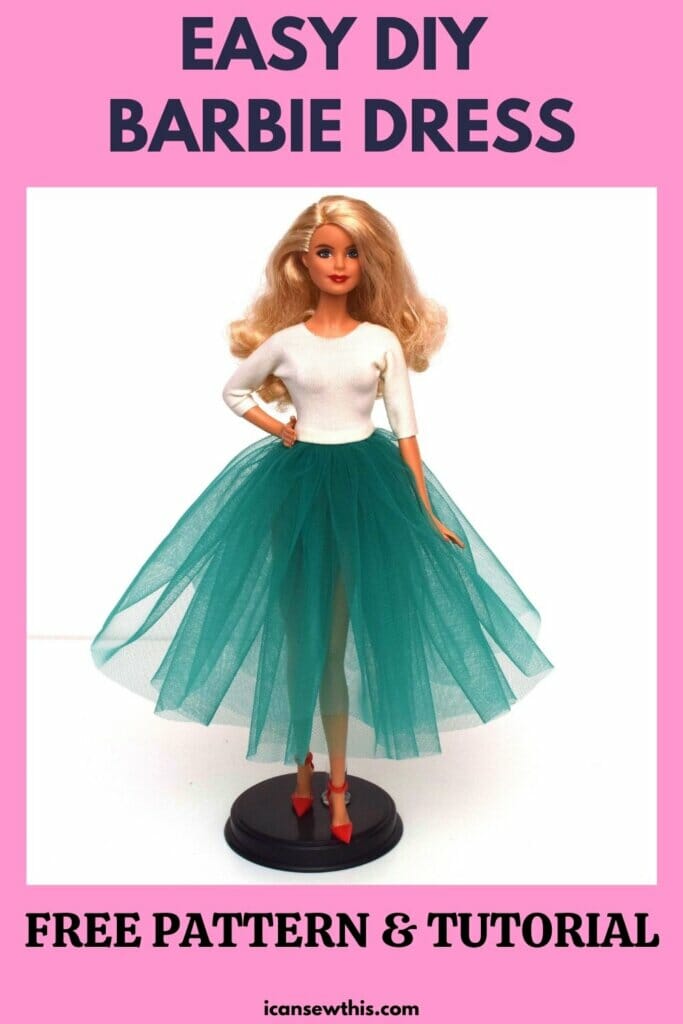 These tulle Barbie doll dresses are easy to sew. You'll need no special tools, skills, or a lot of patience to complete this project.
All you need is a small strip of jersey fabric, some scraps of soft tulle, and thread, and that's about it. I happen to have lots of tulle scraps from when I had a small business making and selling handmade tulle skirts.
I'm always happy when I get my bits and pieces put to good use!
Related: Barbie faux button placket skirt tutorial / DIY Barbie peasant top for beginners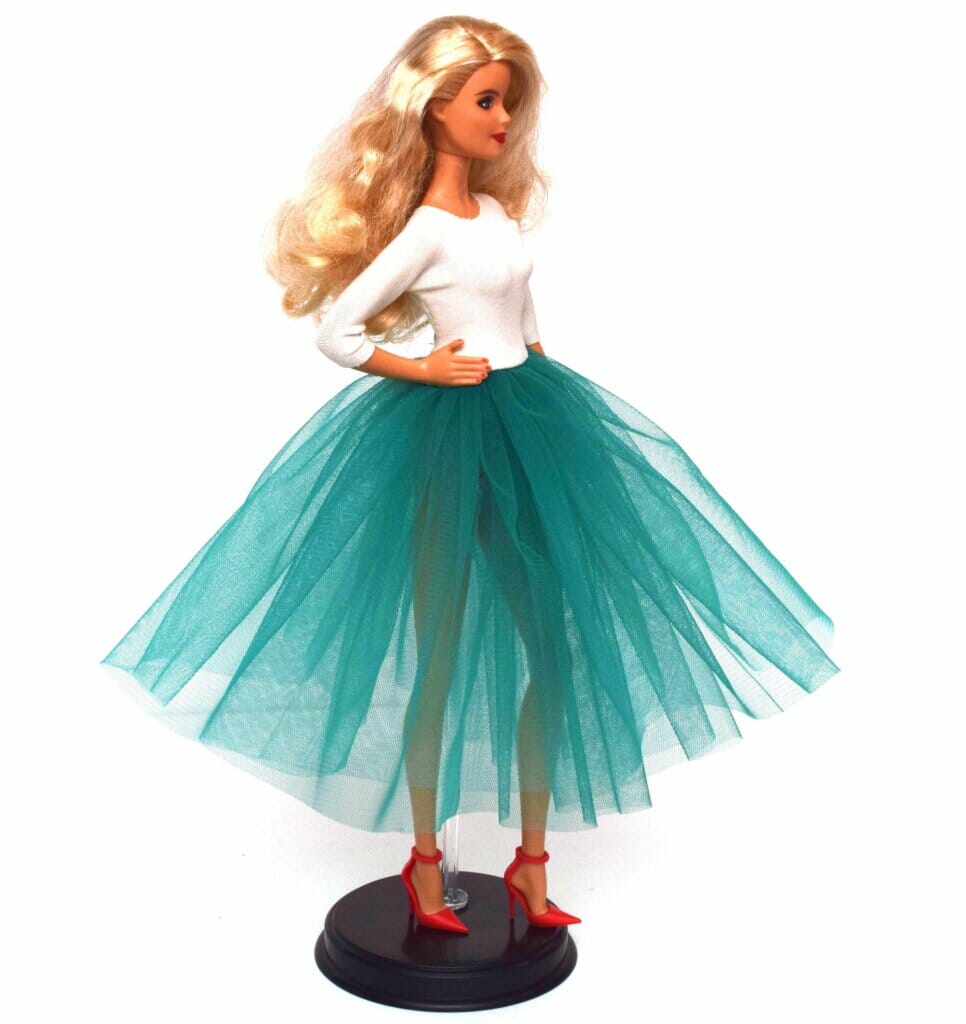 10-minute Barbie dress pattern
All the dresses I made for this tutorial are unlined – the reason behind this is I really wanted to use this "10-minute Barbie dress" title. 🙂 Many beginners think that these tiny dresses are a hassle to sew, but that's not the case here.
In fact, there's no reason to fear sewing this cute Barbie dress, and I would like to encourage as many as possible to try making it. Seriously, you can sew this fancy doll dress in 10 minutes!
Anyway, you can easily add a lining to the skirt, but that would add another 5 minutes to the whole project. Not that bad, right?
To make this Barbie tulle dress, you need jersey scraps for the bodice and two strips of tulle, each measuring 25-40 inches (depends on how fluffy you want the skirt to be) by 6 inches, to make a midi tulle skirt. Of course, you can make the tulle skirt shorter or maybe longer.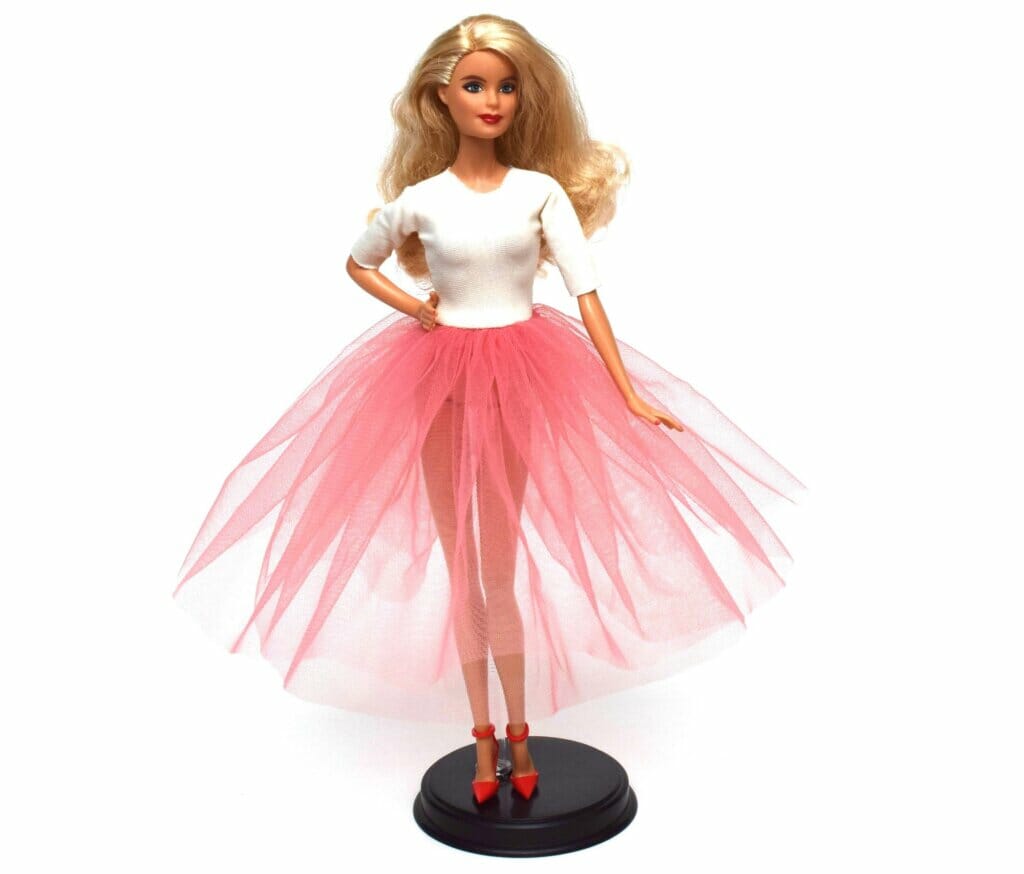 Sewing supplies – Barbie dress free pattern
free PDF pattern for the doll bodice (1/4″ seam allowance included)
fabric – jersey, soft tulle
Are you ready? Let's sew this easy Barbie dress!
How to make a Barbie dress – basic bodice pattern
For the bodice just use any stretchy fabrics you have on hand, or some old t-shirts or leggings you no longer wear.
First, print and cut your bodice pattern piece. Fold your jersey fabric and trace around the outline with straps on the fold (I used a heat erasable fabric marking pen).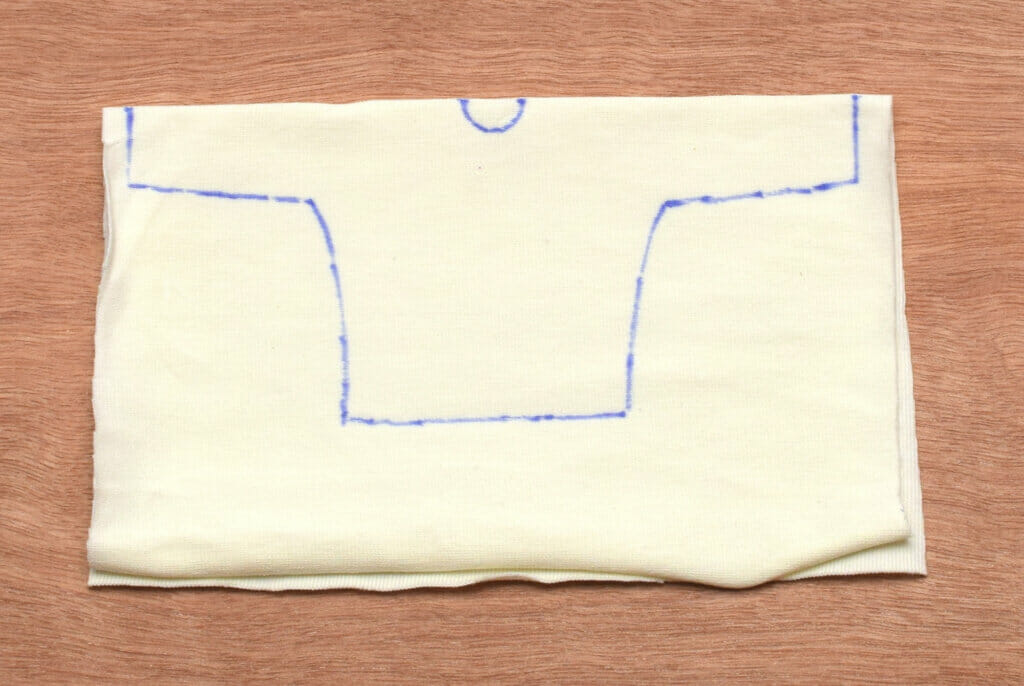 Then, sew the underarm and the side seams. Trim down the seam allowances to 1/8", then clip a bit into your seam allowance in the underarm area.
Cut the bottom edges (sleeves & waist) and the neck hole.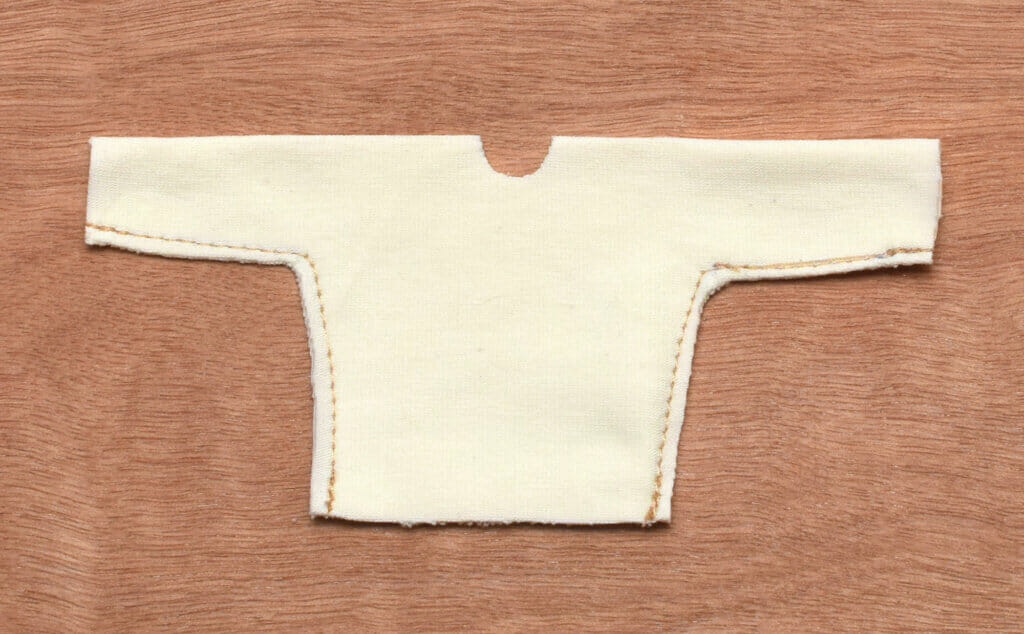 To make these casual chic tulle dresses, I opted for a scoop neck. I think it matches the tulle skirt much better than a V-neck or a scoop neck.
Likewise, in my opinion the long and 3/4 sleeves are more appropriate for a tulle skirt than a sleeveless bodice. Nevertheless, I'm by no means a fashion expert, so you can adjust your bodice as you please.
Turn the bodice right side out. To this purpose, I used that purple thang – a great tool for turning over the fabric. However, you could do without it – simply use a small safety pin instead to turn the sleeves.
After this, cut the back of the bodice down the middle.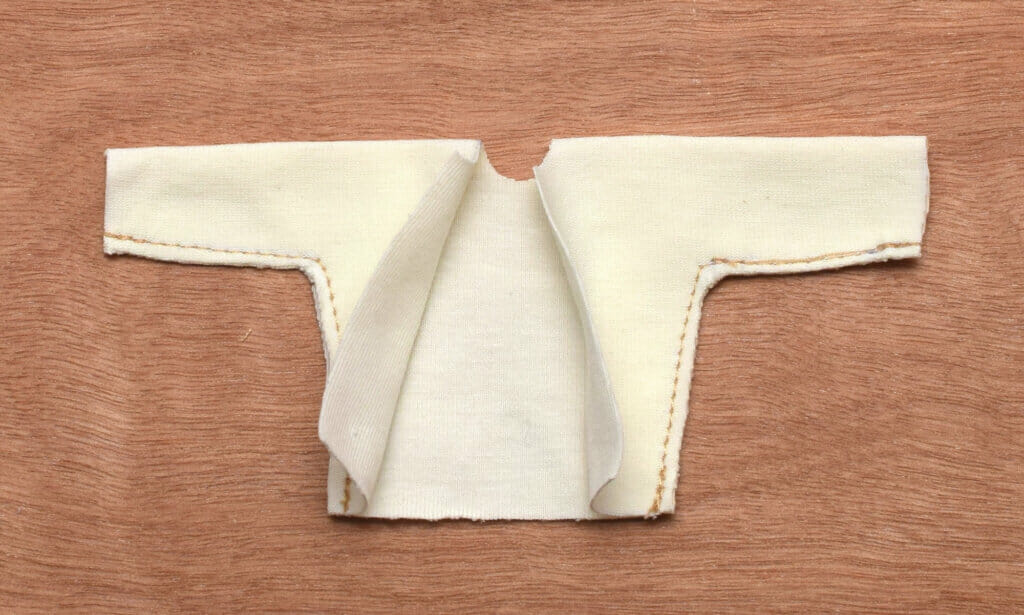 How to make a Barbie dress – gathered tulle skirt
For the tulle skirt you need two strips of soft tulle fabric, each measuring 25-40 inches by 6 inches.
Quick note - If you only have netting, don't give up! Decrease the width of the tulle pieces and cut yours at 12-15″, then line the skirt with matching cotton/satin - whatever you have on hand.
Now, change the stitch length to the longest possible and run a basting stitch for each of the two tulle layers.
I'd recommend using a matching thread for this step, so you won't have to worry later about the gathering stitches showing on the outside.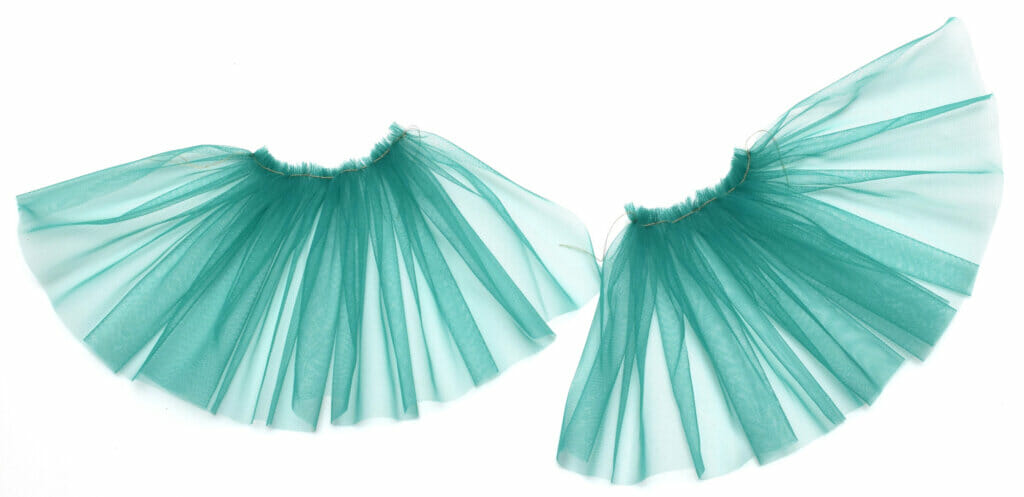 Then, gather the tulle layers until they match the bodice bottom edge – for me, this measurement is 4".
Now sew together the tulle layers. Next, pin the gathered tulle skirt to the bodice right side and sew.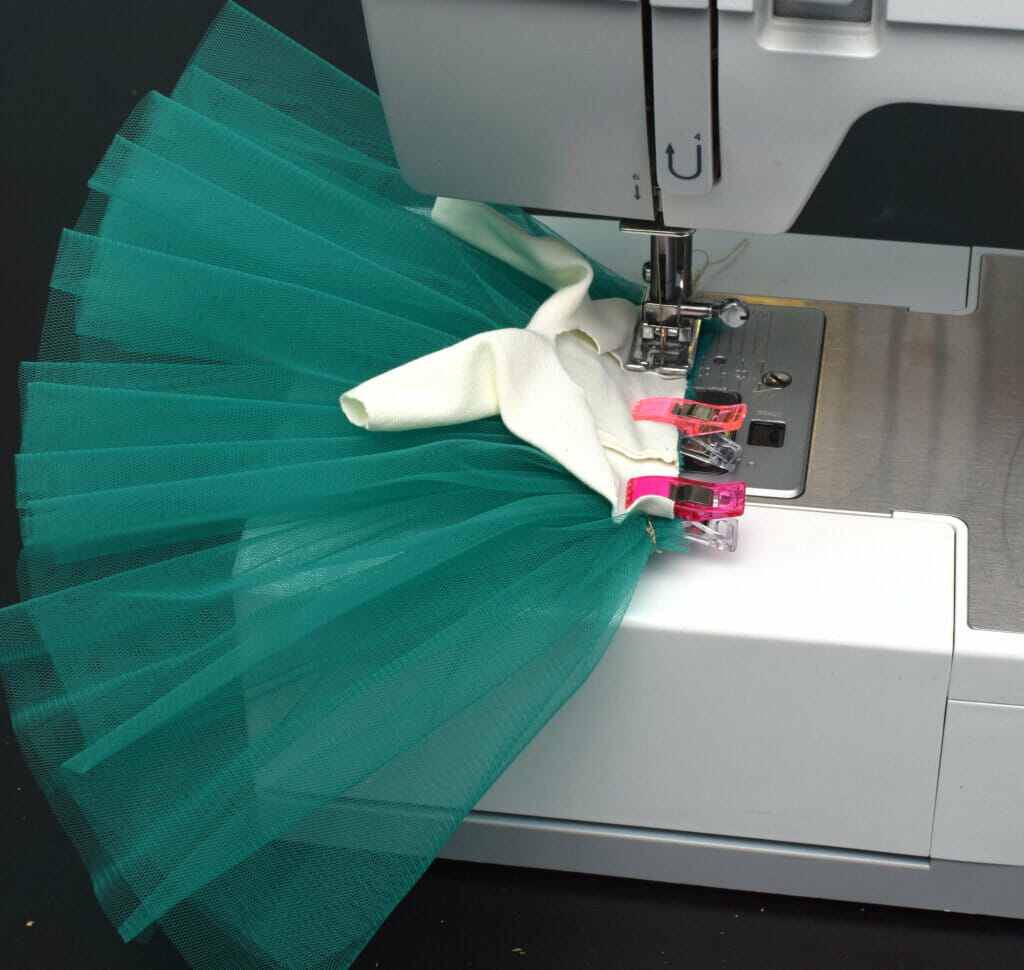 The Barbie dress is almost finished! Finally, all we have to do now is attach the Velcro back closure.
Should you not have narrow Velcro strips, no problem. Cut your regular Velcro down to the middle and get thin Velcro strips in no time, ready to use on your doll dress.
One more thing – I always change my needle before sewing Velcro strips to fabric, because I don't want to waste my good jersey needles. I used a regular needle, old but still functional.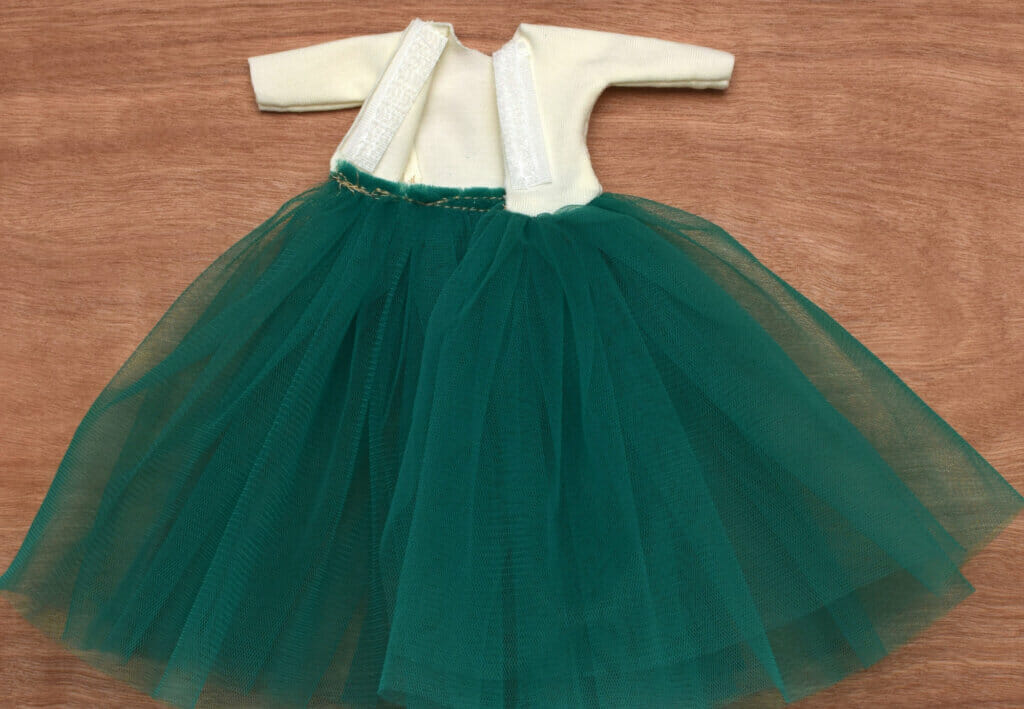 This back closure makes it easy to put the dress on and off, even for younger children.
I added Velcro closure only to the bodice. There's no need to sew or do anything to the skirt –the tulle attracts static electricity so the tulle strips tend to cling together, providing full coverage in the back.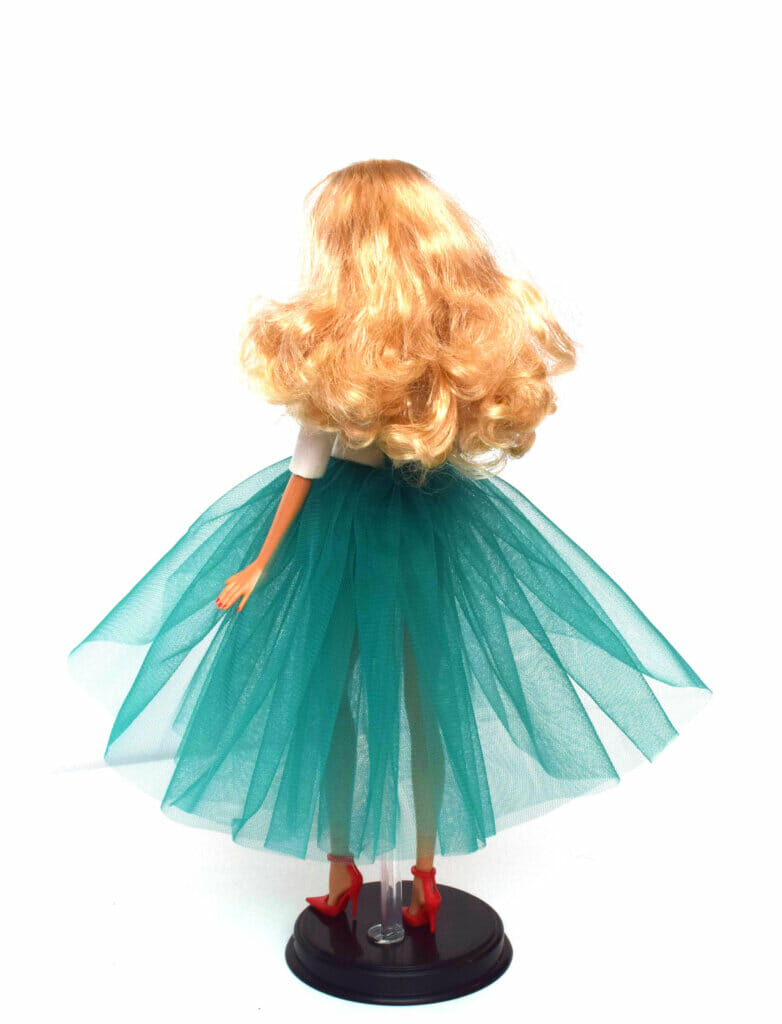 My 3-year-old daughter approves of these cute Barbie tulle dresses.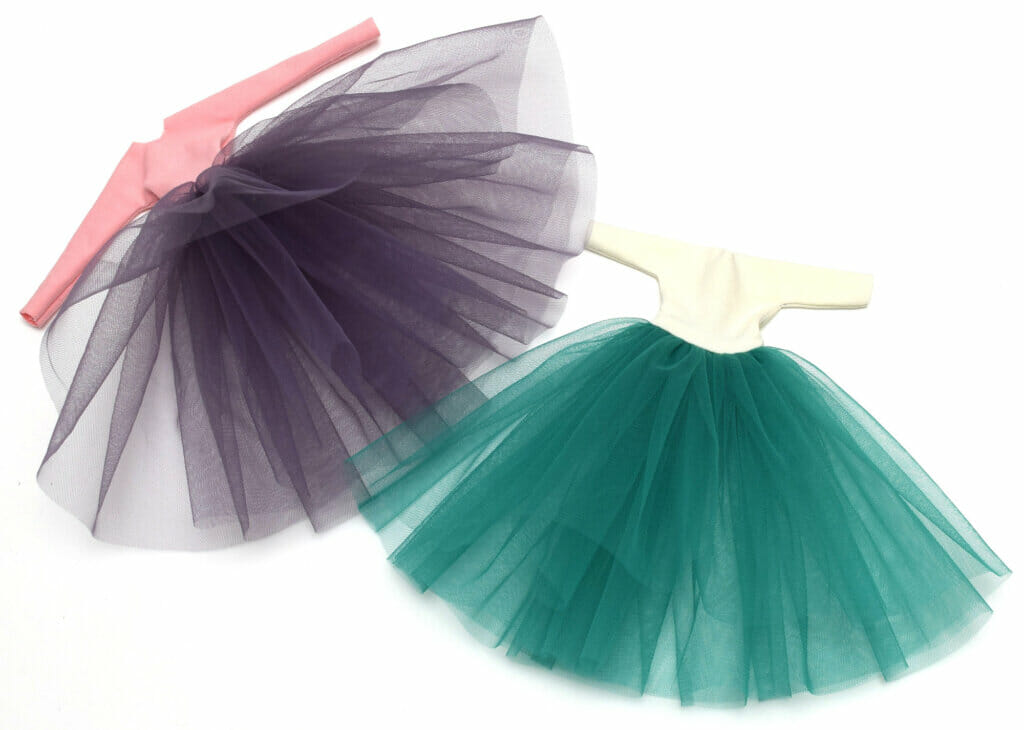 Did you find this tutorial helpful? I'd like to hear what you think of it! Should you give this Barbie tulle dress pattern a try, I would LOVE to see pictures!
Let's keep in touch! You can find me on Facebook, Instagram, and Pinterest.