This needlework crafts round-up post started out from a personal curiosity. How many needlework skills are out there? What techniques should you know about? Here's a list of 15+ needlecraft ideas.
Find a needlework infographic at the end of this post. Feel free to share with your friends!
I created this post featuring needlework crafts because I enjoy discovering new hobbies online. In fact, I'm seeing so many amazing DIY projects on social media lately, I'm in awe. There are endless possibilities for creativity in the needle arts!
Needlework refers to any activity that involves using a needle for construction.
It includes related skills such as crochet – where you need to use a hook or tatting, which is done using a shuttle.
Many people find needlework to be a rewarding hobby since it can offer a variety of benefits. It can help improve fine motor skills, hand-eye coordination, focus, critical thinking, and even math skills.
Needlework also provides a sense of accomplishment and relaxation and encourages creativity and self-expression. It can be a practical skill as well, since learning it empowers you to create or mend and alter clothes and other household items.
Needlework crafts to inspire you. 15+ creative ways to use needles
1. Sewing
Sewing requires using a needle and thread to join two or more fabric pieces together. It is a versatile craft that allows you to make lots of different things, like garments, bags, home decor items, or accessories. You can do the sewing by hand or by machine.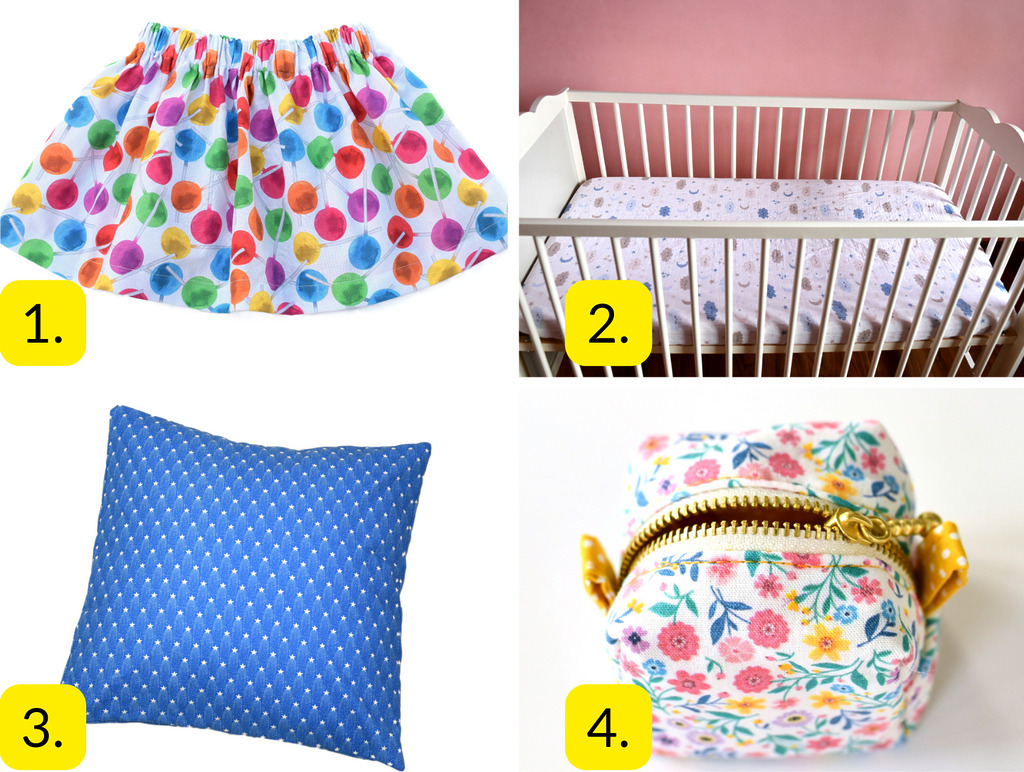 Sewing ideas & tutorials 1. Simple skirt 2. Crib sheet 3. Envelope pillow cover 4. Mini zipper pouch
2. Quilting
Quilting is a craft that involves sewing together layers of fabric to create a quilt. A quilt typically consists of three layers: a top layer of decorative fabric, a middle layer of insulating fabric, and a backing layer. All layers are held together with a series of stitches. You can do the quilting by hand or by machine.
3. Patchwork
Patchwork is not the same thing as quilting; it's actually the first step in making a quilt. It refers to the skill of joining pieces of fabric together to make a bigger fabric piece.
There are multiple methods for joining the patchwork fabric pieces, like chain piecing, English paper piecing, quilt-as-you-go, or Somerset patchwork.
4. Fabric manipulation
This is an essential element of fashion design and can involve needlework. Many of the techniques used to manipulate fabric require stitching with a needle, but not all.
Fabric manipulation involves playing with the fabric to modify its aspect, drape, or shape.
Fabric manipulation techniques include pleating, smocking, ruching, tucking, gathering, and shirring.
5. Knitting
Knitting is a craft that involves using two needles to create fabric from yarn. The needles loop the yarn through itself, forming a series of interconnected stitches. As more stitches are added, they build up to create a fabric. Through knitting, you can make a wide range of items, including clothing such as sweaters, hats, scarves, mittens, blankets, and more.
6. Crochet
This is a needlework craft that involves using a single needle with a hook at one end to create fabric by looping yarn together.
Through crochet, you can make a great variety of items, including clothing such as sweaters and hats, blankets, and more.
7. Embroidery
This is about decorating fabric with a needle and thread, using different types of stitches. These stitches can be decorative, or they can be used to create images or patterns on the fabric.
Embroidery is often used to embellish clothing, or household linens, adding a decorative touch or personalizing the object. It's possible to embroider on knitted or crochet items as well.
8. Punch needle
This is also a creative embroidery technique that uses a punch needle tool – a long, hollow needle, with an angled opening and a large eye.
9. Cross-stitch
Cross-stitch is one of the easiest types of hand embroidery to learn and make. With cross-stitch, you only have to make X-shaped stitches while following a tiled pattern.
10. Sashiko
This is a form of Japanese embroidery that uses simple running stitches to create decorative patterns. While you can use Sashiko to embellish clothes or household items, it is also a practical technique. You can use Sashiko to reinforce worn fabric in clothing, and to attach patches, while making the fabric stronger.
It is a visible mending technique that started out of a practical need in Japan and has been used for thousands of years.
11. Darning
This is a sewing technique for repairing holes or tears in fabric or knitting using only a needle and thread. Darning is usually done by hand.
It's a visible mending technique that transforms patches into art and clothing into uniquely personal pieces.
12. Needlepoint
Needlepoint involves creating a picture or design on a piece of even-weave canvas using a needle and thread. For needlepoint projects, you can use traditional canvas, plastic canvas, perforated paper, or waste canvas.
13. Tatting
Tatting involves creating lace or decorative edging using a needle and thread. It's often used to create decorative edges for linens or clothing or to make separate pieces of lace.
You can make lace using thread and a needle:
Also, did you know you can make buttons out of thread?
14. Needle felting
This needlework craft involves using a needle to poke and manipulate wool fibers to create a dense, felted fabric. You use the needle to poke and prod the fibers, causing them to interlock and form a cohesive fabric.
Felting can be used to create various items like slippers, hats, toys, and home decor items.
15. Latch hooking
Latch hooking is a rug-making technique that involves using a latch hook and yarn to create a textured, decorative fabric. You have to knot short pieces of yarn through a rug canvas.
This craft was traditionally used to create rugs and cushions, but it is now also used to make decorative wall hangings.
16. Beading
This craft involves using a needle and thread to string beads together to create jewelry or decorative items, or to embellish clothes.
Or you can make jewlery:
17. Pine needles basket weaving
Did you know you can use needles from the long-leaf pine tree to make baskets? Native Americans have made baskets for gathering and storing food and passed down their skills and techniques from generation to generation.
What needlework skills do you already have? Are there any new (to you) needlework crafts that drew your attention? Did I miss anything?
I personally know how to sew, knit, and crochet, although I'm a beginner at the last two. This year I would love to learn how to embroider and darn clothing. How about you?
PS: While writing this post, I became aware there are many more needlework crafts than I imagined, such as whitework embroidery, crewel embroidery, needle-binding, or Tunisian crochet. I'm not sure I can cover such a vast array of crafts in one blog article.

Even though the activities mentioned in this round-up share similarities, there are also important differences. I tried my best to come up with a list of things you can do with needles to inspire you to maybe try some new craft projects!
Needlework crafts infographic
If you like this post and think your friends will benefit from the same information, please share it on social media! Thank you!

Let's keep in touch! You can find me on Facebook, Instagram, and Pinterest.