Bring a pop of color into your home with this easy envelope pillowcase tutorial and free pattern. Learn how to make a beautiful pillow cover with French seams and a smart envelope closure. Making a pillowcase is the perfect beginner project!
If you're a beginner, the best way to take it to the next level is by applying your sewing skills to simple and fun projects like this one. I did my best to share all the tips and tricks you could need to succeed in making this three-color pillowcase.
Here's what we're looking at here:
zero raw edges – all seam allowances are hidden
a pillowcase that is beautiful inside out
a smart envelope closure
tidy look & snug fit
easy to sew, even for beginners
full step-by-step tutorial with lots of pictures
instructions to adjust the pattern to any pillow size
I made this pillowcase tutorial because, in my opinion, all other tutorials are rather complicated and hard to understand for a beginner.
The way I am, I need to know at a glance WHY and HOW you did the things you did. Why cut the pattern pieces exactly this size but not larger or smaller? Once you understand how the pattern works, the rest of it (cutting, sewing, pressing, trimming etc.) is so much simpler!
I take great pleasure in simple things, so here goes my attempt at a better sewing tutorial for beginners.
Measure your pillow from seam to seam – my pillow measures 19 by 23 inches.
I made this pillowcase out of 2 large fabric pieces like so – one front piece that's composed of three panels (main fabric, contrast fabric, trim fabric – see photo below), and one back fabric piece.
The front piece is larger because it includes an overlap for the envelope closure.
We won't discuss the size of the main, contrast, and trim fabric pattern pieces yet – we'll get there in a moment!
How this envelope pillowcase pattern works
Right now I want to quickly explain my thought process in making this pattern so you'll be able to adjust these measurements for any pillowcase size you want.
Both fabric pieces (front and back) need to be 1.5 inches larger than the pillow insert to account for the seam allowance and hem.
The finished pillow cover is approximately the same size as the pillow itself. This ensures a snug fit (which I prefer over a loose one).
To determine the size of the back piece, simply add 1.5″ to both the length and the width of the pillow.
The front piece includes a flap to hide the pillow – meaning you'll have to add 1.5″ to the length and 8.5″ to the width of the pillow (1.5" for the seam allowance + 7" for the flap). Use these measurements if you want to make your pillowcase with only one main fabric.
The inner flap can be anywhere from 5 to 7 inches. My finished flap closure is about 6″ long and it's enough to cover up nicely the end of the pillow insert.
Now, let's talk about the design of this pillow.
How to style your DIY pillowcase
With the right color combination and balance, your pillow cover will surely turn out gorgeous. Make sure to choose a set of 3 colors that go great together to make a pillowcase that adds style and beauty to your room.
Since I don't have an eye for design, I typically use websites that generate color schemes for inspiration.
Easy envelope pillow cover – free sewing pattern
For the back piece, I used one continuous fabric piece to keep things simple. I added 1.5″ to both the length and the width of my pillow insert.
For the front piece, I tried my best to create something visually pleasing and harmonious. In art composition, there's something called "the golden rule" and that means that the average ratio of the two sides in paintings is usually 1 to 1.62.
For my pillowcase, I went with a ratio of 3 to 5 (that's about 1 to 1.66). That means I will divide the total width of my front fabric piece by 8 (because our whole will have 8 parts). Then, I cut the contrast piece 3x that measurement, and the main fabric piece 5x that measurement.
Quick note: The front piece is made of three different parts – main fabric, contrast fabric, and accent trim fabric. Both contrast and main fabric piece will lose approx. 3/8" after being stitched together in Step 2, and that's been accounted for.
The length is the same for all pattern pieces – (pillow length + 1.5").
So here's what applying the golden rule for proportions means for my 19" x 23" pillowcase. My finished front piece, right after sewing all parts together, has to be 20.5" x 24.5".
As mentioned earlier, I will divide 24.5 by 8, which makes 3.06 – this measurement is one part of the whole. To determine the size of the contrast fabric piece (yellow, in my case) I will multiply this number by 3 like this, 3.06 x 3 = 9.2. Therefore, my yellow fabric piece measures 9.2" x 20.5".
To determine the size of my main fabric pattern piece, I have to multiply that number by 5, like so 3.06 x 5 = 15.3". Consequently, my main fabric piece measures 15.3" x 20.5".
Now let's just stop for a second. We also need to include an inner flap – it can be added to either the contrast or the main fabric. I chose to add my envelope flap to the contrast piece – therefore, this one will measure 16.2" x 20.5" (I added 7" to the width measurement).
The accent trim piece will always be the same for all pillowcases, no matter their size – 2.5" by (pillow length+1"). In my case, the trim piece measures 2.5" x 20.5".
I chose a solid gray color for the back piece. My back piece measures 24.5" by 20.5".
This is how my finished pillowcase looks on the inside:
Cutting instructions for different pillow sizes (king, queen, or standard pillow)
Free DIY pillowcase pattern – sewing supplies
a pillow you want to cover-up
fabric (how much you need will depend on the size of your pillow)
measuring tape
Step 1 – cut your fabric pieces
You'll need 1 main front piece, 1 contrasting front piece, 1 accent trim, and 1 back piece. Prewash your fabric before sewing.
For my pillowcase I cut these pattern pieces:
Step 2 – construct the front piece
Press the trim piece in half lengthwise, wrong sides together.
Note: Use a fabric marking pencil to draw a parallel line 1" from the folded edge. If you're a beginner, you're going to need all the help you can get, so just take it. :) Although this part looks unassuming, properly attaching the trim fabric is somewhat tricky, but I'm here to help you.
Now place the main fabric piece and the contrasting piece wrong sides together. Then, place the folded trim piece on top and align the raw edges.
Sew through all layers right along the line you drew earlier – make sure to backstitch at the beginning and end.
There are no raw edges on the inside – that's quite clever, right?
Press the seam, then flip the trim piece to cover the raw edges on the right side of your fabric piece.
Use pins to hold the trim piece in place (sewing pins are mandatory at this point because pressing isn't enough to stabilize the layers). Now stitch close to the trim's folded edge.
You may choose to sew two rows – the stitching distance is usually 1/8 inch, or 3 mm, from each edge. These stitches are reinforcing as well as decorative.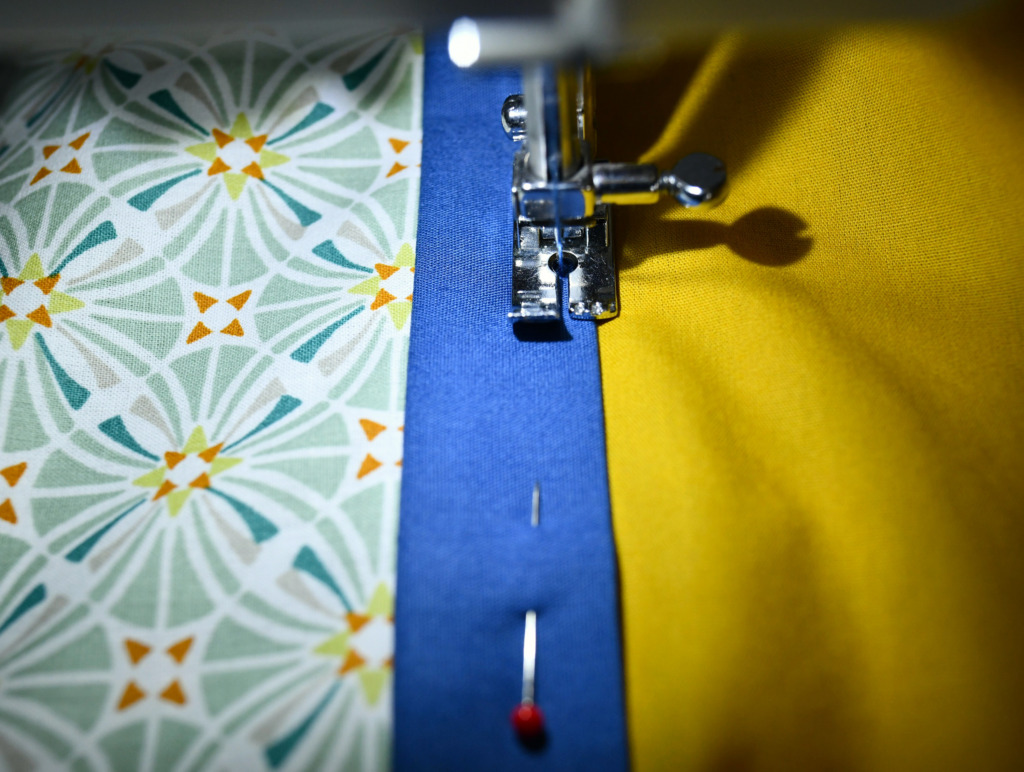 Tip: You can't edgestitch well and fast too. Also, don't edgestitch while you're hungry or tired! Otherwise, this is just a straight line, nothing special, but if you're a beginner, it might cause some stress. Focus on the built-in guide of your presser foot instead of watching the needle, to feed the fabric as evenly as possible. Use lots of pins and go slowly.
And done! The front piece is finished. Now on to the next step.
Step 3 – hem the back and the front pieces
In this step, you need to hem the short edge of the back and front fabric pieces. Lay your pieces wrong side up.
Fold over the short edge 3/8 inch and iron, then fold over 5/8 inch again and pin. Stitch into place to create a double hem. Backstitch at the beginning and end of your stitches!
The other short edges of the back & front pieces should be left unhemmed.
Step 4 – fold the flap
Place the front piece with the right side facing down and fold the inner flap, until the front piece is the same size as the back piece.
Then, lay the back piece over the front piece, with the wrong sides together (see photo below).
Pin along both sides and the bottom, then stitch using a 3/8″ seam allowance.
After that, trim the seam allowance on all sewn sides down to about 1/4″.
Now turn the pillowcase wrong side out. Push the corners out with a pencil or a chopstick.
At this point you don't need the iron, just use your hands. Push out the outer edge of the pillowcase by rolling up the seams between your fingers (watch this short clip to see what I mean).
This will smooth things out and make it easier to sew beautiful French seams – otherwise, the raw edge of the first seam might peek through the second seam.
Stitch around the three sides of the pillowcase using a 3/8" seam allowance – but stop right below the inner flap. Backstitch.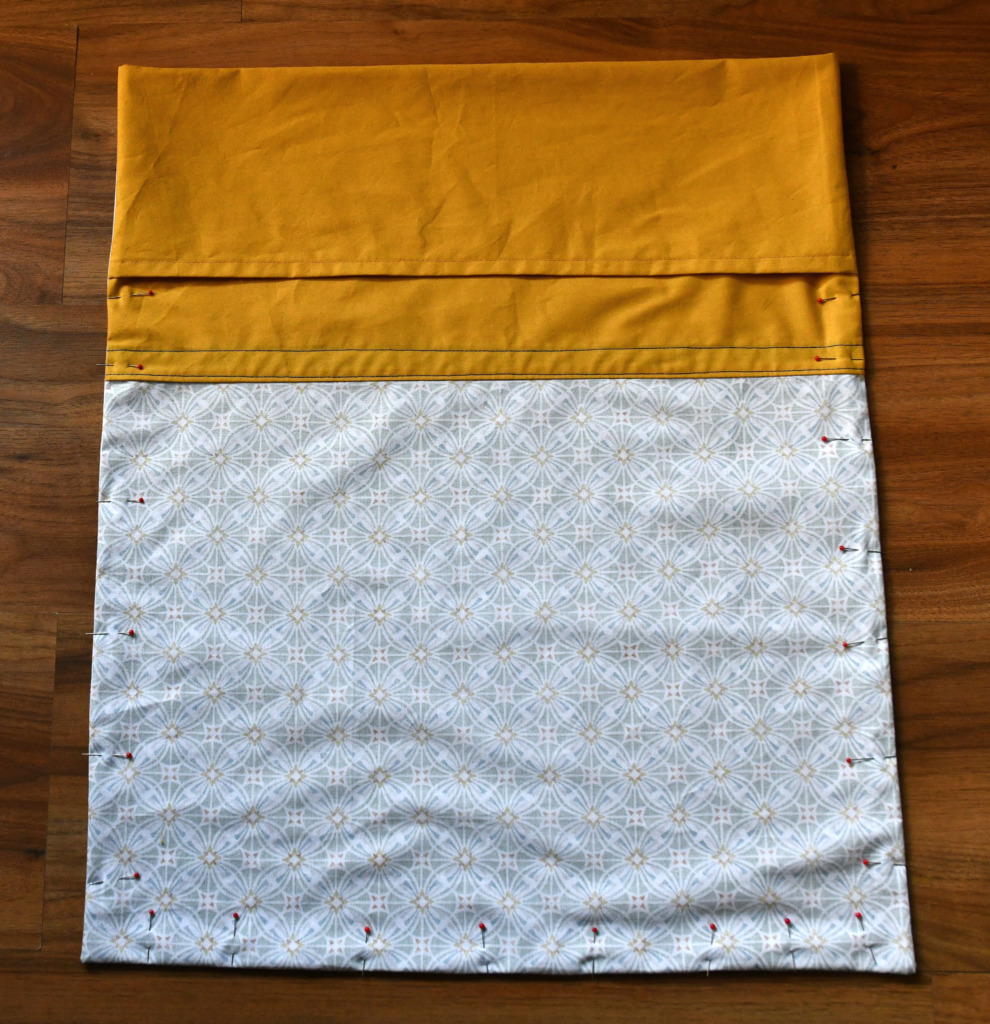 Step 5 – finish your pillowcase
Now flip the envelope flap over to the other side, then pin and sew along the sides until you meet the previous stitching lines.
At the edges of the envelope flap, backstitch to reinforce the stitches.
Now, this could have been done all at once in the previous step, of course, but I, for one, always fail to remember when and how to flip the envelope flap. That's why I wanted to fix this task in my mind and finish it at the very end. I hope this little trick will be helpful to all sewing beginners out there.
Now flip the envelope flap over again (figure 3, in the pic above) and admire your work! It's beautiful, right? You can now turn the pillowcase right side out and slip in your pillow insert.
Did you find this easy pillowcase tutorial and free pattern helpful? I'd like to hear what you think of it! And I would LOVE to see pictures if you give this project a try.
Let's keep in touch! You can find me on Facebook, Instagram, and Pinterest.