Learn to make your own beautiful and comfortable satin eye mask with this tutorial and free PDF pattern. The eye mask is an easy and quick sewing project that you can whip up in less than 30 minutes, even if you're an absolute beginner.
So, if you have half an hour to spare, why not make this luxurious eye mask? It's super easy and inexpensive, and I've had so much fun making mine.
Make it in any color you want, for you or as a gift for your family members or friends. This lovely satin eye mask is the perfect sleep companion!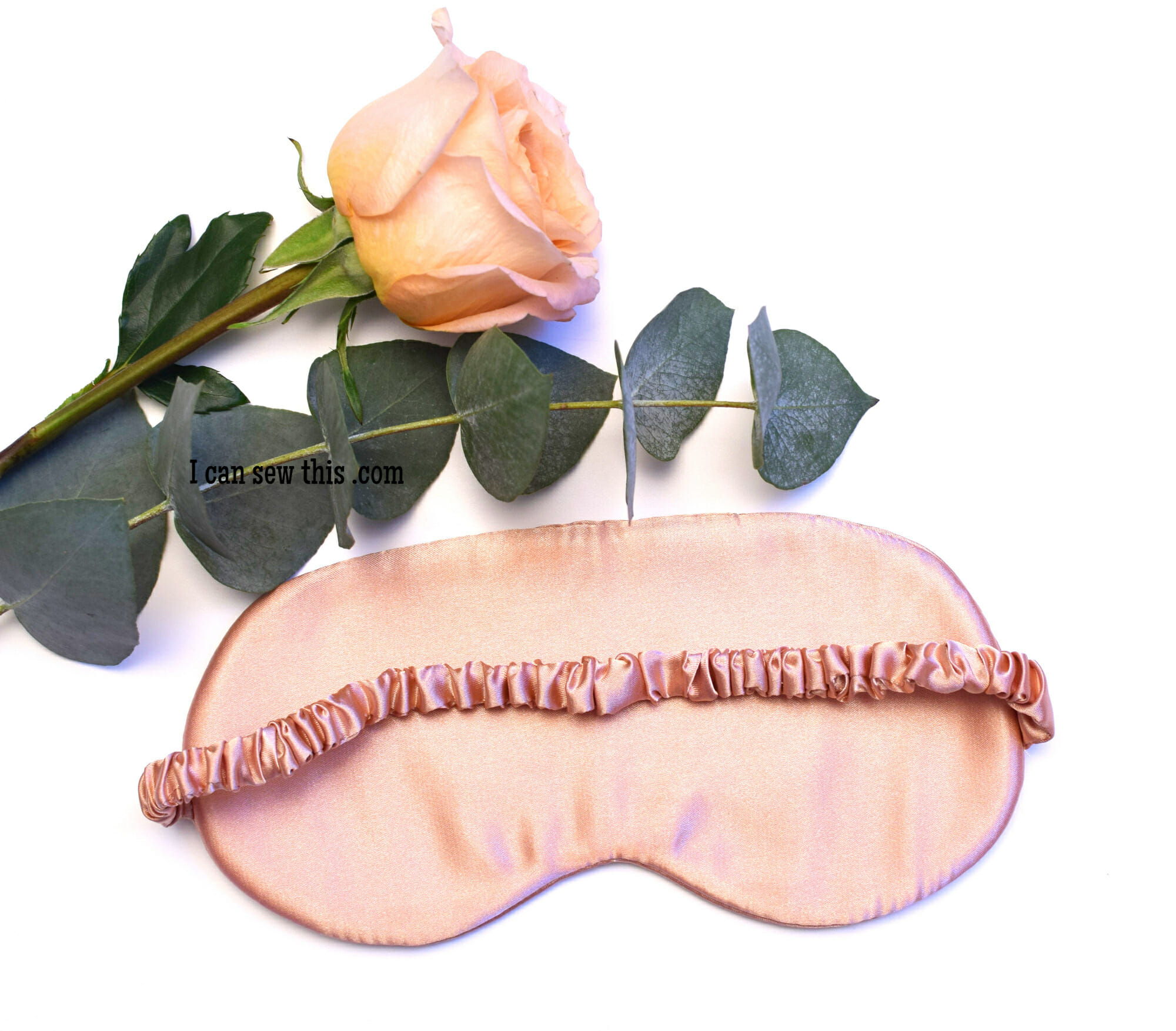 Make your own satin sleep mask
I fell in love with some gorgeous silk eye masks I discovered while surfing the internet. That was my idea of perfection – those silk sleep masks looked so dashing and soft, but the price exceeded my budget. Fortunately, I have a sewing machine and I know how to use it!
It's really great to be able to make something yourself instead of buying. This eye mask takes very little time and effort, and it's a super fun and rewarding project. I'm quite happy about it.
So, I decided to make my own sleep mask. Still, silk is an expensive fabric and I was not ready to buy – at least not yet. Therefore, I went for the next best thing – an affordable silky satin fabric.
Since I'm writing this post, you can rightly assume I'm quite pleased with how my satin eye mask experiment turned out.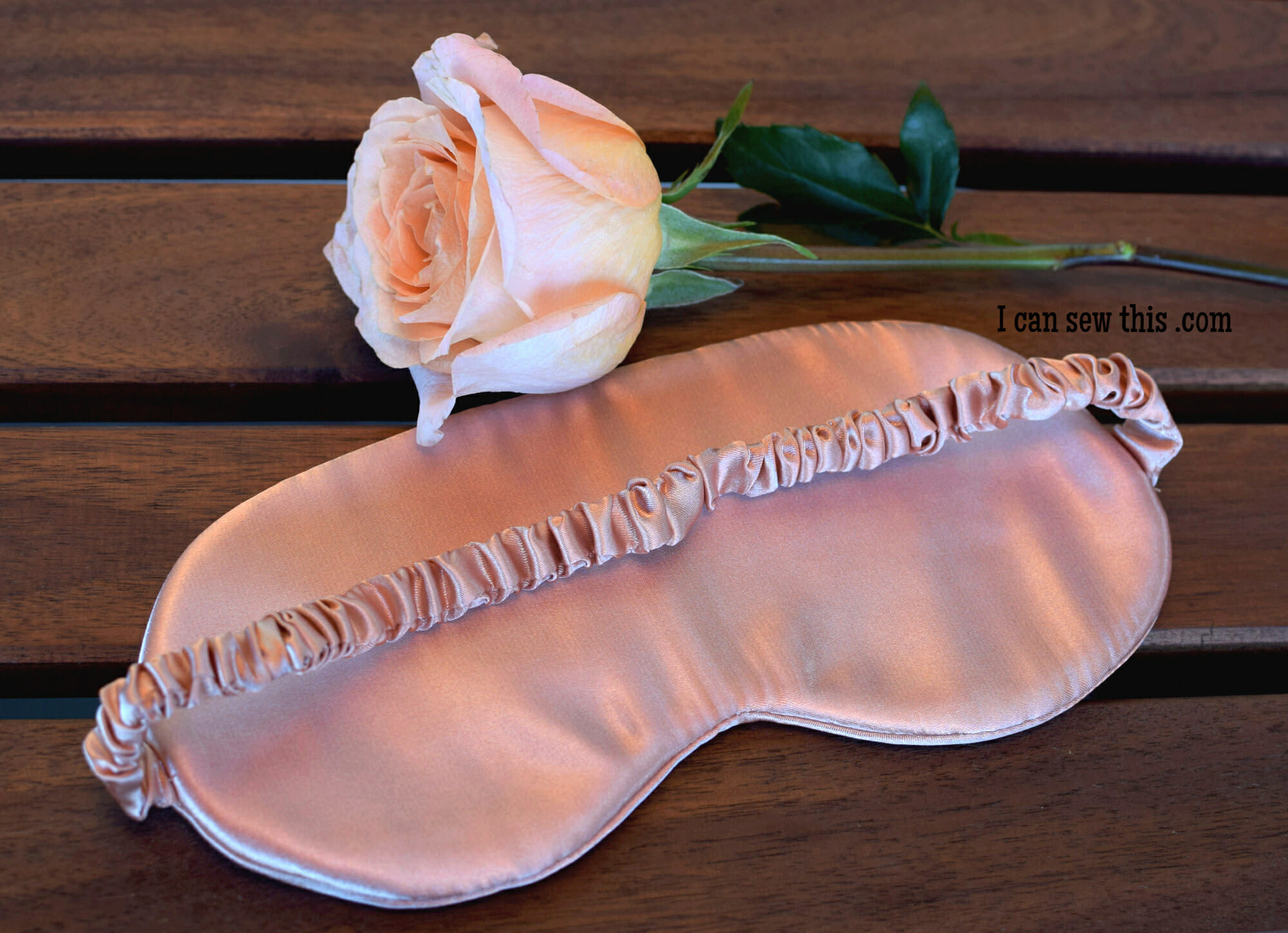 I can tell you this satin mask feels incredibly soft against the skin and it's very comfortable to wear. Also, it is 100% functional, blocking out all unwanted light, and it does help you get the best sleep possible.
It should be mentioned that while satin is a slippery fabric and notoriously difficult to sew, adding fusible interfacing makes sewing satin a breeze! It was basically as easy as sewing cotton fabric!
The finished eye mask is a bit oversized – approximately 8.5 inches long and 3.5 inches wide.
Satin eye mask – sewing supplies
Free eye mask pattern – download PDF below
Fabric of choice – I used silky satin fabric.
fusible interfacing + iron and ironing board
batting or something to fill the mask – I used fleece.
How to make a beautiful eye mask
Step 1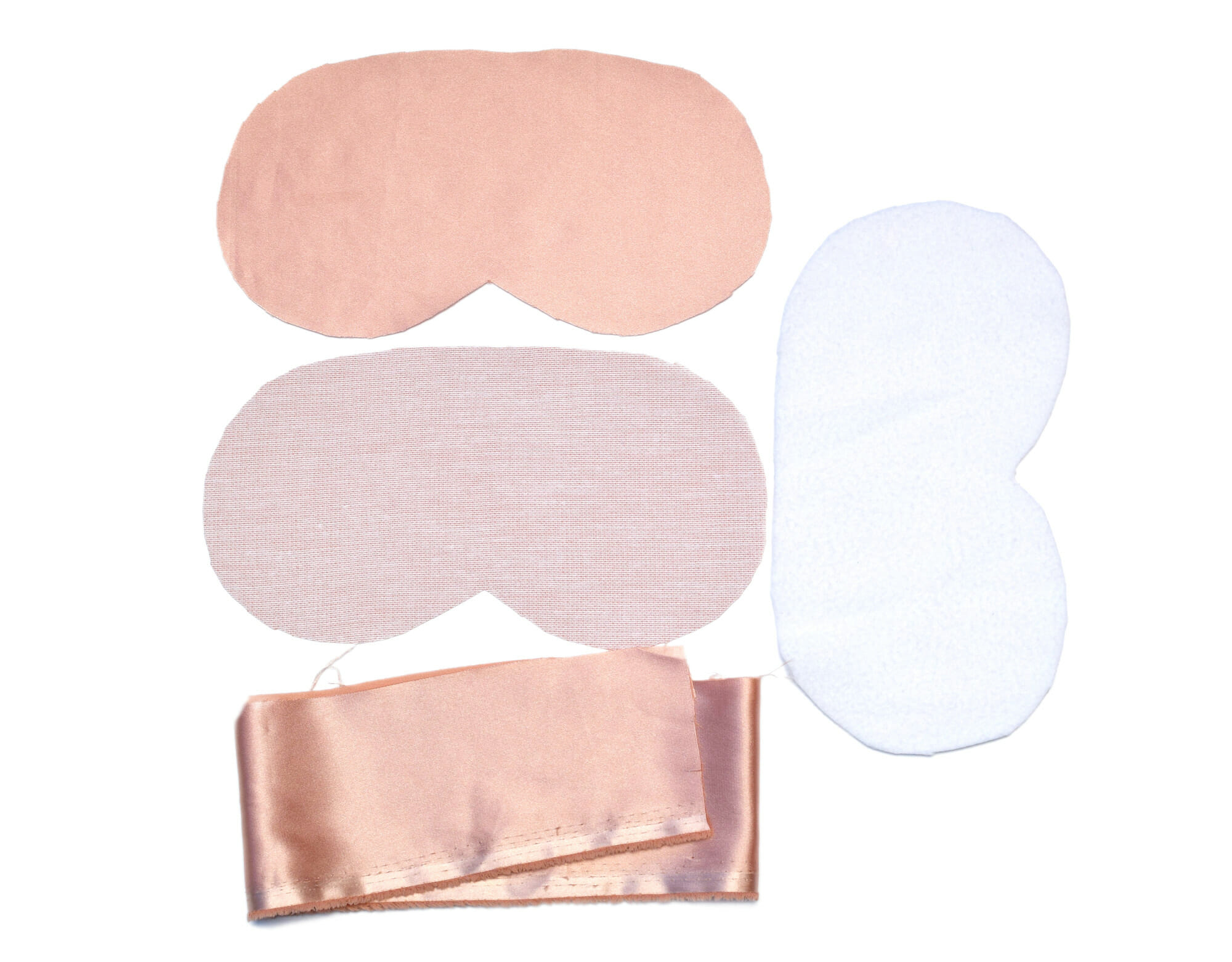 Apply the interfacing to your satin fabric. Place the fusible interfacing with the right side (the sticky side with bumpy, raised dots is the right side of the interfacing) to the wrong side of your satin fabric.
Press with an iron – the heat will melt the adhesive dots and stick the interfacing to the fabric.
Next, cut your fabric pieces. All my pieces are the same size – 2 eye mask pattern pieces in satin with fusible interfacing and 1 pattern piece in fleece.
I used weights and scissors to cut my pattern pieces, but it's easier with a rotary cutter. Do not use pins, you don't want to snag the fabric.
Now cut a long rectangular strip of satin fabric, 30 inches in length and 1 ½ inch wide. (Mine is a bit wider because I cut the strip with my scissors and just eyeballed it)
Step 2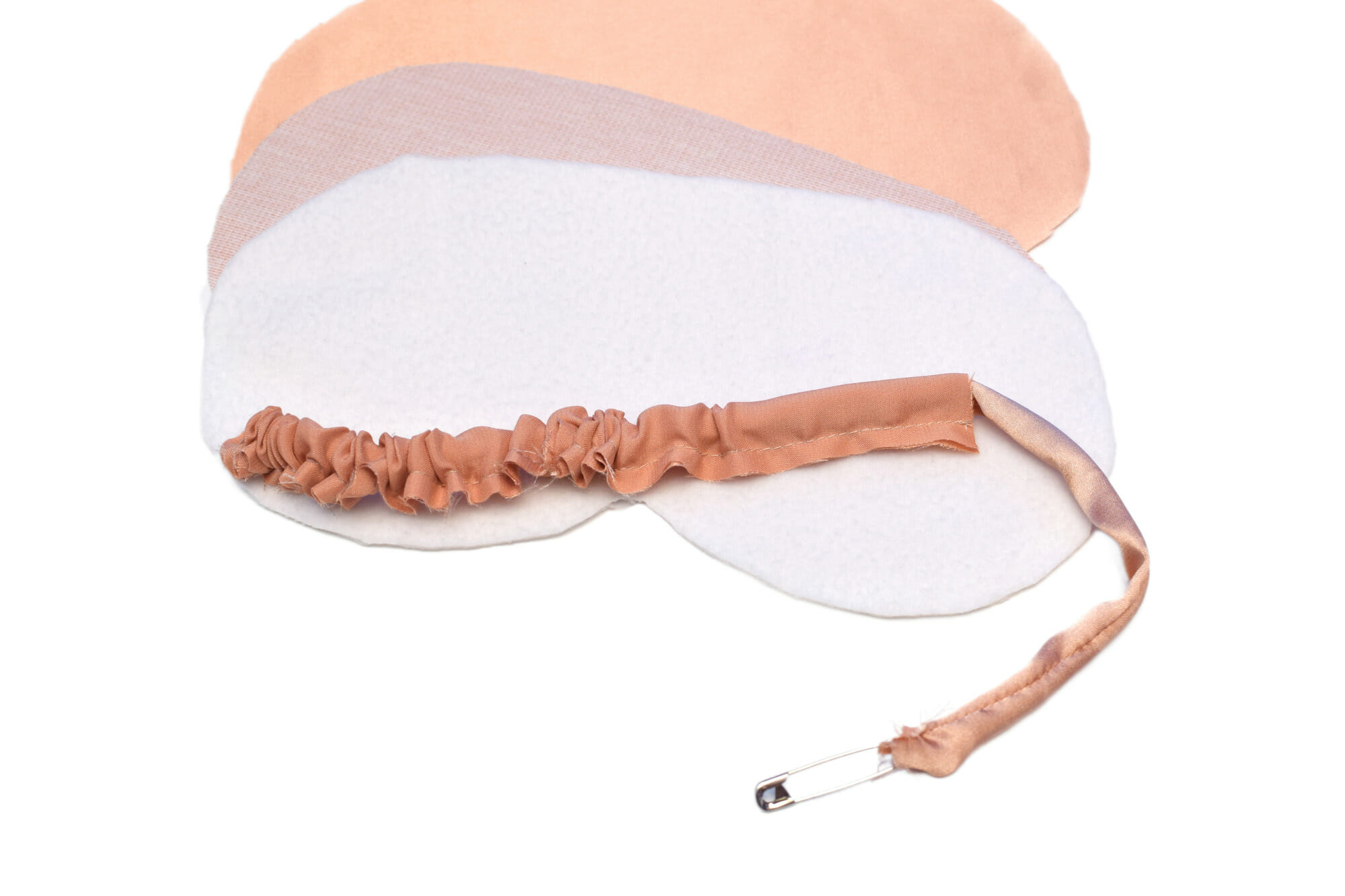 First, let's make the casing for the elastic. Fold the long strip in half lengthwise, with the right sides together.
Use a sewing gauge to make sure your sewn tube will be 5/8 inch wide. Pay attention to the guides on your sewing machine footplate to sew a straight line.
Now, attach a safety pin to one end of the tube and turn the safety pin back to the inside of the tube. Push it until it comes out to the other end. Your casing will now be right side out.
Step 3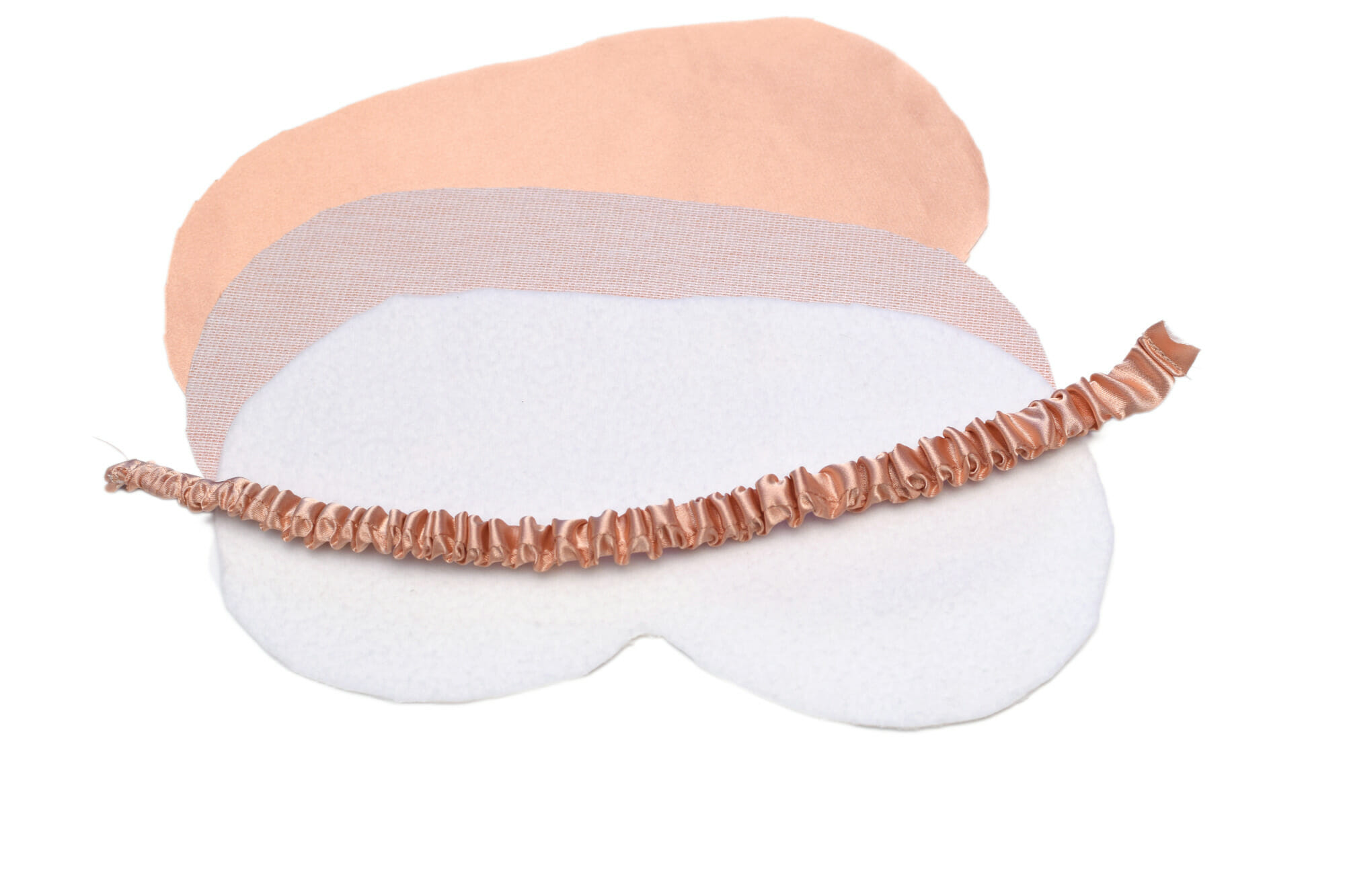 Cut the elastic and insert it into the tube, using the same safety pin.
The elastic should fit comfortably – tight enough to hold the eye mask in place, but not too tight to press on the eyes and hurt on the back of your head.
The length of the elastic depends on the size of your head and could be anywhere from 12 to 15 inches. To find the best fit for you, just stretch a piece of elastic around your head, from ear to ear (approximately).
Sew across each tube opening to secure the elastic in place, as shown in the picture above.
Step 4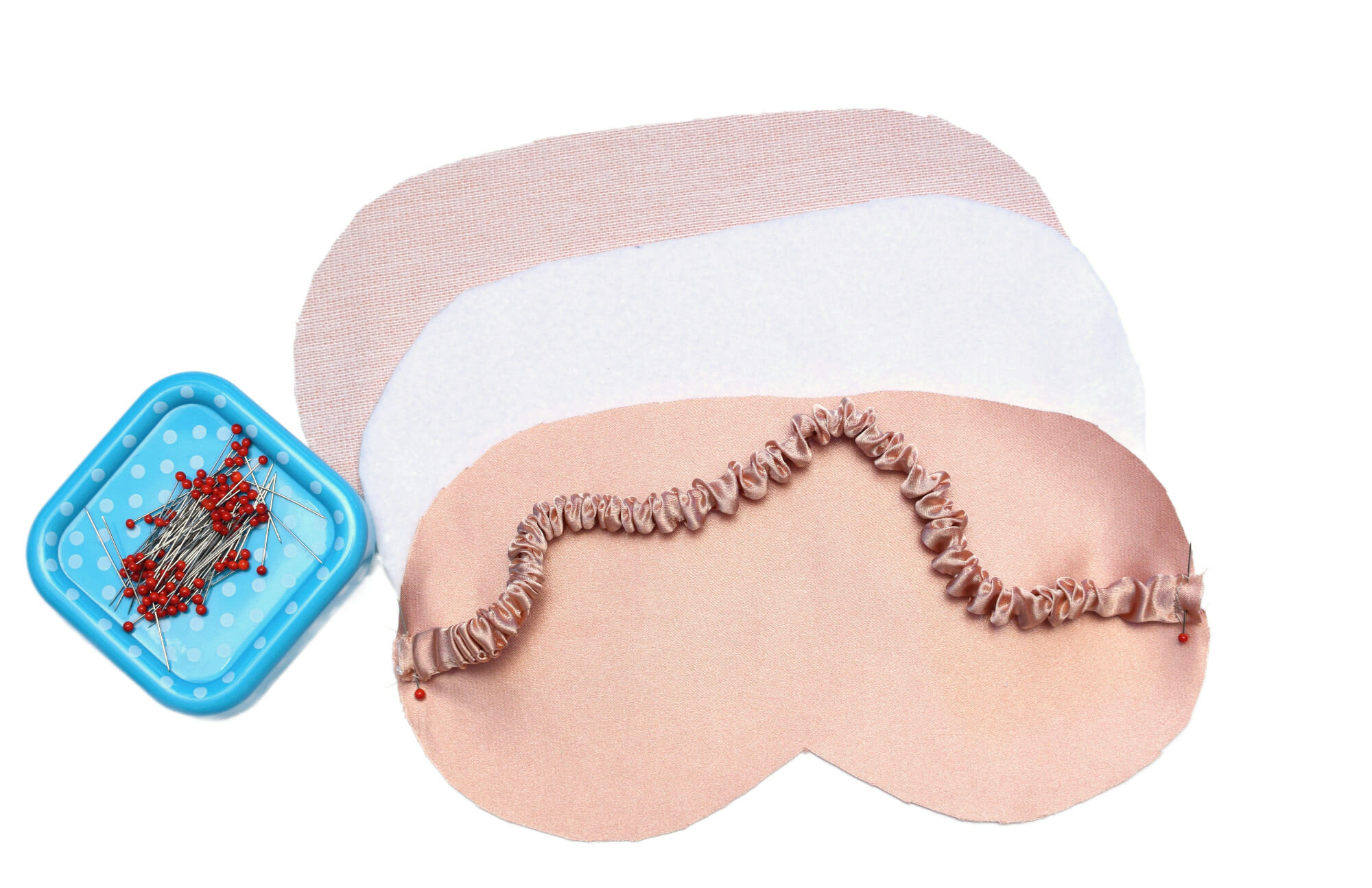 Sew both ends of the elastic tube to one of the eye mask pieces, with right sides together. Make sure the tube isn't twisted.
Step 5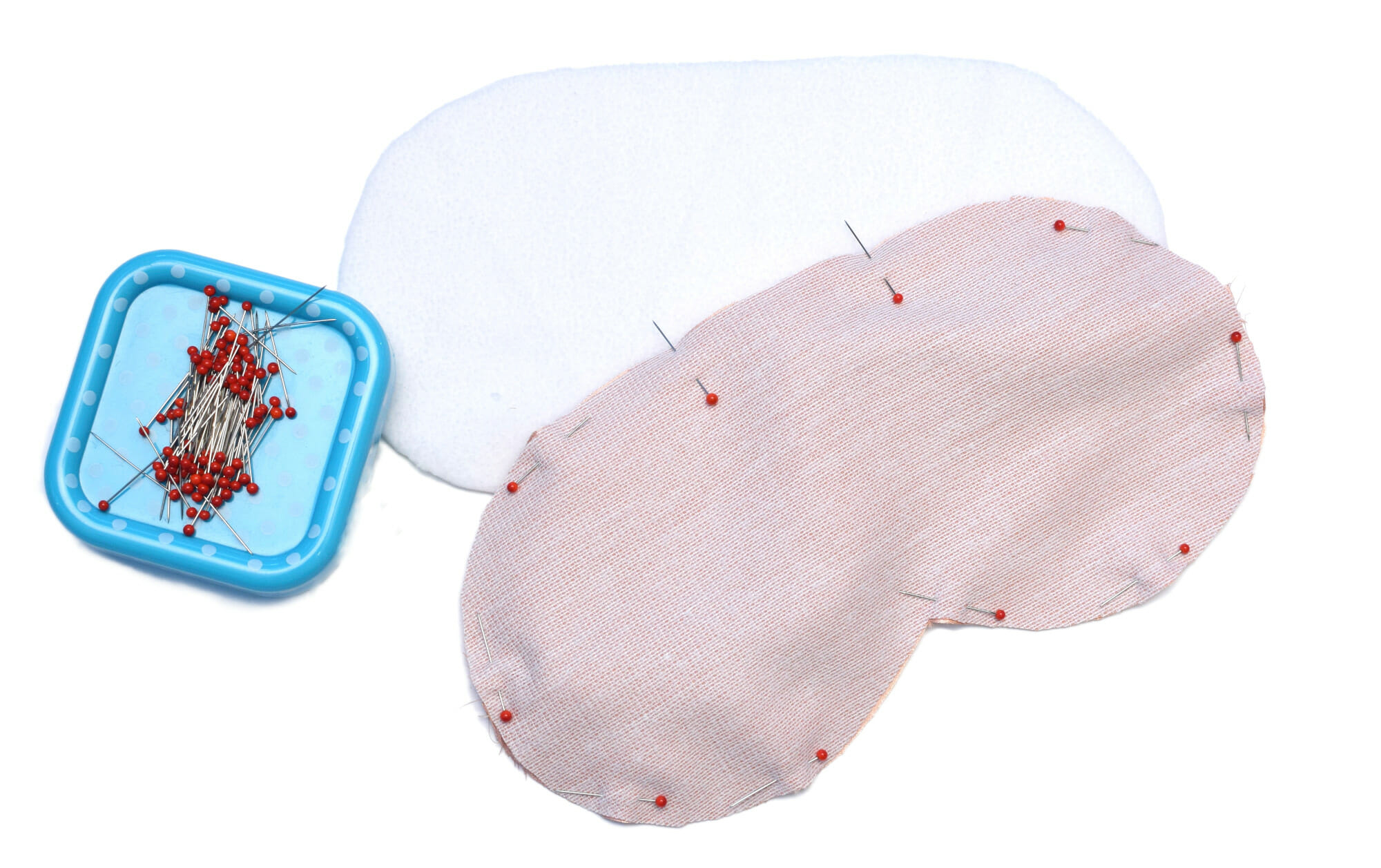 Pin the two satin pieces, right sides together, with the elastic tube tucked inside.
Stitch around the eye mask using a 1/4 inch seam allowance.
Remember to backstitch at the beginning and the end of your seam, and leave an opening of about 2 inches at the top of the eye mask (I marked mine with vertical pins).
The top is the only straight part of the eye mask, hence the best place to position your opening. Anywhere else it will be harder to close the gap and at the same time maintain the curved shapes of the eye mask.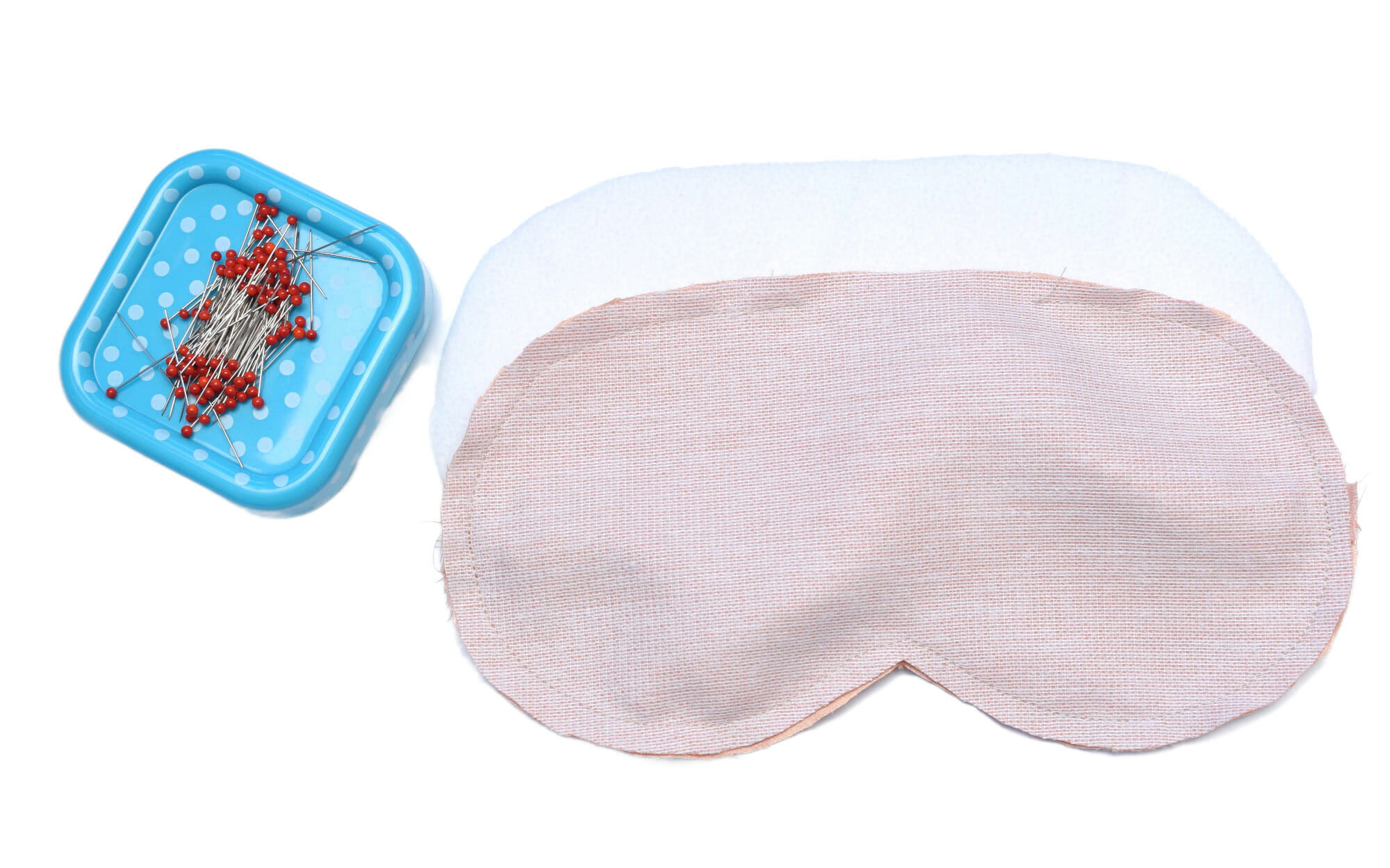 Step 6
Pin the batting/fleece layer to the eye mask, and sew along the same stitch line.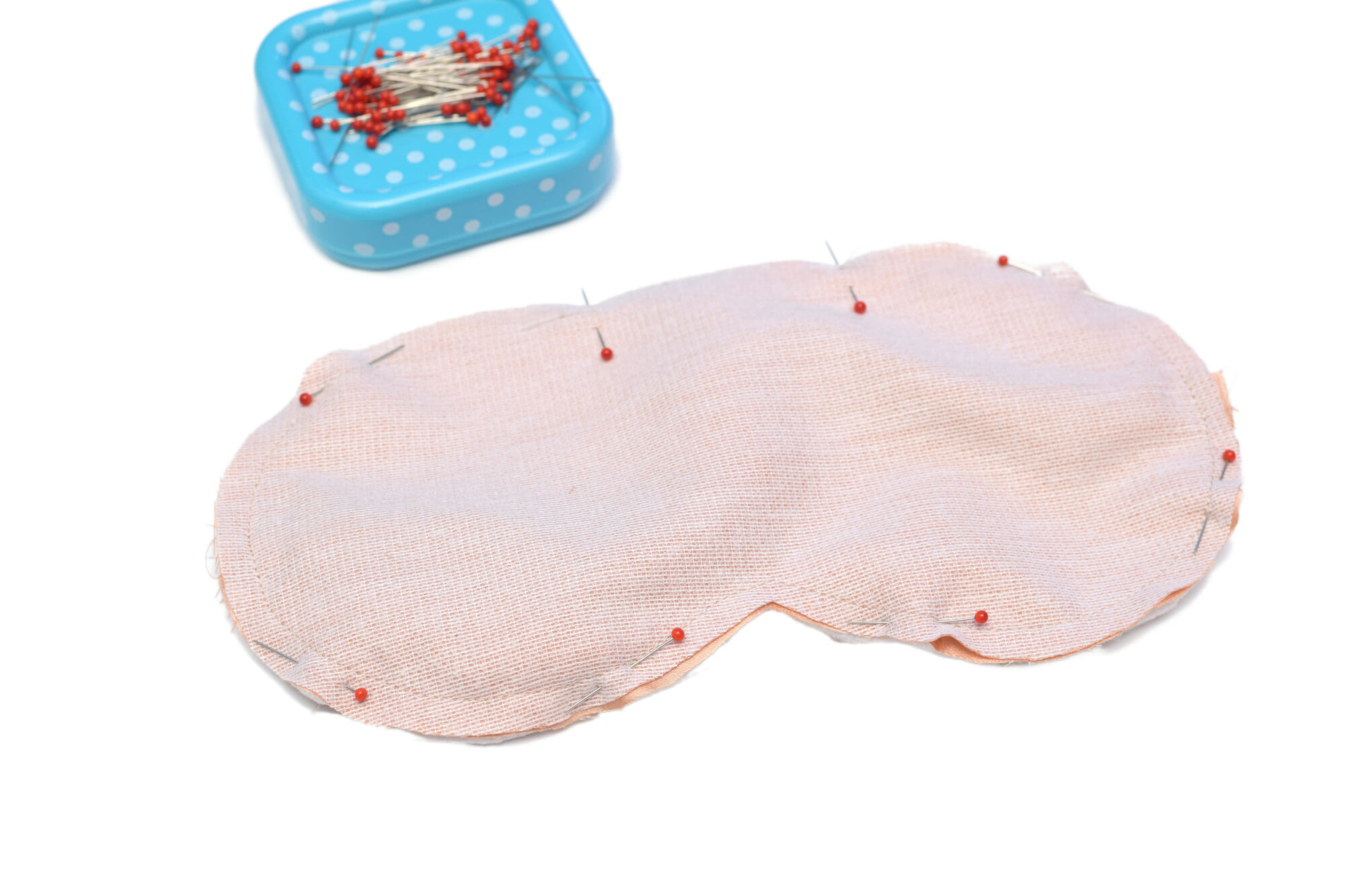 Step 7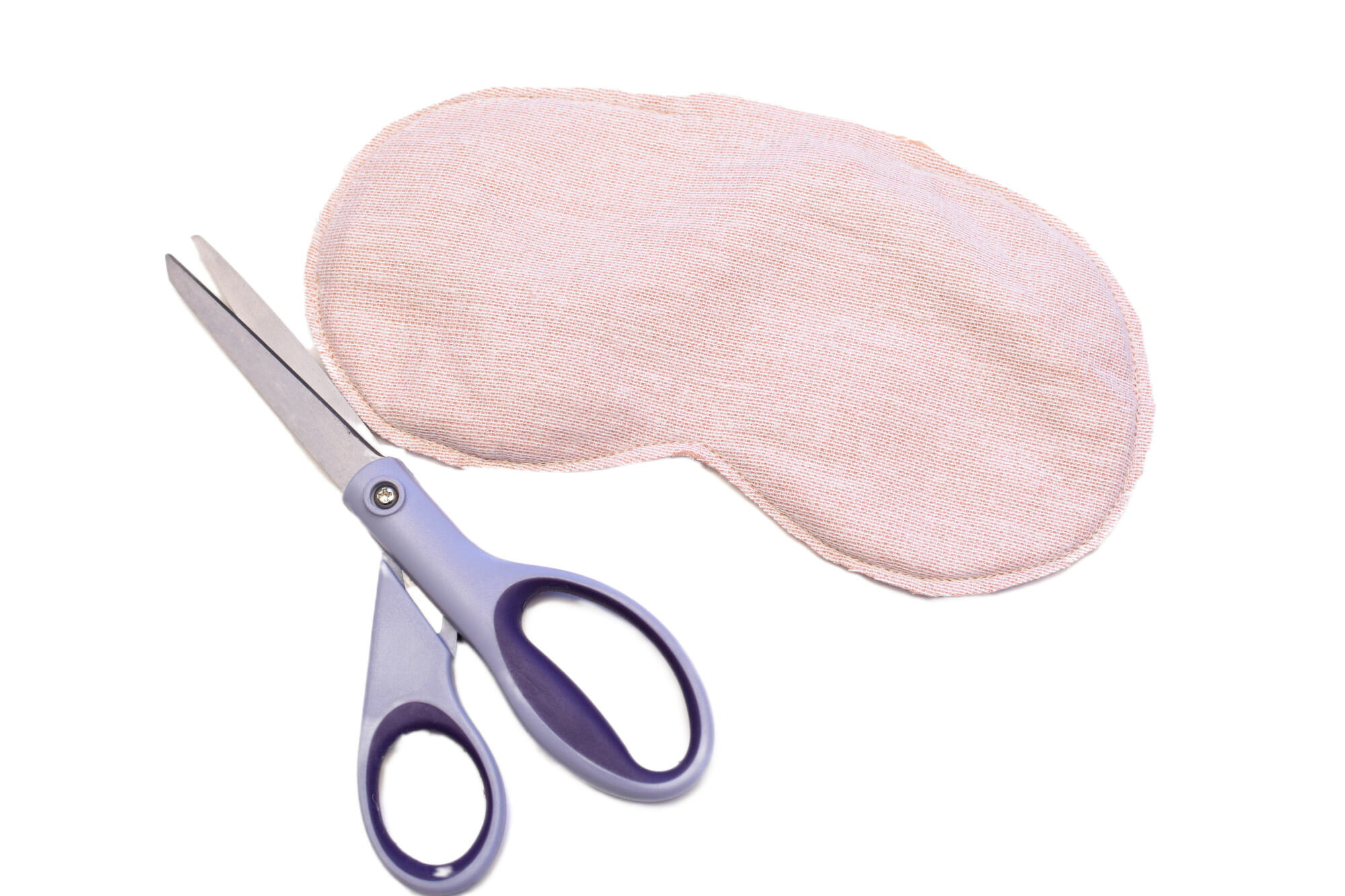 Trim the seam allowance down to about 1/4″- 1/8″, but don't trim right at the top of the eye mask.
Turn the eye mask right side out and use your fingers or a chopstick to smoothen the curves.
Step 8
Fold the seam allowance at the 2″ gap inside, and do your best to create a nice, smooth line. Hand-sew the opening using a slip stitch and a matching thread.
I hope you enjoyed this tutorial and you'll soon start making your own super soft eye masks!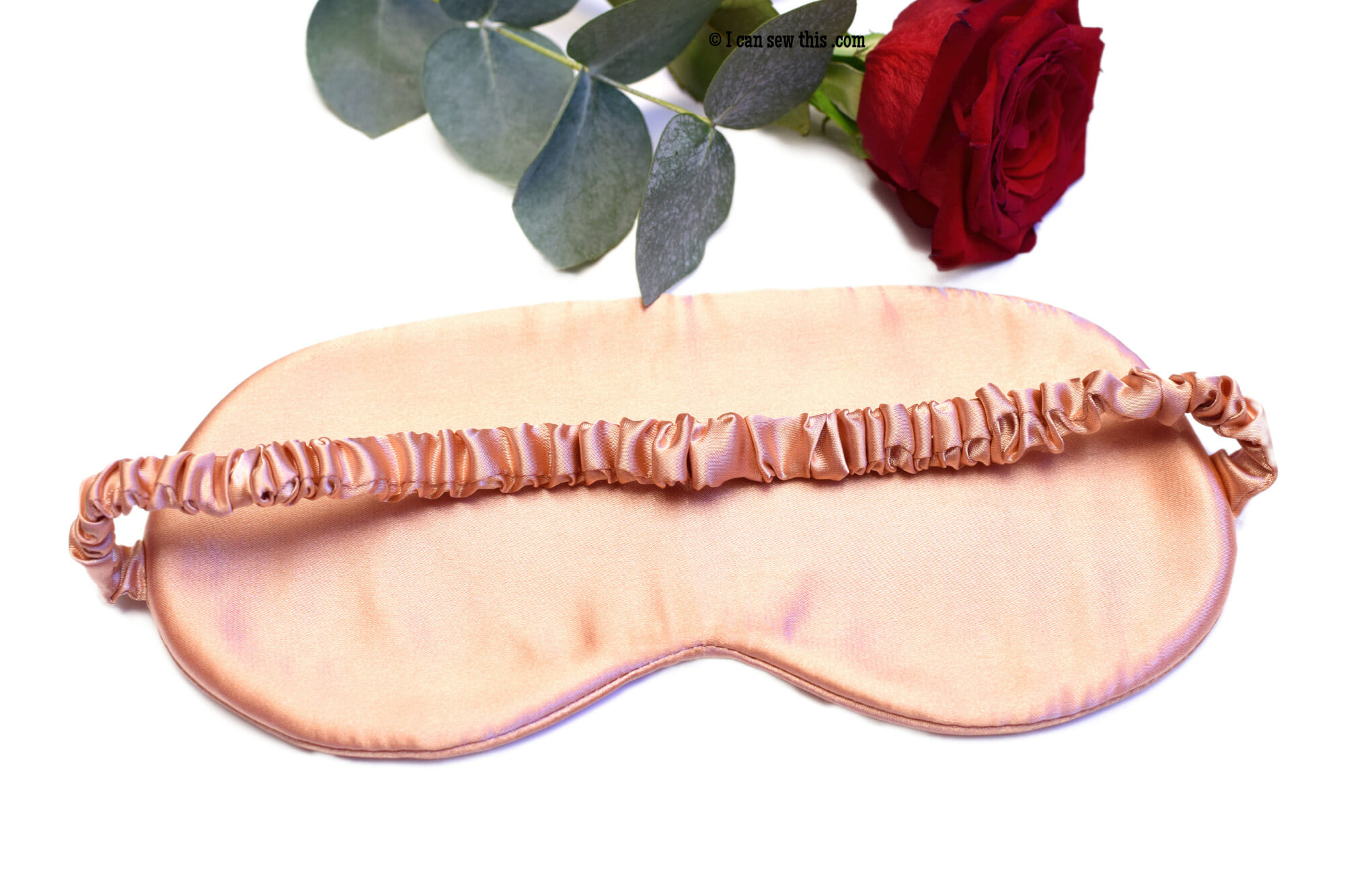 Let's keep in touch! You can find me on Facebook, Instagram, and Pinterest.