Easy t-shirt refashion. Add some cute ruffles to your toddler's t-shirt and put into good use some of your fabric scraps. Here's how to make your own ruffle tunic from a t-shirt, with step-by-step photos.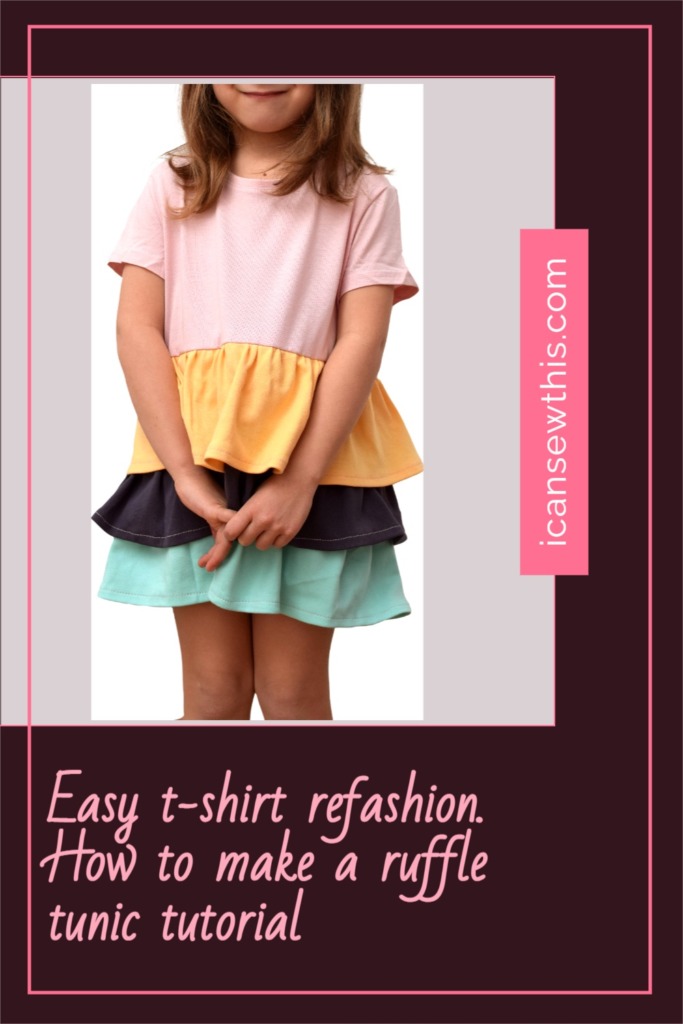 This easy and fun sewing project is a great way to upcycle some of your leftover knit fabrics.
I started with a plain t-shirt that fits my daughter, to which I added three tiered ruffles. My girlie girl loves ruffles and colorful and comfortable clothes.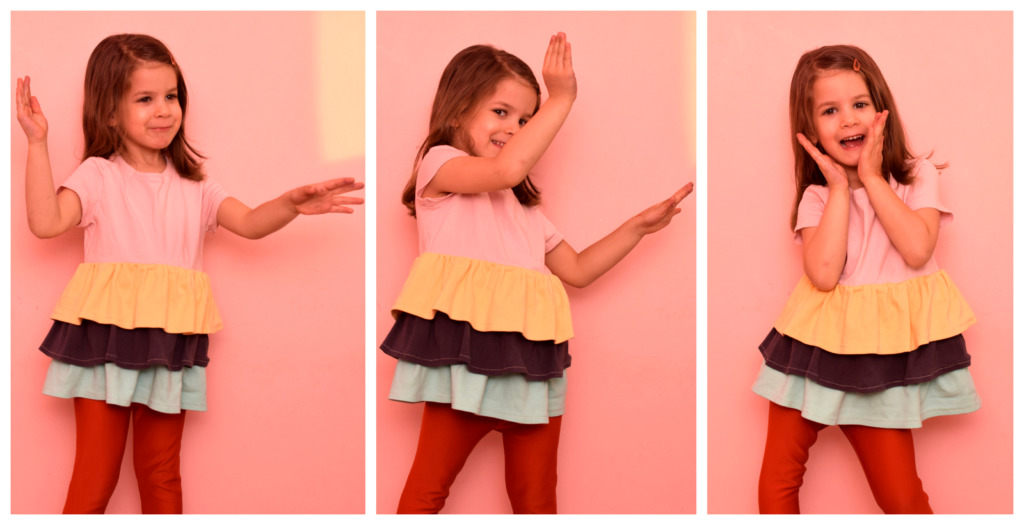 This ruffle tunic stops below the hip line and looks great with leggings or skinny jeans. Depending on how tall you cut your ruffle pieces, you can make your tunic shorter or longer. Read on for all the details.
My tunic is too short to be worn simply by itself, as it might be seen.
Easy way to refashion a girls' t-shirt
Here's the thing. I've lost my sewing mojo big time recently, so with this t-shirt refashion I decided to try something I've never done before:
Some good old mindless sewing. This time I did not worry about getting everything right. And I certainly didn't strive for a beautiful artwork with perfectly finished seams.
I wanted to make a practical and cute little thing using only straight lines, in one sitting.
So, all of my seams are left finished – I did no trimming, no serging, I didn't even bother switching to a zigzag stitch. All you'll see here is straight seams.
Was it a good decision? Well, it was a bit crazy, and right now I kind of regret it. It would have been so easy to use the serger, as it was already threaded (can you imagine that?). But in all honesty, my little one will never know the difference, and it's still a win!
The tunic will certainly hold up well and it's super pretty from the outside.
Plus, my sewing mojo is back! Next time I will surely finish the seams.
Are you afraid of sewing with knits?
Well, it might be because you don't have the right needle for this type of project. If you are frustrated with skipped stitches or thread getting tangled up, just use a ballpoint needle or a stretch needle (keep both at hand) when sewing with knit fabrics.
You can definitely sew knits on your regular sewing machine. Stop fiddling around with your tension dials and bobbin case, just change the needle. It works like magic, you'll see.
Sewing supplies – easy t-shirt refashion
Knit fabric scraps
Measuring tape
Scissors
Sewing pins / sewing clips
Here's how to make your own ruffle tunic from a t-shirt
Step 1
If you don't know where to place the first ruffle, a good rule of thumb is to measure the length of your t-shirt from underarm to bottom and divide that measurement by 3. Mark this point on both sides of the t-shirt with chalk or a fabric marking pencil.
Use your fabric scissors to cut across that line.
My yellow ruffle starts just above the natural waist of my daughter, and the distance from the underarm to the bodice hem is 3 1/2 inches for her 5T/6 t-shirt.
Then cut the bottom hem off of your t-shirt, right above the stitching line.
Next, measure the side seams of the connector piece and mark the midpoint, then cut straight along that line. You'll now have two smaller connector pieces.
Step 2
For the ruffle pieces, you have to multiply the connector length by 1.5. Then, decide how tall you want your finished ruffle to be. Keep in mind that after sewing the layers together and hemming, the ruffles end up about 1 inch shorter.
My ruffle pieces here are each 5 inches x 40 inches. I used scraps of interlock knit fabric.
Step 3
It's easier to hem your ruffle piece before gathering it, so do that first.
After that, baste two lines around the top edge to gather your ruffle, then pull on the basting threads. You should gather your ruffle to the same length as each connector piece.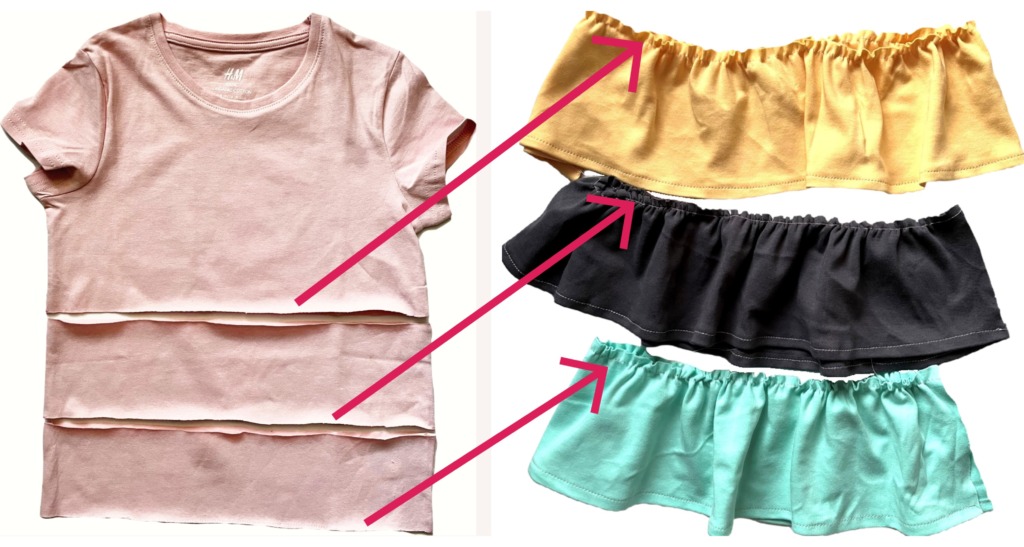 Step 4
Match the first ruffle (mine is the yellow one) to the top edge of the first connector piece – the right side of the connector piece to the wrong side of the ruffle. Stitch, then finish the seam (optional).
Then match the second ruffle (mine is the black one) to the bottom edge of the connector piece, right sides together, and stitch.
Your ruffles should now look like this:
Step 5
Place the second connector piece over the ruffles, like this:
The right side of the connector piece should face the wrong side of the second ruffle (mine is black).
Now you'll sew the last ruffle to the bottom of the t-shirt. To do this, place the ruffle (mine is mint green) over the connector piece, right sides together, and stitch.
Notice how the hem of the ruffles is all folded to the inside. It would have been nice of me to trim that seam allowance, I know.
Step 6
Place the bodice inside the ruffle skirt, right sides together. Pin into place along the waistline matching the side seams.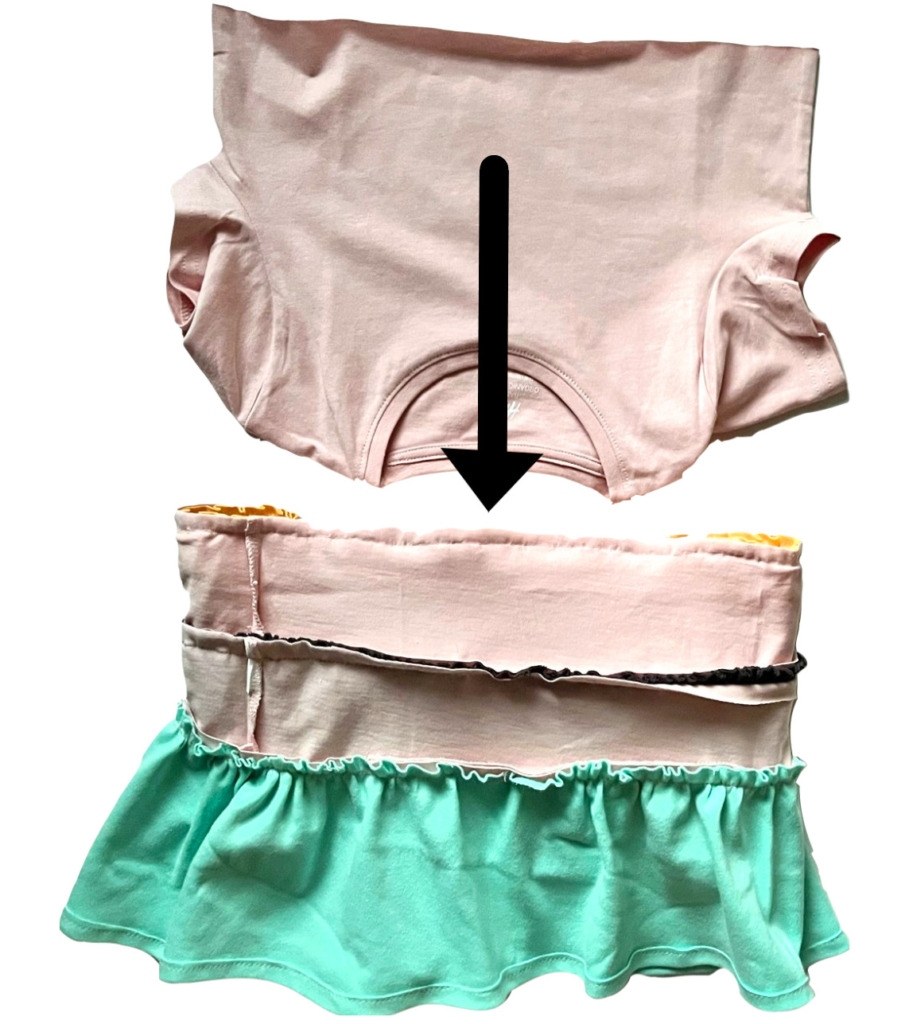 Stitch, then finish the seam (optional).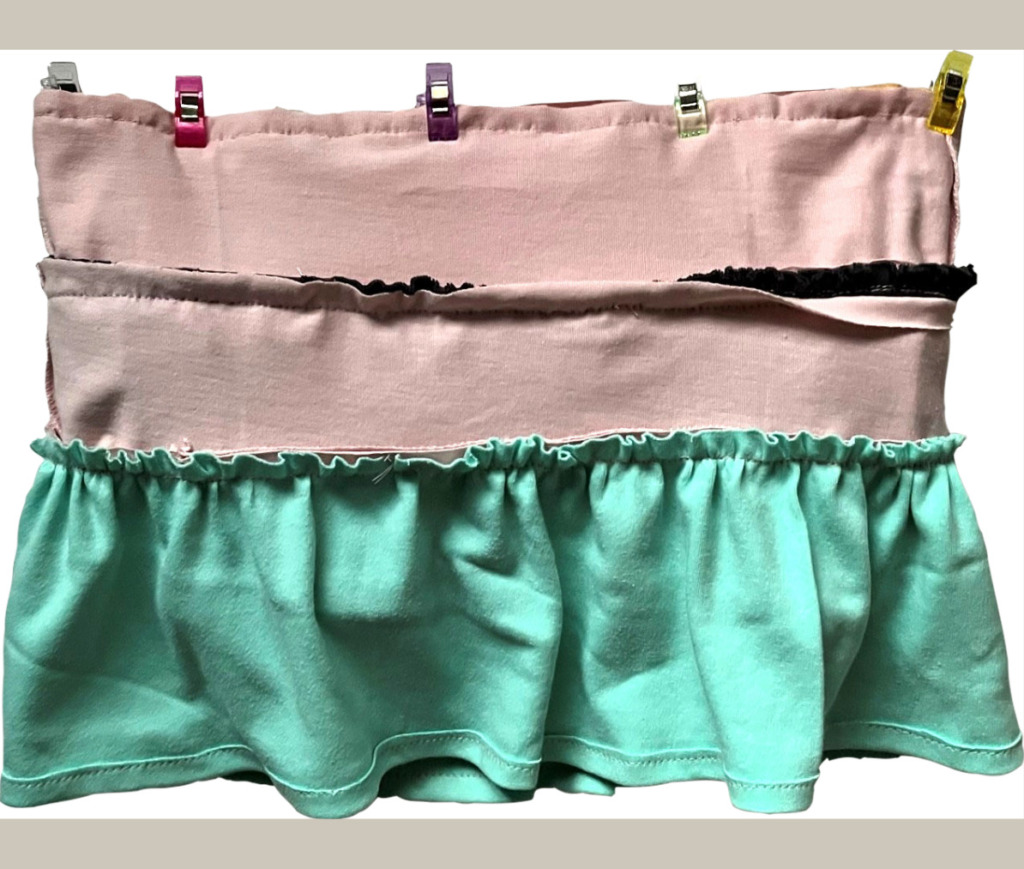 Step 7
Press the first two horizontal seams down, towards the skirt, and the last seam up. After that, topstitch from the outside.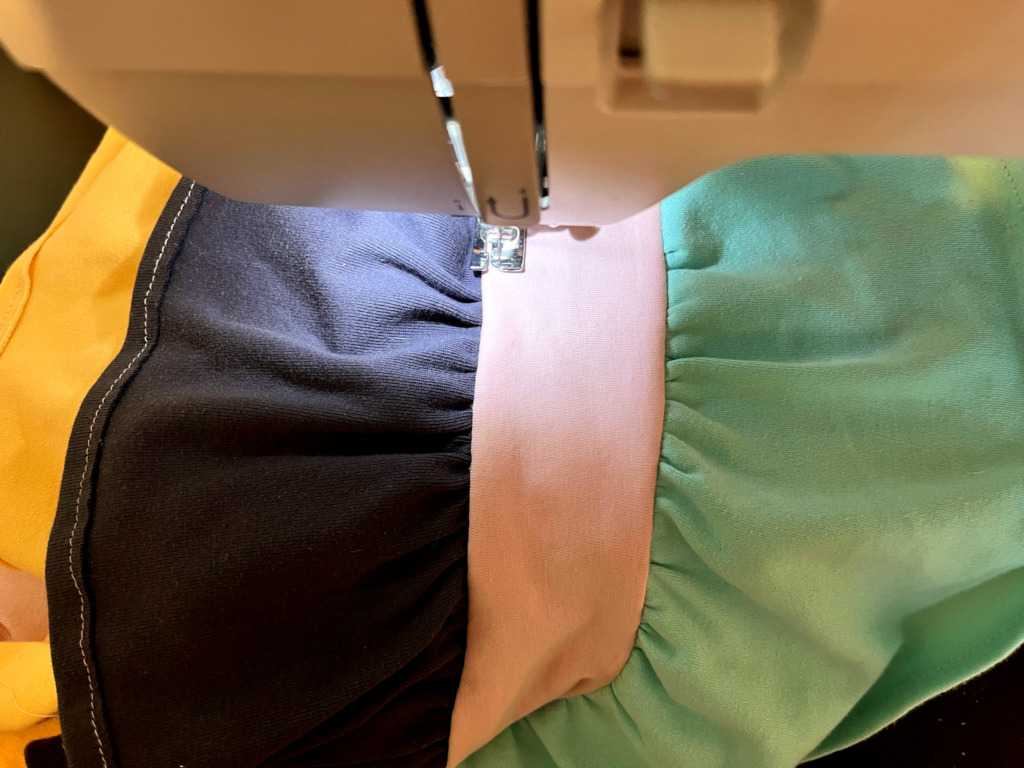 You have to sew around the circumference of the ruffle tunic to reinforce the horizontal seams and reduce the bulk at the waist. This is the result: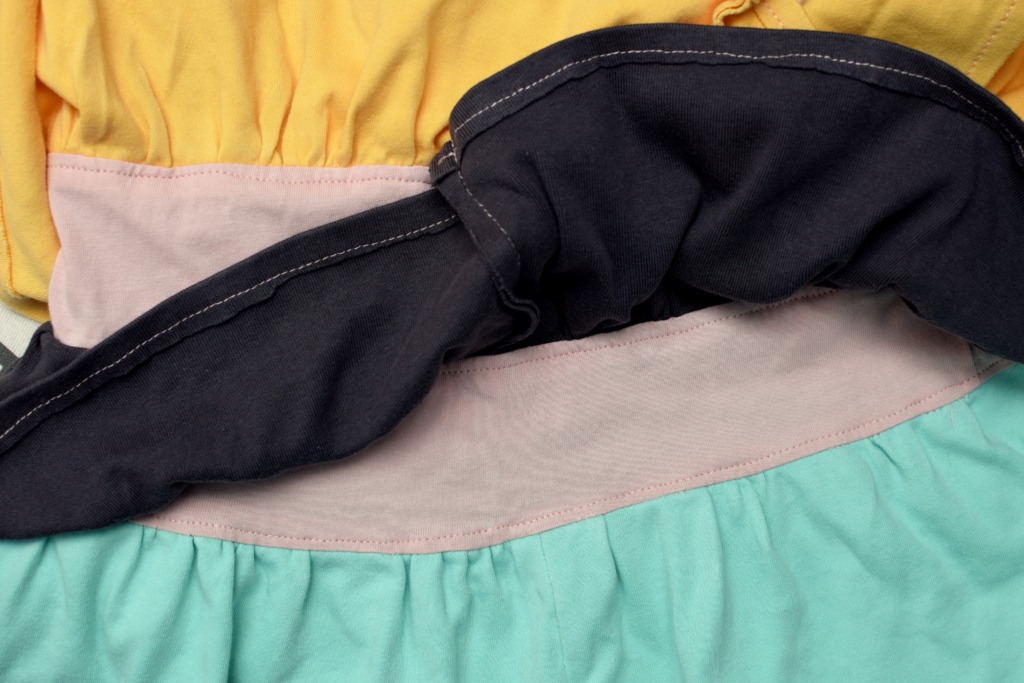 And that's all! This cute DIY ruffle tunic is so easy to whip up!
I always love seeing what you make, so please don't forget to tag your projects with @icansewthis when sharing on social media.
Hope you enjoyed this sewing tutorial, see you next time!
Let's keep in touch! You can find me on Facebook, Instagram, and Pinterest.