Here are YouTube's 15+ most popular sewing channels right now, that work both as learning resource and inspiration. This is a list of the best sewing vloggers to follow this year. Watching sewing videos is a wonderful way to learn sewing techniques for your projects, at your own pace.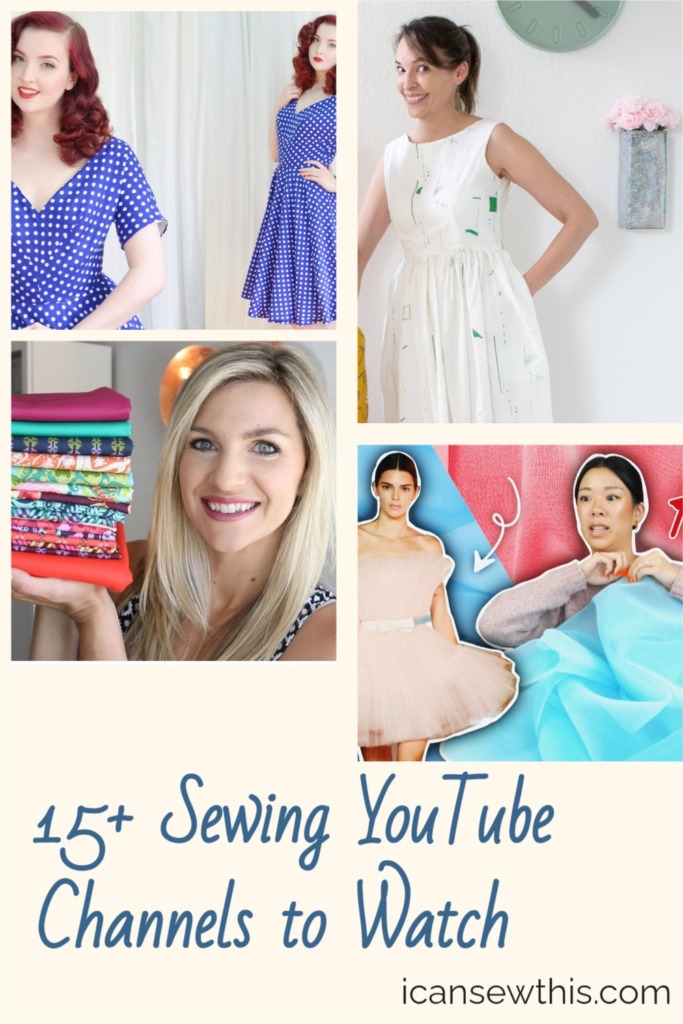 I have always loved watching sewing vlogs. It's like having a virtual friend (and at the same time a real person) patiently explaining to you things and breaking down everything you need to know about sewing.
Isn't it amazing?
Besides, you get to see someone else's sewing room, their sewing hacks, how they maneuver the fabric pieces and the sewing machine at any given moment, or where their fingers are placed while inserting an invisible zipper or sewing the elastic.
Related: The best sewing machines for beginners
15 best sewing vloggers to watch on YouTube
Sewing videos are helpful not only for beginners but for advanced sewists as well. It's an easy and quick method to improve your sewing skills and I used it extensively when I was just starting out my sewing adventure.
Related: 10+ Free Face Mask Sewing Patterns
So here are 15 of my favorite sewing YouTube channels, in no particular order. All of them are regularly updated by their owners who vlog their hearts out to create quality sewing tutorials, attract viewers, and keep them watching.
If you like these channels, be sure to hit Subscribe. I think these vlogs are an excellent sewing resource tool to have on hand.
15+ Sewing YouTube Channels to Watch
---
Melanie Ham
Melanie Ham is a Youtuber and blogger and her channel offers weekly sewing, crochet, and quilting tutorials with beginner-friendly step-by-step instructions.
One of her most popular tutorials is the first video in the Your First Quilt Series.
Annika Victoria
Annika is an amateur sewist from Japan who is trying to make her own wardrobe and loves to share the things she learns along the way. She also loves recreating fast-fashion trends and expensive high-street items for myself from things she's picked up from the thrift store.
DIY Reformation Inspired Shirred Top is one of her most popular videos.
Angela Clayton
Angela Clayton is a hobbyist seamstress and costume maker who makes a lot of historically inspired things and ruffly dresses. Her main inspiration is historical fashion.
The making of this gorgeous 1950's polka dot dress is one her most viewed Youtube videos.
Professor Pincushion
Professor Pincushion offers weekly sewing tutorials for beginners that cover everything from sewing basics to fun and original projects.
How to create and sew a tulip sleeve tutorial, where Tova from Professor Pincushion shows how to alter a common sleeve pattern to create tulip sleeve pattern pieces, has over 222K views on Youtube
MADE Everyday
Dana Willard from Made Everyday loves to sew, make, and share. Her favorite projects are simple ones, using everyday items. She believes anyone can learn how to sew and all her tutorials have a relaxed, easy-going atmosphere.
How to Make a Circle Skirt – for any age + any size tutorial is one of the most popular videos on her Youtube channel.
Coolirpa
April's Coolirpa channel is all about DIY Fashion and upcycling old clothes into something new. It's actually exciting and addictive watching her recreating expensive clothes for only a few dollars. April is very cool indeed.
Just watch her transforming old clothes in her closet and giving them a new life.
Made by Aya
Aya from Japan loves sewing and upcycling.
There are lots of refashioning clothes tutorials on her Made by Aya channel, and one of the most viewed is "Refashion DIY Men's Shirt into Romper Jumpsuit".
Melly Sews
Melly Sews is run by Melissa Mora and covers pretty much everything you needed to know about DIY sewing. She shares sewing tips and projects of all kinds – from clothing and decor to accessories.
Watch Melly in action sewing pockets on dresses and skirts in this tutorial.
Sew Very Easy
Sew Very Easy is a vlog hosted by Laura Ann Coia, who hopes to inspire people to spend more time sewing. Laura is a freelance educator & registered professional with 45+ years of experience, including seamstress – quilting – tailoring – garment repairs – garment construction and teaching, so you might want to take a look at her videos.
To get a taste of what Laura offers, take a look at her Modern, Quick and Easy Quit Pattern video.
With Wendy
Wendy is based in Toronto, Canada and makes her own clothes. She loves to share her creations and show you how you could do it yourself.
Her tutorial "I sewed THAT tulle dress (H&M x Giambattista Valli)" has close to 1M views on Youtube.
Kim Dave
Priscillia Okpan, the owner of Kim Dave channel, is a Nigerian fashion creative based in London. She creates DIY fashion, lifestyle, and style-related videos every week.
This video where she shows how to make a box pleated circle skirt pattern has close to 1M views on Youtube.
Sewing Times
Nancy Kwon is a sewing vlogger from South Korea and she loves to make all kinds of things on her sewing machine. She has lots of tutorials on how to sew awesome bags.
This "DIY cute makeup bag" tutorial has over 1.8M views on her Youtube channel.
Mimi G Style
Mimi Goodwin is a popular and talented Puerto Rican blogger, vlogger, and DIY fashion influencer who shares her passion for making clothes with the world.
One of the most popular videos from her Youtube channel is this wrap dress sew-along.
Made to Sew
Made to Sew is run by Aneka Truman, who offers weekly videos with step-by-step tutorials and tips for beginners. She also shares lots of dressmaking techniques and free sewing patterns.
One of the most viewed tutorial on her page is "How To: Copen Shift Dress / Top (Beginners Dressmaking)".
Debbie Shore
Debbie Shore shares sewing videos since 2011, but doesn't profess to be a sewing expert and admits she's the accidental sewer, having learned over the years mainly through trial and error. Her tutorials are clear and easy to follow, and lately, she published lots of videos for kids to help them learn how to sew.
Here's Debbie teaching kids how to thread a needle, knot the thread, sew a running stitch and sew on a button, and then use these skills to make a felt monster. Pretty cool, right?
Related: 20+ Easy Sewing Projects for Kids
The Crafty Gemini
Last but not least, Vanessa from The Crafty Gemini posts weekly tutorials on things like sewing, quilting, crafting, but she shares videos on various topics like cooking, baking, or gardening. She's relatable and energetic and real, I like her.
Watch her in action, making a fabric envelope tutorial.
These are 15+ most popular (and my favorite) sewing vloggers right now.
Please let me know if you watch any other sewing vloggers that you would recommend!
I'd love to hear from you!