Girls' dresses are one of my favorite items to sew. This is my first attempt to make a DIY girls long sleeve dress from a self-drafted sewing pattern. I used a bedsheet cotton fabric, in case the experiment would be a failure, but the dress actually turned out cute, comfortable and totally wearable.
You should know by now that I'm no sewing expert. I do know a thing or two about sewing, but I still have so much more to learn. I sometimes feel like an imposter writing here, but I keep going anyway. One of the reasons I started this blog is to improve my sewing skills and I'm happy to announce that this really works!
How come? Well, for one thing, I certainly became a lot braver and more confident.
My goal right now is to learn to sew cute dresses for my two daughters. A few days ago, I finally bit the bullet and drafted my first bodice pattern for a long sleeve dress. Let see how it went!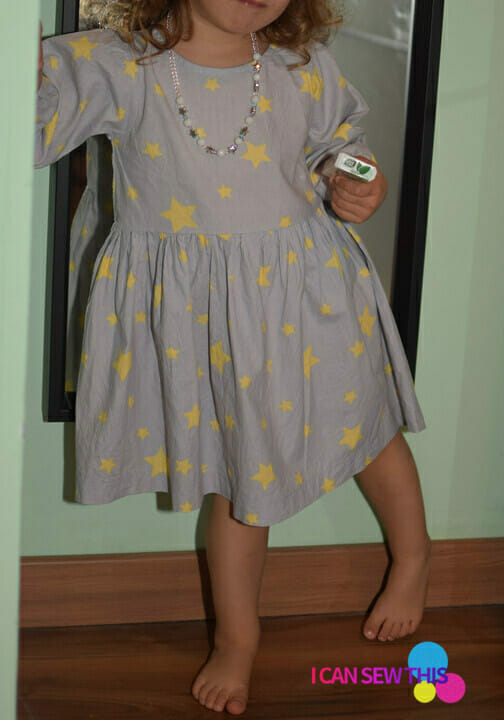 All of these years since I started sewing, I've probably made a total of 5, maybe 7 girls' dresses. Each time I used a PDF pattern – never dared to draft my own.
Related: Easy DIY wool dress for girls. No pattern, self-drafted
However, I know that I can't keep buying patterns every time I want to make something, because costs are piling up and, while sewing is an amazing outlet for me, I don't want this to be an expensive hobby.
I've always admired Jessica from Craftiness is Not Optional – she makes her own patterns for girls' dresses and her creations are such an inspiration for me.
This time I felt ready and I just did it – I did not take any measurements, I did not read anything on the web, I just took a sheet of paper and a crayon and started drawing a full bodice. I made sure I added seam allowance and ease.
My idea of pattern testing is to just lay the sheet over an existing t-shirt – how primitive, right? But it kind of works, I can tell you.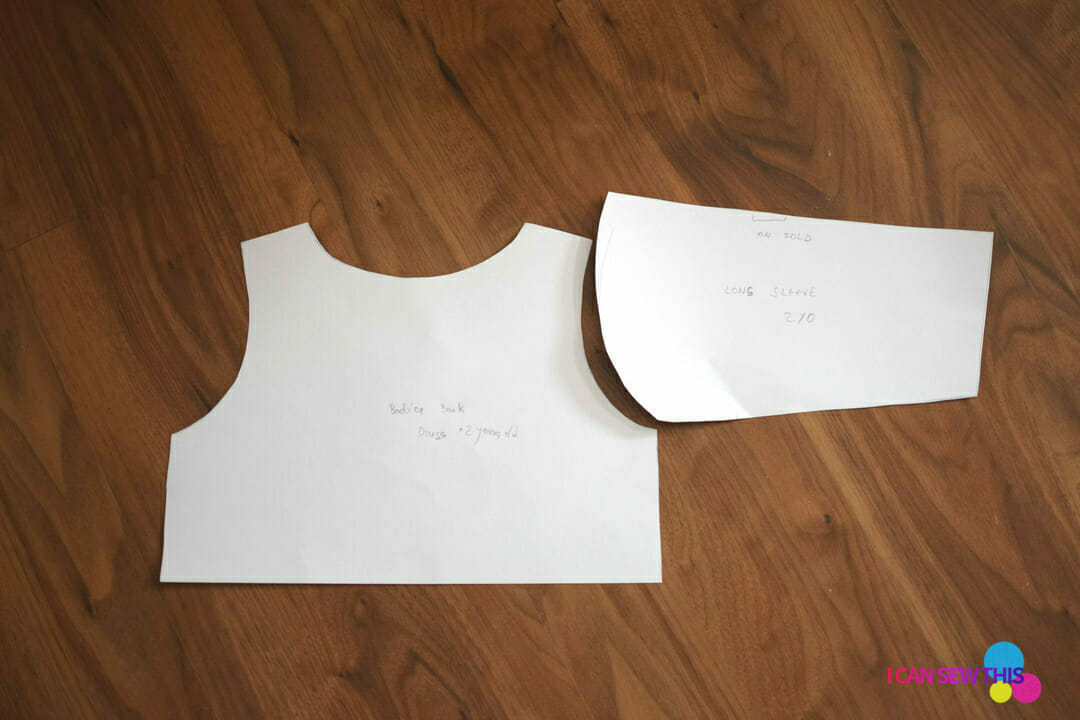 As you may see, my armholes are not symmetrical – there's a slight difference between the right and the left one, but that's no biggie. I'm terrible at drawing.
If you're an experienced sewist, you've probably identified by now the biggest problem with my pattern.
And that would be the sleeve positioning, I think.
That's how I ended up with a dress that looks like this when laid down.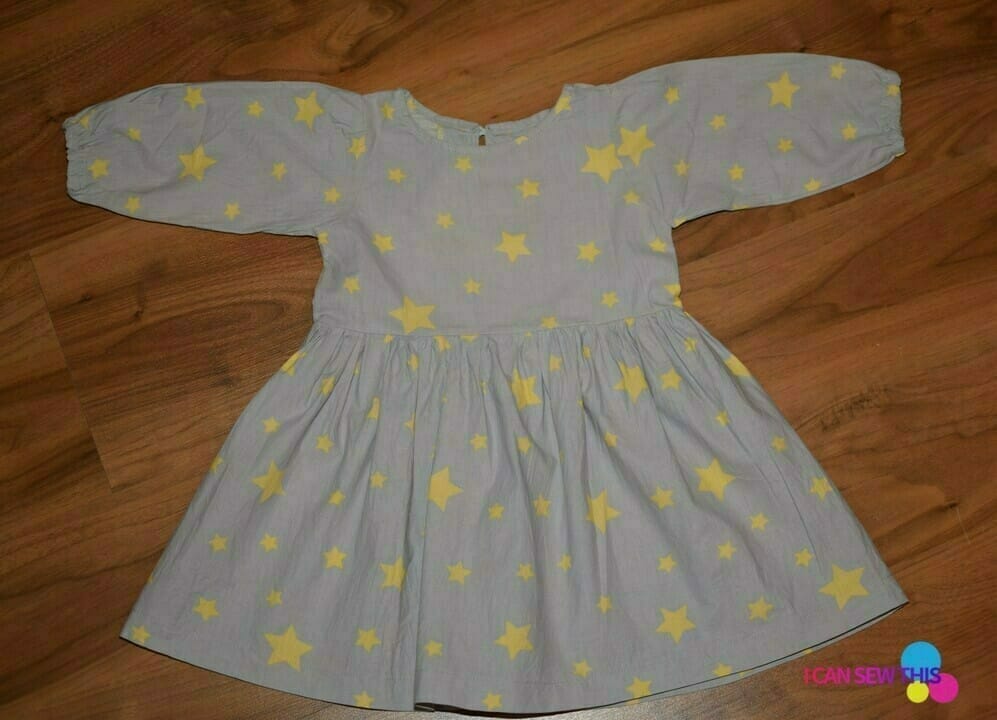 My dress is ready to take off!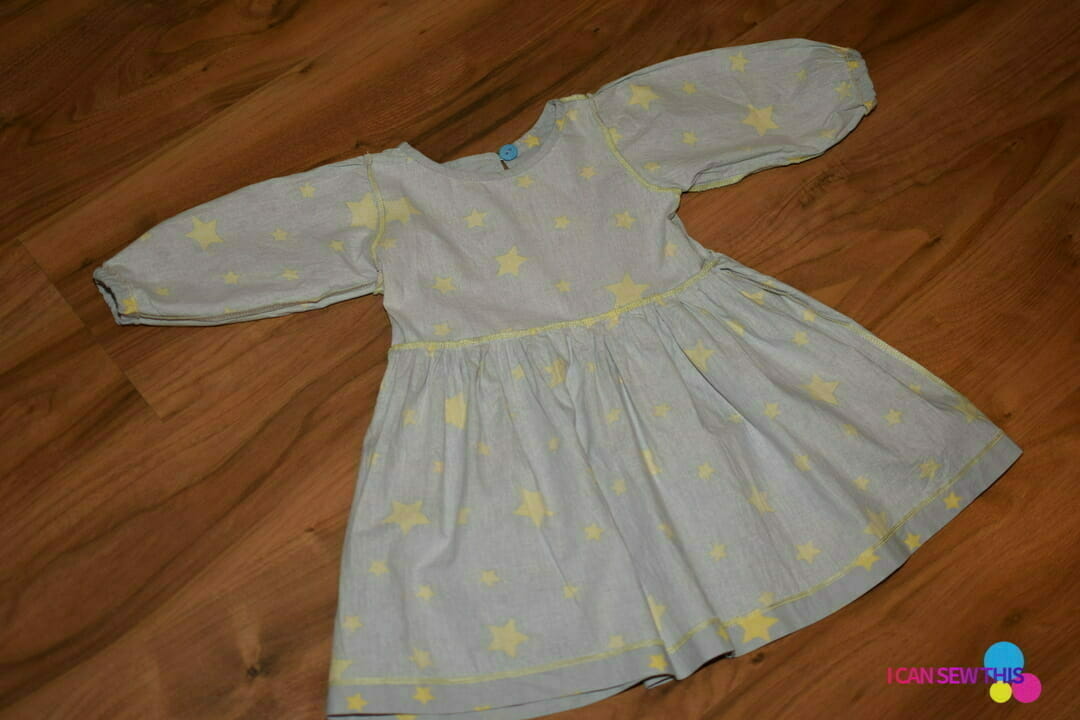 It's so funny, isn't it?
I was able to appreciate the humor of the situation, too, since this experiment is not actually a failure.
The dress fits well, my daughter genuinely loves her cute and comfy stars dress, and has already worn it two days in a row.
I took these pictures after the dress was already worn, washed and dried – and a keen eye observer would also notice my poor ironing skills.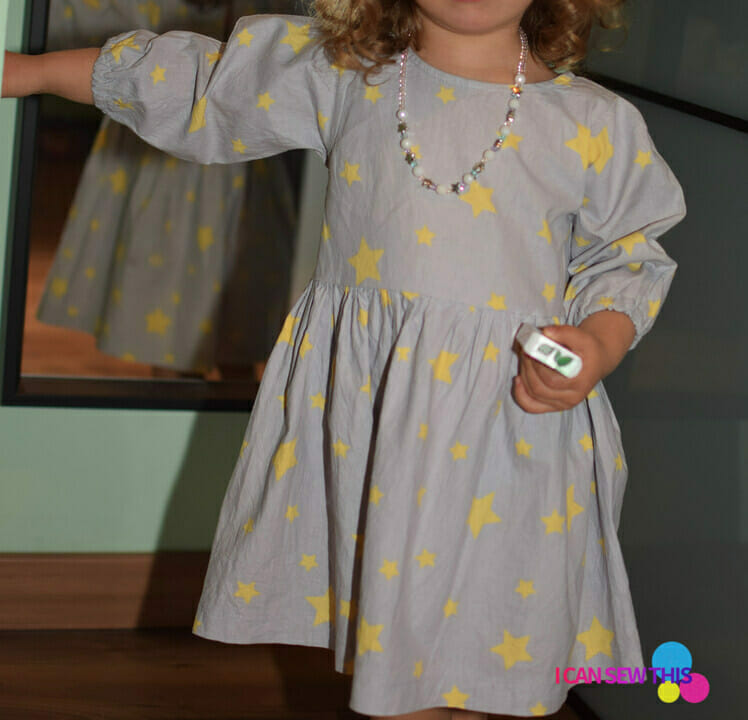 The dress has a lot of wrinkling around armpits, but the puff sleeves saved the day.
In spite of this flaw, the dress is wearable, it looks nice, and I gained a lot of confidence. I'd dare call it a success!
This is a zipper and buttonholes-free long sleeve dress, as I still dread those things. Instead, I chose a back slit and a button loop closure.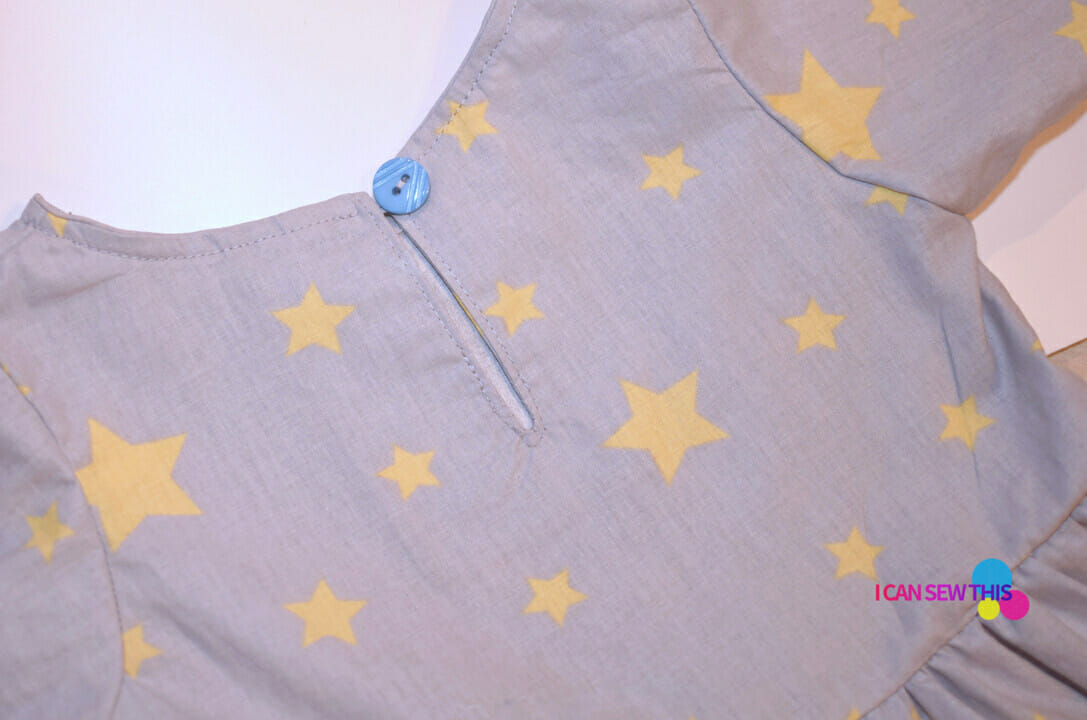 I'm so pleased with this button closure – see the inside details. I'm happy to report I did NOT use the iron to press the back slit, but my fingers.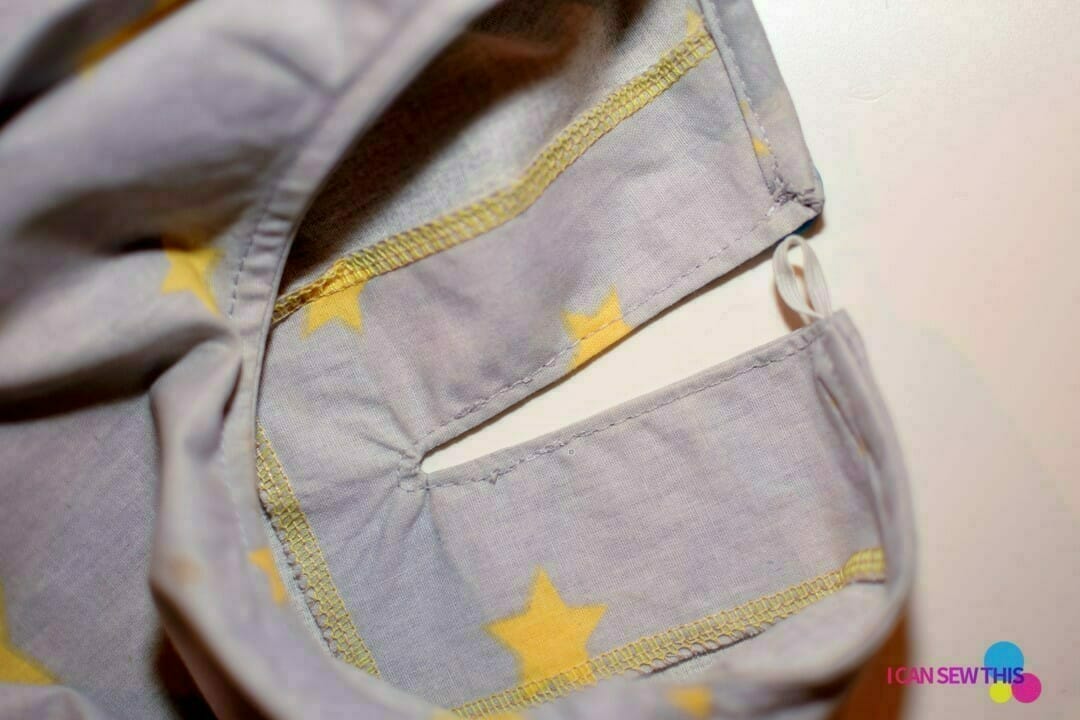 To finish the neckline, I used an amazing trick called staystitching. This super simple step made sewing the bias tape around the neckline a piece of cake. I will always use this technique from now on for the neckline and armholes.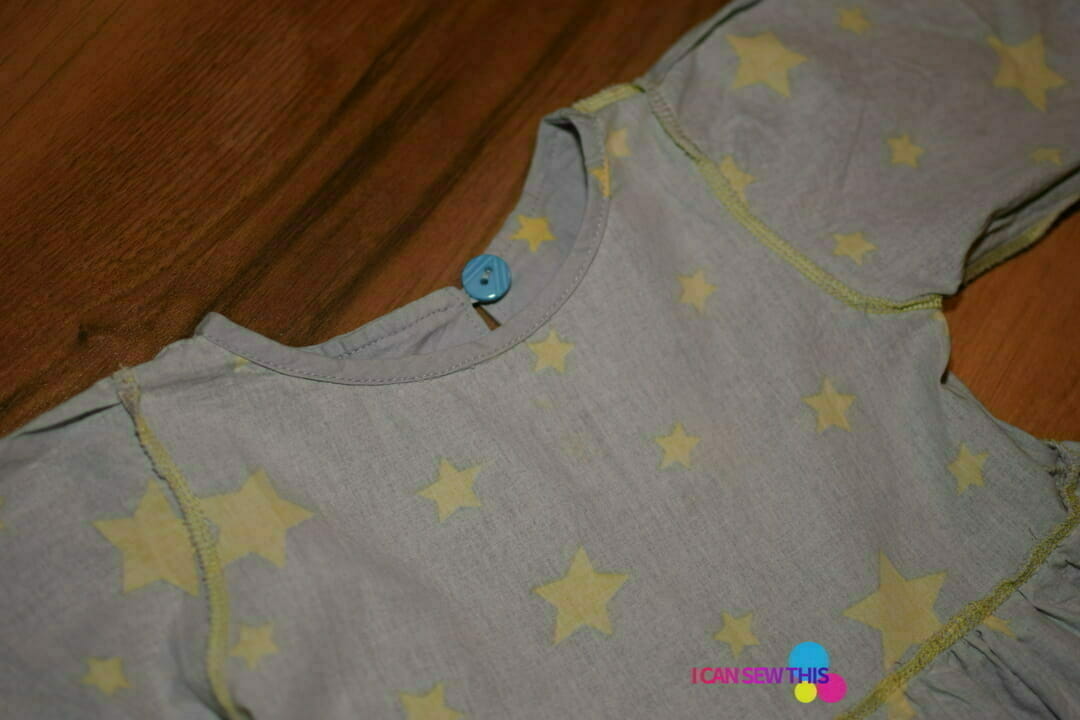 This dress is only a test, since I made it with a cheap bedsheet cotton fabric, but will still be worn around the house.
I plan on making a few more cute dresses for my youngest daughter to wear at kindergarten – she's a super girly girl. If all goes well, I'll be posting here more tutorials. Keep your fingers crossed! 🙂
Also, I'd be grateful if you could share some tips on how to get an adorable and stubborn toddler to cooperate for pictures. I had to bribe her with tic tac for this quick photo-shoot, but she would not sit still for a second.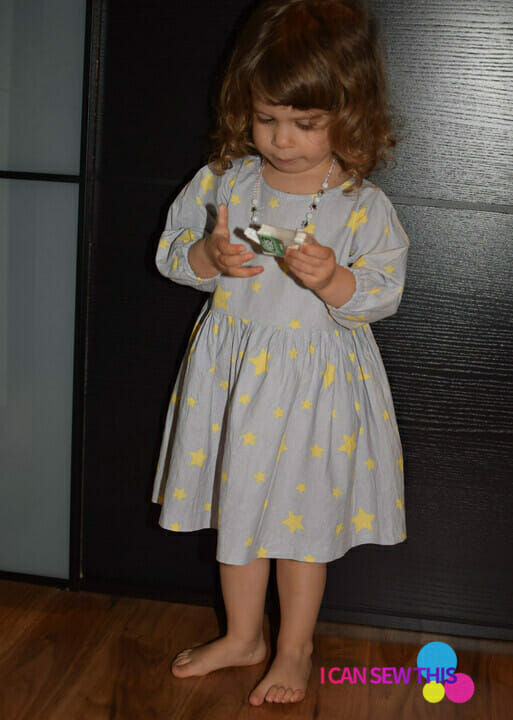 Let's keep in touch! You can find me on Facebook, Instagram, and Pinterest.