Learn how to make a fluffy one-seam tutu skirt with this easy sewing tutorial. This cute tulle skirt only has one seam at the waist and is a cool and satisfying DIY project.
For this skirt, I used 118 inches wide soft tulle fabric – the type that comes in bolts. This type of tulle fabric is used primarily for wedding dresses, veils, and occasion wear.
To construct my 15" long skirt, I used 6 tulle rectangles, each measuring 30" by 118".
In total, I used 2.5 yards of tulle for this project. The finished skirt does not have a lining – there are only 4 layers of tulle fabric.
Here's how I made this skirt. First, I placed together two rectangles of tulle (one on top of the other), then I folded both in half, lengthwise.
The folded edge will become the elastic casing of the skirt. To keep the layers in place, I hand-basted them near the folded edge, then machine-stitched the elastic casing with a 3/8" seam allowance. I repeated the steps for the remaining 4 tulle rectangles, then threaded a narrow elastic through the casing of all 3 folded tulle pieces. And done! Simple as that.
I love my sewn tutu skirt. It looks pretty neat and well put together.
This fun skirt is semi-transparent, so I'm not sure I'd wear it as-is on the street, even though the 4 tulle layers provide a good amount of coverage (see the video below). It works great though with leggings, tights, or bike shorts.
Sewing supplies – DIY one-seam tutu skirt tutorial
Here's how to make a one-seam tutu skirt
Step 1
Cut your tulle pieces. It's easier to cut tulle that comes from a bolt using a rotary cutter and a cutting mat.
I cut 6 rectangles using the width of the fabric. To determine the length of your pieces, just double your desired skirt length. I want a 15" finished skirt, so all my pieces measure 118 by 30 inches.
If necessary, press your tulle pieces with an iron at a low-temperature setting to remove the wrinkles.
Step 2
Take two tulle pieces and start aligning their long 118" edges. I do this while standing, to give the layers a better chance to cling to each other. Make sure not to stretch either tulle layer.
As odd as it may sound, all you need to do is simply align those long edges once, then move on. The layers will maintain their position, just like that! The electrostatic force is your friend.
Step 3
Now take the adjoining tulle layers and fold them in half, lengthwise. Do your best to align all 4 raw edges. Again, try not to stretch either layer in the process.
Step 4
Now is the time to make a basting stitch by hand, near the folded edge, to secure the tulle layers in place before sewing them together.
You'll have to pay attention to two things at once. First, make sure that the layers meet up at the folded edge.
This is how it should look:
As opposed to this:
Second, keep an eye on the raw edges, they should be reasonably aligned, because there will be no trimming off / adjusting the hem, hopefully.
Note:

If you're not pleased with how things look, do not give up – continue to adjust the layers. I honestly believe the fingers are one of the most powerful sewing tools.

If you try your hand at this tutu skirt while you have a pot on the stove, the baby's crying, or are tired, it will be harder to get everything in order.

You'll spend more time preparing, aligning, and folding the layers, than actually sewing. Therefore, a focused, calm, and patient state is the best state of mind to get this beautiful skirt done easily.
To hand-baste my tutu skirt, I threaded a hand-sewing needle with a single thread and started my stitching line below the seam allowance I was going to use.
I would recommend using a contrasting thread color – that will make the basting thread more visible and easier to remove.
After finishing your first piece, pat yourself on the back! It wasn't hard at all, was it?
Now repeat Steps 1-4 for the other four tulle layers.
You are supposed to end up with three such tulle pieces.
Step 5
Take your tulle pieces to the sewing machine.
Start sewing 3/8" from the folded edge to create the elastic casing. Backstitch at the end and beginning of your stitches.
Remove the basting thread.
Now, join two fabric pieces by overlapping the top casings by 1/4" and stitch them together. Just sew about 1 inch on top of the existing stitching line – don't forget to backstitch.
Then join the second fabric piece in the same way. After that, close the loop by joining the first and the last tulle piece, just the same. This tulle skirt has no side seams, but no one will be the wiser.
The tulle is charged with static electricity and tends to stick to itself. Also, there isn't a right or wrong side to this one-seam tutu skirt. Now all is left to to is insert the elastic.
Step 6
Cut your elastic piece. I would recommend using a narrow elastic – 1/4" or 3/8" wide. You'll need a good quality elastic because the skirt has some weight.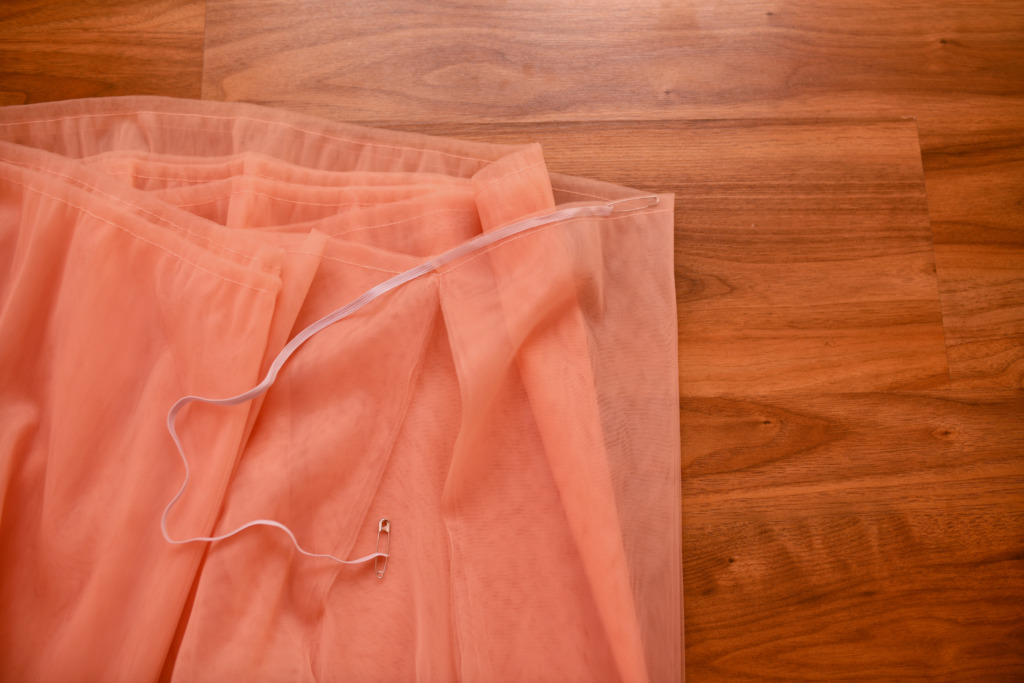 Feed a safety pin attached to the elastic through all three casings. Use another safety pin to secure the other end of the elastic.
Try on the skirt to ensure proper fit, then overlap the ends of the elastic and stitch them together.
Distribute the gathers evenly and that's it! Enjoy your cute one-seam tutu skirt!
Afterword:
LENGTH. Decide the length you wish your skirt to be, then double that number to determine the length of your fabric pieces.
WIDTH. The gathering ratio for my tutu skirt is 13x. That means about 13 times my waist circumference. Tulle skirt width: 118×3=354 inches; my waist measurement: 27 inches. Yes, you read that right! It is a lot, but tulle is a lightweight and very fine fabric.
I think a 11x gathering ratio would work fine, too – meaning that the tutu skirt would still provide enough coverage.
If your waist circumference is over 40", you'll probably need to add more tulle pieces to get the same pleats/ gathers. It's largely a matter of trial and error.
Start by cutting 6 tulle layers for an adult tutu skirt, then add more if needed.
For a child-sized tutu skirt, 4 tulle pieces (each being 118" wide, that equals to a 118×2=236 inches tulle skirt width) are usually enough.
I also made a 20″ long tutu skirt for my 5-year-old daughter, for which I used 4 tulle pieces, each measuring 118" x 40". Great for pretend play as a Disney princess – she can be either Merida or Elsa.
Did you find this one-seam tutu skirt tutorial helpful? I'd like to hear what you think of it! And I would LOVE to see pictures if you give this skirt a try.
Let's keep in touch! You can find me on Facebook, Instagram, and Pinterest.