Learn to make a cute tutu skirt for your little princess that will bring joy every day. These tulle skirts are so girly and it's impossible not to fell in love with them! Follow this easy tutorial to get the best tips on how to sew with tulle fabric and make your own beautiful tulle skirt in less than an hour.
Easy tutu skirt tutorial
This airy and fluffy tulle skirt is fully sewn, it is not tied or knotted.
I made a fair amount of tulle skirts over the past few years (as I had a small business selling handmade tulle skirts) and I want to assure you this is a beginner-friendly project. I hope you're not afraid to sew with tulle fabric, because it does not fray or snag, and I think it is manageable for most people.
From my experience, sewing with tulle is much easier than with jersey or satin. In fact, I personally find it just a bit more difficult than sewing with cotton.
I'll list below all the tips and tricks that I can think of, so you'll have a blast your first time sewing with tulle!
My daughter absolutely loves these tulle skirts and their fluffiness. All the tutu skirts are also very comfortable, due to the elastic waistband.
She loves to play pretend each and every day.
Anyway, these cute skirts are great for many occasions and a great gift for any little girl.
For example, the yellow and black tulle skirt is great for a bumblebee costume.
The red and white tutu is perfect for special occasions like Valentine's Day, smash the cake parties or the holidays.
And the dusty pink tutu is an everyday staple that will bring sparkle to an ordinary day at home.
In addition, it will look amazing at birthday parties, photoshoots, or ballet/dance recitals.
All the skirts are made with two soft tulle layers and have an exposed elastic waistband. It's an easy and quick sewing project.
As you might have noticed, the tutu skirts are semi-sheer, but this is the type of skirt that my daughter wears with leggings and even jeans or over dresses, so we don't really mind.
Of course, you can make it with three or four tulle layers, or maybe add a lining if you like, for extra coverage. It's really simple!
What can you make with tulle?
Tulle fabric is most commonly used to make tulle skirts, and I have written a lot of tutorials on how to sew different patterns. Here are a few of my most popular posts: Simple tulle skirt in 10 easy steps / Tiered tulle skirt / Circle tulle skirt.
However, you can also make reusable produce bags with tulle, and tulle scrunchies too!
Are you ready? Let's sew this pretty DIY tutu skirt!
I made all my skirts for my 3.5 years old daughter and used these measurements:
Length of the skirt – 12 inches
Waist measurement -20 inches
To make your tutu skirt in a different size, it might be useful to check this tutu size chart for children. However, the chart is based on estimates, so it's best to accurately take your child's measurements.
DIY tutu skirt – sewing supplies
How to sew a tulle skirt with elastic waistband – step-by-step tutorial
Step 1 – Cut the fabric pieces
For my tutu skirts, I used two tulle layers, each being 118 inches / 300 cm wide and 10 inches tall.
If you can't find 118-inches wide soft tulle, no problem – you can simply join fabric widths to make an extra-wide panel. Just make sure to use a soft tulle fabric – the type that's available in bolts.
If your tulle fabric is wrinkled, you can iron it directly – but not with a hot iron, because the tulle will melt instantly. Instead, use the lowest heat setting available.
For the waistband, cut a fabric piece that is (hip size + 4 inches) wide and 3 1/2 inches tall.
If you want to change the size of this skirt, the 118 inches width of the tulle layers should fit a girl from size 1T or 2T (standard waist size at this age is 20 inches) to about 10T (standard waist size – 24 inches). Adjust the length of the skirt and it'll be just fine.
Step 2 – prepare the waistband casing
I cut the fabric strip for the waistband 24 inches long x 3 1/2 inches wide. This way, the casing will be just perfect for inserting a 1″ elastic, not too narrow and not too wide either.
Now, take the waistband piece and sew the short ends together to make a tube.
Step 3 – sew the back seam
Take one of the tulle layers and sew the side seam. Repeat this for the second tulle layer.
To sew the tulle seams without puckering, switch your needle for a new ballpoint/jersey needle – size 70/10 is what I used. Then, use a short straight stitch and slow down your sewing machine speed to avoid puckering.
Find more tips on how to sew tulle fabric on your regular sewing machine here.
Step 4 – gather the tulle layers
Again, keep the stitch length to the longest possible and run a basting stitch for each one of the two layers that compose this skirt.
Leave long thread tails at the beginning and end of each row, and do not backstitch at all!
Are you nervous about this step? You shouldn't be. Yes, you'll baste approx. 236 inches (600 cm) in total, however, it will be easy, I promise. I finished this step in 4 minutes, but if you are a beginner, sew slowly – you'll be done in 10 minutes at the most.
To be able to easily get the skirt over the hips, the skirt opening will be hip measurement + 4 inches. For my skirt, that means 20+4=24 inches.
Now let's gather the top of all the tulle layers to fit the waistband casing. Grab the bobbin thread with one hand and push the tulle fabric over with the other hand.
Continue until the gathers are evenly spaced and match the desired measurement, 24 inches in my case, then tie all the threads in a knot.
Step 5 – sew the tulle layers together
Place one tulle layer inside the other and sew them together, the wrong side of the first layer to the right side of the second.
Step 6 – attach the waistband to the skirt
Pin the waistband to the tulle skirt, right sides together, and sew with a 1/2" seam allowance.
Step 7
Turn the raw edge under 1/2", then fold the waistband so its width is about 1 ½ inch, to accommodate the width of the elastic. Use pins and a sewing gauge for this step.
Stitch around the lower edge of the waistband casing, approx. 1/8" from the edge, leaving a small opening for the elastic. Backstitch at both ends.
Step 8 – insert the elastic and finish the waistband
Cut the elastic band 1-2 inches smaller than the waistline measurement – it should feel comfortable, you better try it on.
Insert the elastic through the casing using a safety pin. Make sure the elastic is not twisted inside the casing. Overlap the ends of the elastic and sew them together, then close the small gap in the waistband. Start with the needle is in the down position and go slowly. You will need to stretch the elastic a bit as you sew – but do not stitch into the elastic itself.
If you wish to secure your elastic and prevent it from twisting, stitch vertically across the elastic at the back seam.
Step 9 (optional) – add a ribbon trim
Sew the desired ribbon to the tulle skirt as close to the outer bottom edge as possible. Once sewn, the ribbon tends to curl, and that adds volume to the skirt. Therefore, pay attention to how the golden ribbon curls – you want the skirt to curl the right way.
Do your best to align the bottom edge of the ribbon with the bottom edge of the tulle, and choose a thread that matches your ribbon.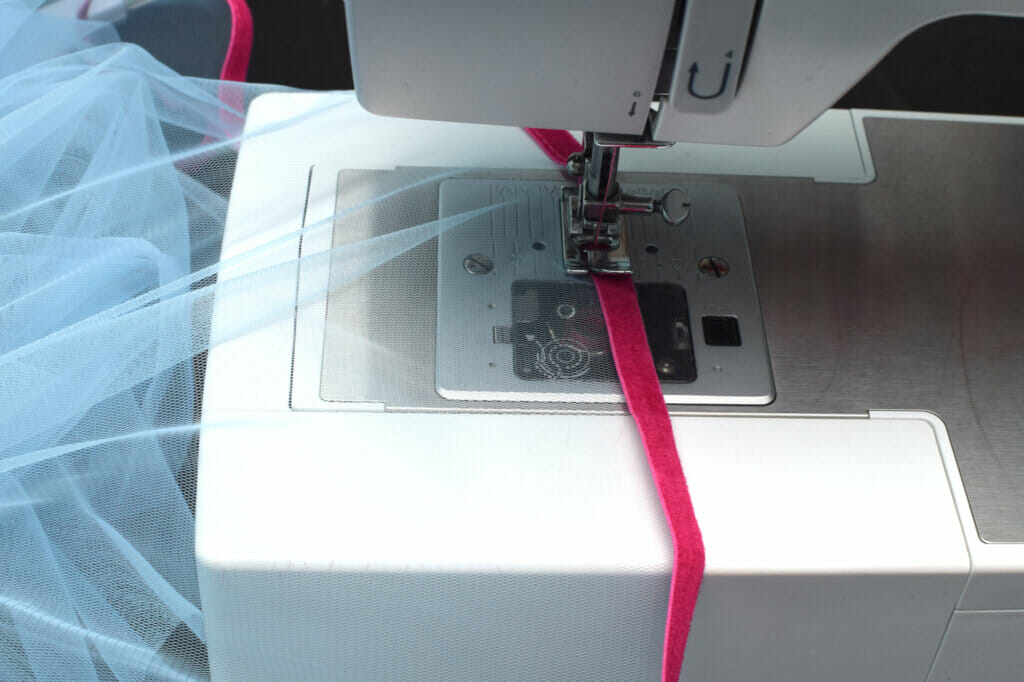 It's better to use a longer straight stitch, to avoid having too many holes in the ribbon. Make sure to backstitch at the beginning and end.
Sew until you reach your starting point and when you get there, overlap a bit the ends of the ribbon, then run a vertical stitch to hold them in place.
Furthermore, you can jazz up the skirt with a ribbon bow.
Can you guess which tutu skirt is my daughter's favorite?
Of course, it's the pink and blue bubblegum tutu skirt!
How to care for your tutu skirt
You can wash your tulle skirt by hand, or in the washing machine – in this case, place it in a laundry bag, and use a mild detergent and a gentle cycle. Wash in cold water and let it air dry.
If your tulle skirt or the ribbon at the bottom will wrinkle (it will happen, eventually), you can iron the skirt directly. Use the iron at a low heat setting, and your cute skirt will look as good as new!
Did you find this tutorial helpful? I'd like to hear what you think of it! And I would LOVE to see pictures! If you give this tutu skirt a try, please tag me on Instagram or Facebook.