Learn to make an easy princess dress for little girls. No zippers and no buttonholes involved! A simple sewing project, suitable even for those with only basic sewing skills.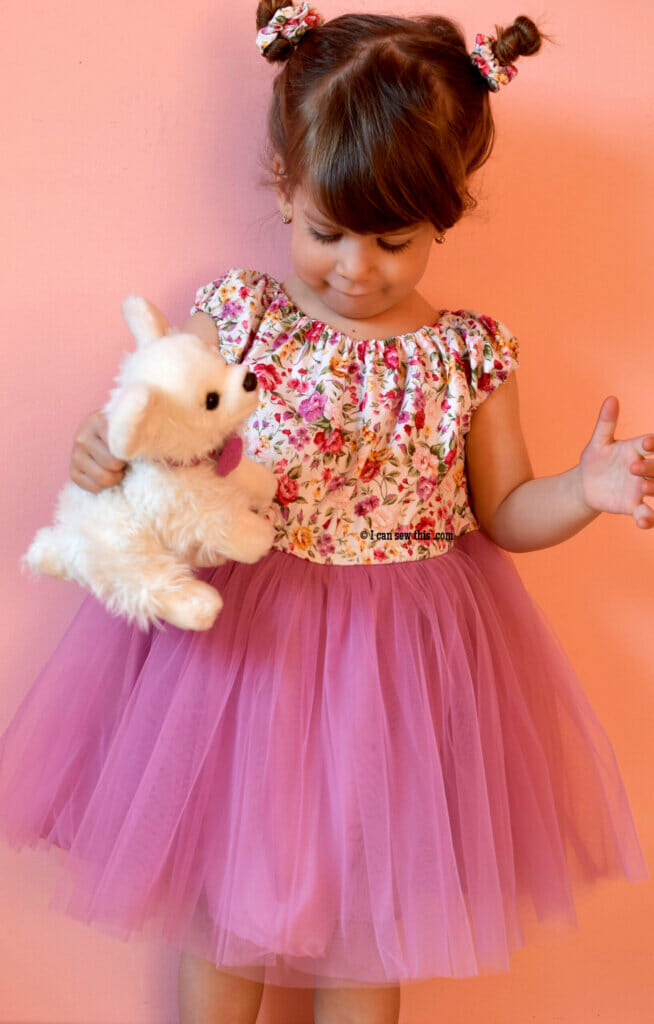 I wanted to make a simple yet spectacular dress for my 2.5-year-old daughter to wear this spring/summer, and this is what I came up with.
This combination of cotton peasant top with elastic neckline and tulle skirt may seem a bit too much for some of you. That is to say, I'm fully aware that peasant tops are more on the casual side, while the tulle skirts are rather elegant.
But there are also a few indisputable benefits.
A quirky combination that works – a comfy peasant top and a fancy tulle skirt
First, you can make this princess dress even if you are a sewing novice – there are no zippers or buttonholes to make, and not even real curves to sew.
On the other hand, you don't have to be a beginner to enjoy easy sewing projects.
Some days I see challenges as opportunities for growth. Other days I want to stay in my comfort zone and just indulge in some quick wins. I'm at peace with that.
And second, this casual princess dress has no back or front – most likely, your little girl will be able to put it on without any help. Mine certainly does!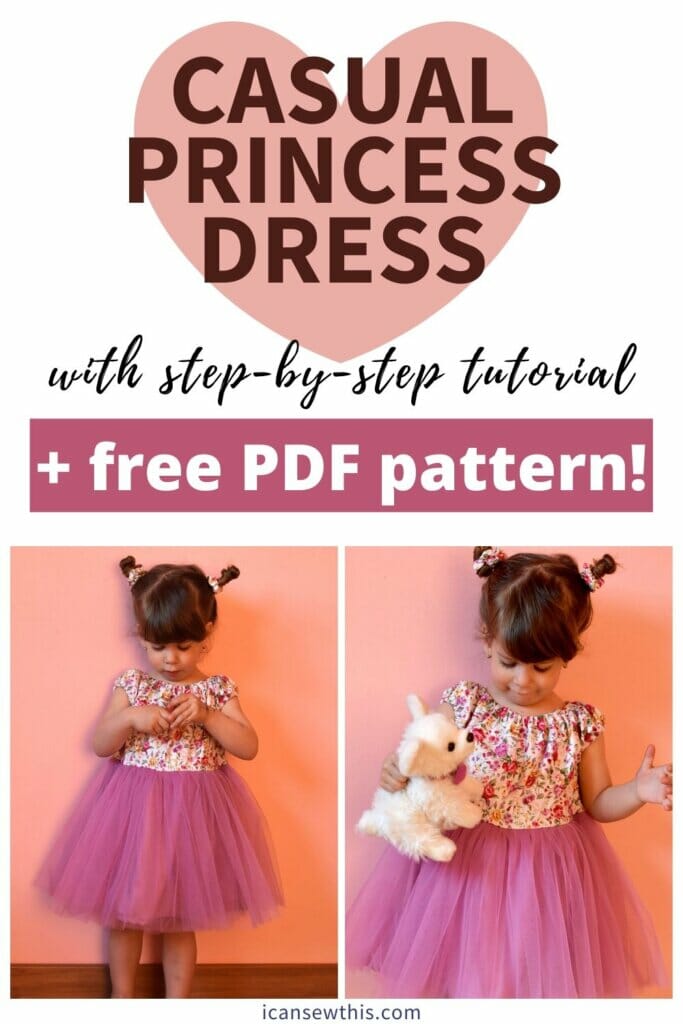 Actually, this was an important factor when I decided to make this dress. I have a very independent and spirited toddler – she practices self-dressing skills for over a year now, and she loves being able to get dressed alone. And I'm happy to let her take charge of as many of her own activities as possible.
Anyway, I don't think little girls care about fashion faux-pas, they just want to have fun in comfy clothes and twirl and whirl in their pretty skirts.
Iris is such a sweet, girly-girl and a bit obsessed with princess dresses, and I just take it as it comes. I have so much fun sewing pretty little things for her!
Also, I sewed two mini-scrunchies in the same cotton fabric as the top to make her tiny pigtails. I just love this sweet and simple hairstyle for little girls!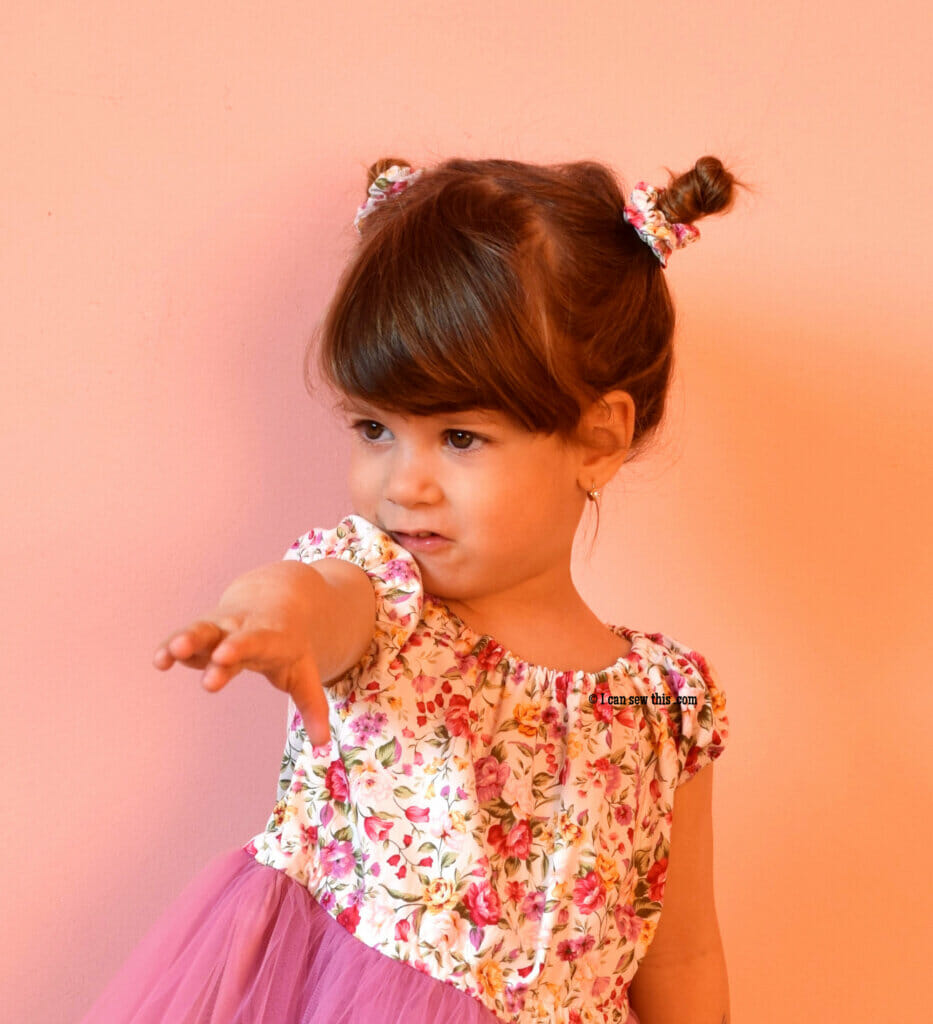 So, here's how to make this easy peasant princess dress.
Sewing supplies
The free PDF pattern for the peasant top – size 2-3T – download here
Cotton fabric of your choice
Soft tulle fabric
Lining fabric for the skirt – satin/cotton
How to make a casual princess dress with elastic waistband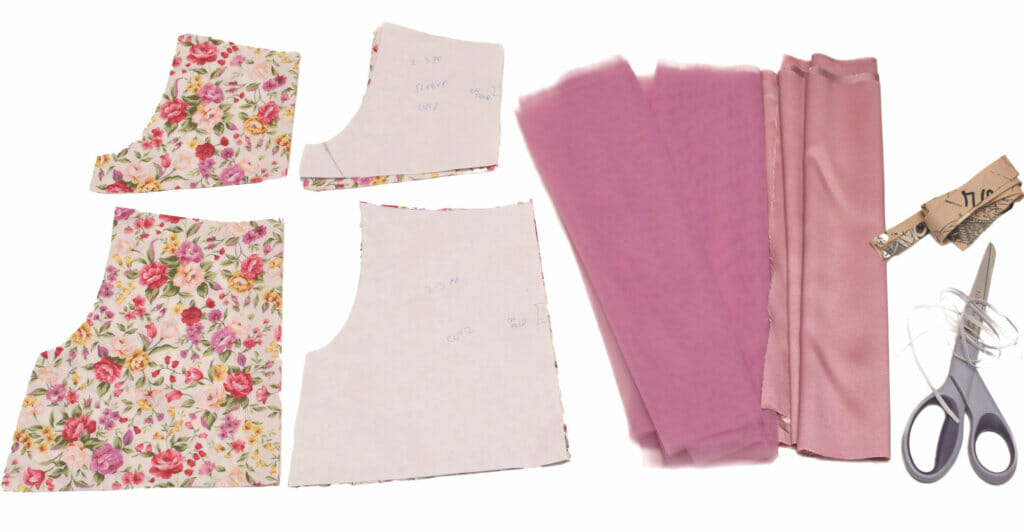 For the peasant top, cut your fabric pieces on the fold – you need 1 front piece, 1 back piece, and 2 sleeve pieces.
Skirt lining – 1 satin piece – 12 inches long x 40 inches wide.
Tulle skirt – 2 tulle pieces – 12 inches long x 118 inches wide.
You'll also need about a yard of bias tape and about 55 inches of 1/8 inch wide elastic.
Step 1
First, pin the front of the top and one sleeve to the armhole, with the right sides together. Sew and finish the seams with a serger/zigzag stitch. Repeat with the other sleeve.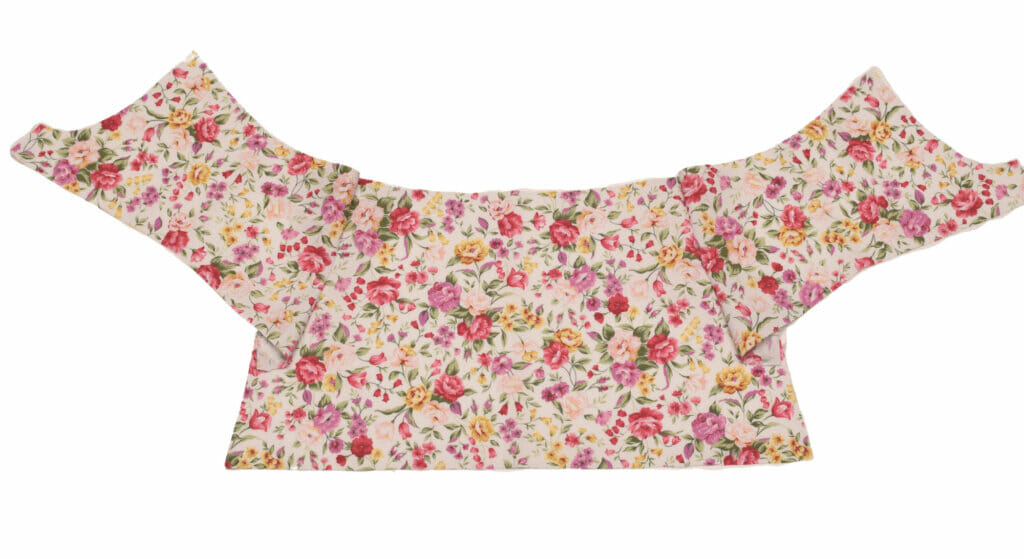 Press the seam allowance to one side – I skipped this step and it shows.
Step 2
Next, align the back sleeves and the bodice back to the armhole, right sides together. Sew and finish the seams.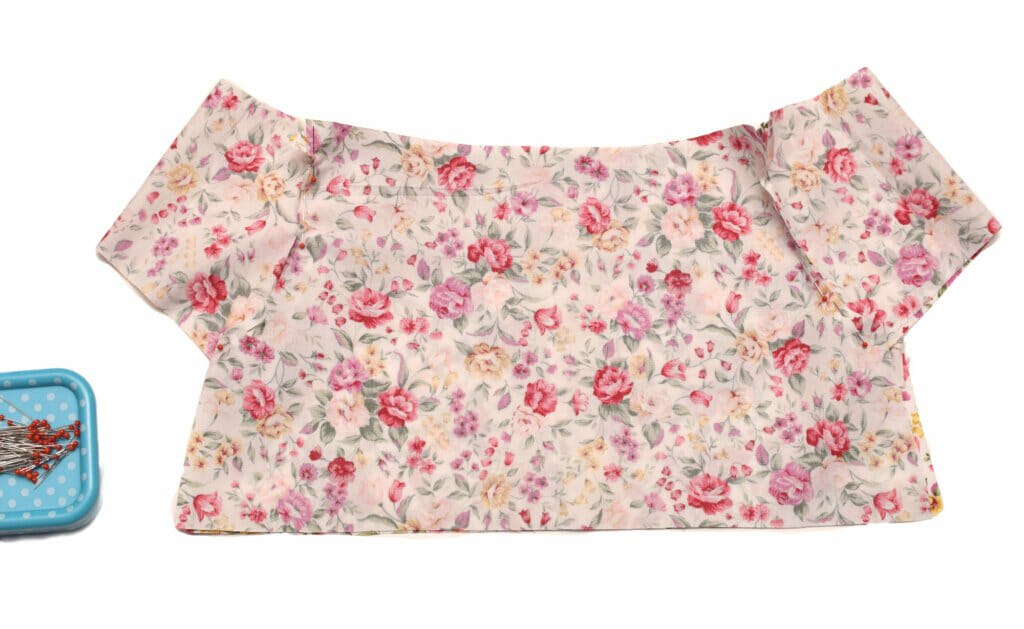 Step 3
Sew the top together at each side, matching the underarm seams. Finish and press the seams.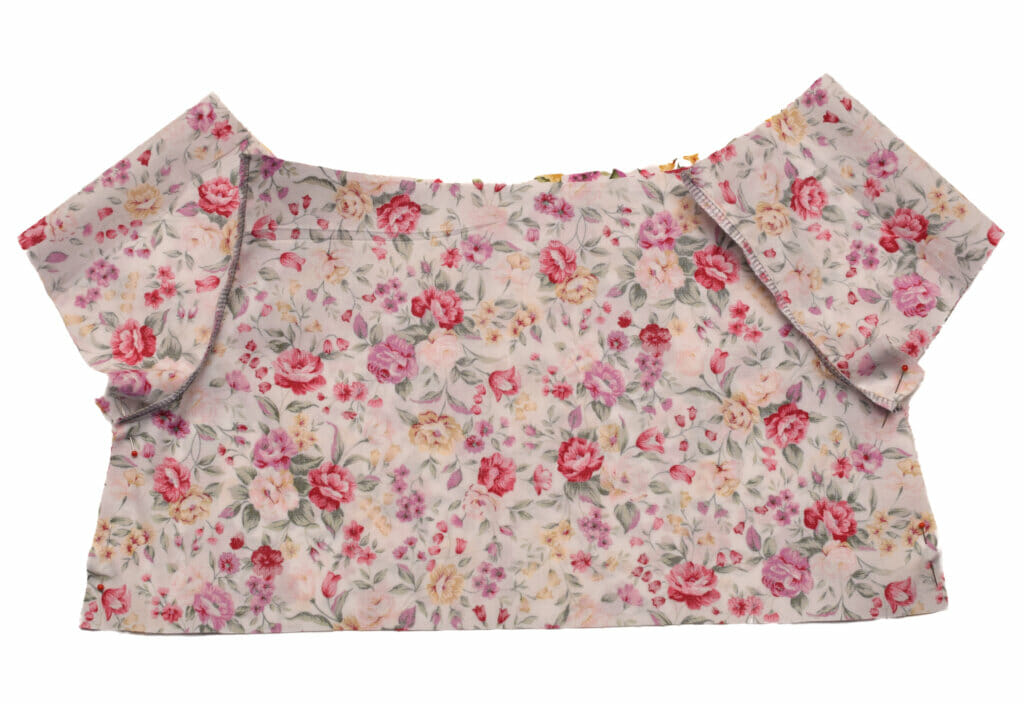 Step 4
Serge around the neckline and the bottom of each sleeve.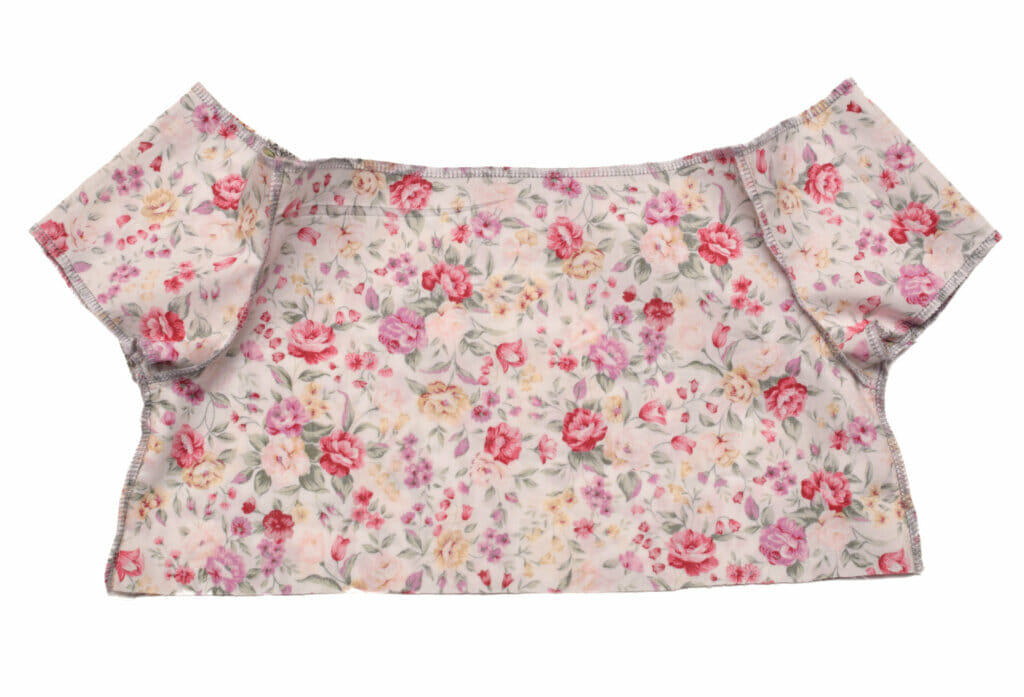 Step 5
Let's form the elastic casings. Turn under the edge of each sleeve about ½ inch and sew, leaving a small opening.
Repeat for the neckline.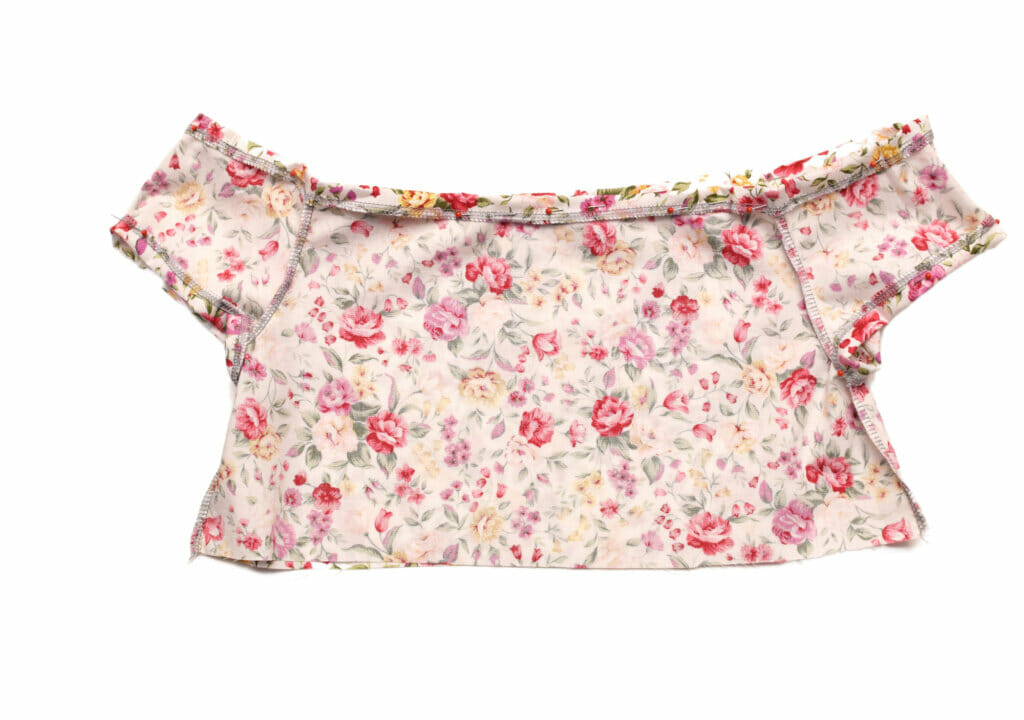 Step 6
Sew the side seam of the satin lining with a french seam. More detailed instructions here.
Baste around the top edge of the satin skirt and gather it until it fits around the bottom of the peasant top.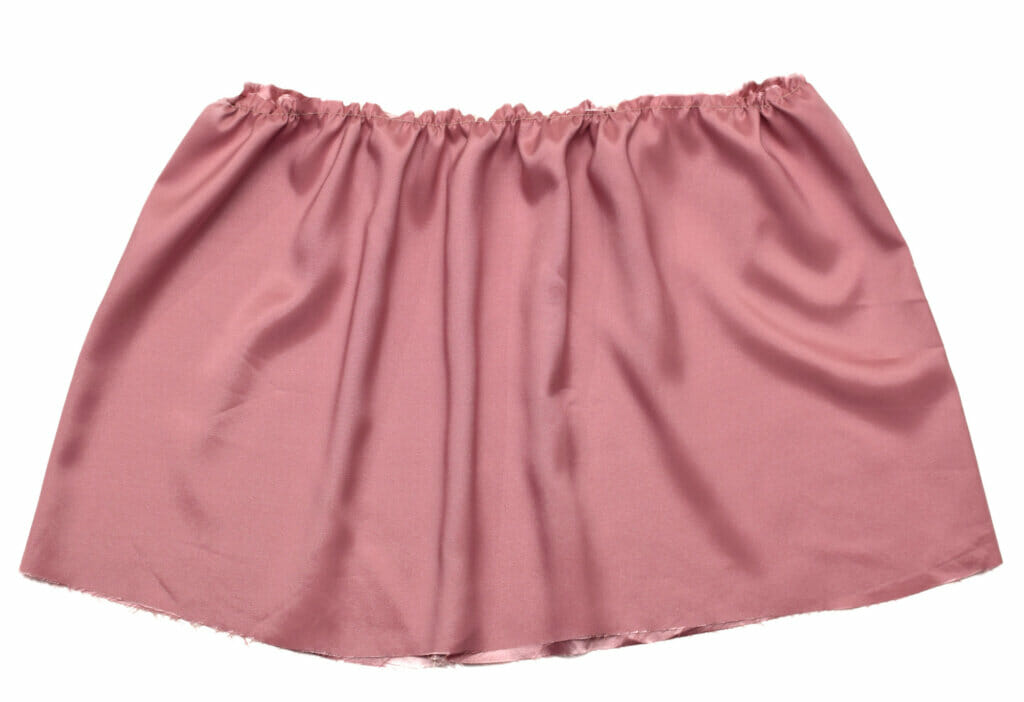 Step 7
Take one of the tulle layers and sew the side seam. Then baste around the top edge and, again, gather it until it fits around the bottom of the peasant top.
 Repeat for the other tulle layer.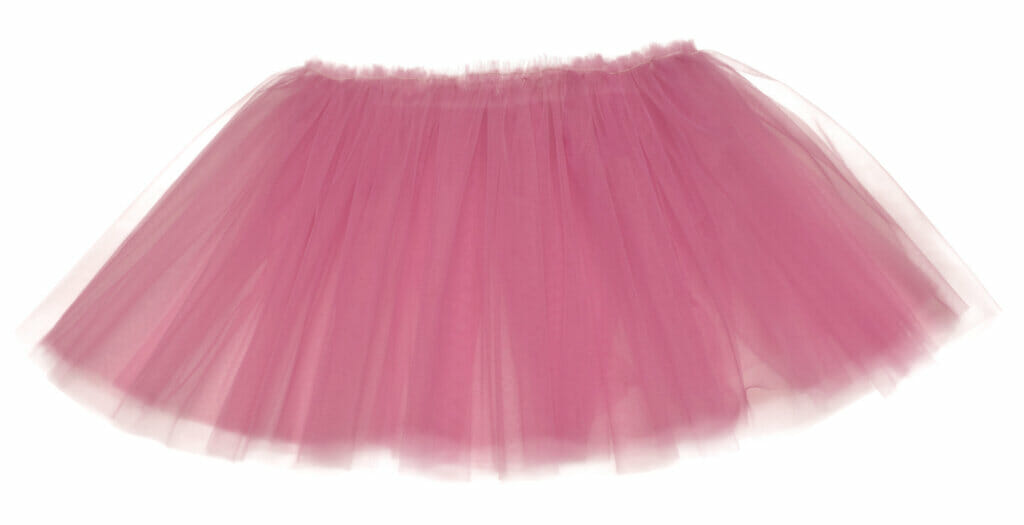 Subsequently, place one tulle layer inside the other, the wrong side of the first layer to the right side of the second. Sew the two layers together.
More detailed instructions in this tutorial.
Step 8
Next, sew together the tulle layers and the satin lining – wrong side of the second tulle layer to the right side of the satin skirt.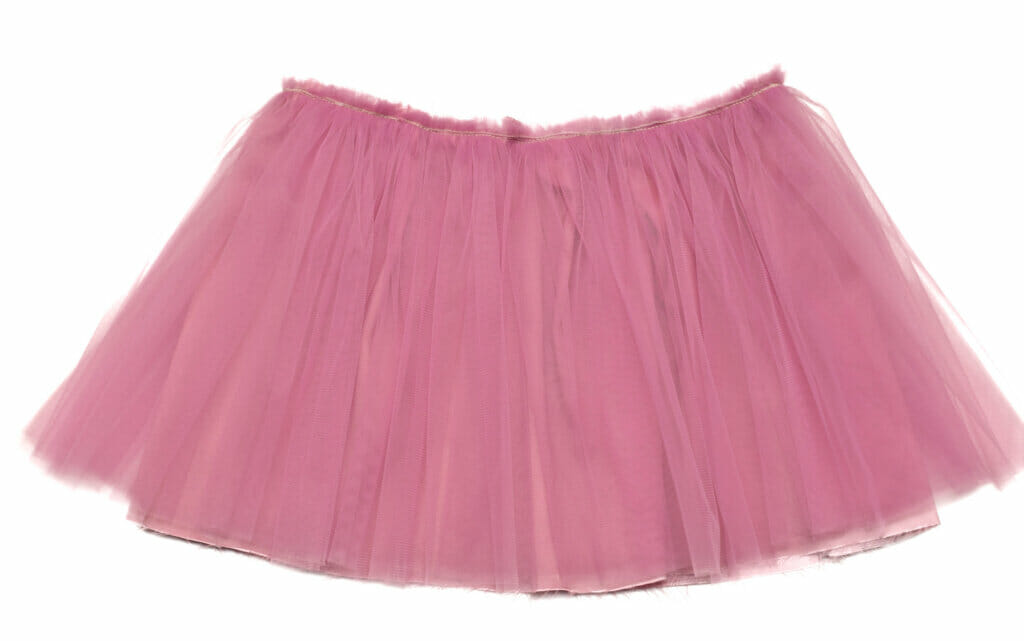 Step 9
Right sides together, place the tulle skirt inside the peasant top, aligning the edges like in the picture below. Sew and finish the seam.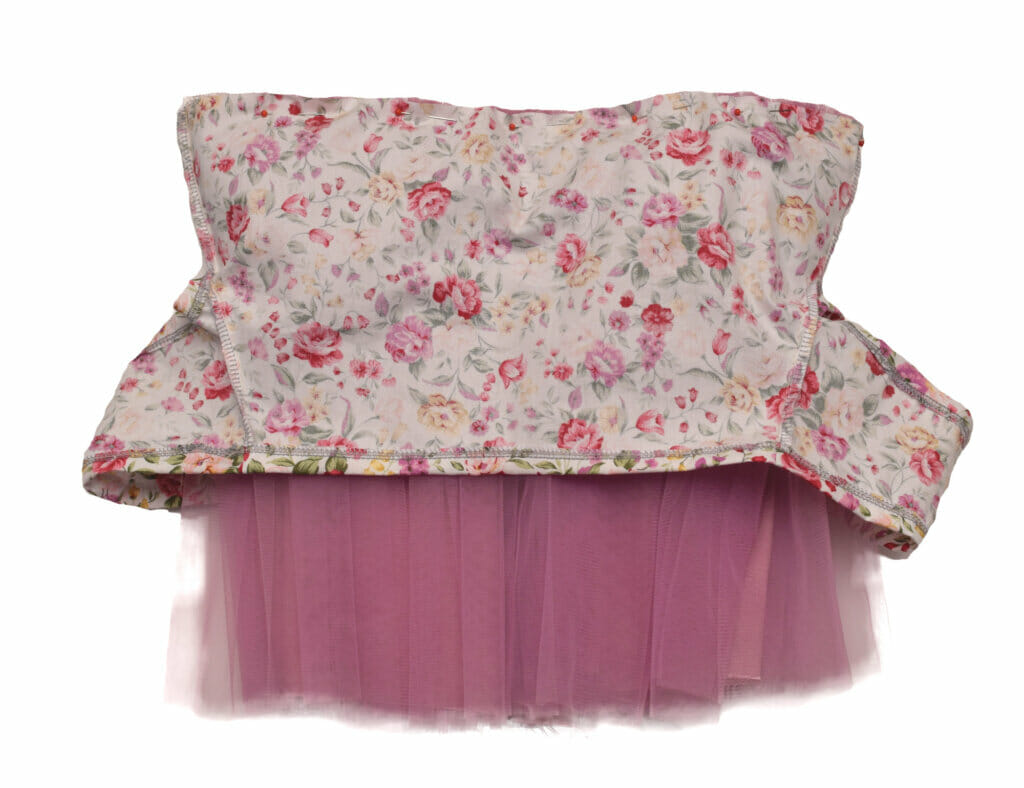 Step 10
Pin the bias tape along the serged edge of the waistline as shown. Stitch along the folded crease of the tape.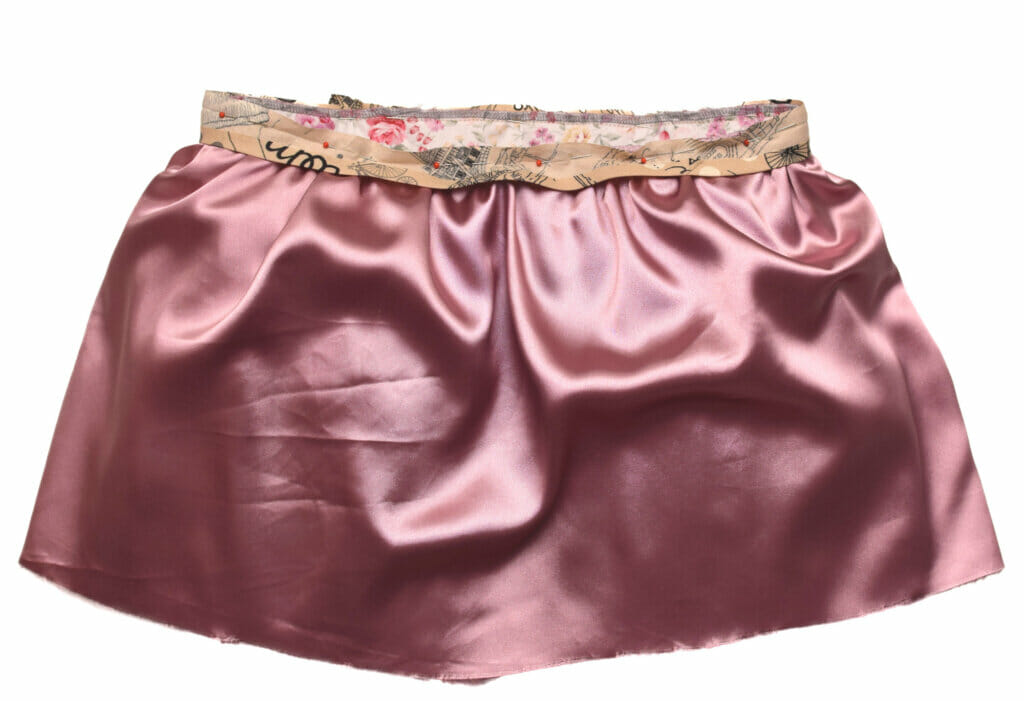 When I got back to where I started, I joined bias binding ends using this simple method.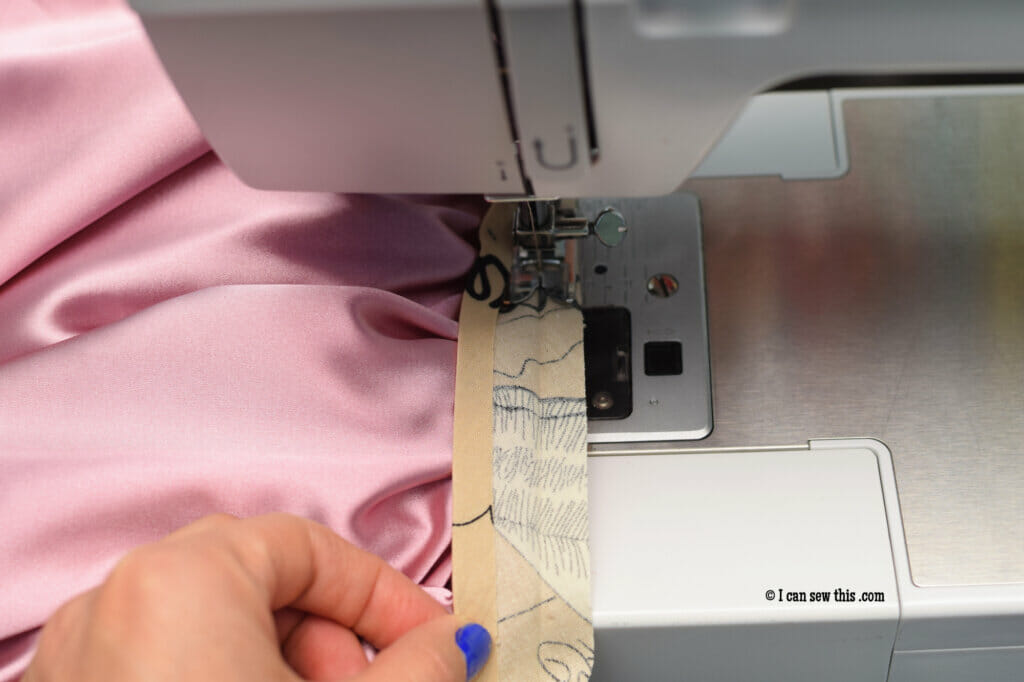 Next, sew the other edge of your bias tape to the peasant top. Make sure to leave a 1-inch to 2-inch opening to insert the elastic.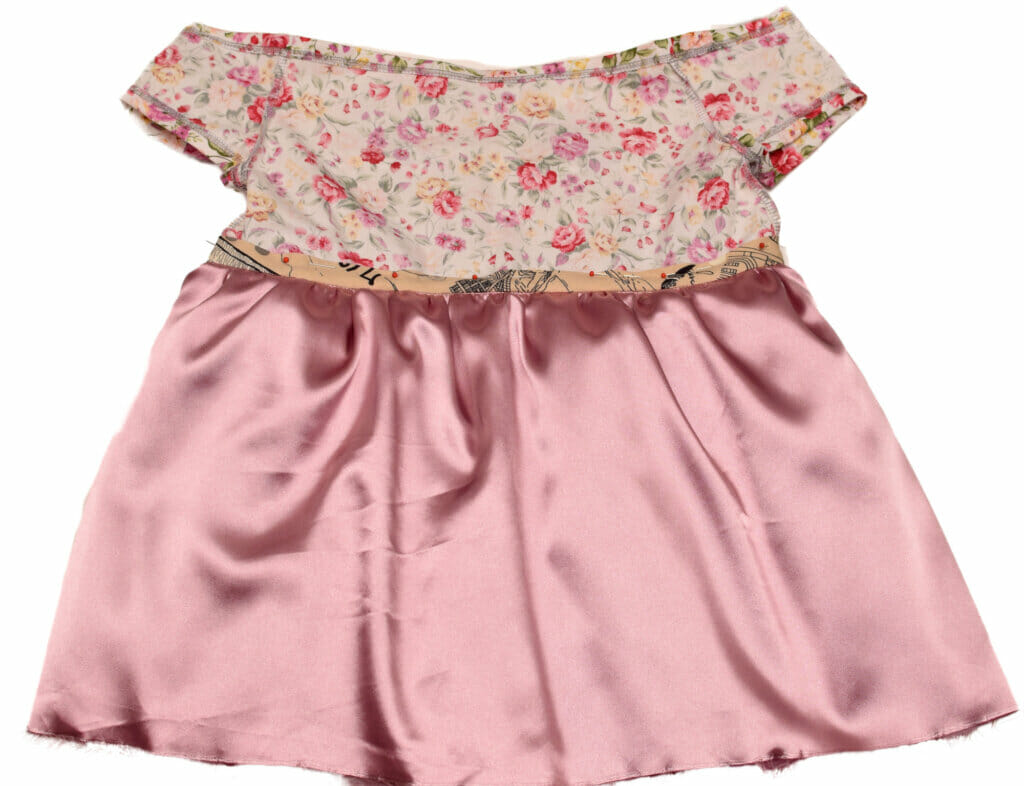 Step 11
Hem the satin lining – serge along the raw edge of the hem, then fold the hem at 1/4" towards the inside of the skirt and stitch.
After that, iron down the hem for a nice, clean finish. I'm so busted!…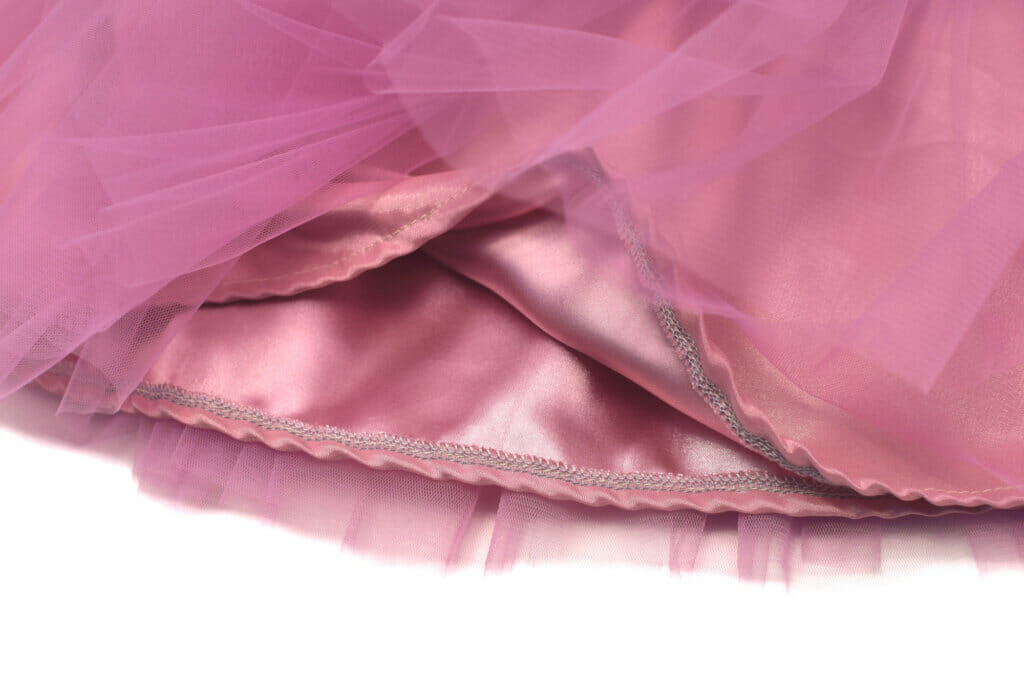 Step 12
Now cut 4 pieces of elastic, as follows:
For the neckline, I used approx. 16 inches of 1/8 inch wide elastic.
For the sleeves – 8 or 8 ½ inches in length.
And for the waistline – Wrap a piece of elastic around your child's waistline and add 2-3 inches to this measurement before you cut it. (1/4 inch wide elastic is fine, too. Just make sure the casing can accomodate it).
Insert the elastic through the opening using a safety pin and stitch the overlapped elastic ends by hand.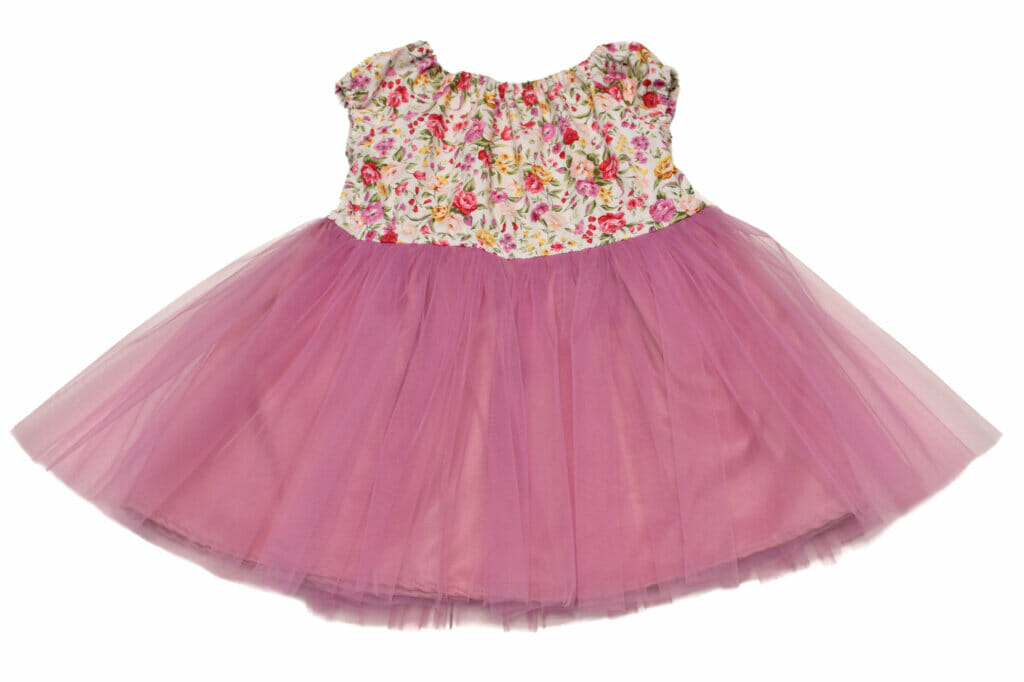 And that's all, this DIY casual princess dress is now ready to wear!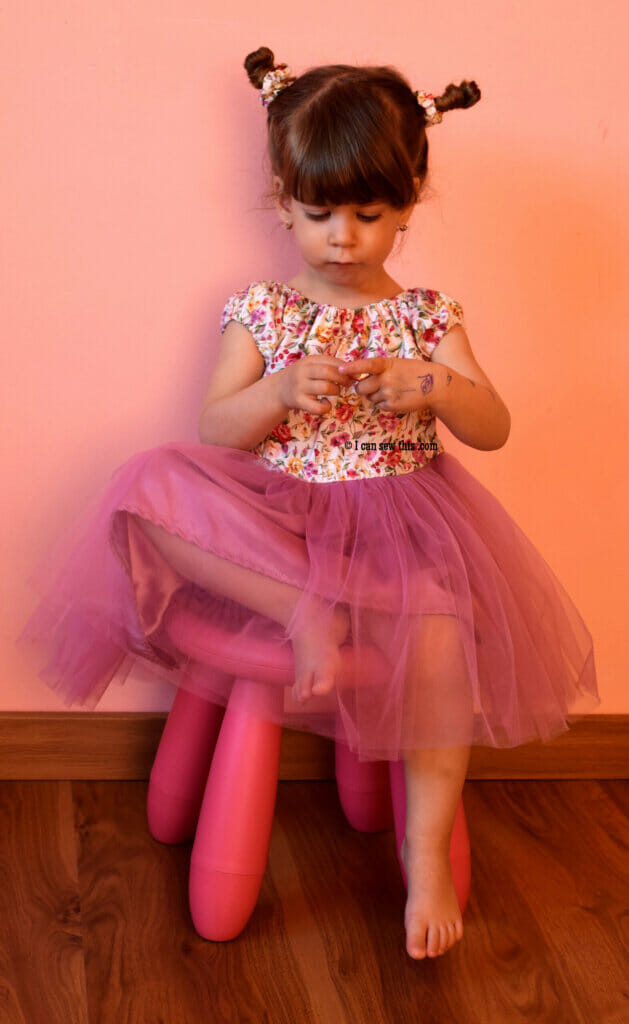 Post scriptum
On a side note – at first, I was so excited to finally find a use for one of my ugly fabrics – I decided to transform it into bias tape. Pure genius, I thought.
And then I read this post and I totally agree with everything in it. However, as you might imagine, it left me feeling a bit deflated. That bias tape is still ugly and details really matter.
In fact, I was on the verge of giving up on writing this tutorial, but I managed to bounce back.
I can't just sit around and worry about the new coronavirus all the time, can I?
And I always sew what I like at the moment, so there is little chance that I make another casual princess dress for my little girl anytime soon.
However, when I'm ready to redo it, I'll try and make sure I take better pictures, use some nice bias tape and press all the seams. But I still love this simple princess dress, and so does my daughter.
Did you find this tutorial helpful? I'd like to hear what you think of it! And I would LOVE to see pictures if you give this DIY casual princess dress a try.